eMTBs are getting better and better with each passing year, but there's still plenty of marginal gains to be had. Will Shaw spoke with Josh Carlson to get his top tips for getting the most out of your eMTB.
Words: Will Shaw
Images: Nick Waygood, Georgina von Marburg, Will Shaw, WES, Giant Factory Off Road Team
---
If you're an eBike owner, chances are you've been riding more trails than ever before. Whilst it's amazing covering double, if not triple the distance in the same ride, your component choices become far more important due to this additional wear and tear. There are some upgrades for your eBike that'll make a big difference both on the trail and to your wallet. While I can certainly relate to the average Joes out there, I reached out to Josh Carlson for an insight into how a professional eMTB athlete goes about extracting maximum eBike performance.
Josh Carlson is a man who knows plenty about extracting eMTB performance.
Big brakes and rotors:
Most eBikes are a fair bit heavier than a standard trail bike. As a basic guide, for a similarly specced enduro eBike versus a regular enduro bike, you're probably looking at 25kg versus 15kg. In the case of my size large 29" enduro bike versus my size large 29" eBike, it's more like 16.5kg versus 26.5kg. Whilst the additional weight of an eBike is handy in some sections of trail, all this extra weight still needs to be slowed down at some stage!
Most manufacturers are aware of this and offer 200mm rotors front and rear on their long travel eBikes. Most eBikes also come with 4-pot brakes, although some lower end models may opt for a 4-pot caliper on the front paired with a 2-pot caliper on the rear. If you're struggling with rear braking power, upgrading the caliper to a 4-pot option is a sure bet.
Big brakes make a big difference on an eMTB.
On the brake pad material side things are a bit more variable, and I've had the best luck over 3 years of eBike riding using metallic pads due to their consistent power in all weather conditions. Josh says that whilst the modulation and silence offered by organic pads is his choice for maximum performance, metallic pads make lots of sense for everyday riders.
'For the average consumer metallic pads are great as they offer increased longevity. eBikes destroy parts rapidly as you're doing three times the riding on any given ride. Whilst metallic can make more noise, they work and last a long time no matter if it's hot, cold, wet, or dry.'
Josh says that brake pad choice is a case of horses for courses.
eBike specific drivetrain components:
It was 2016 when SRAM brought their EX1 drivetrain onto the market. EX1 was a unique drivetrain at the time, offering 8 gears via a single click shifter that aimed to improve reliability and durability. While EX1 never really gained traction, the idea was a solid one and I'd expect in the future we'll see more eBike specific drivetrain offerings from SRAM.
Earlier in 2021 Shimano brought their Linkglide range to the market. The idea is similar to EX1, a more reliable and durable drivetrain designed specifically for the increased torque provided by an eBike motor. I've spent a bit of time aboard the XT level Linkglide componentry, and the overall performance has a very robust feel about it. Unfortunately, Linkglide components aren't cross compatible with 'regular' Shimano componentry, so if you wanted to upgrade your drivetrain to a Linkglide one you'd require a shifter, derailleur, and cassette. If you're the kind of rider who runs their drivetrain into the ground before replacing it, going from a regular Shimano drivetrain (you'll need a rear wheel with an older style HG freehub) to a Linkglide one would be a smart move from both a financial and reliability perspective.
Shimano's Linkglide componentry is designed specifically for eMTBs.
If you're not able to swap your whole drivetrain over, a good way of lowering your eBike maintenance costs is to use cheaper cassettes and chains where possible. Josh says both Linkglide and using lower end componentry where possible are good ideas.
'I haven't tried Linkglide yet as I've been using XTR componentry to prepare for the upcoming race season. I've heard great reviews though, and another benefit of Shimano componentry is that you can replace a worn XT cassette with an SLX level one. You'll save some money and despite being slightly lower end these parts still work really well.' And hey, even Deore 12-speed is compatible!
Performing software updates on your eBike:
The concept of plugging your bike into a computer for a 'service' is something I still find strange. If you're not sure what I'm talking about, ask your bike shop next time you're in there if there's any software updates available for your eBike. Motor brands are updating their products' software regularly. Last year Bosch released an update that increased their top-of-the-line Performance Line CX Motor's torque from 75Nm to 85Nm, all via a software update. They also released their eMTB mode via a software update, which is the best mode for mountain biking if you're running a Bosch Motor.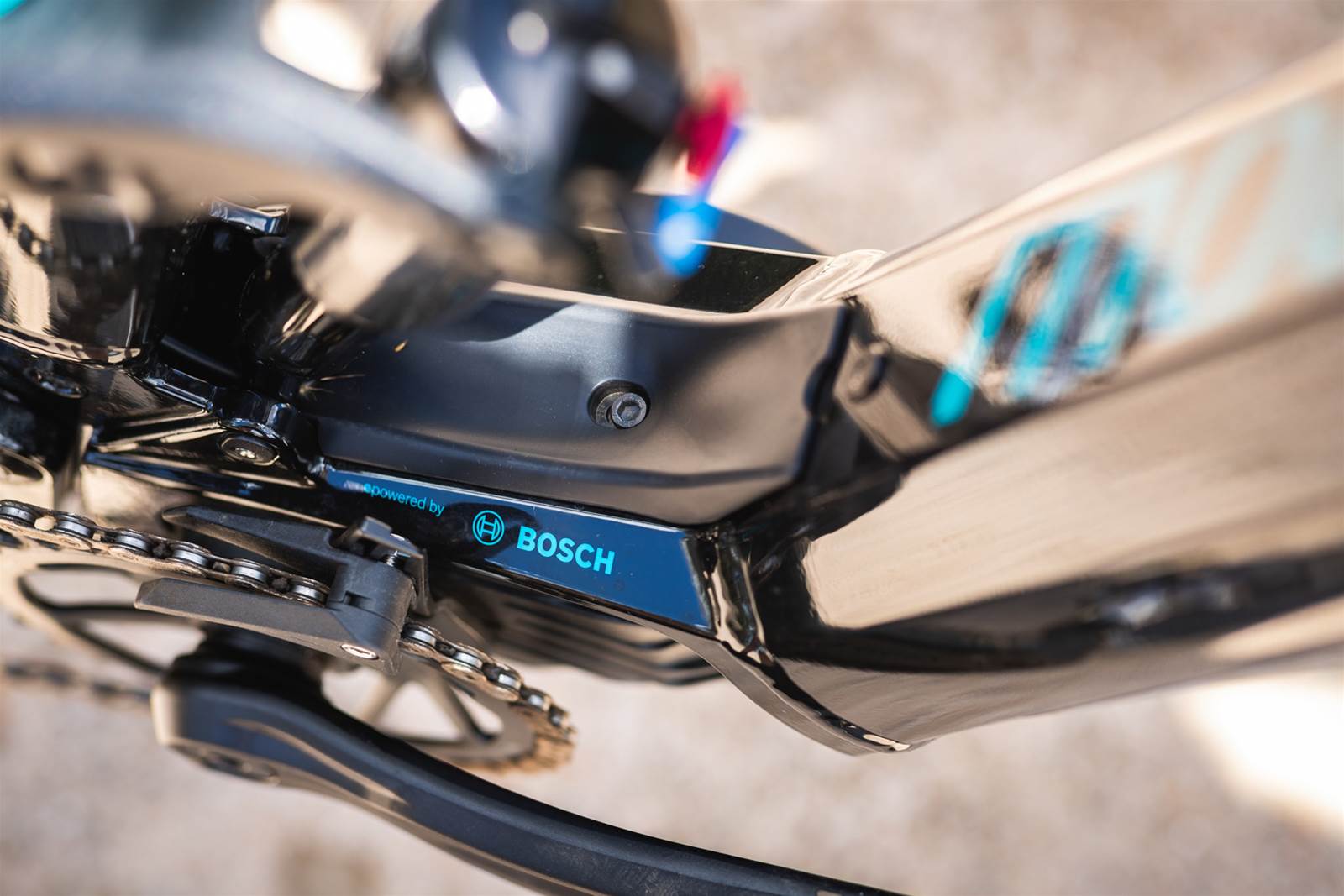 Keeping an eye out for software updates can increase the performance of your eMTB.
Specialized are much the same in terms of constant improvement and regular software updates. Their Mission Control App will tell riders when it's time for a software update. Shimano are in the same boat, with app and computer compatibility when it comes to updates.
If you've never updated your eBikes' software, it's well worth a visit to your local bike shop or checking your motor's app to see if an update is available. Josh's Giant eBikes use motors designed in conjunction with Yamaha, and Josh says staying on top of software updates is an easy way to maximise the performance of your eMTB.
'We're always developing new products as part of the Global Giant Factory Off-Road Team, and our feedback helps improve the eMTBs of the future to provide a better ride experience. There's new motor updates coming out all the time, I'll check my phone a couple of times a week to make sure my software is up to date.'
Specialized's Mission Control App allows you to tune the performance of your eMTB.
Saddles:
If you're also a bit cynical regarding the need for an 'eBike' saddle, we're in the same boat. If you've got a comfortable saddle that you've ridden for years and you're hopping on an eBike for the first time, you mightn't experience any issues. Despite this, riding an eBike does place unique demands on your saddle, including the increased time you're able to spend seated when climbing and riding undulating terrain, as well as the much steeper climbs you can ride compared to a regular bike.
As a result of these unique demands there's now a plethora of eBike specific saddles on the market. There's options from PRO, Ergon, Fi'zi:k, and Selle Italia to name a few. They often feature more support than traditional saddles, and a dropped nose to accommodate climbing in steeper terrain. Further support for climbing steep terrain is achieved by raising the rear of the saddle to avoid slippage. I recently rode Canyon's SD:ON saddle that came on their Spectral:ON CF8, and the raised rear was noticeably useful when trying to get up ultra-steep terrain in the saddle.
eMTBs can climb much steeper terrain than regular bikes.
If you're having issues with your current eBike saddle, whilst it's always a personal choice and other factors like the width of the saddle are important, I have found the specific features of eBike saddles to be genuinely useful out on the trail. Josh says that whilst he isn't on an eMTB specific saddle, saddle choice on an eMTB is critical.
'On an eBike you move around the saddle a fair bit more than you do on a regular bike, particularly when you're climbing. As eMTB continues to grow I think we'll see more and more eBike specific components like this that are adapted to the unique demands of eMTB.'
eBike mode selection/power tuning:
Earlier this year I wrote an article explaining the major motor manufacturers' systems, as well as how you can optimise the system you've got to best fit your riding style. Whilst Bosch doesn't give you the option to alter the assistance profiles of their modes, the modes they have on offer do a great job. Between Eco, Tour, eMTB, and Turbo, you're offered the full spectrum of power. There's the battery conserving Eco for an all-day ride, right the way through to Turbo's full power that'll give you maximum metres in an hour of self-shuttling.
eMTB is the best mode for mountain biking offered by Bosch.
Shimano and Specialized take it a step further in terms of customisation, with phone apps allowing you to tweak your eBikes' power profiles via Bluetooth while you're out on the trail. Specialized's Mission Control App takes the cake here, with endless customisation options in an easy-to-understand format. Shimano's offering is also great, and I'd only expect it to get better in the coming years.
Josh says that at the professional level changing modes is as important as changing gears.
'I change my modes while I'm riding as often as I'm changing gears or dropping my seatpost. I'll change the modes during a descent to reduce battery usage, and then turn the power back up right before I need it. I've just returned from a stint of eBike racing in Europe and battery management is critical, so having features on the Yamaha motor like a clutch mechanism that allows you to pedal freely above 25kmph is a definite advantage.'
Josh is constantly changing modes to conserve power.
Battery size:
If you bought your eBike pre-2021, you've probably got a 500Wh battery on your bike. Whilst 500Wh is plenty of juice to go for a solid ride, manufacturers are going higher and higher (Bosch's biggest battery is 750Wh, Shimano are at 630Wh, Specialized are up to 700Wh, and the new Norco eMTBs can use a huge 900Wh battery!). Whilst it's easy to think a bigger Watt hour measurement guarantees more range; motor efficiency, mode usage, and a range of other factors will determine how much riding you'll actually get out of a single charge.
If you're heading out for massive rides, away on holidays without a power source, or riding with a mate on the same motor system a second battery can make a lot of sense. Whilst they're not cheap (expect to pay around $1000 for a second battery), they can reduce anxiety on big rides both solo and in a group, as it's highly unlikely people will chew through their battery at the same speed. Buying a second battery is also far cheaper than getting a whole new eBike for a few extra watt hours!
Suspension setup:
Suspension setup is critical on any bike, and your eBike is no different. Once again, the eBikes' significant additional weight plays a part in your setup, as you'll need higher spring rates front and rear from the outset. Josh says that suspension setup on an eBike is even more crucial than it is on a regular bike in some respects.
---
Looking for a new eMTB? Check out some of our recent eMTB reviews:
TESTED: 2022 Specialized Turbo Levo Expert 
TESTED: Canyon Spectral ON CF8
TESTED: Pivot Shuttle Team XTR
---
'If anything, it's become more crucial than ever. You're dealing with an additional 7-10kg of bike weight from the outset, and the biggest mistake I see is people transferring their suspension settings from a regular bike to an eBike. This makes their suspension too soft, and they wonder why they're getting flat tyres and broken wheels.
eMTB setup will differ from how you've setup bikes in the past.
A big improvement in eMTB suspension setup has been eBike suspension that's tuned from the factory with compression and rebound characteristics to suit eBikes specifically. This was something I noticed when I first started riding the Fox 38, it's a product that suits the eBike market perfectly. Your suspension still needs to be setup properly though, and if this is something you're unsure about it's worth talking to your local shop and working on your setup.'
Heavier casing tyres and inserts:
While you don't want your eBike to be any heavier than it needs to be, riding around with some additional tyre weight is much easier on an eBike compared to a regular bike. It's also necessary most of the time, as slamming your wheels into obstacles with the additional weight of the bike is a flat tyre waiting to happen. I'd recommend going up at least one level in casing in whatever tyre brand you run, and an insert in the rear isn't a bad idea either.
Josh says that whilst inserts are great, proper suspension setup is critical to getting the most out of your tyres and wheels.
'CushCore inserts help to protect your wheels and offer a great ride feel. As a consumer if you spend that much money on your wheels and bike then CushCore is a no brainer. It gives you a backup to get home and not ruin your tyre and wheel. Despite this, sometimes when people are destroying rear tyres and wheels it's because their suspension isn't setup properly. If you're bottoming out all the time that's a lot of force transferred to your frame, rear wheel, and tyre.'
Tyre and casing choice are worth thinking about on your eMTB.
Over the course of my chat with Josh, I thought this quote was a great takeaway for both new and experienced eBike riders.
'A lot of people underestimate how much more they're riding on an eBike. They're doing 3 – 4 times more riding than they've ever done in the same time. All this extra riding is improving their skills and placing more strain on their components. Riders need to consider this when it comes to their eBike component choices for both performance and longevity.'
After more eMTB content? Click here. 
Australian Mountain Bike