The 2022 Specialized Turbo Levo Expert is one of the smoothest, most powerful eMTBs we have tested yet.
Words: Ryan Walsch
Photos and Video: Nick Waygood
---
It has been six years since we first saw the Turbo Levo storm the mountain bike eMTB world and here we are with the third iteration of the eMTB that was always a bit ahead of the rest in terms of technology and trail feel. Earlier this year Specialized released the new Turbo Levo in S-Works and Pro variants, and the Expert lowers the price point for all the new tech to $15900.
The 2022 Specialized Turbo Levo Expert.
Initial Impressions: 
It sure does look like a Levo, the overall appearance is very similar at first glance to that of its predecessor even with a some small tweaks, but are they really that small? The Turbo Levo is not the first eMTB I have seen sporting the Mullet setup with a 29 inch up front and 27.5 inch wheel out back. I'm a 29er convert but I do think the mixed wheel, or mullet, format suits eMTBs very well. Afterall, it does work exceptionally well in the realm of motorcycles. The smaller rear wheel certainly has enabled Specialized to steepen the seat tube angle considerably, shorten the chain stay and get the geometry much closer to that of the Stumpjumper Evo, all whilst building a stronger rear wheel – which any eMTB rider will appreciate.
Like all recent offerings from Specialized, there is no clutter. There is absolutely nothing out of place including the internally routed and integrated rear wheel speed sensor of the newly transformed Mastermind TCU which gets better again. The Turbo Levo remains delivers 160mm of travel up front and 150mm rear wheel travel, however it is now equipped with the hard hitting Fox 38 Performance Elite suspension fork and a Fox X2 Performance Elite rear shock which when paired up with Specialized's revised suspension kinematics transform the Levo, making it more capable than ever.
The Mastermind TCU is a fantastic piece of integration.
Part of what makes the magic of the new Turbo Levo is how the geometry, suspension, frame design and electronic wizardry all combine. It's longer, slacker and has all the things we love about the Stumpy EVO like adjustable geometry at the Horst Link and head tube. Plus the Turbo Levo has the new 2.2 motor packing its 565 peak watts and 90 Nm of torque, matched with brakes that can pull it up! Its refreshing to finally see a bike manufacturer equip an eMTB with an adequate 220mm rotor up front and a 200mm on the rear. Specialized opted for SRAM's Code RS which provide consistent stopping power even when hot. This is also the first Specialized we see with the T9 compound tyre, a softer and more supple compound with far better manners on the dry and dusty trails than the previous compound which was rather hard.
Setup:
Before we start fiddling with frame geometry, suspension setups and fine tuning the 2.2 motors parameters via their Mission Control app, I always like to build the bike up stock, set everything up according to Specialized's specifications and get a few good rides in. After a quick visit to the Big S's website, the initial setup couldn't be easier. The nifty suspension calculator has you select your bike model, pop in your height and weight (including gear) and some pretty accurate numbers for the fork and shocks pressures, damping and tyre pressure ranges are all delivered. It is all very helpful and makes getting out on the trail quicker, provided you have remembered to charge the bike the evening before, now like everything else you own.
The S4 we have on test has a 477mm reach and is approximately 10mm longer than I am used to including the equipped 50mm stem. However this had me centred nicely on the bike. The suspension felt balanced straight away using Specialized's online calculator and I opted for the higher end of the tyre pressure scale with 26psi front and rear, something that I later was thankful for! A 800mm inhouse alloy Trail handle bar with 30mm rise and comfortable Deity grips, Specialized Bridge saddle and quite importantly now 160mm cranks round out the touch points on the new Turbo Levo Expert.
The Deity grips are a nice touch from Specialized.
With plenty of saddle time on the two previous iterations, Kenevo and the memorable Levo SL, my eagerness to hit the trail was at an all time high.
On The Trail:
Well the new Gen 3 Turbo Levo is very quiet, smooth and did I say very, very, quiet. For the first 20 minutes of climbing pretty mellow singletrack in either Trail or Turbo mode it is apparent that there is an absence of noise when compared with earlier models and some other popular eMTB motors. The noise just creeps up to a bit more of a throaty purr in Turbo when it is under high load. The power delivery is exceptionally smooth and it purrs in and out as you attack an obstacle and regain composure between. Climbing technical pinches in trail mode was a breeze, with its 35% support and 100% peak power it allows riders to maintain traction and control and still be able to access to 2.2 motor's full power if you stomp down on the pedals to clear something. The system gives you the response you expect and it is very smooth and seamless - just more power when you need it and as smooth as you would apply it yourself.
---
After eMTB reviews? See below for more eMTB's we've tested recently.
TESTED: 2022 Norco Sight VLT C2
TESTED: Pivot Shuttle Team XTR
TESTED: Cube Stereo Hybrid 140 HPC Race 625
---
Turbo mode on technical climbs is much easier and predictable than with competitor's motors, especially on very slippery surfaces like dusty hardpack, dust over rock, loose rock and wet rock. The new firmware update does really seem to smooth the delivery of power out to enhance the ride, not just boost you forward. Quite often in the past in Turbo mode, you were caught out of the saddle giving a quick ratchet of the cranks and the assistance disappears and then it surges back to life right when you least expect it, but the 2.2 motor feels far more intuitive and easier to clear the same sections I've struggled on in the past.
With a switch to the 27.5 inch wheel in the back, it's not something you really notice when riding. It feels like you are riding a bike, with a 442mm chainstay the back end is pretty manoeuvrable and manuals easily, which is surprising for something that's 1255mm long and weighs 22.4kgs (S4 as tested). When you are on board the Levo, you can't see that the rear wheel is smaller, but it feels balanced and better suited to eMTBs as it corrects a few geometry constraints and compromises that the 29 inch rear wheel can cause.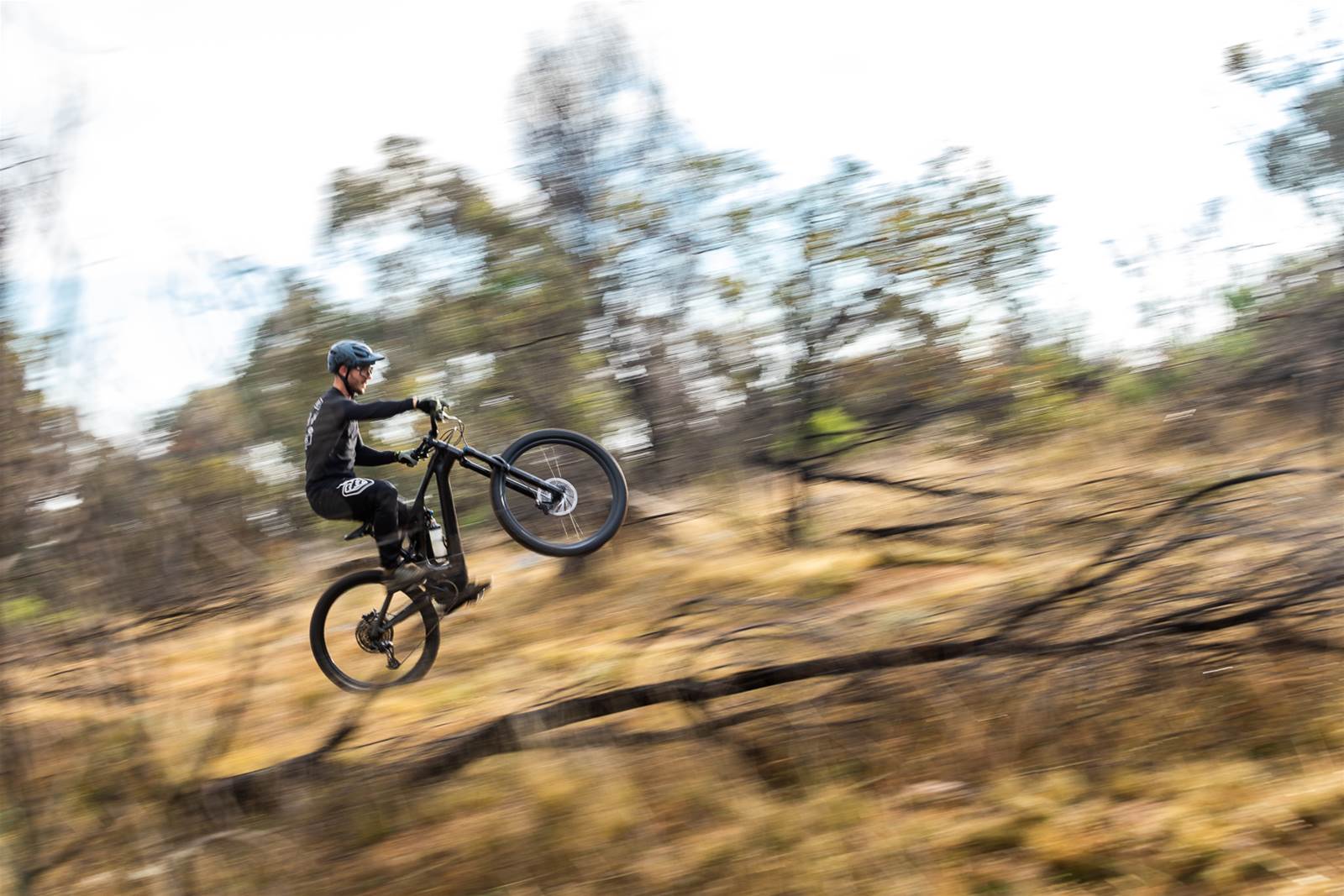 The new Levo loves back wheel.
The suspension kinematics have had had a thorough redesign for the Turbo Levo, which has transformed the bikes' "trail feel". I have found Specialized's previous Levo, Kenevo and Stumpjumpers spring curve to be too linear and while a progressive spring curve can be just as detrimental, the Gen 3 Turbo Levo's suspension ramps up nicely towards the end of the travel and prevents those hard bottom outs when landing a heavy bike. The high initial leverage ratio when paired with the Fox Performance X2 rear shock is super buttery and gives heaps of grip when both climbing and descending. It's a great match for the bike and far more easily adjusted than a coil for most riders and one of the reasons the Levo sticks so well in the chop. The other neat reason is that the first third of the rear wheel's travel is rearward. The wheel moves backward just over 5.5mm as it contacts obstacles, decreasing hang-ups and maintaining forward momentum. The axle patj then comes forward again in the last two thirds reducing pedal kickback and reducing the effects of braking forces over the suspension, keeping things active and lively.
What can you do with a 700Wh battery?
Specialized have jammed some amazing features into the new Mastermind TCU and Mission Control App, Smart Control lets you map a route and your Levo will calculate how much it can assist you ensuring you can make the distance or there is a very cool "Live Consumption" feature which prompts you to pedal more efficiently (similar to fuel consumption in your car) generally keeping you around or just above a cadence of 75 to get the most out of you range.
The 700Wh battery provides plenty of juice for all day missions.
My test methodology was simple, how many vertical meters could I climb (in Turbo) and then descend (in off), in the least amount of moving time possible? For me, one of the benefits of an riding an eMTB is jamming as much quality gravity riding into a ride as possible and the Levo had shown consistent 200m vert per 10% charge and 1000m vert for 50% charge, all easily checked via the Mastermind display and an accurate percentage of charge and elevation displayed.
---
Tester: Ryan Walsch
Photographer: Nick Waygood
Riding Experience: A lifetime of sending it on bikes and repairing them afterwards.
Generally rides: Forbidden Druid with all the fruit.
Height: 178cm
Weight: 73kg
Bike Test Track: Mt Stromlo and secret CBR loam and jank.
---
Sitting at between 22 and 26 km/h on a fire road climb of approximately 350 vertical metres meant I covered it in less than half the time than normal. That's pretty awesome, and still tiring but in a different way. I managed to churn out 1956m vertical metres of climbing and descending on the Turbo Levo in 1 hour and 59 mins including switching between High and Low bottom bracket heights via the flip chips on the chainstays, snack stops and a fair bit of trail banter around me cheating and so on.
The Levo churns up the vertical to give you more descending time.
The Levo performed flawlessly in the loose and pretty slippery conditions, the huge brakes and 29 inch front wheel making stopping a non issue and the complete absence of noise on descents was actually a refreshing change! The 2.2 motor does not fully "coast" when you stop pedalling like Shimano's EP8, the Bosch Performace CX and Specialized's SL motors, it does have a very slight drag over 25Km/h but makes no rattling noise, something which nearly drives me mad about descending on an eMTB. I want to hear the tyres gripping into the dirt, what the bike is doing and my mates yelling and the like. I don't want to hear a darn centrifugal clutch rattling and clacking away. This, the revised suspension kinematics, a huge battery and smooth powerful motor and great geometry made possible by the mullet rear wheel are why the Gen 3 Levo is such a well balanced and familiar handling bike.
I personally have not had any issues with Specialized eMTBs in the past, despite some long stints on them, over zealous and frequent washing habits and just foul conditions but we have all heard about them chewing through belts and not starting up after washing or getting soaked. Specialized have revamped the charge port extensively, with a latched trap door covering a firmly sealed gasket plug that makes an airtight "thunk" noise when you pull it out. So it makes you think they have thought long and hard about these issues. The 2.2 Motor sees a wider, stronger belt paired with new firmware that smooths out power delivery and from what I can feel underfoot, it does this very well. The Roval Traverse wheels have new hubs, and the usual great job of sealing pivot bearings off from the elements make this a very durable package that has given me no troubles in a very wet change of season period for testing.
Specialized have made changes to the new Levo to increase its durability.
On one of my last rides I did get a "motor error" message pop up on the Mastermind TCU and a brief loss of power. I pulled over and turned it off and on again (well what would you do?) and reconnected the bike to my Mission Control app and checked the diagnostics. No error had been reported. I have not encountered this again and I was able to send off the diagnostic report to Specialized via the Mission Control app just in case.
Our Take:
The Turbo Levo is the perfect blend of an all day shuttle trail or enduro bike and a well balanced analogue bike. Specialized have lost nothing bringing the Turbo Levo down to the Expert price point, with 12-speed SRAM Eagle delivering a whopping 520% gear range, with longevity assured by the single click shifter. Specialized have really thought about all the details, as per usual. From the seamless integration of the eMTB tech into the frame and cockpit, to SWAT tool integration and making sure parts like the tyres, wheels and suspension are up to the challenge that the extra load of an eMTB presents.
The all-new Turbo Levo gets the thumbs up from Ryan.
If you rode some eMTBs a few years ago and found the ride feel a little disjointed, and the bikes a little loud and cumbersome, then you really need to organise a test ride on a Turbo Levo. Specialized are the masters of design, and not only does the Turbo Levo Expert look great, but it is a highly refined ride as well. I'm often left wanting in one area or another on eMTBs, but this one ticks the boxes.
Price: $16300
From: www.specialized.com/au
Australian Mountain Bike