The Orbea Wild FS M10 is an aggressive eMTB from the Spanish manufacturer.
Words: Sebastian Jayne
Photos: Nick Waygood 
---
Orbea have been making some tasty bicycles for a while now and their eMTB range is serving up a fine selection. The current eMTBs on offer include the beginner inspired Keram, the beefy Wild hardtail and the freshly baked Shimano EP8 RS equipped featherweight Rise. The 'more-power-more-travel' model is the Wild FS which includes three full carbon models, an alloy/carbon option, and full alloy frames with changes to components.
Being an Orbea means the Wild FS is available on the MyO custom program that lets you tweak key components to tailor your ride. It also lets you change the important stuff like colour and stencilling a name for your ride onto the frame. For all of you who ever wanted to name your bike something absurd and have it written forever on the frame, now is your chance!
Up close on the Wild FS
The Wild FS tested was the M10 with the other full carbon M-Team and M-LTD sitting above it in the range. There is also an M20, which drops to an aluminium rear triangle/alloy-link but still with a carbon front triangle, and four full alloy models. As far as builds go, the M10 has a solid spec at a reasonable price that can keep up with the rigours of hard eMTB riding. The suspension comes from the performance line of Fox with a custom tuned DPX2 shock and Fox Float 36 eMTB optimised fork set at 160mm (it's a 38 on the 2021 models). Our test bike came with Shimano XT M8120 4-piston trail brakes, which is a customisable component and can be swapped for the cheaper stock Shimano M420 brake set. The drivetrain features some slightly more budget items from Shimano, Sun Race and KMC to keep the cost down.
The M10 comes stock with the Maxxis Minion DHF/DHR in 2.6" tyres but our test bike came with Schwalbe Eddy Current and Cush Core inserts to see what the system could offer the eMTB platform. These aren't available on the MyO program, but should be via your Orbea dealer. The 780mm Raceface Aeffect bars and 35mm stem keep with the beefy budget theme. Our model came with the DT Swiss 1900 Spline 30c wheel set, which is upgradable to the 1501 Spline set if you're looking to spend the extra cash to drop weight. Ultimately, the M10 looks to offer a carbon frame and Bosch for a decent price, which means there is cost cutting in the components. This isn't good nor bad, just something to consider.  
The big component feature is obviously the vroom-vroom box … the motor! It comes in the form of the Bosch Performance CX Gen 4 model. The 75Nm motor (which can be bumped up to 85nm for model year 2021 thanks to a software update) is paired with a chunky 625Wh Bosch Powertube battery that is said to offer around 80km of range. An extra 500Wh '2PAK' second battery is also available and replaces the bottle cage to sit in the main frame. The Bosch Kiox colour display unit and remote is also added to help cycle through the different eMTB modes.
In terms of geometry, the Wild FS has a 65.5 degree head angle and 76 degree seat angle across all sizes. The large on test had a reach of 455mm and a bottom bracket drop of 30mm. The chain stays are 455mm on all sizes, which is about right for a longer travel eMTB with room for plenty of rubber. All this adds up for quite a stable ride, but with a pedalling position that leaves you very centred, to help you earn your descents. Ok, earn them with some help from Bosch.
On the Trail
After many years watching the rise of eMTBs from afar, the Wild FS was my first try at the electrified version of the humble bicycle. I'd seen them smashing XC laps at World Championships when the eMTB Worlds started up and have seen many people ripping around Mystic MTB park in Bright. On a regular trail bike, Mystic is a tough ride without a shuttle. Riders face a 35min+ climb to reach the top, which doesn't leave a lot for energy or time for much else during an after-work ride. Reaching the top in record time was always one interest in eMTBs, but the big one was riding trails that I could never hit on a regular bike. The steep secret trails and spur-line firebreaks that enduro motorbikes hit was the terrain I'd always looked at and thought would be perfect to push the limits of eMTBs. To me, an eMTB was about opening up access to more areas.
So, guess where I headed first. One of the most direct routes up Mystic is a spur line firebreak that runs alongside the National DH track. Strava puts this 1.8km section at about 25% average with some killer steep sections up loose rock slabs. I can do sections of it on my XC bike, but it takes a good 400W+ just to keep moving forward, which doesn't leave a lot left to 'crawl' the bike or overcome a break in traction when it gets slippery. The Bosch Performance CX line on the Wild FS offers four settings: Eco, Tour, eMTB and Turbo. Naturally I went straight for Turbo because more power is always better.
---
Tester: Sebastian Jayne
Photographer: Nick Waygood
Weight: 66kg
Height: 175cm
Experience: Many hours riding around in circles at World Cup/National XC and marathon races.
Test area: Bright and surrounds.
---
For those of you who haven't ridden an EMTB before, Turbo essentially means all the power, all the time. So it is good for smashing roads but the moment you start turning the pedals, all that power goes to the rear wheel. For steep and loose sections like the one I was on this was way too much power, so I needed a more modular application. The EMTB mode is perfect for this as it modulates power between the 'Tour' and 'Turbo' modes. The power is also gradually built up and is dependent on the rider's output. So, if you're stopped on a steep slope and want to gently apply the power to get moving, the mode will react accordingly. This was immensely helpful in getting started on 25% slopes and getting over technical rock sections on the trails. The latest software update to the Bosch motor bumps the peak torque from 75Nm to 85Nm and increases sensitivity of the unit to rider inputs, which will be perfect for steep hill climb starts.
At its core the Wild FS is still a 160mm trail bike but with some extra kick and added frame support. Coming in at over 24kg for the model tested that 'added frame support' does pack a punch to the bike's manoeuvrability. You really need to milk the motor to keep moving and can't 'cheat' by getting physical and trying to lift up, over and around things especially on the tighter singletrack where you can't keep momentum up. That might go without saying for most eMTBs but with lighter weight models like the Orbea Rise or Specialized Levo SL, it is worth noting.
One of my most fun experiences with the Wild FS was trying to climb a steep section of singletrack with ruts and 'shelfs' that moto riders usually tackle. The first few rides I was getting caught up on the shelfs as I couldn't balance the bike or modulate the power. By the second week I was clearing the whole climb but still barely making it and taking the bike to the limit. This is where I really saw the benefit of buying an eMTB.
I'd never be able to do this trail on my regular bike but suddenly a whole new track and challenge was open to me.
While it is heavy, the Wild FS really delivers all the things you want from a longer travel eMTB. A lot of that feel comes from the frame design which aims to offer comfort and stability. While it wasn't a stock item, the Cushcore system with eMTB specific Eddy Current tyres was a welcome addition to keep the tyre pressure low for technical climbing while still having enough support in the descents.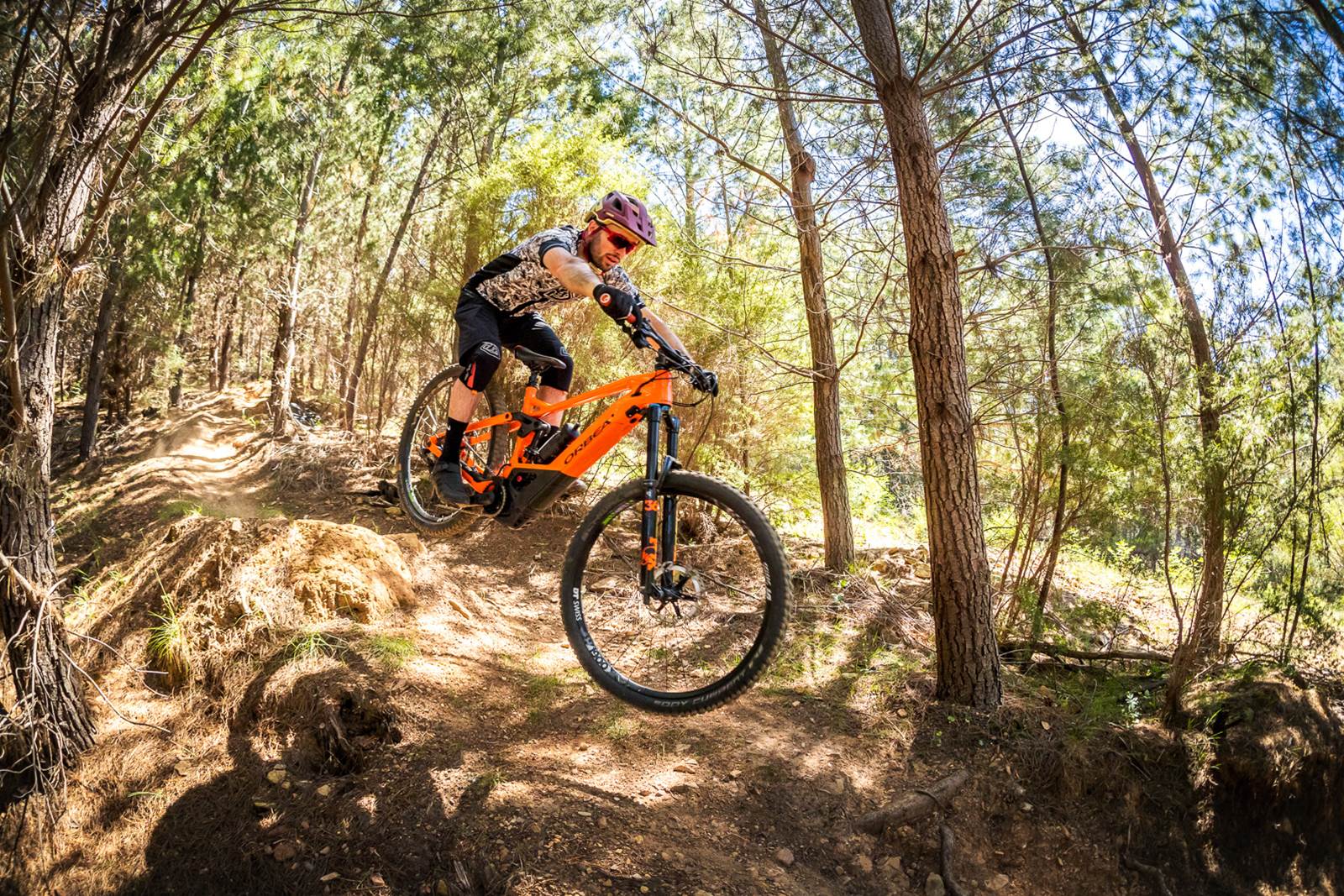 Both up and down trails, the Wild FS lacked agility compared to an analogue trail bike, but I was always comfortable and once I learnt how to stabilise the big bike, that stability really came to play. On fast and rough descents, the Wild FS smashed through with a great planted feel thanks to its long wheelbase and roomy cockpit which also helped during the climbs. The suspension was dialled and handled the added weight being thrown around admirably. Admittedly it didn't ride as well as a regular 160mm trail bike on some descents that needed a lot of line changes, but again, the Wild FS was good for stability and capability. I was able to knock out the climb up Mystic mountain in about half the time it usually takes and continue lapping while others were waiting for the next shuttle. On the way up I could challenge myself to ride up steep, slippery slopes to entertain myself before dropping back down any trail for another lap knowing I had a bike that could handle whatever came next.
Our take:
The Orbea Wild FS is the big bike option from Orbea's eMTB line and while it came with some drawbacks Wild FS performed very well for what it is, a 24kg bike. It might have lacked agility but made up for this with a stable geometry and comfortable dimensions. The Gen 4 Performance CX motor carried me up any climb and the 625Wh battery held up for a good 2 hours in eMTB mode with steep climbing that frequently pushed the motor into Turbo mode. Less full on ascents would get way more range. Importantly it opened up a whole new world of trails and challenges on the way up while still being a great handling bike on my favourite descents.
The Wild FS comes in S/M, Large and XL with Large tested. I'm at about 175cm which is in the middle for the Large. There is an overlap of five centimetres between sizes, so if you're on the border you might want to head out for a test ride. But if you're looking to hop right on, then consider what you want from the bike. A smaller size can be more beneficial for technical climbing while the longer size might be better for flat out descending. In terms of build, the M-Team in the carbon M series would be my pick. If you don't mind dropping to alloy to save some cash, then the H10 would be a great option.
From: Bikebox
RRP: $11,599
Australian Mountain Bike