The Moustache Game 6 an an aggressive eMTB from French brand Moustache.
Words: Ryan Walsch 
Photos: Nick Waygood
---
Intro:
New to Australian shores, Moustache bikes hail from France, a part of the world who went electric mountain bike mad a little earlier than we did here in Australia. While many of us still shunned the idea of pedal-assist even four years ago, the French said a big 'yes' (or oui) like just about every other European country, and e-bikes and eMTBs have been in high demand ever since.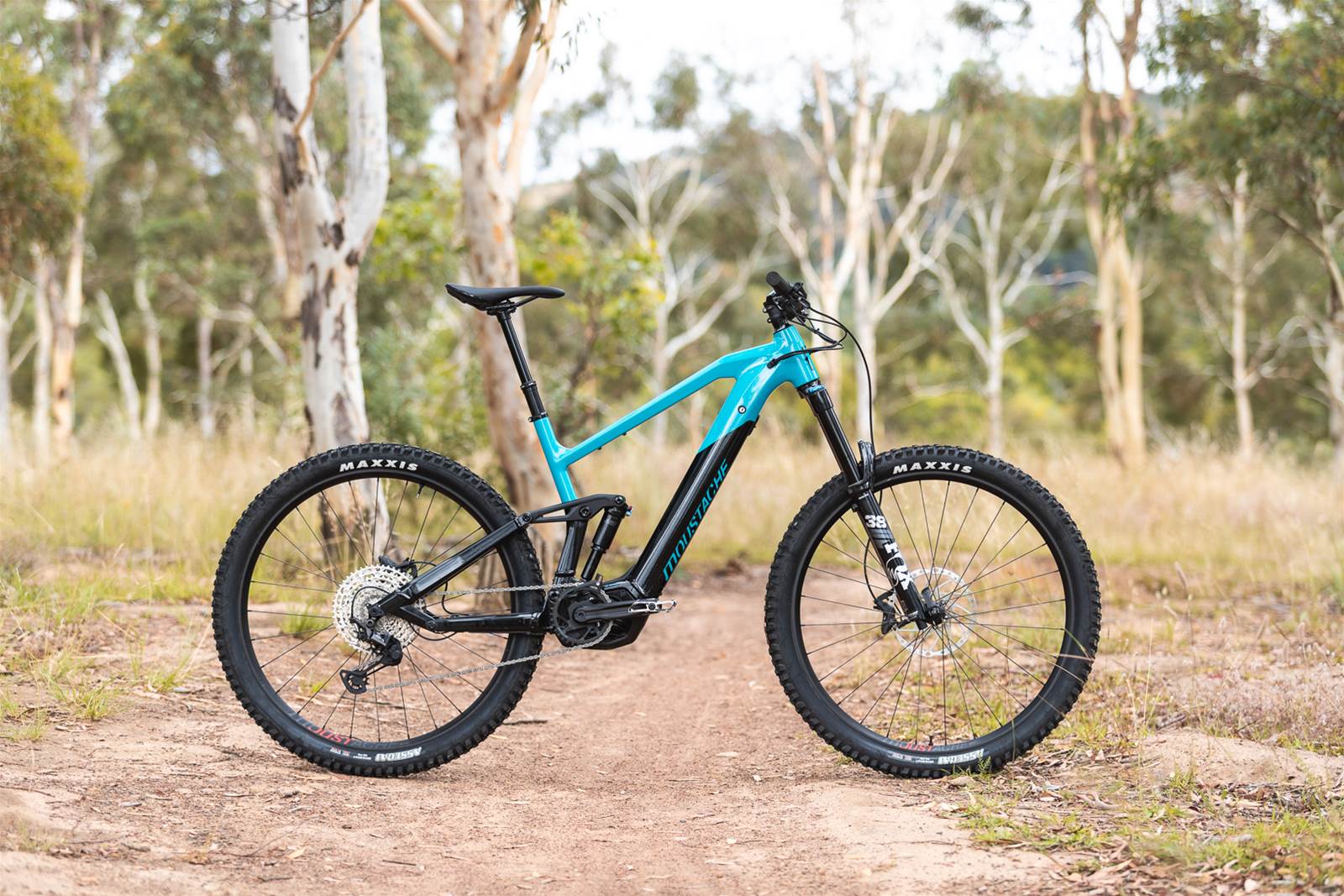 The Moustache Samedi 29 Game 6
Moustache are not a specialist eMTB company, but they are a specialist eBike company. With a firm belief that pedal-assist bikes would open up cycling to more people and more experiences, the founders started in the Vosges region with 7 models, and now boast nearly 65 bike models. The name comes from the iconic moustache handlebar, with similar designs seen on some of their urban bikes.
---
You can check out all of our eBike content here
---
The Moustache mountain bike range has no silly handlebar shapes going on. Their eMTB range is called Samedi (Saturday) and it is as wide as a stock downhill riser bar, with eMTB tandems, fat bikes, hardtails, trail bikes and of course the enduro purposed Samedi 29 Game 6 that we have on test. The alloy frame is built around a Bosch Performance Line CX Gen4 motor, with 85Nm of torque and a 625Wh battery. With 29" wheels, a big 170mm Fox 38 up front and Moustache's own rear shock delivering 160mm of squish.
The Game 6 uses Moustache's 'Magic' Shock.
Moustache claim that the Samedi 29 Game is for those who want to "Beat the field on an enduro, or simply ride flat out on any beat-up trail, whether you're climbing or descending!" Selling for $9750 the Game 6 is playing in a very competitive area, against the likes of the Specialized Turbo Kenevo Expert (which has 27.5" wheels), or even the Merida eOne-Sixty 8000, which has a mixed wheel size setup.
Initial Impressions:
The Moustache Samedi 29 Game 6 is a robust bit of kit, built out of aeronautical quality 6061 T6 Aluminum with hydroformed tubes with tapering wall thicknesses it hides the massive 625Wh Bosch battery discretely. The frame has oversized sealed bearings throughout, a CNC machined linkage, and a FOX 38 upfront. It's easy to see the Samedi is overbuilt and ready for the onslaughts of the modern enduro or trail rider.
Moustache use oversize bearings throughout the Game 6.
This is the first Bosch Gen 4 Performance Line CX equipped eMTB I have ridden and the reduction in size and weight is pretty impressive. The increase to 85Nm of torque as a percentage is huge and really builds on Bosch's already brilliant delivery of power. From a low cadence it smoothly pulls you forward especially in the E-MTB mode which gives it the beans when you do and reigns it in seamlessly when you are lightly tapping away.
Moustache were one of the first brands to use Bosch Motors over ten years ago.
Paired with 29 inch wheels front and rear Moustache have specced a very stiff 170mm Fox 38 upfront and their own proprietary Moustache Magic Grip Control rear shock which sports dynamic rebound control technology and two compression positions: "Open" and "Platform". Moustache claim that the Magic Grip Control Shock sticks the rear wheel to the ground like Velcro, so I was certainly keen to see how this proprietary tech would go on the trails.
I like that Moustache have equipped the Game 6 with 4 piston brakes. Moustache's alloy rims are a quality tubeless job and roll on sealed bearing Shimano hubs. Yes, you heard correctly, no more loose balls and cup/cone arrangements in some models! The wide 31mm internal width Moustache rims came pre taped, valved, and required only sealant and a track pump to seal up the Maxxis Assegai rubber. This is a task that I would recommend carrying out at point of purchase to ensure it all seals up nicely. I always have my own concerns about tyres, so I did wonder how the Tubeless Ready EXO casing would hold up on the rear of a 24.9kg 29er eMTB. I pumped in a few extra PSI above what I would normally run.
The Moustache wheels are a quality piece of kit, although some heavier duty tyres would be appreciated.
While I personally don't believe 12 speed belongs on e-Bikes due to the reduced need for a quite so large range and huge amount of load on such a narrow chain, there is no faulting the shifting of Shimano's 12 speed group sets under load, and with a mix of Deore and Deore XT on the Game 6 riders will have trouble free shifting on the roughest of trails.
I had a size large Samedi 29 Game 6 on test and compared to a newish school run of bikes I have been testing, its reach is rather short at 440mm - a full 25mm shorter than I am used to in recent years. The head angle is a sensible 65 degrees, however when paired with a 460mm chain stay and tall standover I feel this may have a tendency to pitch riders forward.
The Game 6 features a more 'Euro' style geometry.
On The Trail:
On the trail the Samedi 29 has presence, a 160mm/170mm 29er really does instill a certain confidence when approaching and riding through chunder and technical terrain. The Magic Grip Control rear shock does exactly what Moustache state – it really does "Sticks Like Velcro" to the ground. Riders who prefer to negate terrain rather than jump it will love this rear shock, it really soaks up the chunk. As it pedals it has a nice platform yet remains extremely active on the rough – this is a tough balance to get right. The rear centre length certainly sits you in a nice and comfortable upright position when on the trail, especially on the descents where you do not know what is coming up next. The Fox 38 upfront does an unbelievable job of keeping the burly Samedi 29 tracking straight and true with little to no complaint even from the hardest hits with additional weight behind it. The Fox 38 platform really is an ideal partner for any mid to long travel eMTB.
The Fox 38 is the perfect long travel eMTB fork.
Climbing with the Bosch Performance Line CX Gen 4 is a breeze with the additional torque, the 85Nm enables you to spin a little slower and maintain a nice natural cadence to muscle through technical climbing features rather than spin for dear life and pin ball off everything as some older generation e-bike motors required.
Bosch have always done a great job at interpreting rider input and adjusting the assistance seamlessly to maintain traction, improve battery longevity, and reduce drivetrain wear. Its output may not be quite as smooth as the Specialized motors but it's very quick to make adjustments. I found myself almost exclusively using the E-MTB mode which allows you to gain access to up to 340% assistance on demand and fading out almost unnoticeably as you easy off to a light spin at the summit of a climb. Bosch have reduced the amount of drag through the motor significantly and just like Shimano's new EP8 motor there is considerable rattling or clacking away when the motor is not under load. Once you hear it, riders can not simply unhear this noise, it's maybe not as loud as the Shimano EP8 but can be a bit annoying considering the motor noise under load is very quiet.
Bosch's Performance Line CX Motor is very good, but not perfect.
On the climbs, the longer 460mm chain stays make keeping traction easy, the front wheel stays planted and provided you keep the cranks turning, the Samedi 29 keeps on climbing unfazed by the terrain with its 29 inch rear wheel, huge torque, and stable suspension platform. The length of the rear end does become a little bit of a handful on descents, particularly during fast directions changes where muscling it around can be required. Again, riders who like to keep the bike planted and following a chosen line will be rewarded by how it tracks, riders looking for a flickable and highly agile long travel eMTB to shuttle with may not like it as much.
---
Tester: Ryan Walsch
Riding Experience: Racing since 2000 and working in the bike industry for over 15 years. He can usually be found racing or running multi day enduro events, advocating and maintaining trails or testing product for AMB or directly for bike brands.
Generally Rides: Forbidden Druid
Height: 178cm
Weight: 73kg
Bike Test Track: Jungle Boogie, Stromlo Forest Park, Tuggernong Pine Plantation, Mt Gladstone Cooma
---
Moustache have selected the perfect blend of high quality and durable parts to bring the Samedi 29 Game 6 into a very competitive price bracket. While a bike sneaking under $10000 is far from cheap, for a long-travel and capable 29er eMTB – it's around the price point many people will be looking. With sealed bearing hubs, 4 piston brakes, Shimano 12-speed, quality tyres, the Fox 38 suspension fork and of course one of the most reliable eMTB motors available, the Game 6 is a great choice for those who may not want to start upgrading parts straight away. While the Bosch Purion display is durable, functional, and allows riders to switch through 5 modes, Eco, Tour, E-MTB, Turbo and walk assist, it isn't the most ergonomic and easy to use when riding aggressively, effective yes, but pretty it is not.
The Purion display gets the job done, but could be refined further.
I did encounter 2 small issues throughout the duration of our test, both of which were easily rectified. The first charger decided it didn't want to charge and I was unable to work out if it was the lead or charger itself, the Australian distributor was only to happy to arrange a replacement through Bosch and then I was off and riding. The second issue was spoke tension on the wheels, the rear specifically. The spoke tension unwound rapidly over the first few rides and while remaining true became a bit of a handful. A re-tension and a good release of the twist in the spokes lead me to believe that the wheels were not relieved of this twist on the spokes during the tensioning process, which when ridden will effectively unwind. Again it is a simple fix and something that may have been missed at assembly and given the amount of hard riding I did on the 160/170mm 29er – it can be a fairly normal issue.
Our Take:
Moustache have nailed the specifications of the Samedi 29 Game 6, at this price point the Fox 38 Fork, the flawless shifting of the Deore/Deore XT 12 speed drivetrain, and the big 4 piston Shimano brakes make it a fun ride.
Your choices for a longer travel 29er eMTBs are pretty limited, and I think this bike will suit riders looking for a stable bike that can be ridden all day or until the battery runs out rather than riders who are looking for a hard hitting and highly manoeuvrable shuttle/trail bike. I look forward to seeing some geometry updates on the Samedi in coming seasons and more Moustaches on our shores.  
RRP: $9750
From: www.chargeabout.com.au 
Australian Mountain Bike