Port to Port is back for 2022 - if you haven't been before or haven't done a stage race, here's everything you need to know.
Port to Port is the biggest mountain bike stage race in NSW, and it is back in 2022! After 5 succesful years, the popular stage race will once again visit the Hunter Valley and Newcastle regions, bringing close racing, fun trails and a ripping good time.
A stage race like Port to Port is all about cumulative time for those racing for personal bests or overall line honours - so you have to be riding at your best every day. But with most stages taking between 3 to 5 hours to finish, there is plenty of time to live like a pro athlete and recover for the next day. Of course, if that's what you choose to do in the Hunter Valley or near Newcastle's exquisite beaches, so be it. But there's plenty of time to get out and see the area when you're not railing singletrack against the clock.
Port to Port can be raced solo, or in pairs. Pairs racing is a popular option globally and is heavily linked to one of the original stage races, Transalp. The crossing of the European Alps was made into an 8-day stage race, done in pairs as it made the event insurance a lot simpler, or so the story goes. On the trail, it leaves you with a buddy to share the highs and lows, the banter and the back chat. As Port to Port is part of the Epic Series, the pairs racing matches in with Reef to Reef and Cape to Cape, but also the Cape Epic, Swiss Epic, Bike 4 Islands and the rest of the global Epic Series. 
---
READ: What is the Epic Series?
If you don't play well with others - that's fine too, you can enter solo. There are pairs options for Open Men, Open Women, Mixed Pairs, Masters Men, Masters Women, Grand Masters Men and Grand Masters Women. There's a tonne more details on the pairs racing right here.
Port to Port runs from 19-22 May in 2022, with four days of mountain bike fun. The course details have just been released, so let's take a look.
Stage details for Port to Port 2022
Port to Port Stage 1
Stage 1 starts and finishes at Roche Estate in the Hunter Valley. This is a new stage location although we'll be riding in a very familiar setting, taking off amongst the vineyards before riding into the range.
The course covers 58km with 1500m of climbing in it's loop. The main dirt road climb out will sort out the field of riders, and while the amount of climbing looks daunting, it is primarily dirt road which will allow you to find your rhythm better than a singletrack climb. 
The trails at the top are approached in a reverse direction to usual, so we'll all have fresh eyes on them. Expect a mix of hand cut singletrack peppered with moto trails and state forest access roads. It'll be sublime singletrack at times and a little wild and wooly at others. Looking ahead and picking your line will be rewarded!
The descent back into the valley leads you through some adjoining wineries before a finish at Roche Estate. Well done - you've put your line in the sand for the day on one of the hilier stages in Australian mountain biking.
This will be a challenging day for many, there's no arguing with gravity, and even if you're super fit it's still a hard climb - you'll just go faster. But without challenge there is no reward, and after duking it out on the trails at the top and down the descent, you'll be pretty stoked to knock this one off, to get set for Stage 2.
Port to Port Stage 2
Day two sees the Port to Port racing move to Killingworth. If you've grown up racing bikes in NSW then you will be familiar with the trails at Killingworth, from the interesting access for club races, the curious readings your heart rate monitor would give due to powerlines, and the mix of rocky trails up high and sublime flowing singletrack near the creek.
The start and finish at Ken Evans oval is new, and with 600m climbing over 42km you can be sure today will be easier on the legs. Probably. Given the stage is jam-packed with singletrack, you'll need to have your lines dialled to keep your singletrack flow on point, to reduce the work out of corners and to keep the stoke high.
While the vertical ascent is less, the corner count will be way up. Expect tight racing throughout the field, and the need for well-timed passes to capitalise on your singletrack ninja skills.
Get back to the finish, tell some tall tales from the day and make sure you fuel up for Stage 3. 
Port to Port Stage 3
This one is a personal favourite. The event team state it's the Queen Stage. That's the most difficult stage of a stage race. I'm not sure if that's true or not, as on paper I think Stage 1 could be harder. But Stage 3 has always been tough, with a brilliant mix of challenge and reward. For 2022, the event team have turned the stage on its head, so here are the details.
The 52km stage starts and finishes at Cooranbong Equestrian Park in Martinsville, just down the road from Awaba MTB trails. If you've started any cross-country or endurance event at Awaba, you'll know it's not really the place for 1000 keen bean mountain bikers to clip in and bang bars in a mass start. So we'll head out onto the road and up Slippery Rock Road into the Watagans first, with Awaba second.
There's 1200m of climbing to tackle, and you'll do a lot of that now. The climb is broken into two main chunks of about 200m ascent, with a rolling ridgeline before a long descent into the Awaba MTB trails.
While some of that sublime singletrack is short climbs, there's plenty of flowing descents. Expect to see a string of riders in front of you through the forest, with colourful lines of mountain bikers filling the gullies with whoops and yiews on the descents. But given the shake up the stage has had, it will also shake up the riders, so you'll have more room to let it all hang out.
A fast finish back to the park and you've just knocked off another stage - one to go! Get a massage at the finish, talk to people you met on the trails, share a drink - you do you. You're almost there.
Port to Port Stage 4
Whether you race a 4 day stage race or an 8 day stage race, the alarm clock on the final day feels about the same. You're tired. You're sore. But you're also ready to ride some trails, race your bike and finish the job. This stage is a point to point format, but there are shuttles from the finish to the start and vice versa so you don't have to sort out private transport.
The race kicks off at Barton Field, and the 40km course hugs the coastline, which keeps the climbing pretty low at 700m. A nice relief after Stage 3. This start is a little closer to the trails, and the course gets into the Whitehead Trails pretty quickly, cutting turns under the trees.
Next up is Glenrock, but don't ignore the ups and downs inbetween. It's the last day but the Port to Port course designers aren't making it a parade.
Power through the trails at Glenrock and you have a final descent through town to Dixon Park. You'll hear it before you see it, and you can bet that this will be one of the best event finishes you've been to. This finish line has experienced some tight battles over the years, with races won or lost in finish line sprints.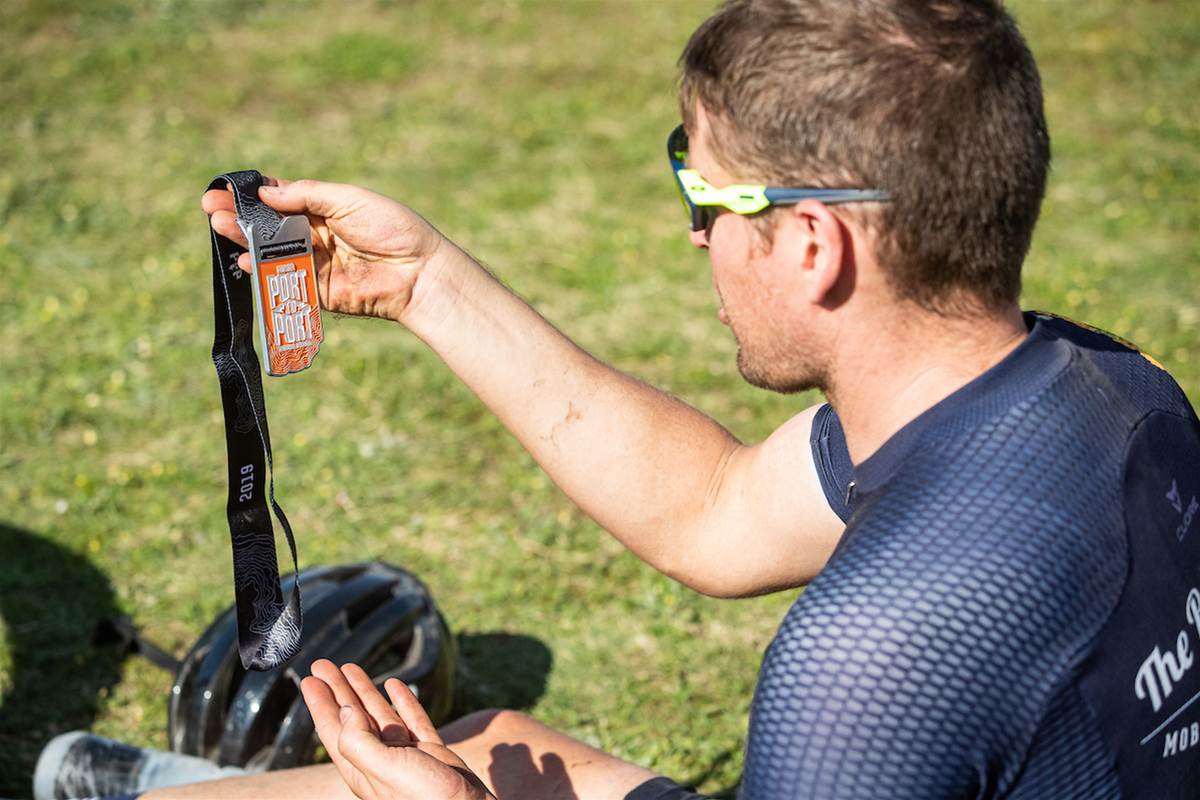 Well done, you've made it, you've earnt your medal - and now it's time to kick back and reflect on 4 days of epic riding. Entries are open so make sure you check them out.
AMB's tips for Port to Port 
Four days of mountain biking may be one of the best things you do all year - as long as you come in prepared. It's worth paying attention to your plans, your bike, your fitness and your nutrition for the event.
Step 1 - Call some friends and make a plan
First things first - who are you going with? Whether they're a team mate or a bunch of friends who are racing solo, trips like this are about who you do them with. Get a crew, get your entries in and book some accommodation.
It can be easier to stay at one spot and drive to the locations. And the Hunter Valley is likely the best place to park up.
Step 2 - Get your bike in order
You can do Port to Port on just about any mountain bike to an extent. It won't be a whole lot of fun on an enduro bike, but a trail bike is fine. Here's what I learnt racing Cape to Cape on a trail bike.
The best bet is a cross-country bike or short travel trail bike though. A hardtail is fine but a 100-130mm travel full suspension bike is perfect! You'll appreciate having something with lock out for the fast bits, and with a wide gear range for the steep bits. A downcountry bike, whatever they are, would be ideal for many riders who are there to go quick and have some fun.
READ: Anatomy of a downcountry bike
Wider tyres will be great for the variety of conditions, and something like the Pirelli Scorpion 2.4" XC range could be ideal. You want something that rolls fast, but has plenty of edge knobs for grip when you're tipping it into the corners on the trails.
Make a plan on what to carry with you on each stage incase things go wrong.. I recommend a mini pump, multitool, plug kit, quick link, derailleur hanger, spare tube, tyre lever and a sense of humour.
A plug kit might make bad day not so tough, here's how to use both the DynaPlug and Stan's DART.
Step 3 - Make sure you're fit!
Rome wasn't built in a day, and neither was the race crushing fitness that riders like Holly Harris, Peta Mullens, Brendan Johnston or Cam Ivory have. Our resident fitness guru Anna Beck will not only be lighting it up at races like Port to Port this year, but she has put a bunch of useful features together in our Fitness section. These ones are essential reading:
Fitness hacks for the time poor
How to suck less at riding uphill
Optimising fitness for older riders
If Port to Port is just the first step for your plan for mountain bike domination, you'd be mad to not look at getting a coach. Ask any riding buddies for their recommendations.
Step 4 - Understand your nutrition requirements
You're not going to ride Port to Port on a water bottle and some Weetbix in the morning. You're going to need to plan your race nutrition bit so you're adeqautely fuelled. It's hard to bounce back for the next stage if you empty the tank too much.
Port to Port have water points in each stage, and it is well worth using them. You can work out your requirements for calories via an online calculator, but factor 1g of carbohydrate per kilogram of weight per hour. As a minimum. It's a fair bit, so you may be best to consider use a sports drink (not servo coloured ones) along with a mix of sports nutrition and real food that travels well.
If you're a bit stuck, take a scroll through our Nutrition section, compiled by Zoe Wilson. Here are a couple of useful ones for Port to Port:
Simple sports nutrition tips
To gel or not to gel?
Is beer the best recovery drink?
Hydration strategies for mountain biking
What else?
Get all of that sorted and you should be set! Pack enough clean clothes for four days of racing, plan your wine tour, pack your spares and get ready to hit the trails. Port to Port is back and it's going to be a blast! If you need more details, head to the event website. Hope to see you there!
Photos: TBS, Waygood, Rousu, Herron
Australian Mountain Bike