Pivot's all-new Shadowcat shows that small wheels and fun go together in this nimble and capable package.
Pivot are a leading mountain bike brand with a focus on high-performance bikes that lead in their category. Over the past few years we have seen Pivot update their range of mountain bikes, from the Mach 4 SL through to the Switchblade, Trail 429, Mach 6 and oh-so-popular Firebird. The time has come for the popular Mach 5.5 to be updated. The 27.5" wheeled trail bike keeps it's traits with the small wheels and 160/140mm travel mix – but there's plenty that's changed. Including the name, as this model is now called – wait for it - the Shadowcat. Admittedly, this evoked some giggles amongst staff here at AMB; but the reasoning behind this name became more apparent as I delved deeper into the testing period.
---
Looking at more Pivot bike reviews? 
WATCH: Pivot Trail 429 Enduro review
READ: Pivot Switchblade review
WATCH: Pivot Firebird review
READ: Pivot Mach 4 SL review 
WATCH: Pivot Shuttle eMTB review 
---
Visually, Pivot have updated the aesthetics of all of their bikes, moving to straight tubes while keeping generous standover height. Suspension layouts have typically moved to the vertical shock orientation, which has opened up room in the frames for a bottle and accessory mount. The Shadowcat is another exemplar of this layout, with even the XS frame providing ample room for a bottle. Pivot have pushed their updated models to the leading edge for current geometry and handling, while also increasing frame stiffness and shaving grams. And one thing remains across all the bikes, the efficient DW-Link suspension platform.
All of this plays true with the Shadowcat, and compared to the outgoing Mach 5.5 the changes on paper are really apparent. On our test size medium, reach has extended to 460mm. The head angle has slackened to 65.8 degrees from 66.5 degrees and the seat angle has steepened to 76 degrees from 74.25 degrees. This geometry works hand in hand to help keep you centered between the wheels when working the bike, but with enough weight forward to keep the front wheel down and tracking when earning your turns.
In the back end, the chain stay length is 430mm, the same length as its predecessor, the Mach 5.5. Overall the wheelbase has changed from 1177mm to 1206mm. Given the smaller 27.5" wheels provide lots of agility on bike like the Shadowcat, the updates in geometry should help with high speed stability, and efficiency when you need to go pay the rent for the descents on the pedal up days.
Proprietary features inherited from other Pivots includes their iconic DW-Link. This anti-squat mechanism reduces pedal bob, increasing efficiency under hard pedal strokes and improving traction. The Dock Tool system is also inherited, providing a space for Topeak tools and CO2 beneath the top tube.
With similar features and suspension kinematics, the Shadowcat could be considered a 27.5" version of the popular Pivot Switchblade. While the Switchblade is mostly ridden in a 29" variant, it has been designed to be interchangeable with wheel sizes, for a mullet or 27.5" option.
However, being a 27.5" wheeled bike, the Shadowcat still sits in its own category. It's more versatile than the bigger Mach 6, offering the acceleration and nimbleness of smaller wheels. The Shadowcat therefore finds itself in a somewhat smaller market than a few years ago, along with bikes like the Trek Remedy, Transition Scout and the Yeti SB140 Lunch Ride. Although even then, it's design purpose is a little different.
Pivot say that the Shadowcat is a "trail-carving expression of blazing speed and feline creative mayhem." Their intention was to create a light and agile steed which inspires riders of all levels. In theory, anyone should be able to swing a leg over the Shadowcat and feel the "transformative capabilities" of this playful bike. So how did it stack up to the marketing hyperbole?
---
Tester: Georgina von Marburg
Riding Experience: Half a life time of riding bikes between the tape and with mates.
Generally Rides: Trek Slash, Trek Fuel EX
Height: 172cm
Weight: 72kg
Bike Test Track: Mystic Bike Park, and the high country's secret stash.
---
Initial Impressions
My Shadowcat experience really begins with lifting the box into my car. I was astounded by how light the package was, cardboard and all. The construction is what you'd expect from a high-end boutique brand like Pivot: clean. When peeking instead the headtube, the carbon layup was exquisitely weaved. Personally, I love the square shaping of Pivot frame tubes; the Shadowcat maintains this aesthetic, albeit slightly leaner and meaner than its chunkier enduro siblings.
With all cables pre-routed, setting up the bike was a breeze. I installed my personal Shimano XTR M9120 pedals, as well as a resin Bontrager bottle cage. Our Pro XT/XTR model ($11499) came with the upgraded carbon wheel set, glossy Reynolds Blacklabel Trail rims laced to Industry 9 hubs. Fancy. This wheel upgrade is optional with the Pro build, and will add approximately $2000 to the retail price, bringing it to $13499 as tested. The Pro XT/XTR build unsurprisingly has a mix of Shimano XT and XTR 12-speed parts. The Race XT build sells for $9999, and the Team XTR build with carbon wheels is $14999.
With these additions to the bike, it weighed in at a measly 13.23kg. This drool-worthy spec did not occur by chance however. In my opinion, Pivot are one of the few remaining brands who pride themselves on creating light mountain bikes; while other manufacturers are quick to compromise weight for longer, slacker, and apparently stronger frames, Pivot still value the distinct advantages of a light bike.
I was slightly concerned with the placement of Maxxis Dissector tyres on both the front and rear; the Dissector is a fast-rolling rear tyre in dry Aussie conditions, but it's never been touted as a front tyre. In any case, I trusted that Pivot knew what they were doing and rolled with it. Pun intended. The in-house grips were also a fraction too wide for my liking, but like tyres this is an easily amended personal preference.
On The Trail
Sitting on the Shadowcat for the first time, I immediately felt the smallness of the 27.5" wheels. While the Medium frame size was perfectly suited, the smaller wheels give the optical illusion that the front end is much shorter than it actually is.
But as I started to the long climb up through Mystic Bike Park, this illusion faded as I became entranced by how well the bike climbs. With a weight that shames many XC-specific dual-suspension bikes, the Shadowcat was bounding up the hill. The combination of the smaller wheel circumference and the famously sensitive Industry 9 hub meant accelerating out of switchbacks and up square-edge obstacles was child's play for this feline machine. The Fox FiT4 damper – as opposed to a Grip 2 - meant the suspension could be completely locked out for even greater efficiency on fire-roads.
On the more technical climbs in Mystic, where locking out the suspension is impractical, the advantages of the DW-Link shone through. I wasn't afraid to put a hard pedal stroke through an uphill root garden, as this genius linkage prevents the bottom bracket from sagging and hitting obstacles while under load. It really rewards attacking uphill features on fun singletrack, and not just spinning up banale trails.
I chose a mixture of descents to test the Shadowcat, but I was particularly curious to see how it handled the narrow technical descents of Mystic, infamous for their tight and awkward corners. Theoretically, 27.5" wheels should handle better through these conditions. And while this theory held true, I did find the smaller wheels more prone to bogging down in holes and ruts where my 29" wheeled Trek Slash would confidently plow through. Nor did the Shadowcat maintain speed on flow trails as well a 29" bike; but the smaller wheels and joyfully poppy suspension meant it handled nimbly in the air and responded more quickly to changes in direction.
This is the inevitable tradeoff between the two wheel sizes, but perhaps it's not a fair comparison. Afterall, the Shadowcat doesn't claim to be a fast-rolling enduro race machine. It's designed to be thrown around as you explore new lines, lines which may not always be the fastest. It craves fun and adventure, and befits a rider of this mindset rather than a racer. The Shadowcat was light-footed through the roots and jank of Mystic, allowing for more creative line choices and gracefully leading me though sharp corners my Slash would otherwise struggle with.
While I was initially apprehensive about the Dissector front tyre, I adjusted over the course of a day. It's fast rolling and the aggressive side-knobs maintain cornering grip. While it wouldn't be my personal choice, it suits the intentions behind the bike's design. But changing to your preference at your Pivot dealer would be a cinch.
The Reynolds Blacklabel rims are the perfect fit for the purpose of this bike. They're light and responsive, yet sturdy and wide (32mm). For those interested in the Shadowcat, the wheel upgrade is a logical option.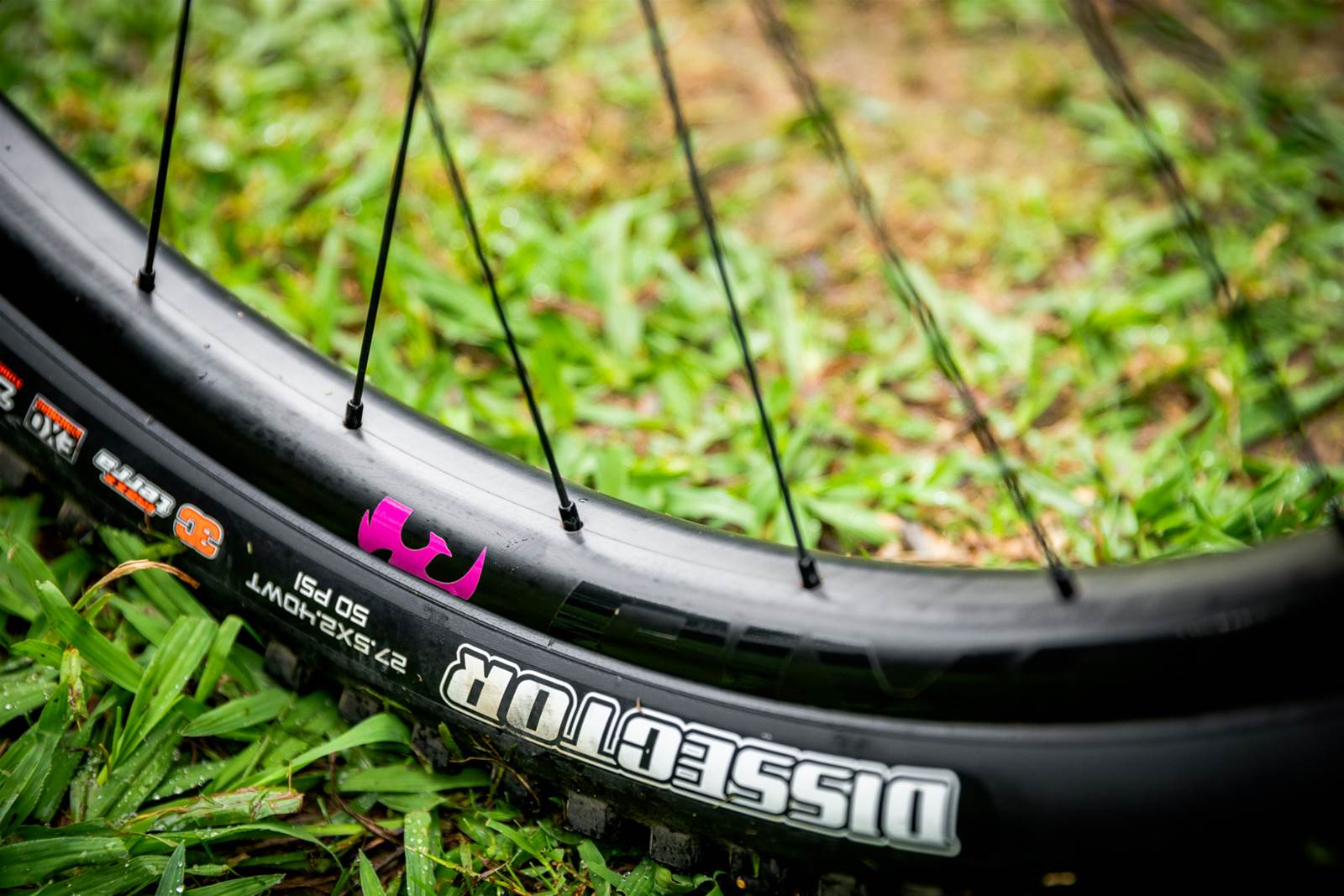 The type of rider considering this bike already prioritises weight and agility, so why wouldn't they want to enhance these qualities even further with carbon rims? For those who don't want to dig deeper into their pocket, the Pro build is also available with DT Swiss XM1700 wheels and DT Swiss 350 hubs; these are a practical and versatile option, albeit slightly narrower than the Reynolds rims at 30mm wide.
Our Take
After riding the Shadowcat, it would be a mistake to think of it as a 27.5" long-travel rock muncher. It's in a class of its own: an exceptionally refined trail bike. It excels in the vast majority of conditions found on mainland Australia, from steep XC climbs to bone-jarring descents. No, it's not going to be the fastest bike in either of these scenarios - but it will be one of the most fun. And that's exactly what Pivot intended.
A demographic which this bike will crucially serve are those riders who typically ride small frames. Shorter riders who sit on 29" bikes often complain of feeling too small on the bike; akin to driving a monster truck, they feel the 29" rig is riding them, rather than vice versa. This is where a 27.5" bike such as the Shadowcat still plays an important part in the marketplace. It affords all the bling and luxuries of a boutique long-travel bike, without forcing riders onto uncomfortably large wheels. Combined with its eye-watering low weight, the Shadowcat is the ideal companion to more petite shredders. To that end, the Shadowcat isn't available in XL.
Even if you're of average height, you will still appreciate the ride quality of the Shadowcat. There will always been the die-hard brigade of 27.5" proponents, and they don't need to be sold on the advantages of smaller wheels. But if you're bridging over from 29" wheels – such as myself – you'll be exposed to a whole new style of riding. Yes, it's a typically expensive boutique bike build; but each component serves to enhance the playfulness of this swashbuckling rig. So whether you're a smaller rider or simply weary of the trend towards big and burly bikes, the Shadowcat is fresh and enticing option, from a brand known for producing high-quality bikes with world-class suspension.
RRP: $11499, $13499 with carbon wheel upgrade (tested).
From: Pivot Australia


FULL PART SPECIFICATION
Available Sizes XS, S, M (tested), L
Frame Material Carbon fibre
Fork Fox 36 Factory FiT4, 160mm, 44mm offset
Shock Fox Float DPS Factory 140mm
Shifter Shimano Deore XT M8100 12sp
Derailleur Shimano XTR M9100 SGS 12sp
Crank RaceFace Aeffect R, 32t, 170mm
Bottom bracket RaceFace BB92
Chain Shimano CN-M8100
Cassette Shimano Deore XT M8100 10-51, 12sp
Wheel set DT Swiss M1700 spline (Reynolds Blacklabel upgrade as tested)
Tyres F: Maxxis Dissector 2.4" EXO TR 3C, R: Maxxis Dissector 2.4" EXO TR 3C
Brakes Shimano Deore XT M8120 4 piston, 200/180mm
Stem Phoenix Team Enduro 35mm
Handlebars Phoenix Team Low Rise Carbon 760mm
Seatpost Fox Factory Transfer, 175mm (Size M)
Saddle Phoenix WTB Pro Vigo
Australian Mountain Bike