Pivot launch the new Mach 5.5 carbon an aggressive trail machine built to tackle any obstacle playfully! Read on for more of our first ride impressions.
Words: Ben Moshman  Photos: Robert Conroy
 
The newly released Pivot Mach 5.5 Carbon builds on the legacy of the renowned Mach 5.7 Carbon as the must-have quintessential trail bike in the Pivot line up. With 140mm of dw-link rear travel powered by a Fox Factory DPS Evol rear shock; you're getting a super stiff rear end with outstanding pedalling efficiency and square-edge bump performance. 

Up front you will get a 160mm travel Fox Factory 36 fork that helps inspire confidence once pointed down the trail. This Mach 5.5 C is a bike that motivates you to take the long way to the top as it leaves you with energy for the descents. The Mach 5.5 C also begs you to push your limits while producing a smile on your face. Delivering this 'new school' approach to a trail bike is the slack and low geometry, combined with a roomy top tube and big (but not plus sized) 27.7 x 2.6 inch tyre wrapped around 35mm boost DT Swiss wheel set.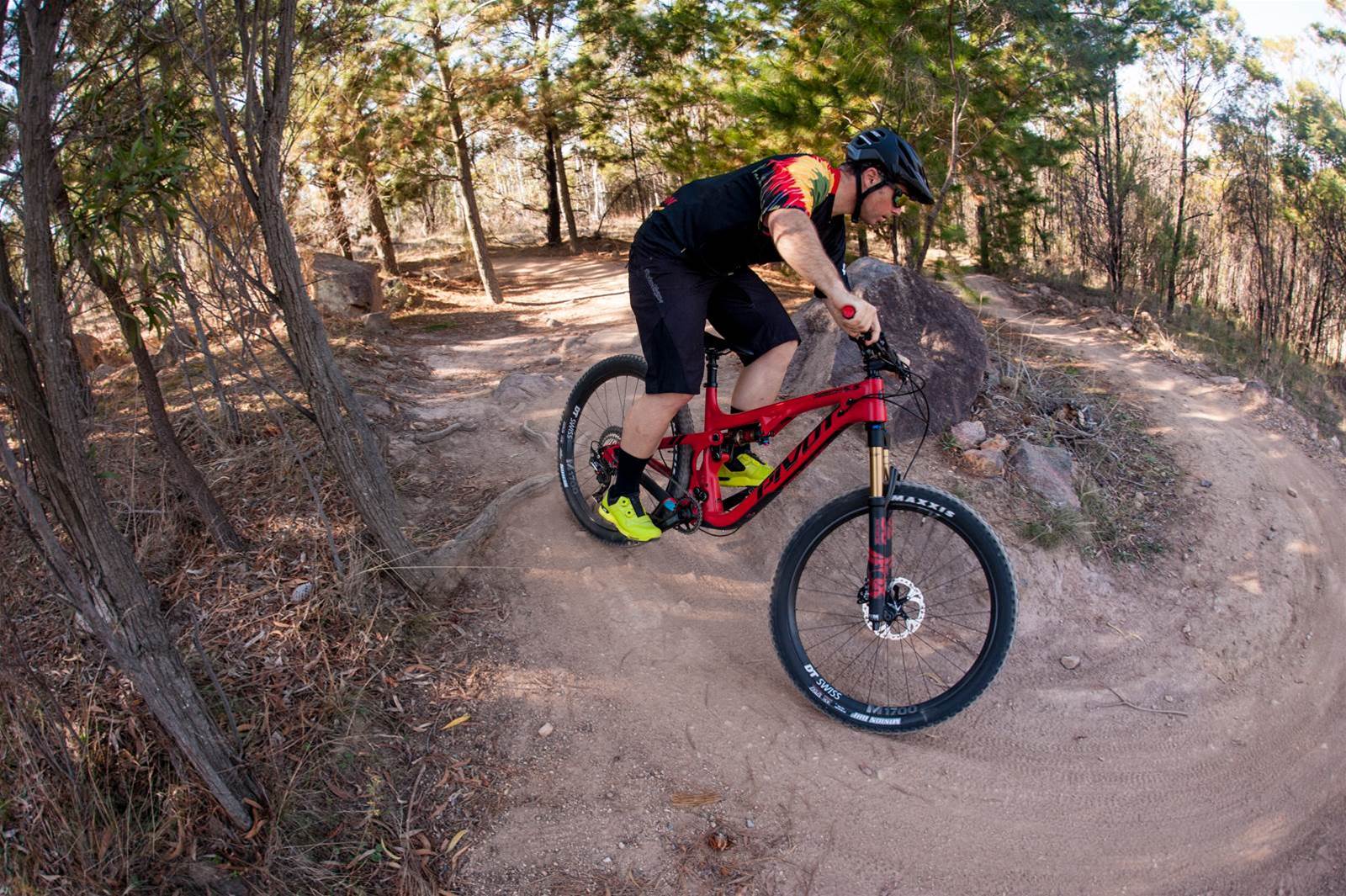 FIRST IMPRESSIONS
The model we got to ride was the $8,999.00 Mach 5.5 C PRO XT/XTR and honestly, what more could you really want? It comes with factory suspension and some very well proven components from one of the biggest and oldest players in the game - Shimano. 

The Mach 5.5 C continues to follow Pivot's new and very smooth and sleek design scheme. Which at first glance does not make the Mach 5.5 C stand out in the crowd until there are other models within the Pivot range nearby. In fact, we rode the Mach 5.5 C on open trails with the general public around and can note, the only question being asked was: 'is this a public demo day?'

HITTING THE TRAILS
Before hitting the trails at Stromlo Forest Park in Canberra, we were treated to a technical Q&A with Pivot's very own Dan Limburg (Terrestrial Sales Manager) who ran us through the how and why the Mach 5.5 C came to be with us today. Some really interesting points, however, onto the more exciting bit – TRAILS !
Now, first thing first, this is not a plus bike. Pivot already have the Switch Blade that can run a plus tyre. After much testing and feedback from developers and test riders Pivot felt that the larger tyre and wider rim combo was most suited to the Mach 5.5 C, but say there is no reason why someone buying a frame that has great 27.5 inch set of wheels already would not get the same enjoyment or performance out of the bike (it might just give a little less grip and forgiveness that the slightly wider setup offers). Once we had our heads wrapped around the Mach 5.5 C Dan wished us luck and said: 'Hey, feel free to hit any 30 foot gaps to nose-wheely landing if you see any'. Now, that's a very confident comment to arm someone with as they set off to test a brand new trail bike.  This also made us wonder if he knew something we didn't – the existence of a new section of trails at Stromlo that had any 30 foot gaps ?!

One thing that the dw-link does is pedal really wheel so it was no surprise that the Mach 5.5 C climbed like a rocket even in the full open mode of the Fox Factory rear shock. Due to this, and in order to make our way to the top of Stromlo, we took the Mach 5.5 C up the aptly named XC Trail - Cardiac Arrest. The Mach 5.5 C is no XC bike but its relative light weight and great pedalling got us up there without letting the trail live up to its name! Finally at the top we were excited to see what this bike is all about and with its big fork promising geometry - it had a lot to live up to ! 

As with most Pivots, descending is where this bike shines! We have ridden many different bikes here at AMB and there are not many that make a rider feel as at home in the first few turns……. Yep, it only took a few turns to know we were going to get along very well with the Mach 5.5 C! We were not even half way down Stromlo when visions of Bernard Kerr ridding the Mach 5.5 C mixed with Dan's comment floating around in our heads. With all that swirling around in our heads, it was a mad scramble to make our way across to the new Trump Card Trail where we would see if the Mach 5.5 C was going to make us look like Bernard. Fact is: it doesn't make you look like him, but it goes a long way to helping you develop the confidence that would get you there. 

The Mach 5.5 C is going to take a few sales off bikes in the Pivot line-up, as it's simply equal to a bike you would use on an all-day adventure with your mates – as it will be pushing against the clock on and around the Enduro World Series.
SPEC HIGHLIGHTS

Pivot have more options for the Mach 5.5 C than you could ever want. Sizes to fit anyone from 4'11" to 6'7". 8 build kit options spec'ing everything from Shimano XT, all forms of SRAM's ground-breaking Eagle range, all the way up to the technology filled XTR DI2. There is also a frame and Fox 36 Factory Fork option along with a frame only (Shock included) option. With the frame option starting at $4,799.00 and going up to $14,999.00 for the tech heads dream with XTR DI2. All through the range there is also the option to upgrade to a set of Reynolds Carbon wheels (riders will also be happy to know there are no new standards on the Mach 5.5 C, so many modern parts off your existing ride will bolt right onto a new Mach 5.5 C frame).
Australian Mountain Bike