Testing the Maxxis Dissector on the trails
Words and photos: Johnny Law
 
Maxxis' new Dissector has arrived, with design input from Aussie Downhill racer Troy Brosnan. The Dissector has been designed as a dry condition Downhill race tyre, though it should work well for Aussie bike park riding, but what about as a trail tyre?
 
The new tread design is an amalgamation of some existing patterns, the fast-rolling Maxxis Rekon trail tyre – that I rather enjoyed – formed the basis for the centre knobs. The Dissector also borrows heavily from an old racer's favourite, the High Roller II, using the transition knobs as a canvas before adding extra sipes for extra tread movement in dry conditions. Interestingly, the side lugs were influenced by the Specialized Butcher – a tyre that Brosnan has a lot of experience riding – though on the Dissector they are offset to provide a larger contact patch while cornering.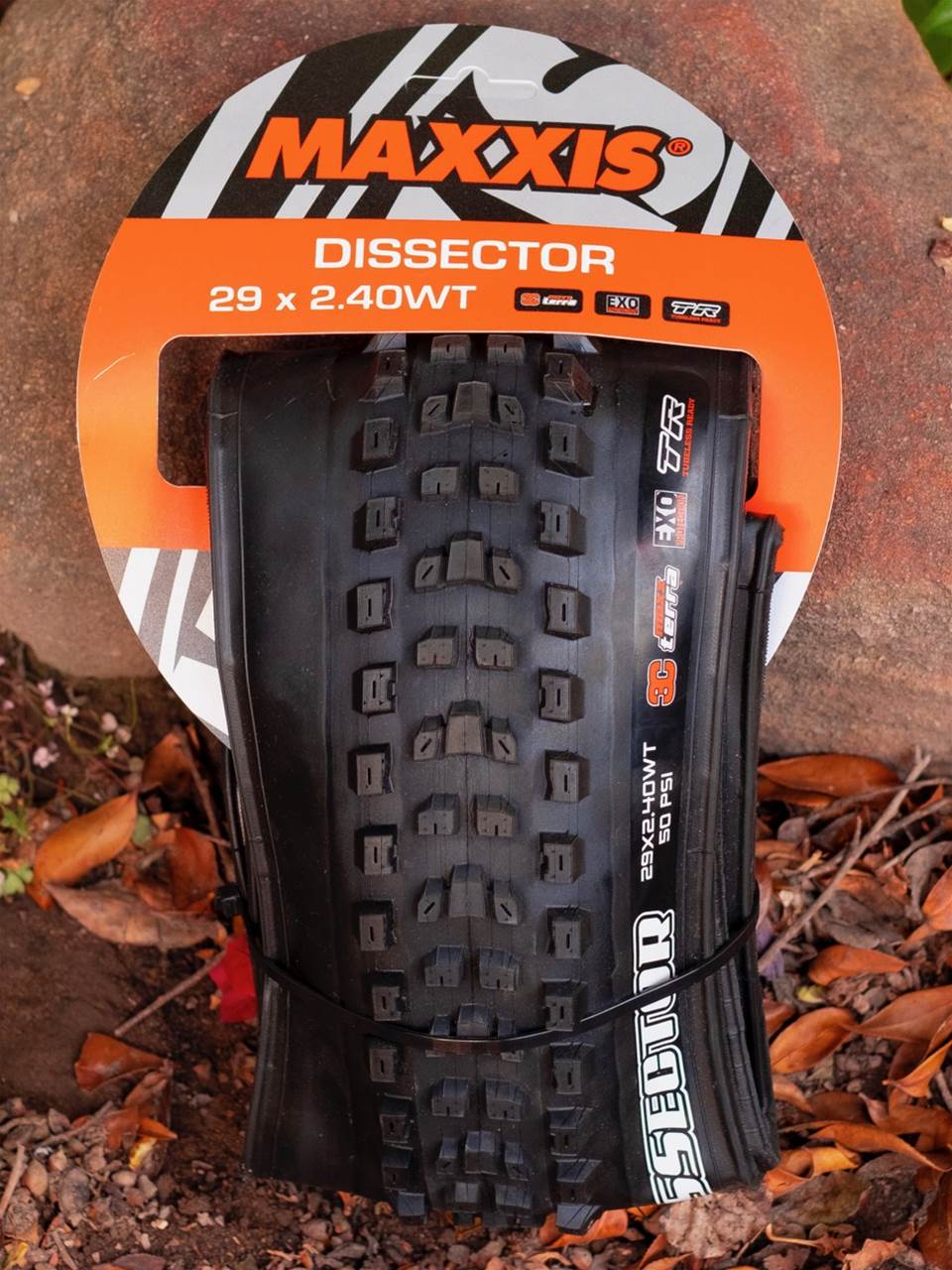 There are two casing variations available, with a sticky but hefty (1,206g for 29" size) DH casing with 3C MaxxGrip compound, or lighter (claimed 836g for a 29", 930g on our scales) EXO trail casing with 3C MaxxTerra rubber. When launched the Dissector was only available in Maxxis' Wide Trail casing optimised for 30-35mm rims, and only in 2.4" widths. Given the popularity of larger tyres, Maxxis do have a 2.6" tyre with MaxxTerra coming soon.
 
Tubeless set-up was fine on our 29x2.4" EXO test pair, but not as simple as we have experienced in the past, requiring a hit of compressed air to get the bead seated on 30mm wide RaceFace ARC rims. Once beaded and filled with Stans the tyres held air throughout the test period with zero issues.
To begin with, the Dissector took the place of my current favourite rear trail tyre, the Maxxis Aggressor. Troy Brosnan had suggested that the tyre works especially mounted on the rear of a trail bike, so that was how the test begun, matched with a trusty Minion DHF up front.
 
Rolling out onto an unfamiliar trail on a new tyre, the first thing that surprised was how natural the tyre felt. Riding it at sane speeds it felt completely in control, with good braking traction available on the dusty trails at launch. It was refreshing that, unlike some tyres, the Dissector didn't require aggressive riding techniques to provide adequate grip.
Pushing the Dissector harder, it revealed its unflappable nature, leaning harder into corners it communicated the level of grip loud and clear. Although it doesn't offer the outright grip of a DHF or DHR, the staggered side lugs and transition knobs combine to give near-telepathic control of slip angle. You want to go round a corner neatly? The Dissector will oblige. Want to have some fun and let loose, well, choose your angle, commit and the tread blocks will happily oblige. Rolling speed is adequate too, being a touch slower than an Aggressor, but faster than more aggressive tyres.
Put the Dissector on both axles and the tyre performs well, though that slight loss of outright traction compared to a DHF means you do lose the delicious neutral balance, with the front end happier to push out in corners. Throughout the test period, the Dissector performed well, with no flats to speak of and plenty of life left in the tread blocks.
 
Trying different tyres can be one of the most cost-effective ways of gaining speed, or enjoying your steed that little bit more. Maxxis' new Dissector certainly does what it says on the tin, working especially well on the rear. We just wish there were more carcass options, like Maxxis' enduro friendly DD casing. However, the Dissector provides a great option for dusty, sandy trails on without feeling overly racey, well worth picking up if you're in the market for new rubber.

RRP: $89.95 ($99.95 for DH)
From: lustyindustries.com

Hits:
-               Excellent cornering
-               Fast rolling
-               Trail and DH options
 
Misses:
-               Suits the back more than the front
Australian Mountain Bike