The Dragon Trail took Tasmania's north-east by storm in 2020. Here's our recap of this fun-filled and singletrack-packed event.
Photos: Margarete Oti / Murilo Mattos - Geocentric Outdoors
---
We love a multi-day mountain bike adventure, and Australia's had a few popular events that string together great mountain bike trails. But not since Wildside has a multi-day mountain bike stage race ventured to Tasmania. When the Dragon Trail was announced as a 3-day stage race running from point to point in the stunning trail networks of north-east Tasmania, we knew we had to go!
The north-east of Tasmania has an interesting history, mostly involving hardship and a colonial mining and forestry history from the late 19th century. It was a tough life, and while some sought their fortune on the Victorian goldfields, the Tin or 'grey gold' had its own appeal. Quite a large Chinese community developed in this period below the Blue Tier and around Weldborough. And Chinese miners were quick to adapt, building unpowered water systems to assist with the tin mining. The mining and later forestry of the surrounding areas have provided many of the older benched trails, along with the newer purpose built trails in the area. The Blue Dragon mountain bike event used to run before Derby became the global mountain bike hot spot it is now, using the older backcountry trails including the climb to Blue Tier. You're unlikely to find the old trails on the trail maps, but they're there, and they create some excellent day trips.
The most successful product in the region is mountain biking, thanks to huge investment into the trails in the north-east. And while Tasmania's stage government still subsidises forestry in the Blue Derby trails, it's the mountain biking and connection to nature that bring mountain bikers to this corner of Tasmania. Blue Derby has a mix of flowing trails in the forests, rocky trails that have challenged the stars of the Enduro World Series, and descents that treat you with berm after berm! Down at St Helens, the open, dry forests have trails with long sight lines, granite features and plenty of speed. In one way it's a world apart – or just a half day ride. With trails connecting Branxholm all the way to St Helens, a stage race is the ideal way to experience the variety of riding in this corner of Tasmania, using some of the old trails and plenty of the new ones.
RACING THE DRAGON TRAIL
The Blue Derby and St Helens trail networks are all about singletrack. So how does that work with a few hundred keen mountain bikers in a mass start? The event organisers had to think outside the box a little on this one, and after multi-start wave a prologue from Branxholm to Derby, riders had their start order for the first stage from Derby to Weldborough. We'd all head off in 10 second intervals.
One the one hand, it made for a little bit of maths while your heart rate was high. How far in front of you was the person you just caught? Is the person catching you someone who was just behind you, or further back? How much are they theoretically beating you by? For the elite riders chasing a title it was a little more to think about, and something that made tactics difficult. You just had to go as hard as you could manage to sustain for the whole race.
For the rest of us – it really did reduce traffic! My results were up and down over the three days, but whether I was starting 30th or 60th, it meant any riders you were passing were mostly solo riders, and anyone catching you was usually on their own as well. I found this let me really relish the trails. I frequently rode with one or two other people, it was a bunch of fun to share the highs of the trail network with some other riders.
Up high on the Blue Tier
I really enjoyed the challenge of some of the older trails. The climb up to the Blue Tier started on a flow trail, but finished up on the backcountry trail. While it was a little reminiscent of parts of the Old North Road near Wiseman's Ferry, it's also in sub-alpine forest with some pretty substantial creek crossings to ford – or fall into.
At the other end of the spectrum, the trails in Derby were just pristine. The trail crews had been out ahead of the race and you could see the rake marks. Sure, lots of people enjoy riding raw trails, and I do as well. But racing on buff trails that you've ridden a few times over the years is a sure-fire way to put a grin on your face – even if the effort might suit a grimace.
The trails in Derby delivered - as expected!
At the front of the race, Tasmanian Sam Fox lead the race from start to finish, fresh off his U23 XCO and XCC wins at Maydena the weekend beforehand. Although Fox did have a flat tyre on stage 3 at St Helens, he managed to chase Cam Ivory and hold onto the overall win, while Ivory won the last stage.
"I was a little bit surprised by the Dragon Trail, it had some really good back country trails which were some of the first I ever rode." Said Fox. "To have all the guys from the Nationals here and a few others fly down to race made it a quality field, and Cam made me suffer today." Fox also reflected that the event is about a lot more than just the racing, with the camp offering plenty of time to relax and catch up with friends." To have the time to sit around the campsite chatting with them was a really good vibe as well."

"My favourite stage was yesterday. That ride from Weldborough right through to the Bay of Fires is just spectacular." This really was an iconic route, taking in old trails to Blue Tier and the popular Bay of Fires Trail descent. It's got to be the stand out stage for most riders. If you're thinking about riding the Dragon Trail in 2022, Sam Fox had some advice.
"For anyone thinking of giving it a go I'd say to ride some old-school fire trail and backcountry trails, and be prepared to get your feet wet and have some fun. I'd say anyone can do it, there is nothing too technical, just be ready for some tough days out, bring your mates and have a go."
Karen Hill was one of many racers adding the Dragon Trail onto their trip to Tasmania, right after National Championships. After finishing 3rd in Elite Women at Maydena, Karen Hill let everyone know how she was riding on stage one, building a lead of over 5 minutes. And after the three days of racing, she was still in the lead and thoroughly impressed.
"I've ridden stage races in East Timor, Sri Lanka, India, Nepal and Canada... I'd say this race is right up there with those others and for a first year it's been absolutely fantastic. The organisation and volunteers, and the options they give you for all-inclusive or looking after yourself are great. Finishing at lunchtime meant I could organise myself, kick back and chill out."
Given the race moved across the whole north-east of Tasmania, the variety was part of the appeal for many, and that is something Karen appreciated.

"Each day has been different. We've had different types of trail, terrain and scenery, so there is something for everyone. Day two was the hardest for me as I pushed really hard on day one, and today's trails were just awesome. The more singletrack the better for me!"
CAMPLIFE AT THE DRAGON TRAIL
You'll spend a few hours each day on your bike and the trails of the Blue Derby and St Helens, but the rest of the time is all about the camp. From Branxholm to St Helens, the camp is open from before the race gets started to the night after it finishes, and the event even has shuttle services organised to and from Launceston airport – so you don't need a car if you're coming from interstate.
There were food trucks, chillout areas, yoga, and all the amenities you would expect. I'd love to see a couple more food options in 2022. Everything that was available was tasty, but a touch more variety wouldn't go astray.
I chose to stay in a campervan as that fitted the rest of my time in Tasmania, but next time I'd use the tent option instead – as that meant I wouldn't need to find someone to drive our van from one town to the next! For the campers, they just needed to pack their pop up tent up and pack their bag each morning, with the luggage service moving it all to the next location. It was a pretty seamless operation.
My favourite campsite was Weldborough. As it was at the back of the Weldborough Hotel, you have an iconic pub on one side, and the trails on the other, surrounded by the farmlands and forests. But my tip for 2022? Don't forget your $2 coins for the showers.
A pub lunch after a bike race is always welcome!
WHO SHOULD GO TO THE DRAGON TRAIL?
If you like riding high quality trails with a bunch of variety, this event is for you. I've raced a number of stage races like this around the world, and I'm very lucky to have done so. While I wonder if the elite race could be improved with an elite mass start, the reality is for the rest of us the calibre of trails put the Dragon Trail to the head of the class. As a first year event I was truly impressed.
While the trails are all lots of fun, they're still hard work to ride fast. This would also be the hilliest mountain bike stage race in Australia, with more climbing for the distance than others, current or otherwise. It's not a slog, but you'd want to make sure you're in good shape to get the most out of your visit to Tasmania for the Dragon Trail in 2022. If you like events like this, then the Dragon Trail is an ideal event to build a trip to Tasmania around in the future - lock March 17-19 into the calendar.
Tips for the Dragon Trail 
I've done lots of stage races, and each one is unique, these are my tips for success at the Dragon Trail in 2022:
1. Dial in your campsite!
This is where the rest and recovery happens. What do you need to sleep comfortably? Make sure you bring it.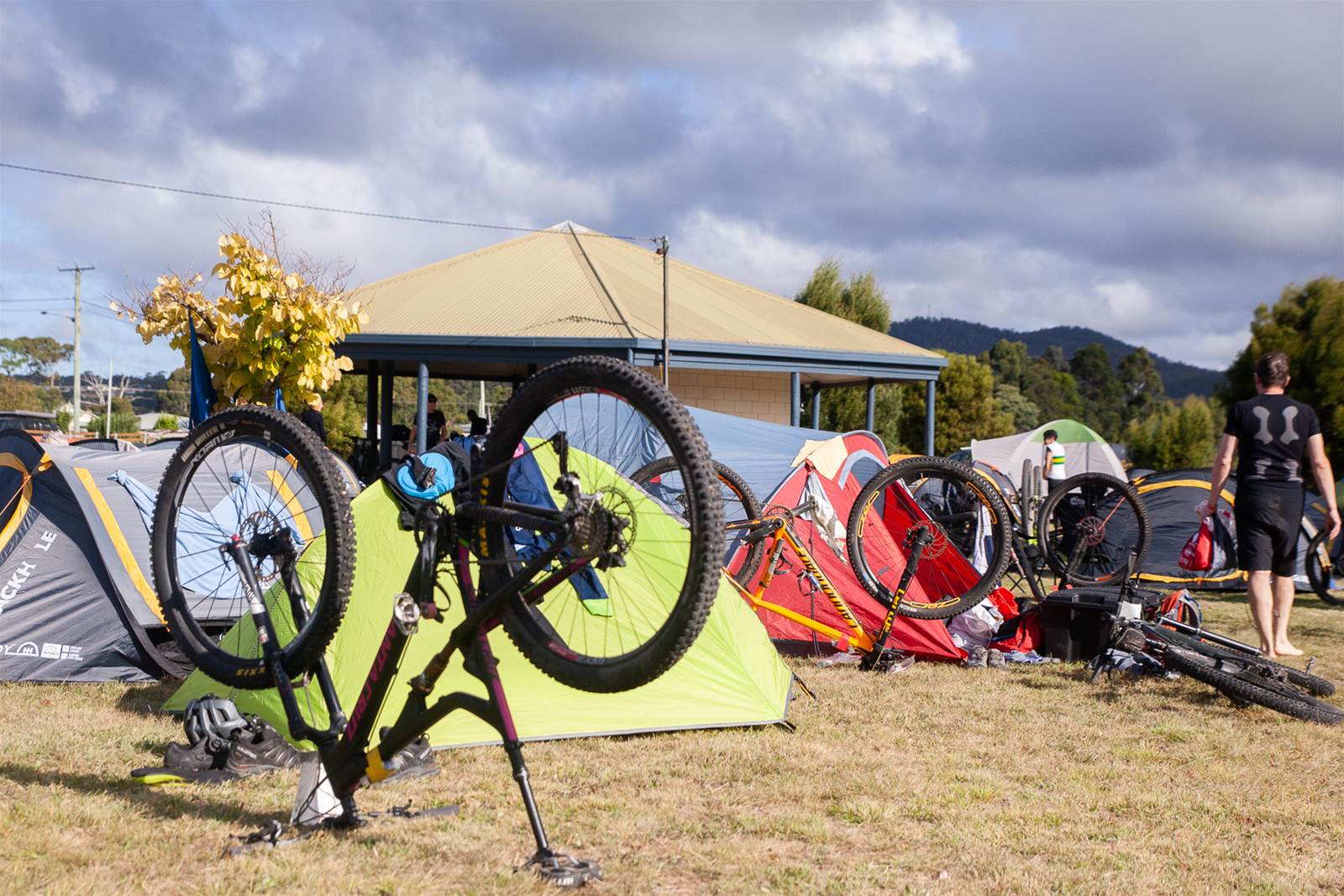 2. Feed the machine.
It's easy to lose yourself in the trails, but don't forget to eat on the bike – and off it as well. Newer GPS units allow you to set reminders while riding – which can be useful.
3. The race is over when you're in the shower.
It's awesome reliving tales from the trails at the finish line, but grab some food and water and go get cleaned up. Hygiene goes a long way when camping in multi-day races. Get that recovery started ASAP. And no, you can't wear that again tomorrow.
4. Study the route and logistics.
 point-to-point race has their own challenges, so spend the time to get familiar with the wide variety of trails you'll ride, and specific event planning so you don't get caught out.

5. Look up.
This is always handy on any trail, but especially around Blue Derby you are riding in some special forests. Look up and take it all in.
Australian Mountain Bike