The Revel Ranger is the Colorado brand's take on downcountry - here's our first look at this trail rocket.
Words and photos: Will Shaw
---
There's no doubt that bikes with 110 – 130mm of rear travel are all the rage right now. I get excited that I'm testing a bike in this category, and it's a reflection of geometry and componentry having progressed to a level where you don't need tons of travel to tackle fairly technical terrain. On the plus side of having less travel, the bike feels much livelier in undulating and less technical trails, which for most people is a fair chunk of their riding.
The Revel Ranger fits this mould to a tee, combining 115mm of rear travel with a 120mm fork and fairly modern geometry. The Ranger is the shortest travel bike Revel make, and they say they made the bike to enjoy the ups as much as the downs. Despite the shorter travel frame, the Ranger sticks with Revel's CBF suspension design, which is summarised excellently by Tim Bardsley Smith here.
---
The Ranger complements the Revel Rascal 29er trail bike and Revel Rail 27.5" wheeled bike, find out more about them here:
Revel Rascal 29er review
Revel Rail first look
---
Without diving too far down the geometry rabbit hole in a first look, the Ranger features a 67.5-degree headtube angle, 473mm reach (size large), and 436mm chainstay length. These numbers look well balanced to me at first glance considering the bike's travel and specifications.
The Ranger I've received is in custom spec but is heavily based on the X01 build kit available via Off Road Bikes Online. The frame itself is an absolute stunner, so much so that my housemate with no interest in cycling came out for a thorough examination while I was assembling it out of the box. Other than the lovely paint job, the overall finish is high quality, and the big frame bearings should last for some time. A threaded BB tops off a frame set that shows real attention to detail.
On this build, suspension is handled by RockShox, with their SID Ultimate Fork and SID Luxe Ultimate rear shock providing top of the line damping, and the fork's 35mm stanchions signalling the Ranger's aggressive intent.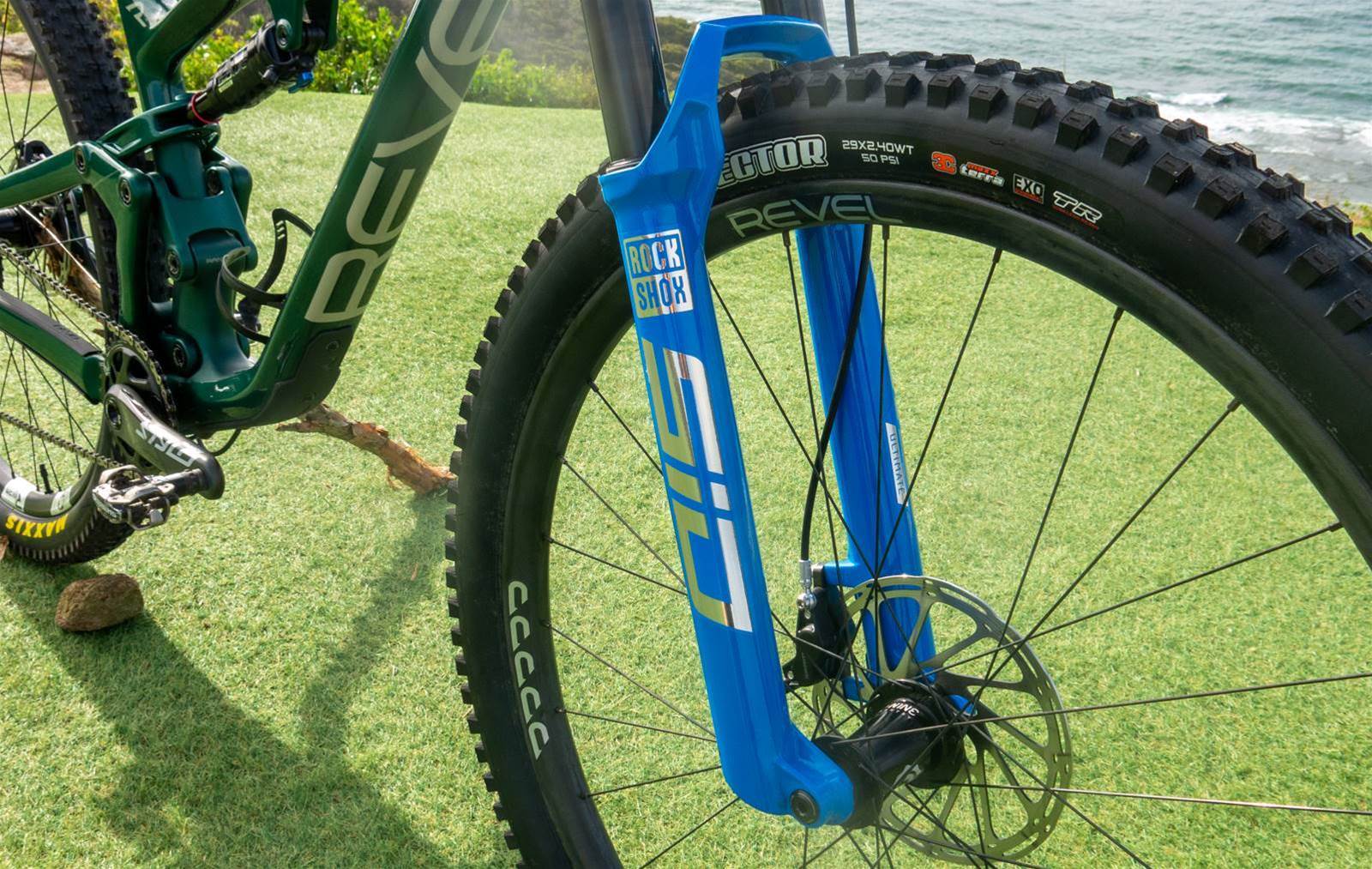 The drivetrain is a full X01 Eagle affair. Little touches like an X01 shifter make all the difference, and you can't really go wrong with this drivetrain for a wide range and top performance.
In terms of the custom parts adorning the Ranger, I'll be rolling on a set of Revel RW30 carbon wheels laced to I9 hubs. These wheels sport a 29mm internal rim width and are pretty light for their claimed durability at 1840 grams for the set. There's a lot going on with these wheels, and I'll be diving into a full review in the future. At first glance, they look and feel high quality, and the 2.4" tyres mounted have a nice shape. It's worth reading a bit more about the Revel RW30 rims, and Revel themselves, in this feature.
Another custom touch is the Control Tech cockpit. Control Tech specialise in aluminium. Whilst they're a more budget friendly option than other parts on this build kit, they don't weigh a ton and if your cockpit is comfortable there's potentially other places where money is better spent.
Lastly, the made in Switzerland Yep Components Dropper post is claimed to be ultra-reliable and features a funky 360-degree lever to boot. Time will reveal the Yep's durability, but the stroke feels silky smooth out of the box.
Little finishing touches to note are the Cane Creek headset, and 3C tyres from Maxxis in the well thought out combination of a 2.4" Dissector up front, and a 2.4" Rekon on the rear.
The frame kit sells for $4499, while whole bikes start at $8500. These are a premium bike, but compared to some other similar frame sets, the frame kit is about $1000 less than something like the Yeti SB115.
I'll be riding this bike up and down the East Coast on everything from pure XC trails to demanding descents, so keep an eye out for a full review in issue #187. For more details on the Ranger right now - head to the Off Road Bikes Online website.
Australian Mountain Bike