The Specialized Levo Comp Alloy brings so much of the new eMTB tech to a sensible price.
Photographer: James Hiscutt
Tester: Ben (Moshy) Morrison
Every few years mountain biking goes through periods where you see huge advances in technology and what is called the trickle-down affect, where technology from high end products makes it to a more affordable price point. While brands like SRAM are making wireless components more available at lower price points (trickle-down) there has been one area in the mountain bike world that has been making huge advances that somewhat fly under the radar due to their high entry price.
It is eMTBs! Yes, I know they start at around 10k and you could buy a very nice bike without pedal assist for that money, even with with some wireless tech and carbon parts. Brands like Specialized went all in on eMTBs early on and have really been standing at the head of the pack for some time and are showing no signs of giving up this position. 
In 2021 Specialized released their third iteration of the popular Turbo Levo, Ryan tested the Levo Expert and swooned over Specialized's newly updated mastermind TCU (turbo control unit), seamless power delivery, suspension capability and the lovely smooth lines of its carbon fibre frame.
Still, the Levo Expert sells for $16,300.00 and yes it has adjustable geometry, the more nimble handling of a mullet setup and a super punchy 2.2 Motor with a 700wh battery pumping out 565 watts of power for up to 5 hours of trail covering fun. But what if we could jam all of the motor performance and geometry into a more affordable package for say $11,700.00. Lots of money yes, but having change for a pretty sweet riding holiday or two AND a new bike sounds pretty good doesn't it?
---
Want more eMTB tests?
WATCH: Merida e160 9000 review
WATCH: Norco Fluid FS VLT A1 review
WATCH: Norco Sight VLT C2 review
READ: Moustache Game 6 review
WATCH: Pivot Shuttle Team XTR review
READ: Orbea Wild FS M10
WATCH: Canyon Spectral:ON CF8
---
In late 2021, Specialized released three more models to the Levo range, with the Comp Carbon, Comp Alloy and Alloy, priced at $13,800, $11,700 and $9400 respectively. Specialized are all about helping you ride more trails with their eMTB range, and they state that the Levo has an unequalled combination of ride quality, usable power and range. 
FIRST IMPRESSIONS
As far as the frame and components go on the Levo Comp Alloy there is very little to falter. The lovely alloy frame (size S3 tested) mirrors all the geometry and adjustments of the carbon fibre models. Using a flip chip at the rear pivot and three different head angle settings thanks to swappable bearing cups, you get six unique positions to choose from. These impact the  head angle (63º to 65.5º), bottom bracket height, and wheelbase. Travel remains the same, 150mm out back at all times. The big deal is you see the same 90Nm and 565W Turbo Full Power 2.2 motor with the upgraded wider drive belt, along with the 700Wh battery found in much more expensive models. Like the carbon bikes, the Levo Comp Alloy has all the connectivity (ANT+, Bluetooth) and display functionality on its in-built TCU despite being slightly less flashy. But that's what the Mission control app is for which is a free download on the app store.
The Levo Comp Alloy runs Fox suspension in the form of a Float X rear shock and Fox 36 Rhythm fork. Stopping duties are done by the ever-popular SRAM Code R brakes with 200mm rotors all around, although you get 220mm on the larger sizes. When coming to reliable and work horse there is no better option than the new SRAM GX Eagle rear derailleur, match this with the big steel 10-52 SRAM cassette and long lasting steel 32 tooth SRAM X-Sync Eagle chain ring and you have a reliable drive train that can handle the loads of an eMTB. A nice touch is also the custom 160mm long Praxis cranks that help reduce the pedal strikes when running the slacker head-ngle and lower bottom bracket height via the adjustable geometry. The shorter cranks allows you to spin the pedals in most areas of the trail to keep the motor activated.
A worthy mention on the parts list is the X Fusion seat post, it's not very fancy or expensive but it does a great job, and I didn't need to think about it unlike some dropper post 3 times its price! 
The rest of the Levo Comp Alloy is made of Specialized's in house parts, covering bars, stem and seat. The only real downside here was the ludicrously thin grips, but touch points are easy to get right before rolling out the door of your Specialized dealer.
The wheels are mixed, with a 29" front and 27.5" rear, which is nearly the norm for many new eMTBs. They are pretty bomb proof Specialized hoops with a 30mm inner width. They're wrapped in the Specialized Butcher Grid Trail and Eliminator Grid Trail in T9 or T7 respectively. While all the above is tubeless ready it is not ready to be setup, tubes must be removed valves installed and sealant purchased. Please have the store do this for you so you don't get a flat on the first ride.
The alloy frame is heavier than the Expert carbon model tested previously, and in order to remove weight from my opinion, I have chosen not to weigh the bike until completion of this review. In years gone by I was a gram counter sometimes sacrificing durability for weight on race bikes with the old Jared Graves quote "grams = time" still stuck in the back of my mind to this day. Today I have no idea what my race bike weighs but I do know it will get me through a race weekend and keep me smiling until the end of the last stage. 
ON THE TRAIL
When it comes to the ride there is little to complain about, Specialized even have a nifty setup guide online to help with suspension pressure setup. It may be a little on the soft side for fork pressure as I did suffer quite a few harsh bottom outs. But setup tends to need fine tuning for each rider, so take notes and make adjustments!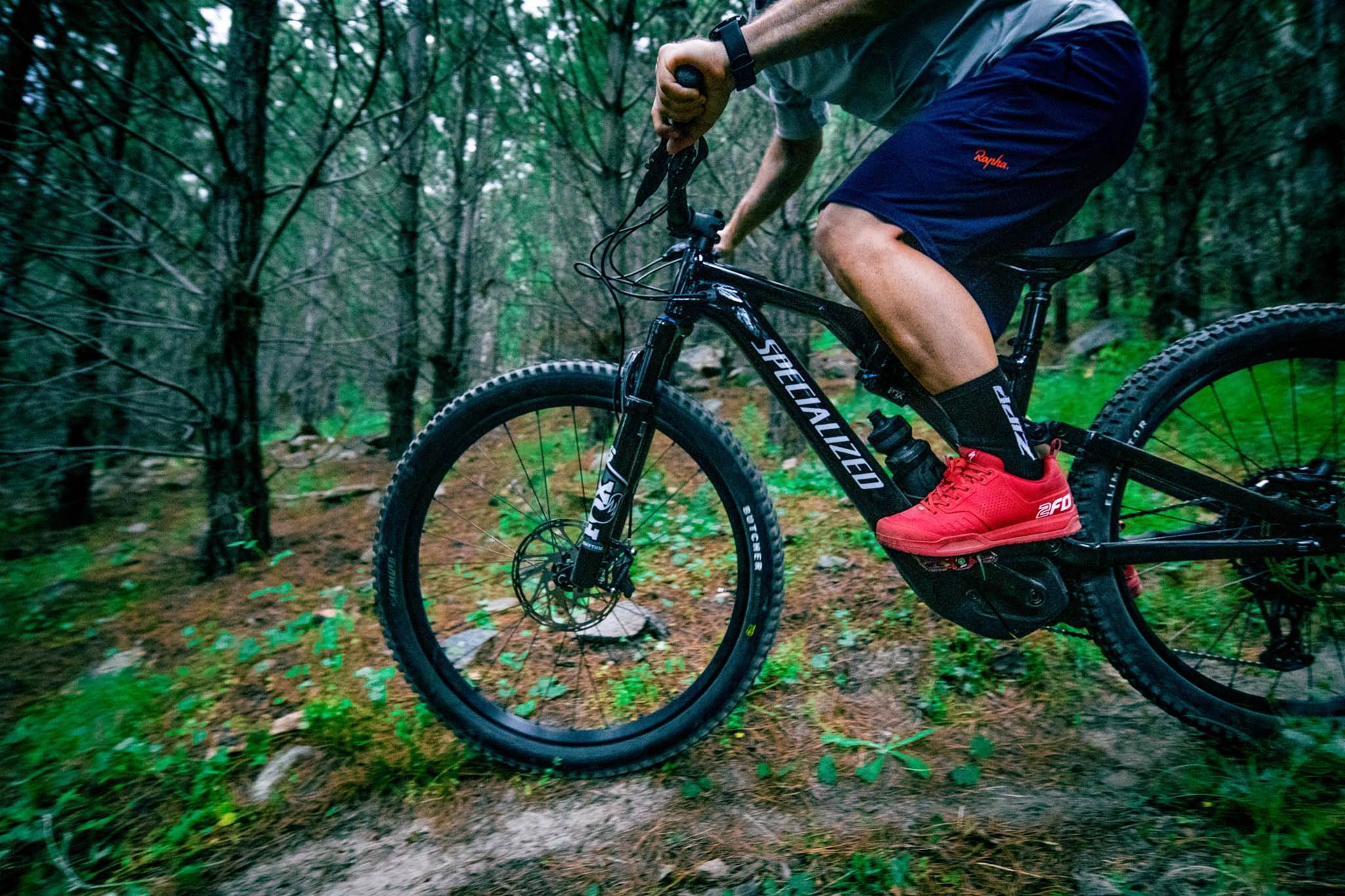 The mullet, or mixed wheel size, setup is a clear advantage for this bike and not just marketing. I have to say it really does increase the ability to flick around tight corners both going up and down. At first, I thought it was a bit of a gimmicj, but I am happy to eat my humble pie and am now an advocate of the mullet for eMTBs. The smaller wheel increases the playfulness and helps reduce the length of the bike making it feel and ride much lighter than it is. 
Ryan has touched on "Spin to Win" in the Levo Expert review, but I wanted to raise it again. One of the reasons behind shorter cranks on an eMTB is the leverage and torque is made up by the motor and not the rider, but while the motor is creating the torque we still need to spin the pedals to engage the motor. The more you spin the more the motor thinks you need help, so Spin to Win! It is still a bit of a workout and means you are using all your gears and not just smashing the battery and wearing out one cog of the cassette. In fact, in a 2.5 hour ride at Stromlo Forest Park I set my self a challenge to get down 10 different ways, I walked away more exhausted than on my non-pedal assist bike, and rightly so - I had been to the top 10 times. 
I found the Levo Comp Alloy to be a perfect partner on trail rides, and my extended excursion at Stromlo really highlighted how it can make climbing a breeze, letting you attack features and corners differently. And when pointing downhill, the capable suspension kinematics and handling pair well with the geometry for a balanced ride. The mullet wheel sizing really was a winner here, working hand in hand with the pedal assist to keep you finding new lines on the trails, and not being so tired from the pedal ups that you're not exploring new options.
When descending fast (and you will be), you start to outrun the motor and there is the slightest drag. It is ever so slight and something that will take a while to get used to. It's surprising how well the bike handles and due to the very clean (best in class) head unit system of a button and display you tend to forget this is an eMTB. In fact, with a little bit of pace behind you the Levo Comp Alloy doesn't feel too dissimilar getting in the air as some other trail and enduro bikes.
The real place where you notice the weight of this bike is steep technical descents, slowing the bike down and making last second line changes is more of an effort than on a regular bike without the weight of a battery and motor, or compared to a really light eMTB. You will noticeably be more physically drained by the bottom of a trail like this than on other bikes.  
Climbing is a bit of a different matter, once you work out how you want the Mission Control app to deliver the power to you (all at once is not always the key) you can really use this '4x you' power to your advantage. From slowly spinning your way up technical climbs to using quick little injections of power to help pop the front wheel over rocks and up around tight corners. With so much of the bike's weight coming in the form of the battery (it takes up the entire down tube) learning how to use the power to pick the bike up is something that will increase your climbing ability and overall ease getting around the trails. 
Something I only briefly touched on and is often overlooked due to the need (on this Levo model) to get out your phone. The Mission Control app can do things like adjust how quickly and how much power is delivered in any given mode. On open, flowing trails with big sweeping up-hill turns 100% power delivery will be a blast and is a unique way of riding. But use this setting in tight rocky climbs and you may find it too much, too fast, hindering the climbing experience. Another nifty thing you can do is map out the range of your ride using the Smart Control mode. Say you know the loop you are doing is 100km or it took you 3 hours last time. If you put this info into the Smart Control mode, the Mission Control app will adjust the amount of power you have available to make sure you make it to the end of the ride without the battery going flat. You can even set how much battery you want left so it won't completely drain it just in case the ride was a little longer than you remember. This is a really unique way to help you get the most range out of your bike.
WRAPPING UP
I have really enjoyed my time Levotating on this bike and it is a sign of things to come as technology progresses and trickles down the line, we may start to see this type of performance reach even lower starting prices over the coming years. The eMTB market is continuing to grow and be normalised, and bikes like the Levo are helping make the riding experience seamless, and that's not even mentioning the clean look of Specialized's eMTBs. Naysayers who still complain that an eMTB is cheating should note that some of the fittest and strongest mountain bikers I know spend hours on their eMTBs because they say it allows them more access to more fun and I know we could all use more fun in 2022.
So, I guess you want to know? Having danced around it for some time, I heaved the Levo Comp Alloy onto the scales which delivered a reading of 24.125kg setup tubeless, with a bottle cage and set of pedals fitted. 24kg is more than I expected and is testament to the work Specialized put into the way this bike rides. This hard work has truly paid off. And while bike brands are known to make grand statements, Specialized's claim of unequalled ride quality, power usage and range is pretty accurate. Their Mission Control app paired with their adjustable geometry, new motor, 700Wh battery and latest suspension kinematics are truly impressive. Thanks for bringing all that to more price points!

Full part specification 
Brand:  Specialized                                     
Model: Levo Comp Alloy
RRP: $ 11,700.00
Weight: 23.8kg
From: specialized.com/au/en
Available Sizes: S2, S3 (tested), S4, S5, S6 
Frame: M5 premium alloy
Fork: Fox Rhythm 36, 160mm
Shock: Fox Float X Performance, LSR, 150mm
Motor: Specialized Turbo Full Power System 2.2 Motor
Battery: Specialized M3-700 Integrated, 700Wh
Shifter: SRAM GX Eagle 12sp
Derailleur: SRAM GX Eagle 12sp
Crank: Praxis forged M30, custom offset, 32t, 160mm
Chain: SRAM NX Eagle 12sp
Cassette: SRAM XG-1275 12sp, 10-52t
Brakes: SRAM Code R 4-piston, 200/200mm (220mm on larger sizes)
Hubs: Specialized Alloy, sealed cartridge bearings, 28h, Boost
Spokes: DT Swiss 
Rims: Specialized 29, hookless alloy, 30mm TR
Tyres:
F: Butcher GRID Trail Gripton T9, 2Bliss 29x2.6" 
R: Eliminator GRID Trail Griptoin T7, 2Bliss 27.5x2.6"
Stem: Alloy Trail Stem, 35mm 
Handlebars: Alloy, 35mm diameter, 780mm 
Seatpost: X-Fusion Manic, infinite adjustable 150mm
Saddle: Specialized  Bridge Comp, Hollow Cr-mo rails 155mm
Australian Mountain Bike