The Roval Control Carbon 6B XD Wheels take Roval's top of the line rims and mate them with DT's ever reliable 350 hubs. Mike Blewitt was more than impressed with the results.
Words: Mike Blewitt
Photos: Gerard Lagana
---
In April Roval released an updated Roval Control Carbon wheel set. With an all-new rim, the Roval Control Carbon 6B XD wheels offer lower weight, greater strength and an improved ride compared to the last model. The Roval Control Carbon wheels use the same Roval Control SL rim from the top spec 1240g Control SL wheels, however the Control Carbon wheels eschew the DT Swiss 180 hubs and Aerolite spokes, instead using DT Swiss 350 straight pull hubs and Competition Race spokes with Prolock nipples. The Roval Control SL rim has a claimed weight of 358g, which is super light. The rim is asymmetric, to help with even spoke tension, and it is also slightly lower profile than the previous Carbon Control rim. The rims have a 29mm internal width to provide good support for modern cross-country and trail tyres. With a price of $2000 for the wheel set, you end up with the same rim and therefore rim and tyre interface of the top Control SL wheels that come on the S Works model Epics – and just about the same rotating weight as well, although the Control Carbon rims bump up the spoke count from 24 to 28, when compared to the Control SL wheels. Roval also throw in their lifetime warranty and a crash replacement policy that lasts five years. The specifics are on the Roval website.
The Roval Control Carbon 6B XD Wheels
For any wheel set, the rim weight, strength and profiles are important, and this is where the trail feel and performance come from. With a 29mm inner width and 4mm flat rim edge, you end up with a wide rim that lets tyres inflate to a consistent profile. You'll also find you get a better footprint on the ground, and that helps with acceleration, braking, cornering - just about any time where you need traction. The 4mm flat top rim edge is interesting, and it makes sense that having a wider and flatter edge here reduces the chance for tyre damage from a rim strike. Most of my own carbon wheels use anywhere from a 2.5-3.5mm rim edge, and the flattened profile the 4mm edge of the Roval Control rim is markedly different. This does mean Roval say these wheels are not compatible with tyre inserts, likely due to the force required to get some tight fitting inserts onto rims.
These wheels have a claimed weight of 1450g with the tubeless tape fitted. They come out of the box with tape and alloy valves, and this set weighed 687g for the front, and 781g for the rear. That's 1468g total. For a wide rimmed carbon wheel this is a really competitive weight. To get much lighter from here relies on big investments in hubs (like the DT Swiss 180) and spokes, and that can increase the cost of the wheels by at least 50% - while not really reducing the rotating weight unless you went for a lighter rim. And 358g is pretty light for a wide carbon rim with thick sidewalls.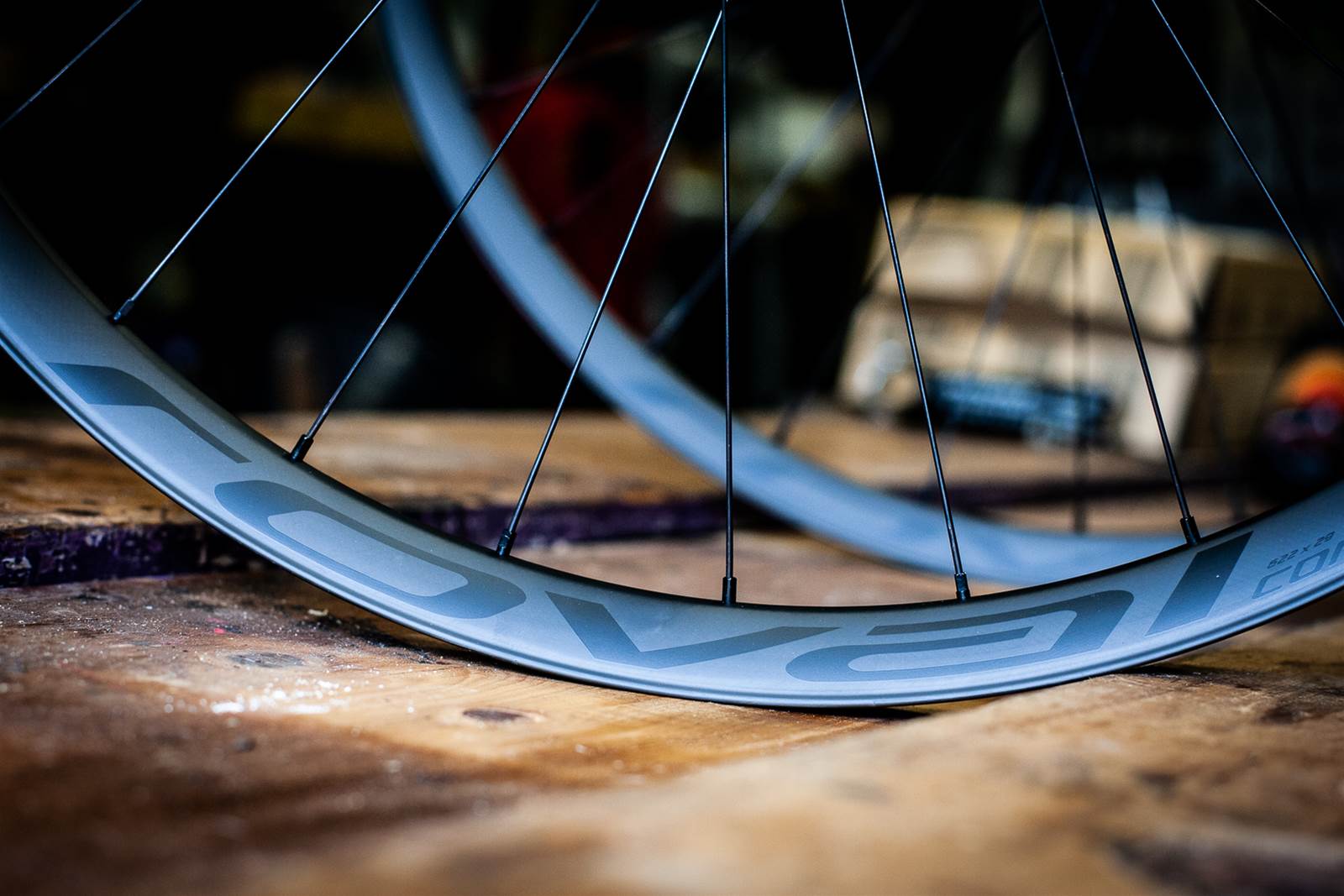 The rims are impressively light.
Roval use the updated DT Swiss 350 hubs in a straight pull, 28 hole, 6 bolt arrangement. Roval include 31mm end caps if that suits your fork, and spare spokes and nipples. I have erred away from straight pull spokes until recently, as building with them and truing them can be difficult as they can spin. But, I don't think I have actually ever had to really true a carbon wheel. So if you're buying a hand built wheel like these with straight pull spokes, it's all bonuses. Straight pull are stronger after all, as they don't have a bend put in the spoke.
The DT Swiss 350 hubs use the OG Star Ratchet system. It's super simple, and super reliable. The two ratchets and springs allow very low resistance freewheeling, with a high torque load and a 36t ratchet as stock. You can upgrade to 54t if you like, but the DT Swiss engineers feel 36 is the sweet spot for low drag and strength.
These wheels held air securely on setup, before adding sealant, and after bolting some rotors on and swapping to the freehub driver I needed, I was away.
On the trail:
My shed has a few pairs of hand built wheels with DT Swiss hubs, 28 Competition Race spokes, and asymmetric carbon rims with a 29mm internal width. So fitting up the Roval Control Carbon wheels wasn't going to really change my day to day riding experience.
In saying that, the Control Carbons are probably the most direct feeling carbon hoops that I have used in a while. Sure, they have a shallower profile than their last rim design, but the wheels as a whole feel very secure – nothing like some light carbon wheels that I have used before. This is evident when cornering, landing jumps off ledges, and especially when coaxing my hardtail down a long enduro run in the middle of a big day out.
The Rovals have a direct feel on the trail.
The Control Carbon wheels may have great cross-country weight, but it would be silly to think that's all they're good at. I also fitted them up to my full-suspension in 120mm format, which allows for a little more fun in rowdier terrain than my hardtail. This was a really good fit, as with some supportive 2.4" tyres fitted, the bike responded perfectly. The wheels respond to pedal input with snappy precision, aided by the light rim and probably the spokes. Some super light bladed spokes are light, and strong thanks to the bladed profile creating greater fatigue resistance. But they're not always stiffer, especially in a straight pull scenario without a traditional hub flange for bracing. But the build on the Control Carbons always felt precise when out of the saddle, or pushing into a corner at speed.
Good wheels even feel good rolling in a straight line and the Control Carbons rolled really nicely from the start, and I would say they even got better over the few months I had them on test, as the bearing seals settled in a little. If you haven't had a set of wheels with high quality hubs in them, it can be hard to understand the difference it makes. And this isn't just about on the bike performance, but also longevity and availability of parts. I've had some pretty fancy hubs over the years – but the DT Swiss 350 is my go to for matching performance with reliability, without sacrificing mortgage payments.
---
After more wheel reviews? See below for some hoops we've been riding recently.
TESTED: DT Swiss EXC 1501 Carbon Wheels
TESTED: We Are One Union Wheelset
TESTED: Funn Fantom AM35 Wheels
---
I'm not such an aggressive rider to need crazy high pressures when riding, and I settled at about 19psi in the front and 21psi in the back with the 2.4" Pirelli Scorpion Mixed and Hard conditions tyres I used for most of the product testing. As such, I didn't get to test the impact resistance of the rims, or how well the flat top of the rim wall protected the tyres from getting cut. But here's the thing with rim width and tyre width – getting it right makes a huge difference. And I don't mean with your thumb gauge. I mean being precise with a digital pressure gauge. Of course, the right pressure comes down to you, your weight, your tyres, the terrain and how you ride. I ride a lot of loose over hardpack in south east Queensland, and the right tyre pressure makes the difference between sliding all over the place and being able to ride on the edge of traction with consistent results. And I firmly believe that wider rims let you access that precise range of tyre pressures, especially in a cross-country/trail scenario.
Verdict:
Most of the carbon wheels in my shed have been built by hand, using wide rims carbon rims from 300-360g, and DT Swiss hubs. Despite my own wheels being so similar on paper to the Roval Control Carbon wheels, the Roval wheels somehow feel a little firmer in use. Over the past nine years I bought wheels with rims from Nextie, Light Bicycle, Kappius, ENVE, TWE and EIE, and the Roval Control Carbons are up there with some of the best riding wheels from that lot. They compare really well to the DT Swiss XRC 1200 wheelsets I rode a lot over a year ago, in both the 25mm and 30mm variants. But they cost over $3000 and much of their low weight comes from the DT Swiss 180 hubs – not so much the light rim.
The fact the wheels aren't meant to be used with inserts doesn't leave me too concerned. While I use light carbon wheels and rims a lot, I don't use inserts much. I'm just not sure what I'll do with an insert if I get a puncture that tubeless sealant or a plug can't seal. If you don't ride with personal tech support, you might feel the same way.
I like how Roval have taken the high-quality rim from their top wheel set, and used it in a performance wheel set that is far from cheap, but nothing like the pricing on some carbon wheel sets on the market. Wheels make a huge difference in how your bike rides, and just about any bike would benefit from a wheel upgrade. The Control Carbons offer a very reliable wheel set with a solid ride, excellent warranty and low rotating weight.
---
Hits:
Strong and light carbon wheel set
Stiff and quick to accelerate
Reliable hub set
Easy spares availability
Misses:
6 bolt only
Not tyre liner compatible
---
RRP: $2000
From: Specialized Australia
Australian Mountain Bike