The top offering from DT Swiss for cross-country and trail riding, XRC 1200 Spline 25 wheels
Words and photos: Mike Blewitt
 
In the middle of 2019 DT Swiss updated their top of the line hubs, releasing the new Ratchet EXP range of hubs. With an amendment to the world-famous star ratchet, new end caps, bearing placements and hub bodies, DT Swiss claimed they would be lighter, stiffer and easier to maintain than before. With the hubs moving to the very top of the DT Swiss hub product range, it is no surprise that their top-level wheels would find the new DT Swiss 180 Ratchet EXP hubs would be at the heart of their carbon mountain bike wheels.
The DT Swiss XRC Spline wheels come in two models – one with a 25mm internal width and one with a 30mm internal width. In early 2018 we did some testing on rim width, to see what width felt the best on the trails. You can find the results on here, but the consensus was that a 30mm internal width had the best ride feel and performance for the trail bike and trail tyres being tested.
 
However a 25mm internal width is potentially more useful for many cross-country and trail riders, depending on the tyre size they need and any tyre width limitations on a frame and fork. I've found 25mm internal to be the sweet spot for tyres between 2.2" and 2.35", especially for frames that have a tyre limit of about 2.35". On a wider rim they tend to become a little wide and really reduce your clearance.
 
The DT Swiss XRC Spline 25 wheels we had on test were 29" models with Boost spacing. They come stock as Centrelock (and come with adaptors for 6-bolt rotors) and with a Shimano MicroSpline freehub fitted they weighed 647g and 772g for the front and rear respectively, with high-quality DT Swiss tubeless tape and valves.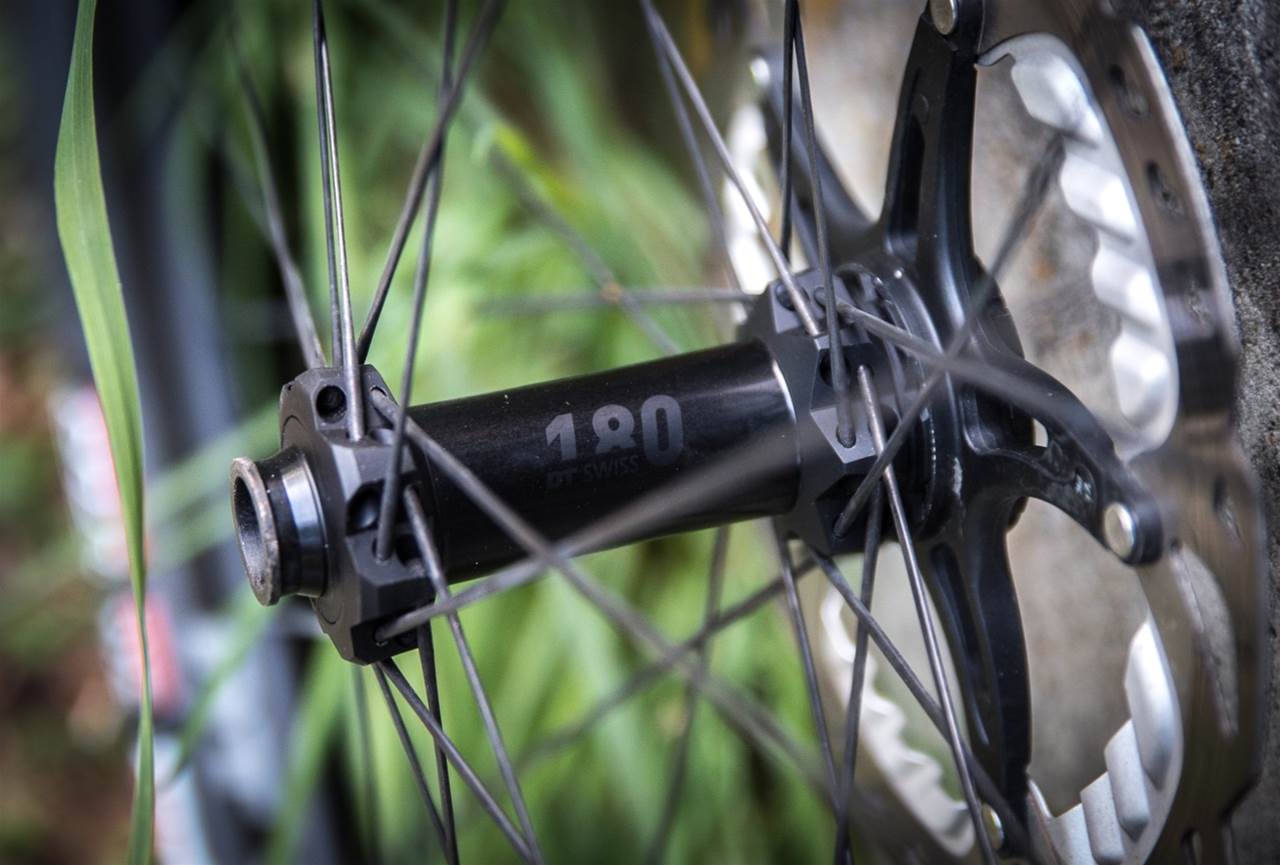 What's new about the hubs?
 
The DT Swiss star ratchet system was already very popular. It has a really high torque rating (which is great for anyone, including eMTBers) and in these wheels they come with the 36t ratchet, for a 10 degree pick up. DT Swiss are pretty adamant that faster pick up isn't everything, and that the 18t is their preference for reliability and low drag. The 36t isn't as buzzy as the 54t – but if that's what the DT Swiss engineers feel is the best compromise for reliability and drag – who am I to argue?
 
In the new Ratchet EXP hubs, the dual springs are replaced by one single spring, and one ratchet sits with the drive ring, so the total amount of parts drops from 7 to 5, while also being lighter. As one ratchet sits within the drive ring, the second spring isn't needed to maintain alignment of the ratchets. One spring is fast and reliable. What I appreciated most was the refined end caps that are 100% tool free for removal. The previous ones were press fit but really, they were a bugger to get off without some assistance. The shape of the new end caps mean you have something to grip, so it's easier for maintenance and if you need to swap freehub bodies.
DT Swiss have also increased the spacing between the bearings, creating a stiffer wheel. The drive side bearing sits within the drive ring, which means it's about 6mm further towards the frame – DT Swiss claim a 15% increase in stiffness. The bearings are also super high quality – there's no need to chase a ceramic upgrade here.
 
Ease of setup
With a bit of a delay with delivery of these wheels for testing, a fast setup for tyres, cassette and rotors was important. As the wheels come pre-taped, I only needed to fit the valves, my tyres and sealant. I removed the valve cores using the tool integrated into the valve caps, which is really handy, and inflated the tyres with a regular track pump. Done! Centrelock rotors are my choice so that was easy, although the new lock rings seem to be almost double the weight of old ones. Lastly I pulled off the stock XD driver to put on the MicroSpline unit, then fitted the cassette. I was good to go.

 
On the trail
 
Why the rush with the setup? I had to pack up and ship out while supporting some riders at the Marathon MTB World Championships. I'd be riding the course, or parts of, a few times with Australian team riders or a GoPro for recce work. The trails for the World Championship marathon in Switzerland were pretty demanding. From long alpine climbs, fast forest singletrack with vertical rocks planted for water control, to loose and exposed scree, dusty steep singletrack, near vertical singletrack climbs and fast forest roads – it had it all.
 
I own a couple of pairs of carbon rimmed wheels on DT Swiss 350 hubs, so this wheel set was a lot like my personal wheels, with each component dialled up a notch. From a combination of straight-pull Aerolite and Aerocomp spokes front and rear, to a smart 28 spoke count per wheel, and a rim depth that wasn't too crazy, DT Swiss have made a really well-considered wheel.
 
On the trail, the rolling speed of the hubs was exactly what you would expect – fast! I have had incredible reliability with all of the DT Swiss hubs I have owned (or used) using the star ratchet system and I have no reason to think the Ratchet EXP system will be any different, in fact it should be even better.

 
The ride quality of the wheels was as expected. The 25mm internal width was the perfect width for the Maxxis 2.25" tyres I had fitted on for testing, with the very edges of the side knobs still presenting wider than the casing.
 
Carbon rims tend to be stiffer than an alloy rim, and despite being reasonably shallow the rims are noticeably stiff – even more so than my own wheels which are a very similar set of wheels on paper. I think this is probably because the rim weight errs on the side of caution, being around 400g each compared to 345g. And this is no bad thing.
 
Much of the riding I did on the rims was either blind riding steep trails for the first time, or fatigued riding them towards the end of long rides or long descents. The lateral rigidity meant they didn't deflect, and the high quality rim remained really direct and held the tyres with no burping, even with pressures either side of 20psi front and rear. I didn't test their impact resistance. In general most rims are not designed for direct impact into objects – which is why heavy duty casings and tyre liners are popular. You're best to get your tyre pressures right as opposed to trying to test rim impact strength – neither alloy nor carbon rims enjoy being slammed into rocks. I have seen the DT Swiss impact test protocol at their HQ, and we have all seen Aaron Gwin race on a bare rim – so let's just agree that DT Swiss build rims to suit their design purposes.

 
The only real criticism that can be levelled at the wheels is the price. $2999 is a lot of money when you can get other carbon mountain bike wheels for at least half of that. But I have owned those sorts of wheels and I can assure you they don't feel the same. DT Swiss have built a high-quality
set of carbon mountain bike wheels for the performance minded end of the market. Compare that $2999 with other high-end wheels. ENVE M525 will cost you several hundred dollars more. Roval Control SL has some really similar specs but a lower spoke count front wheel and spokes that don't have the same fatigue resistance, and the older style star ratchet system, although they are $200 less. If you want the quality but not the price, look at the DT Swiss XR1501 wheels. The alloy rim is laced to a DT Swiss 240 hub set, and they are half the cost and come in 25mm and 30mm variants.
With 25mm and 30mm options available, DT Swiss XRC 1200 wheels will suit cross-country and trail riders alike who are chasing a top-spec set of wheels. If you're looking for a wheel upgrade to chase your goals in the Epic Series or another endurance event, or something to lift the performance of your light and fast trail bike, then you need to speak to your local DT Swiss dealer.
 
Hits:
-      High quality parts and build
-      Fast rolling wheels
-      Easy maintenance and setup
-      Two widths available
Misses:
-      An upgrade as much as some great bikes
 
RRP: $2999
From: DT Swiss Australia
Australian Mountain Bike