We test Revel's RW30 hoops.
Words: Will Shaw
Photos: Matt Staggs
---
When it comes to carbon wheels for everything from trail riding to Enduro racing, there are new options popping up all the time. The latest brand that's jumped into the wheel set market is Revel. I was impressed with their Ranger trail bike I reviewed previously, so I was excited to hop on their RW30 wheels to see if they performed to the same standard.
I received the RW30 wheels fitted on the Revel Ranger. When you purchase the wheels outright there's a choice of XD or Microspline freehubs, and rim tape and valves are installed as standard.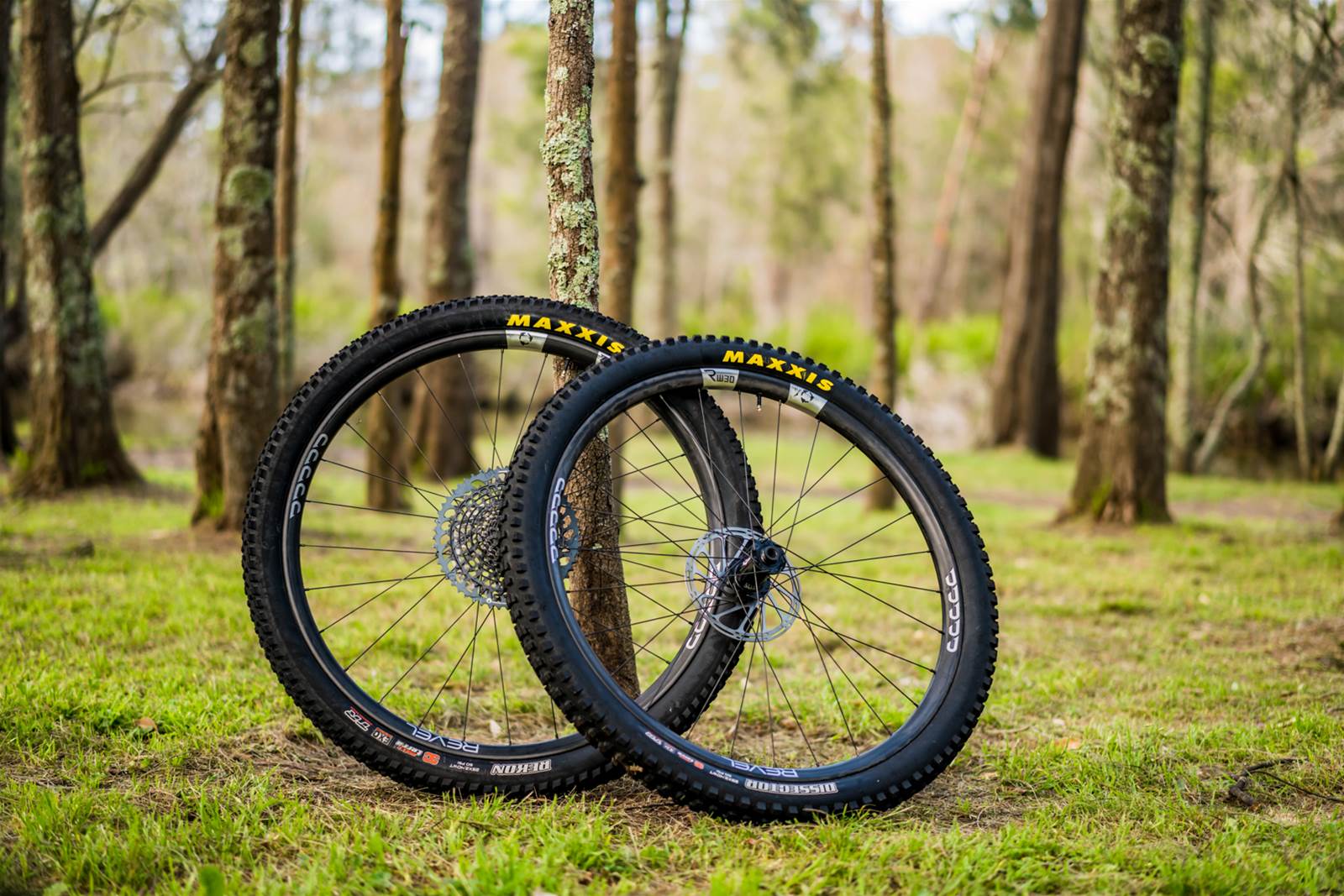 Revel's RW30 Wheels.
The RW30s are the only wheels Revel do, demonstrating Revel's confidence in their versatility from trail riding all the way up to Enduro racing. I tested the top-of-the-line build offering, which comes with Industry 9's Hydra hubs front and rear, Sapim D light spokes, and Sapim brass nipples. This wheel set is definitely priced at the premium end of the market at $3995, which puts them almost head-to-head with ENVE M series wheels.
Other specs include an internal rim width of 29mm, which fitted the 2.3" – 2.4" Maxxis tyres perfectly. The rim weight of the 29" rim is 480 grams, which isn't crazy light but is impressive considering Revel's strength claims. In comparison, a Santa Cruz Reserve 30 rim weighs in at 490 grams, and DT Swiss' aluminium XM481 trail rims are 525 grams each. A full wheel set built up on a 32 spoke rim with Industry 9's Hydra hubs weighs 1840 grams. Considering the use of 32 spokes and workshop friendly brass nipples, that weight isn't too shabby.  
The use of brass nipples makes things easier in the workshop.
As I built the bike up in the workstand, the wheels required zero attention. The graphics strike a middle ground between being noticeable and flashy, which was an aesthetic I liked. There was also less noticeable wear to the finish of the wheels over the course of testing compared to matte carbon wheels I've ridden in the past.
Design philosophy:

 
Despite being yet another manufacturer entering the crowded carbon wheel set market, the RW30s share almost nothing in common with what's currently out there. 
One of the first things you'll notice on the wheels is the recycling logo decal. Whilst advertising the fact that your wheels are recyclable should they break feels like a strange thing to be promoting, the fact of the matter is that any wheel can break. When a standard carbon wheel breaks, it's very difficult for that carbon to be recycled. Due to the Fusion-Fibre material used in the RW30s, broken wheels are able to be sent back to Revel, who're now using prototype and warranty wheels to create tyre levers!
Do I pop these in the yellow or blue lidded bin?
The Fusion-Fibre manufacturing method used to make the RW30 rims is like nothing else on the market. Fusion-Fibre technology encompasses both the material itself and the method of manufacturing, a bit like Gore-Tex in the outdoor world. Revel are the only brand using Fusion-Fibre to make their wheels, and this came about due to the relationship between Revel's founder Adam Miller and Joe Stanish, an industry veteran who has worked at brands such as SRAM and ENVE. Joe has gone on to found CSS composites, a company that specialises in carbon fibre, and he approached Adam about Revel being the first brand to use Fusion Fibre in their wheels.
Fusion-Fibre is a type of carbon fibre that isn't impregnated with epoxy (often referred to as pre-preg carbon), but instead uses a nylon polymer curing agent to bond the strands of carbon fibre together. This presents a number of benefits according to CSS and Revel.
Firstly, the material isn't toxic like traditional pre-preg carbon. This means it's less harmful for both the workers in the factories, and more environmentally friendly generally.
Secondly, unlike traditional pre-preg carbon, Fusion Fibre doesn't have to be refrigerated. This results in a longer shelf life, as well as less energy used during production. The rims are laid up robotically and flash welded together in around 20 seconds, compared to the 45 minutes required for a standard carbon rim. When the rim comes out of the mould, there's no epoxy to be sanded off (which is better for the workers and environment once again), and there's no clear coating of the rim required.
The finish on the rims is fantastic.
In terms of the performance benefits of the material, Revel claim that Fusion Fibre has a better impact resistance per gram than traditional carbon fibre. This claimed impact resistance is achieved due to the flexibility of the nylon polymers. The flexibility of the nylon polymers is also claimed to provide increased ride damping; however, I can confirm this is something you feel out on the trail.
In terms of the rim itself, Revel have opted for a tried-and-true double wall design with a hookless rim wall. I didn't swap tyres throughout testing, but I did pop them off the bead and pumped them back up with ease using a floor pump.         
Our test wheelset came shod with Maxxis Dissector tyres.
The wheels are manufactured in Southern Utah, which means that combined with the Industry 9 Hubs the wheels are almost an entirely American affair. For those interested, there's a great video on Revel's YouTube showing the machines at work both building up wheels and recycling old ones.
On the trail:
Just like the uniqueness of their manufacturing process, the RW30s have a unique feel on the trail. Usually, a carbon rim using 32 spokes and a 3 cross lacing pattern front and rear will deliver a fairly stiff ride. Despite this, the RW30s have a damped feel to them that mutes trail chatter better than many carbon wheels out there.
The RW30s felt fantastic on the trail.
Some people enjoy the feeling of stiff, direct carbon wheels. There are definite advantages to that style of wheel, they're very poppy and easy to manoeuvre on the trail, and they also feel fast, which is important to many. The RW30s are some of the most damped carbon wheels I've ridden, but Revel have struck a nice balance in maintaining a sense of playfulness and speed alongside their suppleness.
On the other end of the stiffness spectrum is something like an alloy front wheel with a 2 cross lacing pattern. On my personal enduro bike I use this style of wheel on the front, an XM481 rim with a 2 cross lacing pattern, and it offers noticeably more flex than the RW30s. Swapping between the two however, and for general trail riding I'd take the RW30s, as they strike a much more even balance between damping the trail and feeling lively.
The instant engagement of the I9 Hydra hubs suited the personality of the RW30s and the Revel Ranger they were mounted to perfectly. For those who're after less engagement or a different hub brand, the RW30 wheels are also offered custom built onto a number of hubs. Get in touch with the team at Off Road Bikes Online for more information.
---
Looking for some new hoops? Check out more wheelset reviews below:
Roval Control Carbon 6B XD Wheels
Hunt Bike Wheels Race XC Wide MTB Wheels 
---
I rode the RW30s hard for around a month, and on plenty of trails where I was underbiked and running lower pressures than I would on my personal wheel sets. I had multiple tyre bottom outs, and the RW30 rims emerged unscathed. After maybe 3 weeks of riding the rear wheel was ever so slightly out of true, but I kept riding it and it stayed at the same barely perceptible level until I sent the wheels back. The use of brass nipples means that when you do need to true the RW30s, the nipples should hold up for years to come.
Summary:

 
At the start of this review, I mentioned that it feels like every brand out there is hopping on the carbon wheel bandwagon. Whilst many of these wheels look, feel, and ride similarly enough that there's not much to differentiate them, the Revel RW30s are a real breath of fresh air. Not only is the consideration of more sustainable manufacturing practices admirable, but the ride quality of these wheels is also unique and desirable.  
Revel wheels come with a lifetime warranty for defects in material and craftsmanship, and if you do happen to break one ORBO will supply a set of loaner wheels until your new wheel is ready to roll. ORBO are also offering rims separately, and the custom builds I mentioned earlier.
---
Interested in more Revel products? Check out our Revel bike reviews below:
Tested: Revel Bikes Ranger (120mm/115mm)
Tested: Revel Bikes Rascal (140m/130mm)
Tested: Revel Bikes Rail (170mm/160mm)
---
There's no doubt these wheels are expensive at $3995 with the I9 Hydra hubs, but they ride like a premium wheel set, and I wouldn't be surprised if more brands hop on the Fusion Fibre bandwagon in the coming years. If you're in the market for a premium wheel set for anything from trail riding to enduro racing, the RW30s are worth a look.  
Will enjoyed his time aboard the RW30s.
Hits:
Lower impact production

High impact strength

Excellent ride feedback

Light and strong
Misses:
Premium pricing as tested
RRP: $3995 as tested
From: offroadbikesonline.com.au
Australian Mountain Bike