Hunt Bike Wheels are turning out top value wheel sets, from XC race wheels like these, to carbon enduro hoops.
Hunt Bike Wheels are a British wheel manufacturer that have made leaps and bounds into the global wheel set market, thanks to offering a variety of well-built and thoughtfully designed wheels – without costing and arm and a leg (and a kidney). Their wheels have gained a lot of favourable reviews, from their alloy and carbon road wheels, through to their all-mountain, trail and XC wheels. At a glance, their mountain bike range isn't as deep as their road range of wheels, with 7 options to choose from. However with carbon all-mountain wheels under $1300, and Enduro and eMTB rated wheels under $800, they're offering exceptional value for mountain bikers, no matter how you ride it.
The Race XC Wide wheels were my pick to test, as there isn't a huge range of choice out there for a pre-built wheel that is a reasonable weight, with a good width, and that doesn't cost the earth. Selling for $779 (a little more than when they were first ordered, thanks to exchange rates), this is a wheel set that can be tested without baulking at the cost, and wondering out loud who would even pay $4000 for a set of wheels.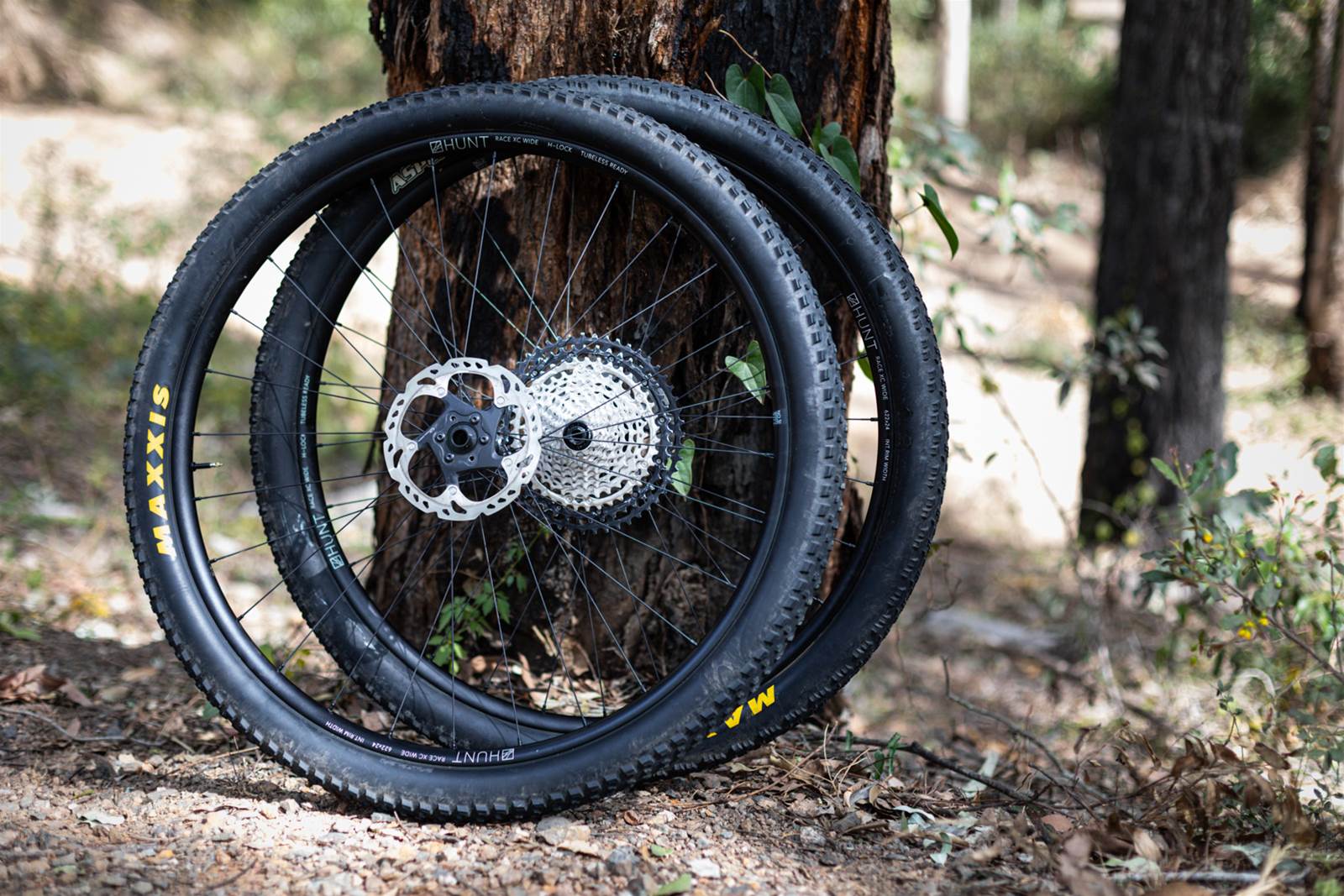 The alloy rims are shallow, non-asymmetrical, come with tubeless tape fitted, and they have 28 straight pull spokes front and rear. The hubs have alloy axles and straight pull flanges, with ceramic coated bearings for fast and smooth rolling. Disc mounts are 6-bolt, and you can pick a SRAM XD, Shimano Microspline or HG freehub. The freehub runs on 6 pawls for a 5 degree engagement. With a claimed weight of 1517g, this set came in at 1561g with the tubeless tape fitted. Of note, Hunt supply spare spokes and nipples and tubeless valves in the box, making set up and long term maintenance even easier. You can find my full first impressions right here.
Setup and fit up
I first fitted up a pair of Maxxis Rekon and Aspen in 2.25", which sealed easily and worked well. I did run a little more pressure compared to on my own wheels, accounting for the ever so slightly narrower width. The Hunt Race XC Wide have a 24mm internal width, which is wider than a rim like a NoTubes Crest, and wider than a lot of stock rims on XC bikes, but narrower than the 25-30mm range that top spec wonder wheels come with. While Hunt do a 25mm internal XC wheel, it is about 130g heavier for the wheel set. That's hardly a deal breaker if you're after a little wider.
After a first few rides, these wheels were the test bed for the Pirelli Scorpion XC RC Lite 2.2" tyres. As a low-profile tyre with a light casing, it was the perfect combination. My first ride on the wheels did have my wife and riding companion query what wheels I was using, as she heard the freehub clicking away, and saw how fast the wheels rolled. With the ceramic coated bearings and fast tyres, these wheels really hold speed on the way to the trails!
Pedalling along, the rear hub picks up nicely, with no clang on engagement that some pawl hubs are plagued by. The straight pull spokes do make for a lower flange height, and alloy rims are typically a lot shallower than carbon, making the spoke length on these wheels quite long. So I was curious as to how rigid they would feel compared to my usual wheels.
Riding on local trails at regular 'head out for a ride' sort of speeds, I never really thought about the stiffness of the wheels, or the performance of them. They just blended into the background. They rolled fast, didn't anchor my bike down, and in general they just let me get on with riding my bike.
Push a little harder, and the wheels came to the fore a little more. I'm not one to be obsessed with Strava, but I do have a competitive spirit. And with not a whole lot of bike racing possible this year, along with some more time at home to explore the mountain range at my back door, I did choose to take a crack at a few longer, and admittedly more obscure, Strava KOMs. I'm not talking about the ones on local trail networks, but the ones that might have a current 20 minute, or 90 minute, current record, with only about 30 or 40 riders to have ever completed them, according to the great orange oracle of Strava.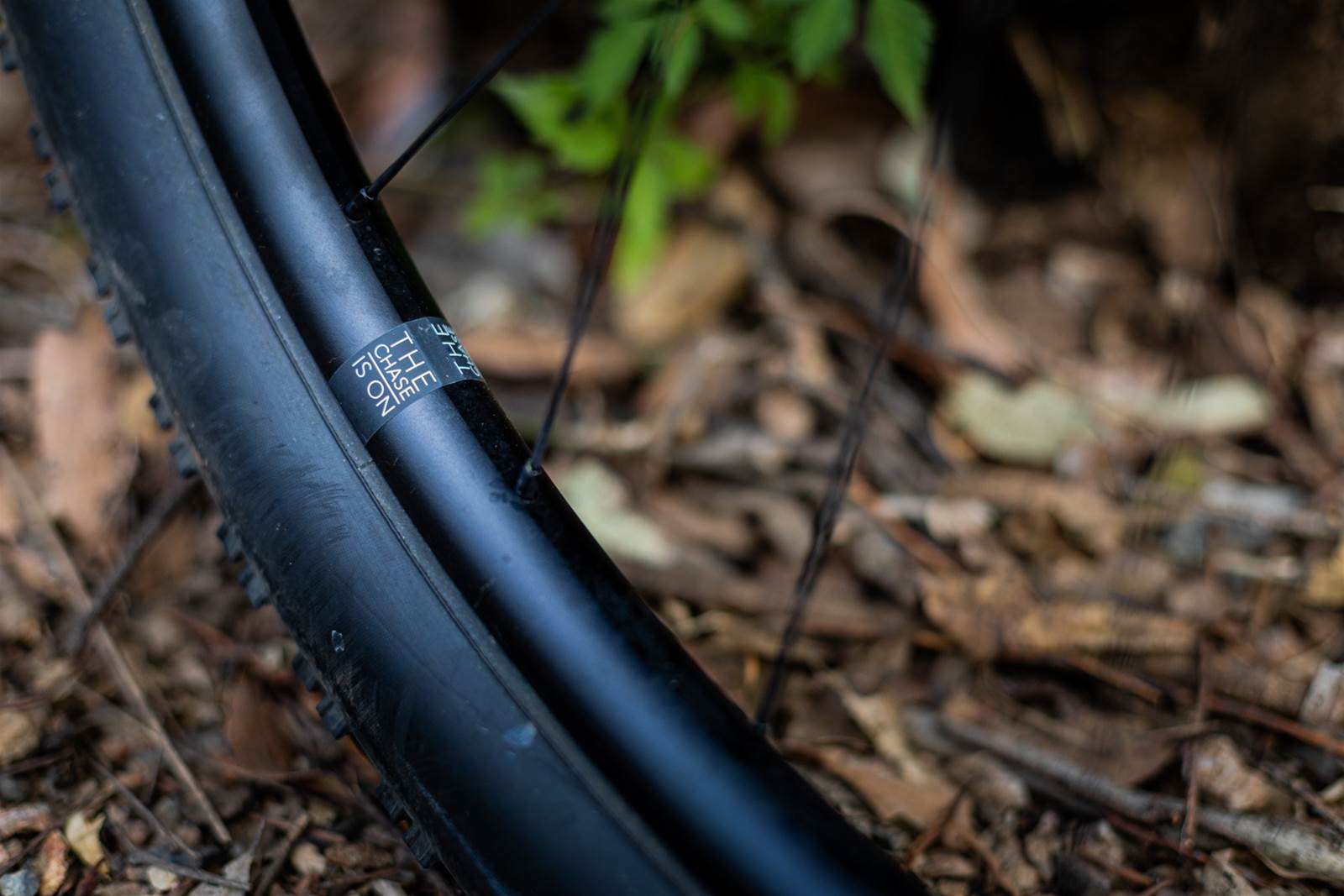 The Hunt Race XC Wide wheels accompanied me on a number of jaunts where I took some crowns and cups, and I honestly think the combination of low weight, fast rolling hubs and the generally slightly more compliant nature of the alloy rims all helped. I've actully barely ridden my full-suspension bike while having these wheels in my hardtail, as the lower profile rims do take some sting out of the rigid carbon frame.
In that sense, these wheels have been an ideal partner to my carbon hardtail, which is a pretty uncommon bike to buy these days. But as they don't deflect too much, and don't weigh a whole lot or cost too much, they're a very nice wheel set to use on a bike that you just want to get on and ride. I don't think I've even cleaned the bike for 2 months.
Of course, the wheels have moments that aren't as good. They just aren't as stiff as some wheels, like some wider carbon rims I have that are on DT Swiss 350 hubs, with a taller hub flange. Those wheels are twice the price, but they are far more direct, and 150g lighter – hence they are my race wheels. This was noticeable on rocky trails at moderate speeds, but really only a problem at high speed on very fast and rough fire trail. I did have a couple of moments where I wanted to tip into a corner but some flex in the front meant the bike wasn't as interested. Being bolted into a Fox 32 SC can hinder the situation, but it was a noticeable difference.
This feeling was nothing like the occasional less precise feel I had on trails and singletrack, where the lower overall speed didn't really create the same puckering sort of experience. In fact, I actually think the effect would be lessened with a reinforced tyre on there, as it removes some flex from the whole wheel system.
Early on I had my concerns about the slightly exposed outer bearing on the freehub, as it sits behind the end cap. But the sealed bearing still spins as new, although the past few months have been very dry in my area. It may be a different experience in deep mud. But save for a lot of dirt, dust and splashed chain lube – the wheels spin and run true as well as they did when they came out of the box.
Verdict
This set of wheels won't be for everyone. Trail riding is the new vanilla in the mountain bike world, and that is not what these wheels are aimed at. They are an alloy, cross-country race wheel, focused on bringing greater width and stability to a performance package. And in that sense, they are perfect. A set of these wheels would make a good upgrade to just about any mid-range XC hardtail or full-suspension bike, and could also be a good way to modernise a slightly older XC bike as well. The ride feel was exceptional for the weight and price of the wheels, and I'd be more inclined to look at this set ahead of a wheel set like the NoTubes Crest Mk3 wheels, based on price, width and hub quality. If you're looking for a high end custom wheel set to set your bike build off, then these may not be for you. You could be better investing in a custom wheel build via your local shop or trusted wheel builder, so you can get the weight, strength and ride quality you want. As it is, I was thoroughly impressed with the price, ride and build quality of the Hunt Race XC Wide wheels, and would recommend them to anyone looking for a new set of XC wheels at this price.
Hits:
Great set of hubs
Top level build quality
Good combination of weight, price and performance
Misses:
Might not suit heavier riders pushing hard
RRP: $779
From: huntbikewheels.cc
All photos: Colin Levitch
---
Australian Mountain Bike