Pirelli's Scorpion 2.4" LITE range might be just the tyres that your down-country bike needs.
PIrelli's presence on the world stage is dominated by motorsport and performance tyres. Their return to cycling has been done in a manner as you would expect - thoroughly tested and with tyre ranges to suit a wide variety of cycling. Road tyres came first, then gravel, and then the Pirelli Scorpion mountain bike range that was first launched in early 2019. The Scorpion conditions specific mountain bike tyre range is based on having a Rear specific tread, a tread for Soft conditions, one for Mixed conditions, and one for Hard conditions. We've gone pretty deep into the tread differences before, but read our launch piece again for a break down. The nuts and bolts of it is that you choose the tyres you need for the 'mechanical grip' with the ground, while Pirelli use their single compound SmartGrip rubber to take care of the chemical grip.
As noted in previous reviews, Pirelli's Scorpion tyres were originally developed around size specific rubber, with 2.2", 2.4" and 2.6" widths being available for cross-country, trail and enduro respectively. There are a few variants to that, as some of the Pirelli Scorpion Enduro models are available in 2.4", and there are XC models in 2.4" widths, which are totally different to the 2.4" Trail tyres we have tested. If you're after the Pirelli Scorpion Trail or Enduro tyres - then don't miss our full review of the range.
It's not just width that differentiates the whole Scorpion range, as the Scorpion Enduro range have the HardWall casing which is seriously reinforced. The Scorpion Trail range has ProWall which is super sturdy but lighter than HardWall. The Scorpion eMTB tyres use HyperWall, which is like the HardWall casing except the additional sidewall support runs a full 30mm up the sidewall!
I have tested the 2.2" rangle last year, which has a 120 thread per inch (tpi) ProWall casing, with an extra layer of 120tpi reinforcement on the sidewalls for strength and tyre support under load. There are LITE models which do away with the extra reinforcement for a more supple ride and lighter overall weight.
I was really impressed with the Pirelli Scoprion 2.2" range that I tested, finding them to wear very well and have predictable break away. Like many riders in dry conditions, I opted to use the Mixed conditions on the front and the Hard conditions on the back, to create a versatile pairing that was very fast, but with plenty of traction.
Throwback to overseas launches! So 2019...
A closer look at the Pirelli Scorpion 2.4" LITE
Fast forward to 2020, and there are a whole bunch of reasons to look at wider tyres for cross-country, down-country and fast'n'light trail bike use. Pirelli designed their 2.2" tyres around rims with a 25mm internal width, while their 2.4" tyres (and 2.6") are designed around rims with a 30mm internal width. Given you'll see plenty of XC racers on rims that width AND tyres at 2.3" and 2.4", it was really worth setting up the Pirelli Scorpion 2.4" LITE tyres to see how they'd fare. They have the same four treads, with Rear specific, Soft, Mixed and Hard conditions.
More elbows!
Interestingly, the Rear specific 29x2.4" tyre is the same as the Scorpion Trail 2.4" - so it has the 60tpi ProWall casing with 120tpi reinforcement on the sides. As such it's the heaviest of the lot, but if you're looking to be using the 2.4" range for some 'down country' riding, having a strong and stiff rear tyre is no bad thing. This tyre did come in over 900g, above the 855g claimed weight. So it's not really in the wide XC race arena.
The Mixed, Soft and Hard conditions tyres are claimed to weigh 810g, 810g and 755g respectively - although each tyre was about 40-60g above that. That sort of variance is pretty typical with tyres.
Each tyre inflated really easily - and I think that's very telling of the quality of the casing and how they're made. While I did use a compressor at home (best gift ever!) when doing back to back (to back to back) comparisons at the trail head, I used a track pump and the bead popped into place every time with no fuss. They also stay pretty well airtight with just about zero sealant... all in all after setting the tyres up I was pretty impressed.
Even just swapping tyres at the trail they always sealed up just fine.
The 2.4" tyres inflate to just under 61mm on the 29mm internal rims on my bike. So that's just about spot on for being true to size.
On the dirt
As when I tested the 2.2" Scorpions, my go to was the Rear specific in the back with the Mixed on the front. Pirelli state that this is the most versatile option, mixing excellent traction with good rolling speed. While this time I was on larger tyres with a seriously strong rear tyre, I can only agree with Pirelli.
I did spend some time getting pressures just right, and even dropped below 20psi in the back to 19.5, with 19psi in the front. I was testing this on my Norco Revolver FS with a 120mm fork and 100mm of rear travel. While the frame is rated to 2.35" tyres, the 2.4" fit fine. 
I took this combination over about 300km of mixed terrain. From loose and crumbly moto trails in places I shouldn't have been, to purpose made singletrack in the local bike parks, and everything inbetween. The braking and climbing traction afforded by the Rear specific tyre was really impressive, and the stability when getting out of shape in ruts was an advantage over the thinner casing tyres I often run. But when one particular ride had me needing to go a very, very long way around to avoid trespassing and testing whether posted threats of violence would be adhered to or not - the heavy Rear specific tyre did make itself known. If you're the kind of rider who rides to the trails a lot and does a lot of climbing and distance, then the Rear specific tyre might just be too much.
So - I fitted the Hard conditions on the back, dropping a chunk of weight, getting some faster rolling speed and also dialling up the compliance thanks to the 120tpi casing. I did have to bump to 20.5psi, which is still pretty low all things considered.
The thing is, I noticed very little change in traction - save for hard braking and really loose climbs. Both of these were more on the extreme end of what you might experience in most trail networks, as it was when trying out new lines on a map well over the range behind my place. So steep descents well over 20%, and similar climbs back up. 
It's worth remembering that Pirelli don't say that the Rear specific tyre has to be used. Instead, it's just what they have designed to be for optimum performance on the back for durability, braking and accelerating.
As a general combination, the Mixed front and Hard conditions rear is one I would happily keep running. The tyre weight is ok, about the same as something like a 2.4" Maxxis Rekon or even a Dissector. But the combination has some good tread advantages compared to either of those, with more predictable grip at any lean angle, and so far exceptional wear.
Scorpion Mixed. Bit o this, bit o that.
It is important to remember that Pirelli's single compound isn't layers of compounds. A number of tyre manufacturers use 2 to 3 compounds, putting the softer compounds on the edge and shoulder knobs so they don't wear too fast, but give good (chemical) grip when cornering. This is usually an outer layer on a much firmer compound underneath. So when you see edge and shoulder knobs peeling - that useful layer is gone. And that's why the performance of some tyres really drops off a cliff after not that much use.
In comparison, Pirelli's SmartGrip compound is the same compound all the way through. It is a little firmer than some, but it's consistent. Even when I took the rear tyre off, it's dirty but doesn't really show much wear. I have replaced other tyres, admittedly low tread height models, after similar conditions and use.
The Soft conditions tyre is the most aggressive.
When sticking with the Rear specific and the Soft and Hard conditions on the front, the performance was about as expected. South east Queensland is about as dry as it gets right now, and if your trails are usually hardpack, now is the time they are either baked like concrete or crumbling at the edges. In those soft, crumbly conditions, the Soft tread is actually amazing.
On the one hand I felt like I was using too much tyre, as the design of the tread is to dig into the terrain to find traction. And that it did, while also chewing it up. But save for some more rolling resistance, the Soft conditions tyre really hauled at speed on descents, and ripped on off camber singletrack where the tread found more traction than I thought was available.
Comparing that to the Mixed conditions tyre, it was also really good on those conditions, but more likely to move around a little while finding traction. It still has deep tread, and some wanting the security of deep lugs might look past the Mixed - but it really is a very versatile tyre, feeling especially good in loose over hardpack and the general conditions in my greater area.
For interest, I put it on the back with the Soft on the front for some very loose and dusty trails - and the grip was all-time! I didn't use the Soft that much though, it really suits loam, or wetter or even softer terrain. Even on timing myself on the one loop it didn't make me faster - it just felt grippier in the very loose, dry terrain. 
Running the Hard conditions tread on the front was FAST! You could feel it wanted to move around when getting on the gas on loose over hardpack corners, and it did dance a little on the very dry off camber trails - but it always found the grip needed - it just didn't hit that first up.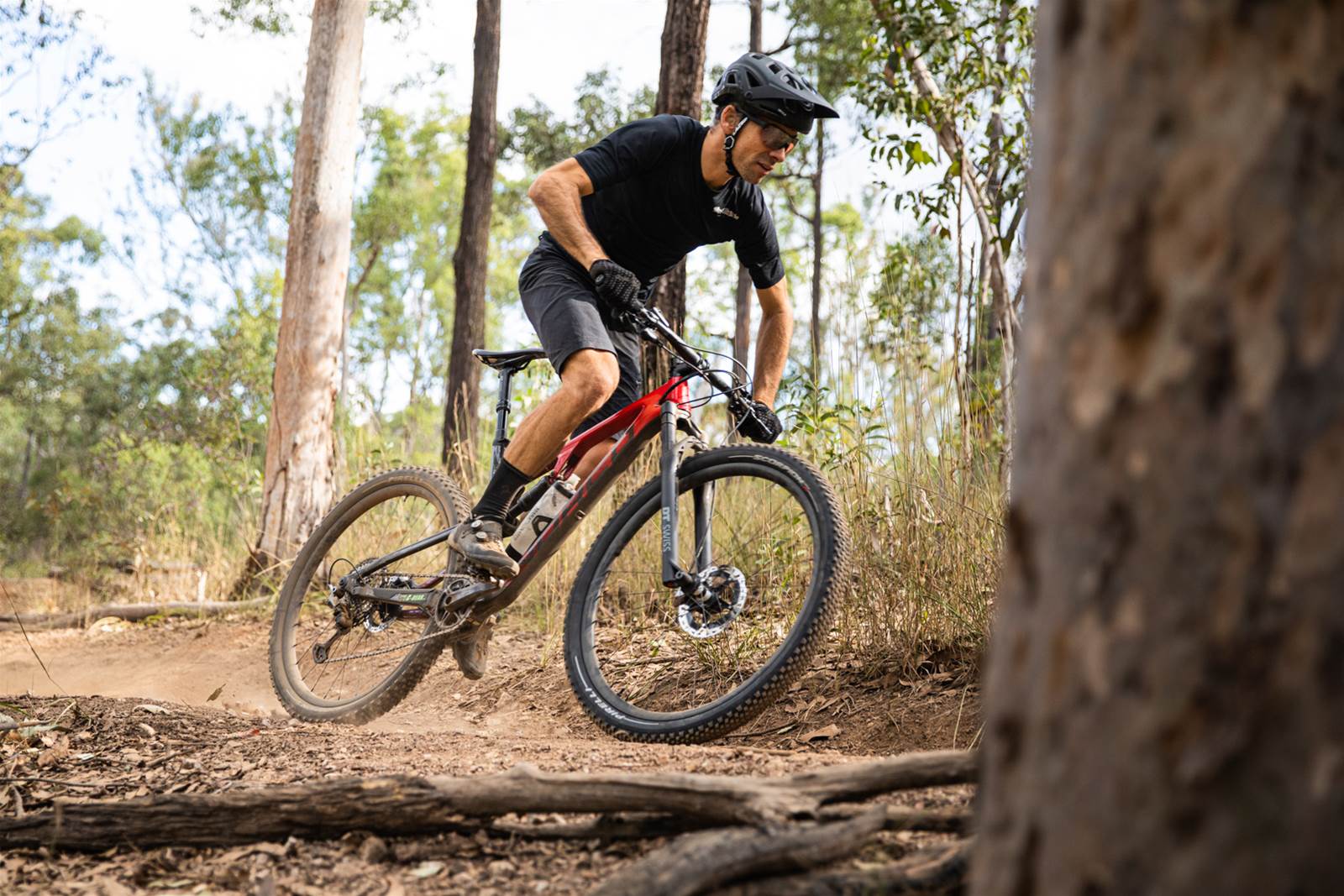 To me, that's a perfect compromise if you want something faster rolling and lighter. If you're wanting to move fast, all you need is enough traction to have just enough control to keep moving. And the Hard conditions tyre provided exactly that. Using the Soft felt awesome, but also a bit slower to move around. The Hard was fast in, fast out, on to the next section. There wasn't a sense of sliding through, but more a sense of just enough control but without anything holding you back.
Why would I use Pirelli Scorpion 2.4 LITE anyway?
That's the $99.99 question - why try something new if you're used to the tyres you have anyway? Changing tyres and getting the right tyre pressures are one of the easiest and cheapest performance enhancements you can make.
When riding the Pirelli Scorpion 2.4 LITE range I mostly had dry conditions, but I rode a very wide range of soft, mixed and hard conditions. I did lots of hills, plenty of rock, and rode over plenty of sharp and pointy things. I rode on the road a bunch, and ran barely enough sealant according to any recommendations. I really liked how the 2.2" Scorpions rode last year, and used them at the tyre launch on the slopes of Mt Etna, at home, and even for some events near Forrest in Victoria. They never disappointed.
The 2.4" LITE options are perfect for those who want a larger tyre though, be it for rougher terrain, or just to have the larger contact patch. Pirelli have designed their casings to be more supportive, so using a digital pressure gauge and and the 2.4" LITE tyres could even be the answer to very supple suspension - using your tyre just as much as your fork or rear shock. 2.4" tyres really are an excellent choice between or beyond the tape.
I think PIrelli's strengths lie in three key areas - the casing, the rubber and the tread patterns.
The ProWall 120tpi casing is supple but strong, and best of all it has proven to be just about airtight. Pirelli call their tyres Tubeless Ready, and it's nice to have a tyre seal up so easily. In this case sealant will work on punctures, not to just keep air in there in the first place. The casing is also very supportive for a 120tpi casing. Some can be too soft, and not let you really run lower pressures for traction. I ran abou 1.5-2psi lower than I would in similar 2.4" tyres. I had no burps, no cuts, no leaks, no weird squirming.
The SmartGrip rubber is wearing exceptionally well. I don't have any big rock slabs to ride nearby (that I know of?) so while Ben and Ryan were left wanting something a little more tacky on the rock slabs of Canberra, I found the traction was excellent, especially with the wear rate. You can get fresh tyres for a lot less than $100, but if they don't last that long, or work that well, is it actually better value? I'd say probably not.
Lastly, I really like the tread patterns. When I first heard about the conditions specific range, I thought Pirelli were suggesting that you set yourself up with a Rear specific, plus one of each for the front. But maybe two Soft, Mixed and Hard as you can use them on the back and what if that suits your conditions?? Well, you could do that, and I'm sure people would.
But the idea is that you choose the models for how you ride most of the time - the concept is to make choosing the right tyre a whole lot more simple, and to pick one that actually suits you and your trails the best. The Mixed front and Hard rear are what I'm riding a lot now, although I really did like how burly the Rear was. The Mixed front and Hard rear is the combination I would pick for general XC/trail riding in my area.
But, if I knew I was hard on tyres then I'd stick with the Rear specific. If I was a little more talented about going fast, I would choose Hard front and rear. And if I was heading to Maydena on my Revolver again, I'd opt for the Soft on the front, Rear on the back, and pack a Mixed as a spare. That might also suit heading to Derby after Maydena as well, where the Mixed front would work better on all the rock.
The Pirelli Scorpion tread's performance windows have significant overlap with each other so you won't get caught out. I think Pirelli have done an excellent job with their Scorpion range, and I'm just as impressed with the 2.4 LITE options as I was with the 2.2 models.
Each tyre costs $99.99 and your shop can get them in from FE Sports. If you're keen to see more details about each model in the Pirelli Scorpion range, head to the FE Sports website.
If you're truly after something light and racey, then Pirelli also have the XC RC in 2.2" widths. They use the ProWall 120tpi casing with some extra 120tpi reinforcing. There is also a Lite model which does away with the extra sidewall protection, coming in at about 600g! I've got both of these fitted up on some wheels and will have a review coming for those as well.
Australian Mountain Bike