Testing the Pirelli Scorpion MTB range across all terrains!
Words: Mike Blewitt
Pirelli are synonymous with performance tyres, and after coming back to the cycling market with their road cycling range in 2017, many wondered whether they would follow the rougher path into the world of mountain bike tyres.
We have covered a lot of the technical details about Pirelli's Scorpion MTB tyres online already – and now with more trail time on the treads it's time to see how they stacked up in Australian conditions.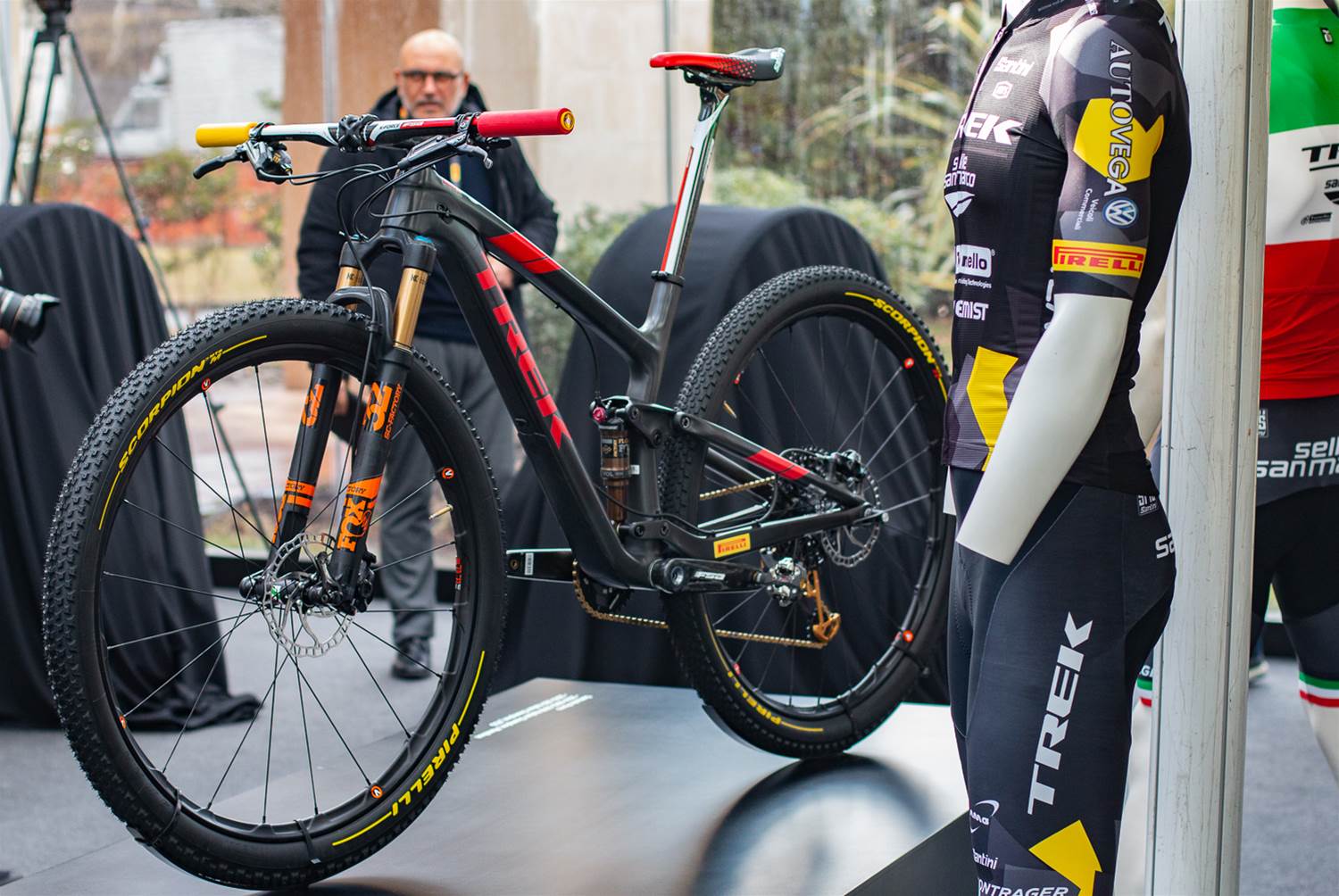 Four treads, many uses
Pirelli haven't designed tyres aimed at XC, or trail, or enduro. They have made four tread patterns, and made them available in 2.2", 2.4", 2.6" and then 27.5" or 29". The larger tyres have deeper tread, casings that are more heavy duty on the larger tyres, and the larger tyres are suited to wider rim widths than the narrower tyres.
Do they have trail tyres? Yes, they have four. Do they have enduro tyres? Yes, they have four. Do they have XC tyres? You get the picture. We tested all tyres in 2.2" and two options in 2.4". The 2.6" models and 27.5" sizes will come out in September.
Rear specific
The medium profile and tread spacing has paddle style tread blocks with excellent stability fore/aft. While the spacing is much broader for the transition and edge knobs, they're still pretty big and have a really broad base for support. The Rear tyre has been designed to be really versatile and in the 2.2" size I found it hooked up really well under braking, and on loose climbs and even on climbs with wet roots and rocks to step up and over.
Pushed hard on sandy grit on hardpack (which is not uncommon here) you could feel the breakaway point. But it was subtle and very predictable. As for rolling resistance – it's pretty good. It is not as fast as a low-tread height tyre but it has far more braking and acceleration traction. Our sample weighed 788g compared to 740g claimed. Wear has been ok, considering the ~400km I have on it has had a lot of riding to and from trails on the road.
This tyre gave me all the traction I wanted – I think for a pure XC race tyre you might want something faster or lighter on a smooth course. But as a general trail tyre, especially in the 2.4", I can't imagine much better for all-round use.
Hard Terrain
This is designed for hardpack and rocky conditions, where lots of tread contact with the ground is more important than tread penetrating soil. Pirelli state this is a great rear tyre for riders wanting a faster ride, and so it's also available in LITE casings in 2.2" and 2.4". Our 2.2" normal sample weighed 729g (695g claimed) and the 2.4" was 911g (795g claimed) so there was a bit of variance.
On the bike, it does roll fast, and in the dry conditions it was tested in it rides in a very similar way to the Rear tyre when on the back. As it has a lower profile, it only came unstuck a little in hard braking into loose corners. The closer and lower tread spacing was quick to accelerate and left plenty of edges to grip.
Mixed Terrain
This is Pirelli's most versatile tread pattern and with the Rear, the one I rode the most. In a 2.2" it is 777g, above the 735g claimed. But the 120tpi casing was super stable, even at around 20psi, thanks to the generous width (58mm) that the Scorpion 2.2" range inflate to on a 25mm internal rim. Like the Rear, it's suited for everything but the softest terrain, where a deeper lug with some more space is needed to penetrate for grip.
Each tyre has it's own SmartGrip compound, a single compound that optimised tread wear, stability and damping for the use of the tyre. The Mixed has worn really well, but also been predictable on wet roots and rocks, in dry and loose conditions and fast hardpack. The couple of times I had to break loose were usually involving a rapid change of trail conditions – like catching on a root mid corner or some other rider error.
 
Soft Terrain
This looks like a mud tyre. And that's because mud is soft terrain and tread needs to be deep, widely spaced, and not so soft it squirms. But that's what you need for other types of soft terrain, like dry and loose dust. My 2.2" weighed 719g, less than the 740g claimed. The 2.4" was 926g, above the 855g claimed.
Riding in the loose and dry conditions of south east Queensland (how about some rain?), this tyre pattern worked way better than I thought – but it is obvious why. The dust and rock mix is soft, and so the tread knobs were penetrating for traction. I think it would also be great for the wetter months further south, but as the bag size is the same as the other tyres, it really is very good in dusty conditions, with plenty of float and air volume.
Final thoughts
Pirelli used all their resources for the research, development and testing of the Scorpion tyres. One goal was making tyre choice more simple, and it's important to view the range in that way. If you're used to see way more tyres in a brand's range, ask yourself if they actually differ that much? Pirelli have a tyre to suit the variety of terrain we ride in, in widths to suit whether you're after something more for XC and trail, or trail to enduro.
The wider the tyre, the stiffer the casing, and the tread and rubber is optimised for the use. From the models I have tested I have been highly impressed. With the LITE range coming to suit XC and fast trail bikes in 2.2 and 2.4" respectively, and 2.6" tyres coming later this year, the applications will only continue to grow. Best of all, the pricing is really good for the quality. These are highly recommended.
 
Pros:
–     Thorough design and simplified choice
–     Great wear characteristics
–     Strength and airtightness
Cons:
–     Not the absolute lightest
–     Might be room for eMTB specific models
RRP: $89 for 29x2.2", $95 for 29x2.4", $109 27.5x2.6"
From: fesports.com.au
More details of the range can be found on the Pirelli site HERE
Australian Mountain Bike