The new Transition Spur is a 120mm 29er touted as an all-country bike - we say it looks like a mountain bike!
If you're stuck between getting a trail bike, a cross-country bike, a long travelk cross-country bike, or a short travel trail bike, that's understandable. There's a whole lot of marketing guff floating around at the moment about what's what, which bike suits who, and what bike looks good on a shreddit. Transition have just introduced the Spur, a fast and efficient bike that they claim has "an anti-gravity feel and laser-pointer precision that begs you to climb more, go farther, and descend anything you may encounter along the way."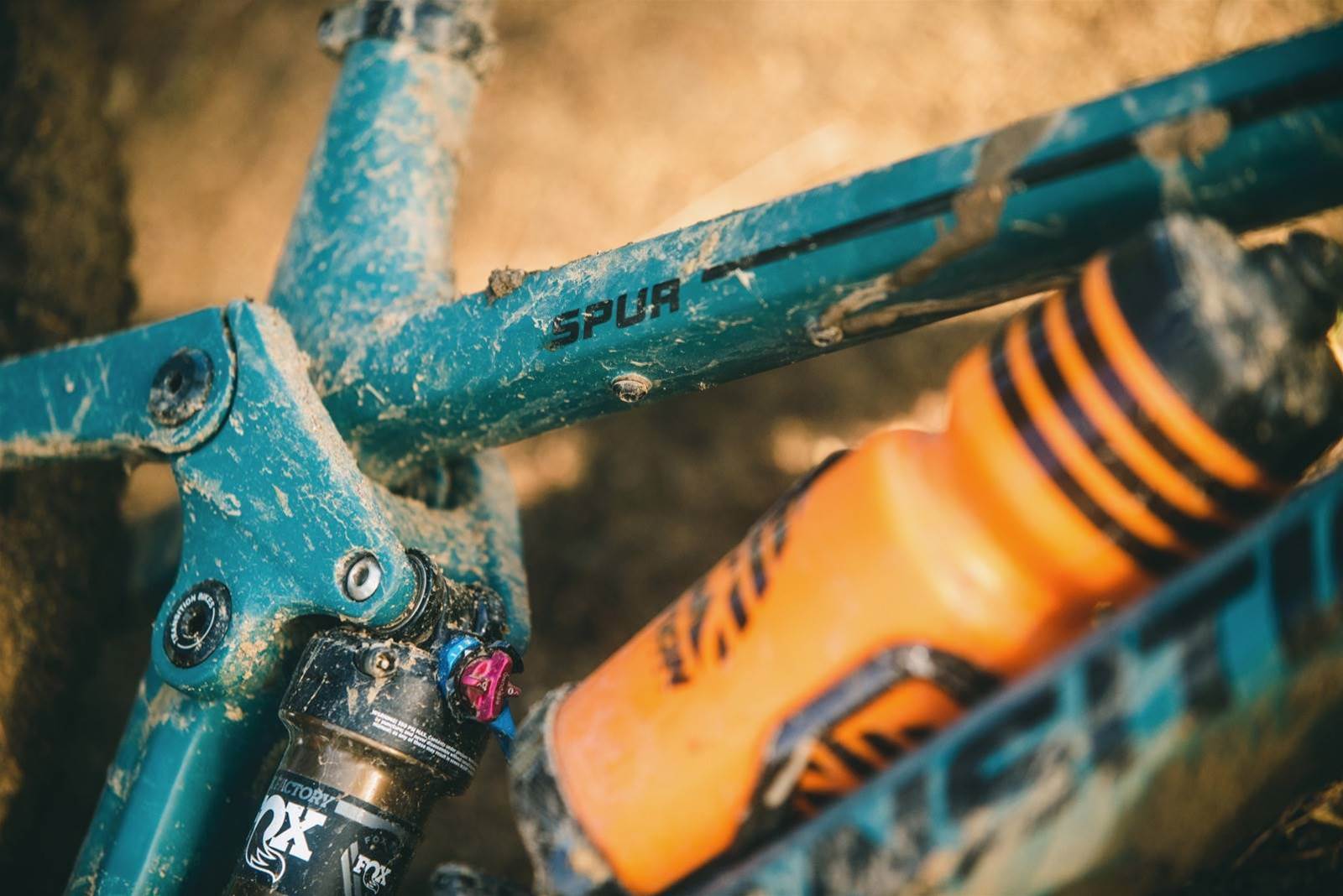 Like any brand launching a new bike, they have some big claims! But by putting a 120mm travel 29er out there, they are clearly targeting the riders who like to push the limits. From what you can do on a capable short travel trial bike, through to physical limits as well. In that sense the Spur looks to fit a similar mould to the Revel Bikes Ranger, the Norco Revolver 120, and the new Specialized Epic EVO.
These are bikes that combine pedalling efficiency and a long reach to keep the front wheel planted when climbing, but they bring progressive suspension tunes, slack head angles and stiff frames to ensure the bikes hold their own and then some on the descents. They don't get bogged down in flatter terrain and respond like a cat up a drain pipe to a push on the pedals. 
The details on the Transition Spur
The Spur features a full carbon frame made from premium Japanese Toray fiber with a blend of 24T, 30T and 40T materials. This lets Transition create the right balance of frame stiffness, strength, and impact resistance. 
The suspension curve is interesting, with a good base of support and a linear rate of change. The sag range is 25-35% yet the bike has plenty of anti-squat performance tuned in.
Transition employ their GiddyUp suspension, featuring a one-piece flex stay rear triangle, dropping a pivot, weight and maintenance from the back end. The suspension is tuned to work with inline style rear shocks and designed to provide a balanced feel with 120mm travel forks. You can add or remove volume spacers in the rear shock to suit your riding style.
The Spur has 120mm of rear wheel travel when used with the supplied 190mm x 45mm stroke shock. It is also possible to install a shorter, 190mm x 37.5mm stroke shock to reduce the rear wheel travel to 100mm. Spare rear shocks aren't cheap but it's a far cry cheaper than a second bike!
Transition have built the Spur around a short seat tube to accommodate longer dropper posts, and the XL bikes come with 210mm droppers!
Key details:
▪ Lifetime frame warranty
▪ Featuring Speed Balanced Geometry (SBG)
▪ Full Carbon Frame (Front Triangle, Rear Triangle And Rocker)
▪ 44mm/56mm Press In Headset
▪ 148mm Boost Dropout Spacing
▪ Stock Rear Travel 120mm With 45mm Stroke Shock
▪ Optional 100mm Rear Travel With 37.5mm Stroke Shock
▪ Enduro Max Sealed Bearings With Bearing Shields On Main Pivot
▪ Flex Stay Rear Triangle
▪ Threaded Bottom Bracket
▪ Moulded Rubber Chainstay And Downtube Protection
▪ External Rear Brake Cable Routing
▪ Fully Guided Rear Derailleur Cable Routing In downtube And chain stay
▪ Water Bottle Storage Inside Front Triangle And Underside Of Downtube
▪ Accessory Mount On Underside Of Top Tube
▪ 29" Tyre Clearance Up To 2.4"
▪ 2.45 kg frame With Shock, Complete XX1 AXS 11.2 kg 
Our take
The Transition Spur looks to fit right into the modern expectation of what a 120mm travel bike should offer. These aren't long travel cross-country bikes, but a genre that is a whittled down trail bike suspension platform with better pedalling efficiency and lower weight. Transition have said they designed it to be supple, and with a lot of sag and no remote lock out, this isn't the bike to buy if your intention is to put a number on most weekends.
But if you want a bike that responds to rider input, pushes you on and is capable for big days on the trails and on the pedals, then this bike could fit that bill by the numbers.
Having the option to change travel in the back via a different stroke shock is nice, bear in mind it won't change the geometry as the eye-to-eye length is the same. So that's a win.
Being able to attach two bottle mounts is cool, even if one is underneath the downtube. At least the option is there. 29x2.4" tyre clearance is good, maybe it could be better, but 2.4" really is a sweet spot unless you truly need big rubber. We also like the internal routing, but keeping the brake external - anyone who has taken brakes off for upgrades or services will know how much of a headache it is keeping a new barb and olive on hand - and rebleeding brakes more often, along with an ever shortening line. 
All that said, we haven't ridden the bikes. The Transition Spur looks to tick a lot of boxes for a bike that will pedal all day, let you rip on fun trails, and let you smash out some fast times too. And that sounds like a fun mountain bike.
Need specifics on price and spec and availability? Get in touch with Transition Bikes Australia.
Australian Mountain Bike