Giant are known for the value and range, and so far 2019 doesn't look any different. The big news? How good their new Trance E+ and Intrigue E+ look!
Twelve months ago we saw the unveiling of the 2018 range for Giant and were pretty astounded at the really complete selection of bikes and accessories that Giant had put together. With a new Reign and Anthem 29, Giant had really put themselves back at the forefront of options for enduro and XC bikes. Plus, they had some full-suspension eMTBs for Australia.
Truth be told, we weren't that impressed with the eMTBs. But along with other updates to bikes and accessories, Giant look to have gone to the head of the class for 2019 with their new eMTBs.
All the eMTBs run Giant's SyncDrive Yahama motor, which has a new mode selector that does away with the optical display, using LEDs to indicate mode and battery level. This really cleans up the cockpit, and given it sits above the bar, it leaves the below the bar position free for a dropper post lever. Bringing your thumb above the bar is always sub-optimal, but we would rather do it to change power mode than when we're about to drop into a steep chute or launch a drop blind.
The battery slots into the downtube from below, which is aesthetically a lot better, plus it frees up some room in the mainframe to fit a water bottle. Sure, probably just a 500mL in a sidemount cage in a small frame, but you can get one in. We think this really matters, as an eMTB often means getting more out of the time you have. If you're jumping on your bike to get a few runs of your favourite trail after work, it's way easier to throw a bottle in a cage than find a backpack, wonder how old the water is, fill it… it's a small thing but one that really helps broaden the appeal.
There is plenty of smart spec, like SRAM group sets with single shift shifters, eMTB specific suspension and hubs, stainless steel chainrings, shorter cranks, included smart chargers – it's just a really well thought out range.
The Giant Trance SX E+ Pro
This is the bike that those who like longer travel eMTBs have been asking for. This is a slightly beefed up version of the Trance E+, with an upgrade not only to a 160mm travel fork, but to an eMTB specific Fox 36 Factory and DHX2 coil. The eMTB specific items are built to take the extra weight of the bike. The frame stays the same, but the longer fork slacks the bike out to a 66 degree head angle. The seat angle is 73.5 degrees.
The SRAM Eagle 12-speed group set is paired with w Praxis eMTB crank set with a stainless steel ring for strength. The Eagle shifter can also only shift one gear at a time, saving you from tearing the chain and sprockets to pieces with the extra power under foot. With 200mm rotors and 4-pot SRAM Code R brakes you'll be stopping in time too.
The Plus sized wheels are the ideal match for an eMTB, and 2.6" Minions tend to have way better trail feel and strength than many of the 2.8" models around. Kudos to Giant for such a smart spec.
This is a very smart looking bike, and one that should appeal to many riders who have been looking for a quality eMTB trail and enduro bike from Giant, and it lands at $8299. Premium? For sure. Good value? You bet. Is there a downside? You'll have to fit a small, medium or large. If you need an XS or XL, you'll have to look at the rest of the Trance E+ Pro range.
Giant have 3 other Trance E+ Pro models in the range, and the 150mm forks put the head angle at 66.d degrees, and the fork rake is now 46mm not 44mm. This keeps the wheelbase of the SX model and the rest of the range very similar across the size ranges, like only 1-2mm off. And yes, there are five sizes available for the Trance E+ Pro for the lower two models – the reach on an XL is 479mm with a 655mm top tube. So the length is there for some rowdy riding.
The Trance E+ 0 Pro is super sweet at $8999 with XTR M9100 and Fox Factory gear, and a deep black sparkle paint job…. But it is still limited to small, medium and large. So it's the Trance E+ 1 Pro with Fox 36 and DPS Performance suspension, GX Eagle, Code R brakes and a Minion/Rekon tyre setup on the Giant AM wheels looks to be the pick.
This bike sells for $6999. The next model down goes for $5999 and drops to a Shimano 10-speed group and Suntour fork. Bear in mind the frame and motor are the same across all the Trance E+ Pro models.
Long live the hardtail
That's right, hardtails never truly die, and eMTB hardtails open up a world of riding for many people exploring in the great outdoors. The Fathom carries the better aesthetics of the Trance E+ into hardtails, with the battery within the downtube.
120mm travel forks match with a 68 degree head angle for some friendly trail geometry. There's no dropper post, but these bikes will carry plenty of traction with the 27.5x2.6" tyres. And 203/180mm discs will keep things in control. The Fathom E+2 Pro ($4799) keeps the SyncDrive Pro motor like the full-suspension models, while the Fathom E+ 3 ($3299) gets the Sport motor and a smaller battery pack.
There's a lot of fun to be had on an eMTB hardtail – especially for covering ground and seeing places. But, with plus sized tyres and trail geometry, tha added weight of an eMTB actually makes a hardtail more steady than you might think when pointed downhill. Given how buffed out plenty of purpose built trials are, you might just surprise yourself at how capable a Fathom E+ is – especially the E+ 2 Pro.

The analogue Giant Trance
Yes, Giant still make bikes without motors! And the Giant Trance looks set to continue as what could be Australia's most popular trail bike. 140mm of Maestro suspension is still matched with 150mm up front, suspending 27.5" wheels. There are no big wheels in sight as yet. 67 degree head angles sit with a shorter 42mm rake fork to keep things steady AND sprightly
The Advanced carbon range is lead with a sweet DVO suspension equipped Trance Advanced 0. Giant have worked with DVO to develop custom shock tunes for the Trance Advanced, plus the top Reign Advanced models. SRAM X02 Eagle and Guide RSC brakes do the go and whoa, and Giant's new TRX wheels have a 30mm internal width, letting the 2.5 and 2.4" tyres bag up nicely. It's a princely $8699, but if you look at the Trance Advanced 1 at $5999 you still get Fox Performance Elite 36 forks and a Performance DPX2, GX Eagle and composite wheels.
Plus you have nearly $3000 in your back pocket which might even pay for a weeklong trail riding holiday in New Zealand with all the extras if you're luck!
In the ALUXX SL Trance range, black is back for the Trance 2. This is our pick of trail bikes from Giant's line up. At $3699 you get a Shimano 11-speed drivetrain, Fox 34 Float Rhythm, DPS Performance shock, Giant dropper and Giant alloy AM wheels. This is very similar suspension performance to the Advanced 1 for the majority of trail riding you can do, just in a super value package. The Trance 3 drops to 10sp and Suntour/Fox bouncy bits for $3199.

Long live the Reign
All-new for 2017, the Reign is still leading the Giant range when it comes to hard all-mountain and enduro riding rocking 170mm travel forks and 160mm travel frames. With Giant Factory Offroad's partnership with DVO suspension, you win out with custom tuned suspension on both the Reign Advanced 0 and 1. The top Reign Advanced Zero looks amazing in blue and black, and the long reach (459mm on a medium!) and slack 65 degree head angles mean you can really charge.
But Giant really feel that you're going to be in more control, and not just swinging off the back, thanks to the tuning from DVO suspension. Each shock is tuned for the appropriate size and model, and NSDynamics in Queensland have every spare under the sun for DVO forks and suspension, so the long term health of your bike's bits don't need to be stressed over.
Tuned for your very bike.
At $8999 the 0 is $3k more than the 1, with notable changes in the suspension, drivetrain and wheels. The Advanced 0 will draw many in with coil performance and a drool-worthy spec sheet – but at $5999 the 1 might be the bike we see more of on the trails. Or on that week-long trail riding holiday we mentioned earlier…
Jump into the Reign range and just like with the Trance, Giant hit the right numbers and parts. The Reign SX 1 is a stand out with 180mm travel forks pushing the head angle sub 65 degrees.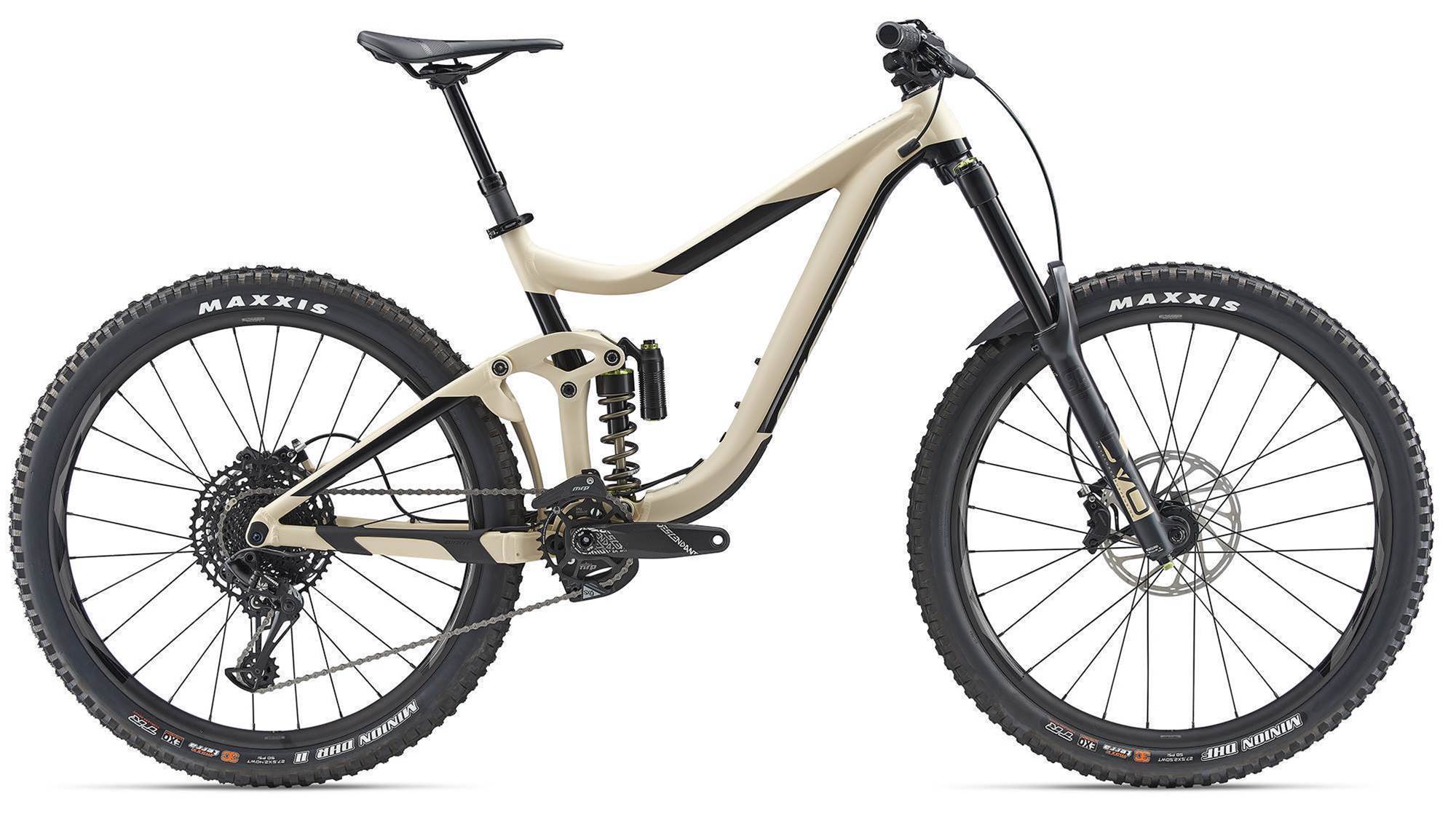 The Reign SX 1 sports a SRAM GX and NX Eagle mix, stopping on Codes and sprung by a DVO Onyx SC fork and Jade Coil rear shock. 2.5 and 2.4"Minions on Giant AM wheels should be sturdy and grippy and at $4499, this alloy sled looks set to be the park bike of choice this summer.
Spring $5499 for the Reign 1 and the Lyric RC gives you 170mm up front while a Super Deluxe RTR (remote lockout) controls the back end, ideal for days where shuttling just isn't an option. GX Eagle and Code R brakes do the rest, and if you pay $3699 you get the badass black Reign 2. Same frame, a Yari fork, 10-speed Deore and still ready for park laps.
All for the Glory 
With two models of dedicated downhill bikes, the Glory almost tells the story alone. Downhill isn't what it used to be. The racing is faster and harder than before, and the bikes are so advanced - but the rise of enduro the the capabilities of 150-170mm travel bikes have made a downhill bike a highly specialised rig.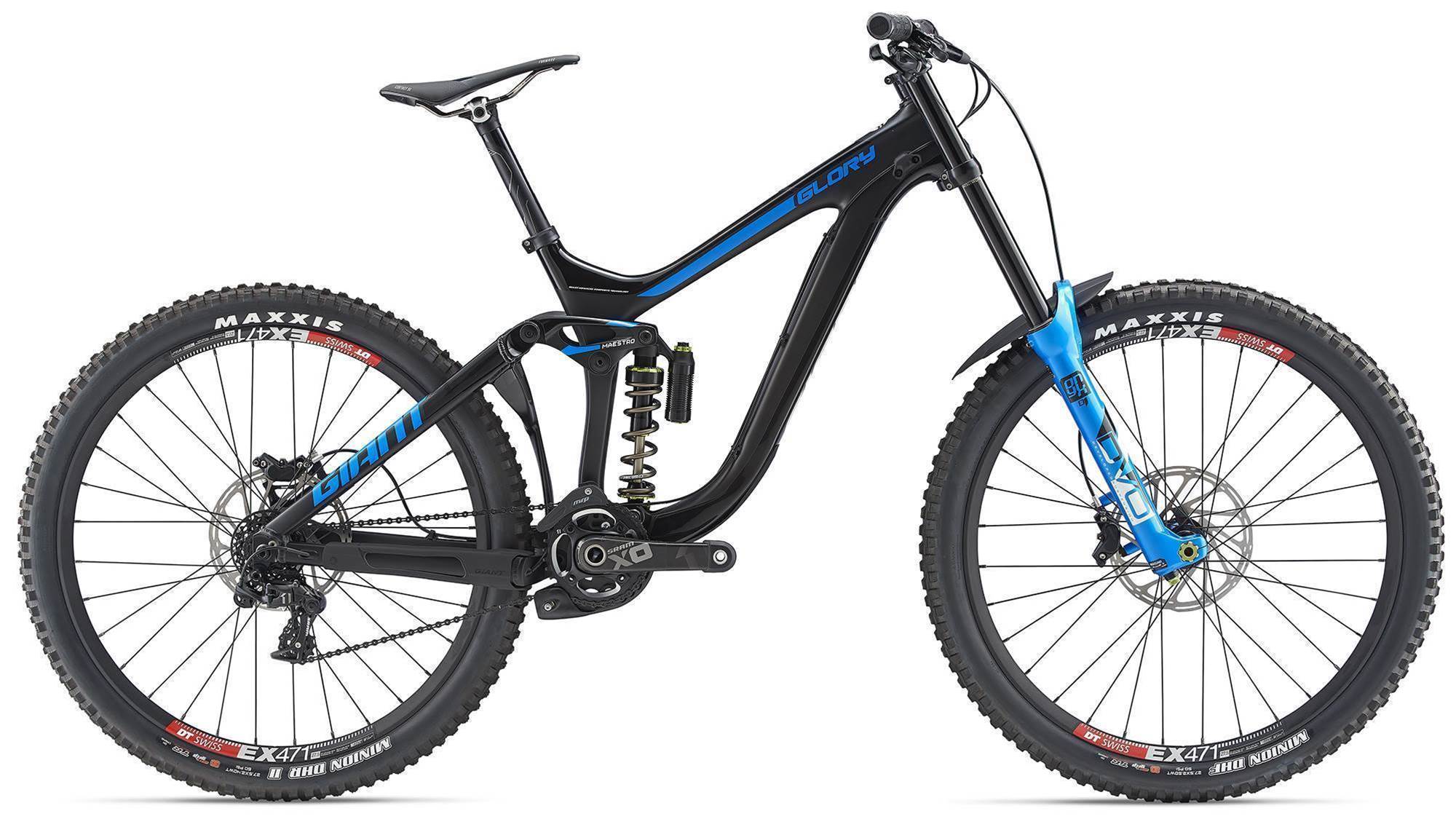 Giant have Two models, the Gory Advanced 0 and the Glory 1. Carbon or alloy, both share 200mm of Maestro suspension and killer value for their price, $7799 and $5999 respectively.
We'll have a look at the expanded Liv range, and what Giant's XC bikes look like for 2019 in a coming post - stay tuned!
Need more details? Get on the phone to your
Giant
dealer!
Australian Mountain Bike