What's the bike that can handle most riding thrown at it? The Trek Fuel EX.
Trek, one of the largest players in the global bicycle market, needs little introduction, but if you want a quick refresher, here are the key points. Started in 1976 in Waterloo, Wisconsin, Trek are a family-owned company. They build a wide range of bikes, road, mountain, kids, tri, commuter and fitness along with components, clothing, and accessories under the Bontrager brand. Finally, and most importantly, they are making a concerted effort to reduce their environmental impact. This one is big. As green as bikes are considered as a means of transport, their production still has an impact. For one of the major players to commission an audit, publish the findings and demonstrate commitment to improving is to be commended.
---
Photographer: Denzil Heegar
Tester: James Lobegeiger
Riding Experience: Done a bit for a while, racing XC since the early 90s. Should probably realise he's past it and just ride trails.
Generally Rides: Rocky Mountain Element 120/100mm travel retirement bike.
Height: 169cm
Weight: 61kg ish
Bike Test Track: A whole road trip through the Southwest of Western Australia and some of my local Perth trails for perspective.
---
The Fuel EX 8 GX is the most expensive aluminium bike in the Fuel EX range, with two aluminium models below it and four carbon models above it. The range starts with the well specified alloy EX 5 with RockShox and X-Fusion suspension, and a Shimano 12 speed drivetrain at $3499, and goes all the way up to the carbon framed EX 9.9 XTR with Fox Factory series suspension and a full Shimano XTR group set priced at $13099. At $5299, the EX 8 sits in a very competitive sector of the market, with bikes like the Specialized Stumpjumper Comp Alloy and the Giant Trance X 29 1 available for a similar price. The model I tested was the 2021. The 2022 model sees the majority of components remain the same, with the exception of the SRAM GX Eagle, which has been replaced by 12 speed Shimano Deore XT.
The Fuel EX 8 is pitched as the ideal trail bike; a bike that is just as up for hitting a few jumps, railing corners and smashing rock gardens as it is heading out on a long singletrack epic ride. And all for a reasonable price. Could it really live up to Trek's promises? Or would the jack of all trades be the master of none?
Looking for more trail bike options? Check these reviews out:
READ: Polygon Siskiu D6 review
WATCH: Pivot Shadowcat review
READ: Devlin Oisin trail bike test 
WATCH: Trek Top Fuel 9.8 review 
Initial Impressions
There are some combinations that just go together; orange and chocolate, bike shops and fresh tyre smell, a road trip and a good pub feed. The Fuel EX 8's Rage Red to Dnister Black Fade paint job is another. Combined with all black components, the bike drew many positive comments about its appearance over the test period. The Alpha Aluminium frame features clean welds, noise free internal cable routing and a straight downtube to keep the front end stiff and tracking well when cornering. I was very interested to see how the Knock Block steering stop performed on the trail. This feature limits the steering to a range of 58 degrees to provide protection to the frame and cockpit components in the event of a crash. The Active Braking Pivot, a stalwart of Trek's suspension design for over 10 years, hasn't been left off the Fuel EX 8. Designed to limit the impact of braking on the suspension, the rearward suspension pivot is concentric around the rear axle of the bike.
When you ride your bike there are a couple things that can cause your suspension to work, rider input, pedalling, braking and weight shifts, and trail input, bumps, jumps and cornering. This is where things get a little nerdy. Suspension movement while you're mashing on the pedals or hauling on the brakes is less than desirable, as it robs forward momentum whilst pedalling and makes the steering more nervous when braking. To combat this, Trek has teamed up with Penske Racing Shocks to create the RE:aktiv rear shock. The RE:aktiv rear shock has damping that changes based on shaft speed. As rider inputs and cornering produce a slower shaft speed than bumps and landing jumps, modifying damping based on shaft speed is a good way to deal with this. Below a certain shaft speed, the compression damping is firm, the bike pedals efficiently and stays supported whilst cornering and braking. When the rider hits a bump, the shaft speed being higher, the compression damping is reduced and the shock moves actively. Being the first bike I have ridden with this type of shock, I was looking forward to seeing if the 3-position lockout lever on the shock was required or if I could just leave it in the open mode and mash away.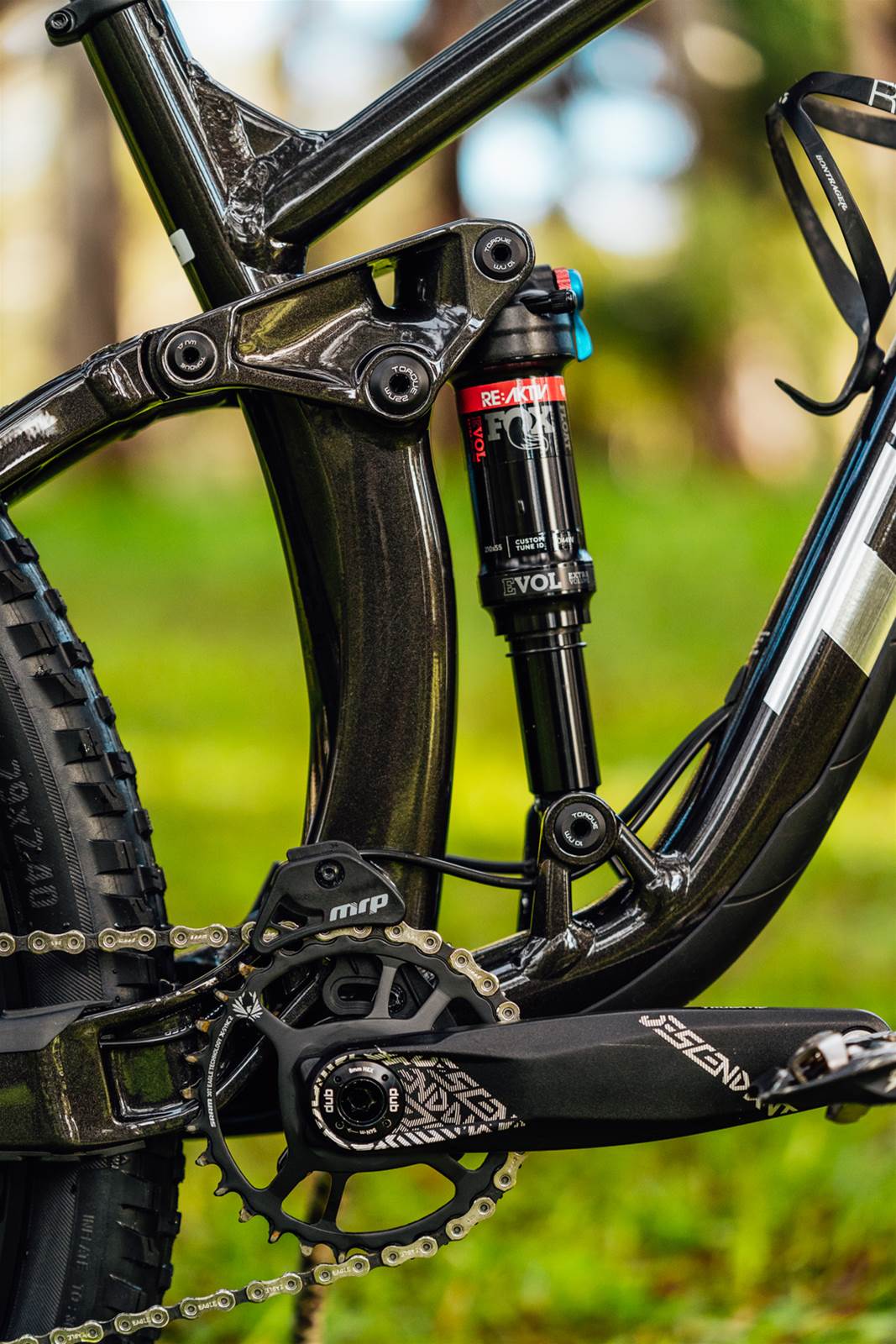 The medium EX 8 I tested weighed 13.94kg set up tubeless without pedals. This is just a smidge over the claimed 13.78kg but well within what you'd expect given variations in component weights. Often a pair of tyres can have more additional heft to them over their claimed weight than this.
Given my lack of Sam Hill like cornering ability, I left the Mino Link in the slack and low setting to keep my centre of gravity low through the corners and make the bike a little more stable at high speed. Plugging my 64kg, fully equipped, into the suspension calculator found on Trek's website, it was quite simple to determine baseline settings for the air springs and rebound adjusters of the Fox Rhythm 34 fork and Float Performance EVOL rear shock. Slapping a set of SPD pedals, a bottle cage and GPS mount on, the bike was ready to go.
On The Trail
With a combined reach and stem length being just millimetres different and a slightly higher and wider bar position to my regular bike, it didn't take me long to get used to riding in a slightly more forward position on the Fuel EX. This more forward bias provides greater front wheel traction when cornering and a controlled front end when the trails get rough. The 780mm Bontrager Line bar felt natural to my hands and XR Trail Elite grips did what grips should: gripped the bar and provided a comfortable non-slip place to hold the bars. Sometimes it pays to be inconspicuous. The Bontrager Arvada saddle was exactly what I was looking for in a saddle, as I didn't notice it for the duration of the test.
This test really took place in two phases. Firstly, a seven day road trip from Perth to the South West of Western Australia riding freshly built trails with their builders and the locals that love them. More of that to come in an upcoming article. Secondly, on my favourite local home trails.
Road trip!!! The trails were predominantly what is hot in trail building right now: Flow trails. But before you groan that you're sick of hearing about flow trails, remember, the vast majority of riders like them. Where better to test a bike that is pitched at these riders? So, flow trails were ridden. Berms, rollers, big berms, jumps, enormous berms, even the occasional double jump, and the Fuel EX handled them all with aplomb. On trails like these, especially when they have just been built, it is easy to hold a bike on line. So, in the name of testing the bike's capability, no rock garden was avoided, and it was there the only mishap happened. In a rock garden I have ridden cleanly multiple times before on a XC bike, it went wrong. Road trips are great things. Road trips with media, maybe not so much. All your poor techniques and riding flaws are recorded. On perusing the photos post-crash, you can see that I put the front wheel in the wrong place. Following this, I was ejected over the bars, off the trail and onto the larger rocks on the side of the trail. Shaken, bruised and bloody, I sat out the remainder of the shooting of this trail feature.
As the majority of the crew moved on, I went back, not without nerves, to face my demon. I tipped it in. The whole bike was balanced, with the suspension operating well within its limits. Tyres gripped where they needed to and a gentle feathering of the brakes kept me in check before committing. Everything was as it should be, and I rode that rock garden the best I ever have. It was a good reminder that the Fuel EX is more than capable, as long as the rider is switched on as well!
Most of the trails I ride near my home are hand cut singletrack with steep ups and downs, tight and technical with a hint of jank. But to get to them requires riding 5km of flat bitumen. The superb front wheel grip of the 2.6" Bontrager XR4 is apparent here too, but trail tyres are not made for road speed, so to complain about that is a little rich. Just after you turn off the bitumen there is a form of grid possibly designed to stop four-wheel drives and motorbikes. I have tried to ride it numerous times. On my previous best attempt, I have been stalled by the final log. On the Fuel EX, I got it clean!
The first climb is steep and, as such, the only way up it is to sit on the nose of the saddle and spin. The 52 tooth GX Eagle cassette was welcome here. The choice of loop selected was a considered one meant to find any limitations in the Knock Block. I was expecting to hit the steering stop on the final descent of the loop, as it starts with some steep awkward switchbacks that I rarely can ride. Surprisingly, it happened before this, towards the top of the second climb when I had to make a sudden direction change on one of the numerous switchbacks that abound in this area. Hitting the Knock Block is not the catastrophe I had feared. Surprising? Yes. Momentum robbing to the point of stopping? No.
Does the RE:aktiv shock make a difference? It doesn't pedal like a fully closed shock when you are out of the saddle, but seated and fully open, it seems to pedal as well as a conventional shock in trail mode.
There is a pinch climb in the final descent of the loop. The approach is blind, it has a ninety degree turn and you're into it. All your momentum has to be scrubbed off so you can make the turn. The climb is steep, and all the rocks seem to be in just the right spot to stall you. I have ridden it no dabs twice from thirty-four times on a XC bike and once from one on the Fuel EX. Thanks Strava for the data.
The Bontrager XR4 tyres provide ample grip in all conditions, even Western Australia's notorious pea gravel, and the 30mm Bontrager Line Comp wheels provide great reliable support for the tread. Being the OEM model wheel set, they come with the more basic 3 pawl 54-degree engagement version of the hub, but for an additional $42 you can get 3 pawls and springs to increase that to 104-degree engagement. A great performance upgrade if you ride trails where you are off and, on the gas, often.
Apart from being washed numerous times for photo shoots that had to be postponed due to our busy road trip schedule, the bike received and needed no love, with the drivetrain, brakes and suspension performing just as well on the final ride as day one.
Our Take
The Fuel EX is Trek's most popular trail bike range, and with bikes like the EX 8, you can see why. Billed as the best bang for your buck in the Fuel EX range, this bike ticks a lot of the boxes; quality components, stable, predictable geometry, all wrapped up in a good-looking, respectable weighing package. It should serve the avid trail rider well. It has a good quality frame that would not be overcapitalised by fitting a lighter weight set of trail wheels. It's not really a race bike, lacking in suspension travel for when Enduro trails get rowdy, and a bit on the heavy side for the local XC race, but for many of us, riding isn't about racing. It's about having fun on the trails with our mates. The Fuel EX 8 has the fun part covered. Now let's go ride with some mates.
RRP $5299.99
Weight 13.94kg
From trekbikes.com
Available Sizes XS, S, M (tested), L, M/L, L, XL, XXL
Frame Material Alpha Platinum Aluminium
Fork Fox Rhythm 34, GRIP Damper, 140mm travel
Shock Fox Performance Float EVOL, 3 -position RE:aktiv damper, 130mm travel
Shifters SRAM GX Eagle 12sp
Derailleur SRAM GX Eagle 12sp
Crank Truvativ Descendant DUB, 30T
Bottom bracket SRAM DUB, PressFit 92
Chain SRAM GX Eagle 12sp
Cassette SRAM Eagle XG-1275 12sp
Wheel set Bontrager, Line Comp 30 29er
Tyres Bontrager, XR4 Team Issue, 29" x 2.6" front, 29" x 2.4" rear.
Brakes SRAM G2 R, 180/180mm
Stem Bontrager Line 35, 50mm 0 degree Knock Block
Handlebars Bontrager Line alloy, 780 mm
Seatpost Bontrager Line Dropper, 150mm drop 31.6mm
Saddle Bontrager Arvada
Australian Mountain Bike