If you love gravel riding, you'll be amazed at the difference a quality set of wheels makes.
There are few better areas to look at for an upgrade than wheels, and this counts for any bicycle. Gravel bikes are a prime example, as often the wheels on a new gravel bike are a road or cyclocross wheel that is forced into service on a gravel bike. This isn't always the case, but given what gravel is to you is likely different to what gravel is to someone else, having a wheel set that suits your riding is paramount to enjoying your off-road adventures.
---
---
So what should I look for in gravel wheels?
As above, something that suits your riding. If you have lovely smooth, manicured dirt roads and your gravel bike doubles as a road bike, you would be well-placed looking for something that has an aeroprofile, and that can support wide road tyres (say, 28-30mm) and gravel tyres. Check that they can take the pressure of a road tyre as well.
If your gravel bike is just for commuting, a robust alloy rim with a high quality sealed hub will be your best friend. You want something that works day in, day out, without much attention.
Now if you want to push the limits of what a gravel bike can do before moving to a mountain bike - and therefore need something that rides well off road without being a tank on road - then you're looking at the right review. Cross-country mountain bike rims have been getting wider and lower profile to allow for support of wider tyres at lower pressure, while reducing weight and not being as stiff as a plank of wood.
READ: Why run wider rims off-road
And you'll see plenty of gravel wheels doing the same. Tie this style of rim to a high quality hub with top notch spokes, and you have the makings of a very capable gravel wheel - just add the right tyre, and potentially tyre liner, to the system.
READ: Testing CushCore CX and Schwalbe G-One tyres
And that's exactly what the Schmolke TLO Gravel wheels are. They are a low profile carbon wheel set with a nominal 25mm internal width, thick rim edge, offset spoke bed for less dish (and more even tension) on the spokes, and an amazing set of hubs. Best of all - they're light! Under 1400g is really light for a pair of gravel wheels, and this will make an immediate difference to almost any bike. And they'd want to, at $4990 for the pair, from Bspoke Velo. By the way, TLO stands for The Lightest One - and they are the lightest gravel-specific wheels I have ever ridden.
All the details about the Schmolke TLO Gravel wheels
Yes, $4990. Schmolke are a boutique German manufacturer, with their rims laid by hand in Germany. They make a bunch of super light and strong parts, like handlebars, seat posts and bottle cages. Some say the rims are actually their cross-country mountain bike rims - and looking at the build I wouldn't be surprised. They're exactly what I would have been reaching for when building something light for cross-country and marahon racing a couple of years ago. 2.4" tyres need 30mm rims, so the 25mm rims here are a good match for the 35-45mm tyres found on most gravel bikes.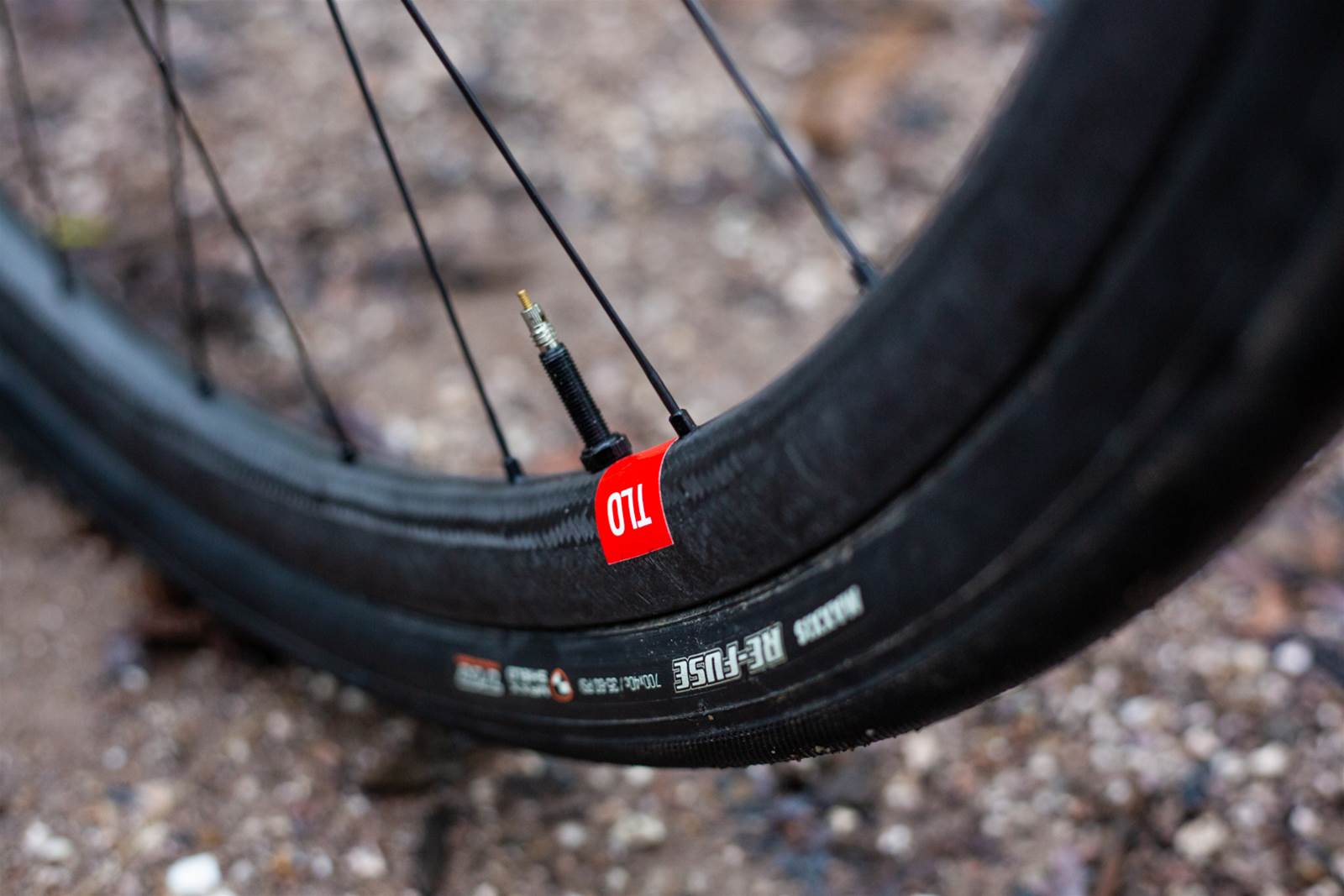 The rims have an incredible finish, and feel solid (although light). All the edges are neat and even looking into the spoke holes before I taped them showed a very clean finish. You don't see the same finish on most carbon rims.

The DT Swiss 180 hub set is something special. I have used these on the DT Swiss XRC 1200 wheels, and have a pair on some of my own wheels. They have SINC ceramic bearings that run ridiculously smoothly, tool free end caps for easy maintenance, and the new Ratchet EXP system which has less moving parts for lower weight, better stiffness and better durability. You'd be paying more than $1000 for this set of hubs alone.
There are 28 spokes front and rear, also from DT Swiss and of the straight pull variety with alloy nipples. It's good to see that Schmolke haven't gone with a low spoke count to reduce weight, as you still need a gravel wheel to be strong. For more details on the wheels and my setup for testing - head to our First Look.
On the road and trail
A fresh set of wheels can have an amazing and immediate impact on how your bike rides, and slinging the TLOs into my Norco Threshold was no exception. Out of my front gate I have an off camber corner or two, interspersed with short descents and pinch climbs as I make my way to the main road into the hills. It's the ideal time to feel how wheels roll, how they respond out of the saddle up a climb, and how they feel pushed into corners I never want to have to brake for.
The Schmolke TLO Gravel wheels have a really muted feel. They don't ping around like some carbon wheels, and they roll really easily - even with such strong tyres like I had fitted.
While the acceleration would be better with lighter tyres, it's still noticeable that these are a light wheel. That said, the wheels felt really planted and stable when getting out of the saddle. My usual wheels are a set of Easton EA90 alloy wheels, and while I like them they are narrow and a bit rough. They do chop around a bit when pedalling hard on a climb, especially if it's rocky. The Schmolke wheels were far more sure-footed going up.
The wider rim profile also helps tune your tyre pressure. There is so much to gain by running lower pressures off-road - within reason. While I didn't fit a set of tyre liners to these wheels, I would recommend doing so if you're concerned about rim strike and want to get the most out of your wheel system. A tyre liner like CushCore does add weight, but it supports the tyre, protects the rim, and adds another element for getting the traction right.
One of the standouts on this wheel set is the DT Swiss 180 hubs - they really are incredible. As one of our testers put it, 'the rear hub spins as long as a front hub'. The 36 points of engagement may seem low to some, but the Ratchet system means every point is engaged, so it's a very strong system capable of high loads. It also reduces drag, which morepoints of engagement tend to create. They are a stunning set of hubs and very reliable - exactly what you want at the heart of a high end wheel set.
The wheels rode confidently both on my local multi-use trails and on steep mountain roads. I never had to think about whether they were strong enough, and there were no nervous moments when pushing them into corners really late on the brakes. I never had to think about them - just enjoy riding them.
Overall
My Norco Threshold is a cyclocross bike that I force into gravel use (and road use), so on the one hand, it wasn't the ideal test bed. And on another - it was. The Schmolke TLO Gravel wheels did help mute the stiff frame on rougher dirt roads and trails, aiding in traction and comfort.
I think your whole wheel system is worth looking at when trying to optimise a gravel bike. Do you need low weight for lots of climbing? Are you loading up the bike for bikepacking trips? How often will you ride in mud - is a taller rim profile better for mud shedding? What sort of clearance do your frame and fork have? How much time will you really spend on rough dirt roads?
Once you know what you need, you can make an informed choice beyond looks and appeal. In all honesty, the Schmoike wheels look like the Hunt Bike Wheels 4 Season Gravel Disc X wide wheels I tested last year. They were also shallow with a 25mm internal rim width. But given there is about 400g difference in the wheels and a huge difference in the hubs, the ride feel is different - although not massively so.
My point? If you want some wheels that look great, go and buy some flash deep carbon wheels. But if you want a wheel set that works well and improves the ride of your bike on demanding gravel routes, buy something low profile and wide, and choose your tyres accordingly. There are plenty of options that cost less than $5000 for this sort of wheel, but I have not seen a finer example than the Schmolke TLO Gravel wheels. If you only want the best - here it is.
RRP: $4990
From: bspokevelo.com.au
Hits:
- Low weight
- Great numbers! Wide and 28mm deep
- Excellent parts throughout
- Increased ride quality over almost all stock wheels

Misses:
- Crippling price for many - but equal to the quality
Photos: Gerard Lagana
Australian Mountain Bike