The Revel Rail is the big hit, 27.5" wheeled bike in the Revel stable - we tasked Chris Herron with the review of this super bike.
Words: Chris Herron
Photos: Tim Bardsley-Smith
---
If any of you readers had a chance to read over Tim's review on the Revel Rascal, you would have got a good idea on who Revel are and what they have been up to. We at AMB are pretty stoked on the frames coming out this Colorado based company and excited to get our hands on the entire lineup, including the Revel Rail I have on test here.
Let me briefly bring you all up to speed on those involved in getting this self-funded brand to market. You have a self-proclaimed bike nerd, Adam Miller. Suspension guru, Jeremiah Starkey. Carbon fiber expert Jason Shiers and last but not least, Chris Canfield, whose patented suspension platform is the heart of the entire Revel frames.
The Rail I have been testing is their 27.5" wheeled Enduro weapon with 165mm of big hit absorbing travel. The Rascal 29", 130mm travel and Ranger 29", 115mm travel are their Trail and adventure XC bikes respectively.
All the Revel bikes utilise the same patented suspension design from the Canfield brothers, dubbed CBF. This stands for 'Canfield Balance Formula'. In a nutshell, this design focuses on pivoting around the Centre of Curvature, placing chain line and drive forces at the top of the chainring. As a result you get incredible pedalling efficiency regardless of where you are in the travel, as well as isolating the braking forces. These are two things every serious mountain bike manufacturer tries to achieve with their dual suspension designs. I have a sneaky suspicion Revel are onto something unique just by the look of the suspension design and the motion of the rear axle path.
With Enduro riding and racing on the increase and gravity bike parks opening all over the world, the major competing brands are all vying for the consumers dollars and the buck doesn't stop at the top. The Rail goes up against some pretty stiff competition with Yeti releasing the SB165 last year, the Santa Cruz Nomad that should be due for a revision in the not too distant future, the new Transition Patrol Carbon, and the recently released Ibis Mojo HD5, among many others. But there's one thing that can separate the cream of the crop, and that's the ability to climb, and climb well. And this is where Revel are staking their claim, making a bike that pedals up as good as it goes down. I guess we will have to wait and see.
Initial Impressions
As with all new bikes, the first thing you do when you get one is to just stare at it. In your thoughts, you quickly make up your mind if it's a beautiful or not. Would you swipe right? Well with the Rail, I would say a big yes! It's quite a good looking bike to say the least.
On closer inspection, Revel have done a fine job of creating a carbon frame that not only looks good, but is functional in its ability to be built and serviced easily. The internal cable routing is a breeze to install as it has internal guided tubes in the frame, so no more fishing for cables or frame runners.
The number of pivots was initially a cause for concern for long term durability, but after removing all the pivot hardware to inspect exactly how this suspension design goes together, I have much more confidence in its durability. It does have 18 bearings to replace, which for some may be quite the headache, but it's all pretty straight forward with a blind bearing puller for removal and bearing drift for installation. And thankfully they are all the same bearing size so it's really quite a non-complex project that a competent home mechanic could perform.
Some key features of the frame include a water bottle mount on the inside of front triangle, definitely satisfying the majority of riders out there. An integrated upper chain guide with custom mount and spacing for most cranksets and common ring sizes and a good amount of rubberised frame protection on the downtube near the bottom bracket, as well as the drive side chainstay.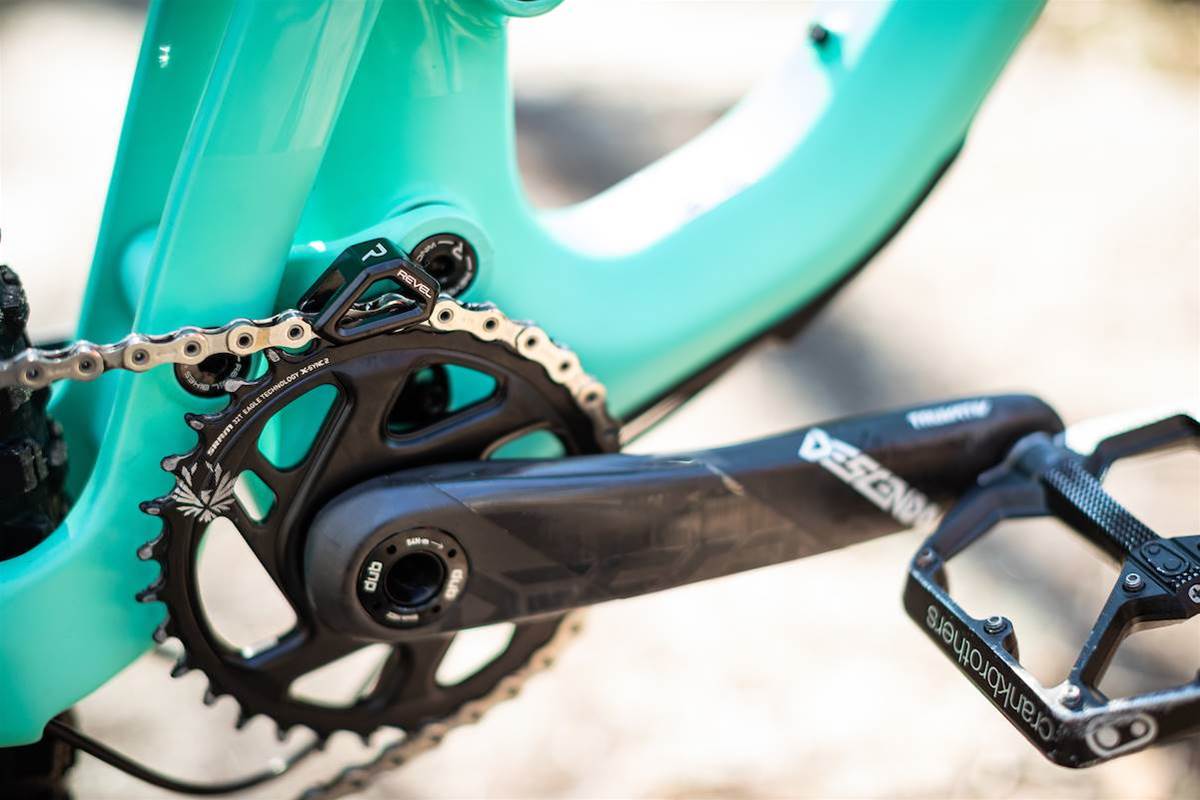 As the bike came built I couldn't get an exact weight of the frame set, but the complete bike came in at a respectable 14.25kgs. This was with the higher end SRAM build kit and heavier Maxxis EXO+ tires. There could be some weight savings achieved with a more weight conscious build, but you would sacrifice some durability. The supplied build is one of the US stock build kits consisting of a RockShox Lyrik Ultimate, SRAM X01 drivetrain, SRAM Code RSC brakes, Industry Nine Enduro S wheel set, Crank Brother Highline dropper post, ENVE M7 bar and Ergon saddle. Overall it's a fantastic build, but at the moment this is a US only kit.
Being 189cms and given an XL to test, I had no issues with the fit. Some key numbers on the geometry are a 495mm reach, but with a slightly slacker 75deg seat tube angle it gives the frame an effective top tube of 667mm, which puts it currently at a moderate reach without being too stretched out. The head tube angle is 65deg giving a wheelbase of 1254mm on the XL.
The Revel Rail is long and slack enough for stability on fast descents without being too slow in tight corners and switchbacks. Stand over height is not an issue (it never is for riders my height) and a bottom bracket height of 337mm is not too low. The bike came equipped with 175mm cranks, where I would suggest a more common length of 170mm for this style of bike. Overall it was a pretty perfect fit and one that feels very close to my current bike, even with it being a 27.5".
On The Trail
After 4 solid days on the Rail at various locations, I have come to really like its ability to be light and floaty in the rough stuff and not get bogged down in the suspension or suffer the harshness from square edge hits. It definitely likes to float over the rocks and roots as the small bump compliance is fantastic . But once you hit some of the bigger jumps and drops the Rail comes into its own and just eats up the landings with ease. It stays composed at higher speeds and as long as you aren't hanging off the back, it stays planted. The RockShox Super Deluxe Ultimate did a good job of controlling the rear end, but I would love to try it out with a Fox DHX2 Coil to see how well the small bump sensitivity would improve.
The Rail remains very active under heavy braking and keeps brake jack to a minimum thanks to the low anti-rise numbers. I never had any harsh bottoming from some of the bigger drops and g-outs. Pedalling out of corners to get back up to speed is amazing and the bike feels like it's being shot out of a canon. I'm not exactly sure how the CBF suspension does it with its high anti-squat values but it's a winner when it comes to putting the power down.
On the climbs is where the Rail's 165mm travel is put to the test. Without adding any compression damping with the lever on the shock, the bike manages to climb up some pretty steep and techy ascents, whilst still achieving a good amount of travel for keeping the wheels stuck to the trail. With the 65 degree head angle you would expect the front end to start creeping up on steep climbs, but the longish reach keeps the front down. You do have to creep forward on the saddle slightly when it gets super steep, but nothing too crazy.
If I had to choose the magical 'one-bike-for-everything', the Rail would not be at the top of my list. Even with its awesome climbing ability for 165mm of travel, when I venture out for some longer, less technical loops I would be reaching for the Revel Rascal, or my trusty Yeti SB130. It doesn't mean that the Rail can't do everything, because it can, but with the fewer gravity orientated trails we have here in Sydney, a slightly shorter travel 29er does nearly everything slightly better. If you lived somewhere that was blessed with more gravity riding, the Revel Rail could be the perfect choice.
Our Take
I put some solid hours in on the Rail and although it developed a small creak in what I thought was one of the suspension pivots, after a quick tighten of the SRAM DUB bottom bracket preload, the creak was gone. For the rest of the test it remained quiet. It is in fact a very quiet bike, with no cable rattling in the down tube and minimal chain slap noises coming from the rear. Sometimes all I could hear was the tyres gripping to hold an edge and the rear hub buzzing like a swarm of wasps.
Purchasing a Revel in Australia is almost a direct purchase, but one that is handled through an Aussie based website. If you log into offroadbikesonline.com.au you have the option of a frame set, which comes with Lifetime Warranty, or 3 build kit options at 3 very competitive price points. And if you have any warranty problems, they are handled in the Sydney warehouse with fast turnarounds as parts are kept local.
The frame set price is $4499, which for a high end carbon frame with a unique and patented suspension design is pretty amazing. There are a lot of competitive frames to rival the Rail that can cost over a $1000 more. Are they any better? Possibly, but I would argue most likely not considering how well the Rail handled the various trails I rode.
If the frame is of interest and you think a test ride could cement it as your next ride, Revel offer a 2 week rental period where you pay $650, and ride the bike exactly with the build kit you would buy. After the 2 weeks if you choose to purchase the bike, the fee comes off the total price. Not a bad way to get an honest feeling for a bike with the ability to really set it up as your own.
Overall I am totally impressed with not only a bike from a company that is just over a year old, but how well the bike rode on all styles of terrain. I think if you are the type of ride who still prefers the 27.5" wheels, and to be honest, there is still quite a few of you out there, then this bike should be on your radar for your next purchase. With all the tech features and numbers Revel put out there on their website, it can be a little overwhelming to digest it all, but take it from me, after a few hours in the saddle on a Saturday afternoon you will soon realise those data graphs and acronyms only confirm how well the Rail rides.
Revel Rail: $4499 (Frame Only)
Weight: 14.25kg (as tested)
From: offroadbikesonline.com.au
Australian Mountain Bike