Canyon's new Exceed sets a new benchmark for the German brand.
In 2015, Canyon stripped back their Exceed carbon hardtail and updated the geometry to match the changing demands of cross-country and marathon racing. Five years on, they have done it again, producing a frame that weighs 835g while being stiff, strong and with clearance for upto 2.4" tyres while also allowing for an internally routed dropper post. There's a lot of similar numbers to the Specialized Epic S-Works hardtail released last year.
The new Canyon Exceed CFR frame is one of three frame variants that fit within 9 models of Exceed bikes that will be sold in Australia. While the CFR Team will sell for $8899 and the CFR LTD for $10199, the Canyon Exceed CF 5 and CF 5 WMN bikes will sell for just $2649.
With cross-country full-suspension bikes being so light (and the Canyon Lux is one of the lightest) you might wonder what's the point of having a hardtail? Carbon hardtails are almost exclusively all about racing, and with riders like Pauline Ferrand Prevot (current XCO and XCM World Champion) and Mathieu van der Poel on Canyon bikes, along with Kristian Hynek's team and other racers, being able to equip team riders with the best bike possible is essential.
The new Canyon Exceed CFR frame is lighter, at just 835g for a medium, and has updated geometry to ensure that the hardtail is still at the head of the class.
Making the Canyon Exceed CFR Frame from Unicorns
Ok, there are no unicorns in the Canyon Exceed CFR frame, and none were harmed. But Canyon did use the Toray M40X fiber in the frame, which has jokingly been called Unicorn Hair due to how scarce it is. This fiber is strong and stiff - and those two things don't always go together. Sometimes a marerial can be stiff, but brittle. But these fibers allow for a strong and stiff construction, with less fibers and filler needed so the frame is also lighter. And it's a lot lighter!
The CFR frame actually weighs 740g when bare, but to meet DIN standards the seat clamp, derailleur hanger, graphics etc must be listed.
The frame is also available as the Exceed SLX and Exceed CF, which use the same frame mould but different carbon fiber and lay up. The aim is to have the same ride characteristics and strength, but what changes is the overall weight - and price. The Exceed SLX frame weighs 1015g in a medium, while the Exceed CF frame weights 1312g in a medium. Not bad when you can get that whole bike at under $3000!
Canyon built the frame with feedback from their athletes, and of course with rigorous testing at their own testing facility in Koblenz.
Sure, it's just a hardtail - but have you seen how riders race hardtails and light full-suspension bikes in the XCO World Cup? They have to stand up to some serious loads. Even the 835g frame can still have a 120kg rider limit, which is higher than many brands.
Updates to the Canyon Exceed
It's not just the weight that has changed, but the overall design, features and geometry as well. Canyon's Exceed already had pretty good geometry for the intended purpose of cross-country and marathon racing. The outgoing model had a 69.5 degree head angle, 72.7 degree seat angle, 427mm chain stays, and a 425mm reach in medium.
The new Exceed slackens the head angle by half a degree to 69 degrees, but increases reach by 10mm to 435mm in medium, and all sizes are designed around 80mm stems. The seat tube is much steeper at 75 degrees. This is a big update and likely one that came from their team. While Alban Lakata is no longer on Canyon bikes, he did win the UCI Marathon World Championships aboard a Canyon Exceed, twice, and set the Leadville 100 record. But his saddle was always rammed forward, to replicate a steeper seat angle to keep him over the cranks and pushing hard.
Lakata winning the 2015 UCI XCM World Championships on the yet to be released Canyon Exceed SLX.
It also helps keep the front wheel planted on long climbs, and when climbing singletrack and uphill switchbacks. It goes hand in hand with a longer reach.
Canyon have also dropped the chainstay length by 2mm, which isn't a huge amount, but they have created clearance for 2.35" and even 2.4" tyres, inflated on a 30mm rim. This depends on a given tyre brand, but that's impressive clearance.
Canyon have also included an XS size, which still uses 29er wheels and can still fit two water bottles inside the main frame. Given some medium frames from other manufacturer's can only fit one bottle, that's really noteworthy. One of the big benefits of some hardtails over full-suspension bikes is the water carrying ability. We're not camels!

Canyon have actually lifted the bottom bracket drop, which will assist in agility. The head tubes are a little shorter in larger sizes, and fork offset is 44mm, down from 51mm.
In terms of features, Canyon's Impact Protection Unit remains, but it gets slimmed down. It prevents the bars spinning in a crash, so your controls don't smash the top tube.
You'll also see that the brake hose and shifter (and dropper) outer slide into the frame through the top of the head set. Canyon's engingeers worked to have them enter the frame at this point, mean there is no need for holes on the side of the head tube and extra hardware, making it stiffer and lighter. Plenty of testing was done to ensure there was no binding in the steering, and of course no impact on the performance of the shifting or dropper action.
Dropper posts? Yes, the new Exceed frame is designed around using dropper posts, specifically the
DT Swiss 232 One dropper post
, the same that we have fited up for review. The carbon 232 One model is just 390g, and the just released alloy model is 420g. Both were designed in conjunction with the Canyon Exceed. The alloy model is stock on the Exceed CF SLX 8 ($5799) and Exceed CF SLX 9 ($7349) while the carbon model is saved for the Exceed CFR LTD at $10199.
The dropper design pushes trail grime away from the seal, keeping maintenance super low. It does mean you only get 60mm of drop - but that's about right for such a race specific bike like the Exceed. There's a seal on the top of the seat tube, as the new Exceed also has an integrated seat clamp.
Canyon have included the Quixle rear through-axle, which has the tool slide out from the axle, and the rear brake mount is flat mount. Shimano have updated their latest group sets with flat mount caliper options, so it makes for a neat finish.
From the Canyon Exceed CF SLX 8 upwards, all bikes come equipped with Canyon's new integrated bar and stem. Stem lengths are set at 80mm, and the units come at 740mm wide, which is about spot on for their intended use. Wider than that isn't much use when you're racing bar to bar for the hole shot!
Do people really need a hardtail?
Well, that's up to you. What we saw during the World Cup was racers reaching for hardtails when the courses had more climbing, or resembled a bike park (or big BMX track) a little more. With the Short Track accounting for half the points on offer at a World Cup weekend, and typically on less technical terrain, some riders opted for a hardtail more often. Bear in mind that the same frame needed to be used for Short Track and the Olympic Distance XCO race.
But what about the rest of us, away from the World Cup? A hardtail still has a place in the mountain bike family. From jump bikes or bikepacking rigs (like this Canyon Exceed CF SLX) to trail bikes like the new Merida Big.Trail, there are places for hardtails. The new Exceed will suit riders who want to get a light, high performance bike with good components at a lower price point than a full-suspension bike.
And for riders who love to race, a hardtail is not just a useful training tool with less moving parts to maintain, but it is lighter and simpler, therefore useful for events with more climbing, and those in the mud. The hardtail isn't dead, but they sure are getting more specific.
A closer look at the new Canyon Exceed models
The top of the line Exceed CFR bikes are nice - but what about the rest of the range?
With a price range of $2649 through to $10199, there's a world of choice for a new Canyon Exceed. So here are the finer details. And remember, all models come in 5 sizes, from XS through to XL.
Canyon Exceed CF 5 and CF 5 WMN
The first model in the range sells for $2649. The suspension is via. RockShox Recon RL Silver, and the group set is SRAM NX Eagle, with an 11-50 cassette and a 34t chainring on the CF 5, with a 32t on the CF 5 WMN. Brakes are SRAM Level T, with 180/160mm rotors.
Canyon Exceed CF 5 - it also comes in silver.
Wheels are raceFace AR 25 (25mm internal) on both bikes, with Schwalbe Rocket Ron Performance 2.25" tyres. The WMN model gets 20mm narrower bars and a women's specific Selle Italia saddle.
The Canyon Exceed CF 5 WMN - in Unicorn
Canyon Exceed CF 6
Next in the range is the Exceed CF 6, using the same frame as the CF 5, but with a different parts package. This model sells for $3499, so what does an extra $850 get you?
The Canyon Exceed CF 6 in blue. Silver is also available.
The big change is a move to a Shimano SLX/XT 12-speed group set. So you get a 10-51 cassette and a 34t chanring for a wide gear range. Wheels are improved as well, with the new DT Swiss XR 1700 wheels with 25mm internal rim widths. They're wrapped with Rocket Ron 2.25" Performance tyres, and suspension is via a Fox 32 Rhythm.
The flat mount brake caliper is really neat.
With a notable increase in performance from the suspension, wheels and group set - but all on the same frame, that's still $850 well spent. Just buying the DT Swiss XR 1700 wheels as an upgrade later would set you back well over $1000.
Canyon Exceed CF 7 and CF 7 WMN
The Exceed CF 7 and CF 7 WMN are the top spec bikes on the CF frame, selling at $4249. That's another $750 more than the CF 6, so $1600 more than the entry level CF 5. What's it got going on?
Colour options on the Exceed CF 7 are the same as the CF 5 - silver or red.
The drivetrain is SRAM GX Eagle with the latest 10-52 cassette, for a 'uuuge gear range. Brakes are SRAM Level TL, with 180/160mm rotors. The suspension fork is a RockShox SID SL Select.
Wheels are interesting, with a mix from Reynolds. Both the CF 7 and CF 7 WMN use a Reynolds TR309 front wheel and 289c XC rear wheel. So that's a front wheel with a 30mm internal width, and 28mm internal in the back. This makes a lot of sense, as it means you can have more float in the front, while keeping a slightly more precise feel in the back. Carbon wheels are a sweet upgrade and pretty incredible to see on a carbon bike below $5000.
The tyres between the CF 7 and CF 7 WMN differ. The Exceed CF 7 has a Maxxis Ikon 2.35" in the front with an Aspen 2.25" in the back. But the women's model (above) has Schwalbe Racing Ray and Racing Ralph in 2.25", in Speed Grip and Speed compounds front and rear respectively. The WMN model also has narrower bars (720mm v 740mm) and a 32t chain ring, along with a women's specific saddle.
With the GX Eagle group set, SID SL Select fork and carbon wheels, this thing is race ready.
Canyon Exceed CF SLX 8
The Canyon Exceed CF SLX 8 moves to the lighter frame, saving about 300g on the frame alone compared to the previous models. If a low overall weight is the end game you're after, this is where you should start looking. This bike sells for $5799.
The group set on the Exceed CF SLX 8 is SRAM Eagle XO1 with the 10-52 cassette, and you also move to the Stylo DUB Carbon crank set. Brakes are SRAM Level TLM with the flat mount in the back. Suspension is taken care of by the super light Fox 32 SC Performance Elite fork.
Wheels are DT Swiss XRC 1700 30mm - which we haven't seen before. Based on DT Swiss naming, they will have the redesigned DT Swiss 350 hub with star ratchet, but XRC suggests a carbon rim, with 30mm internal. This may be an OEM specific wheel set from DT Swiss - but it sounds good.
Maxxis take care of the tyres with an Ikon 2.35" front, Aspen 2.25" rear combination.
This model also sees the Canyon one piece carbon cockpit become introduced, with the 80mm reach and 740mm width.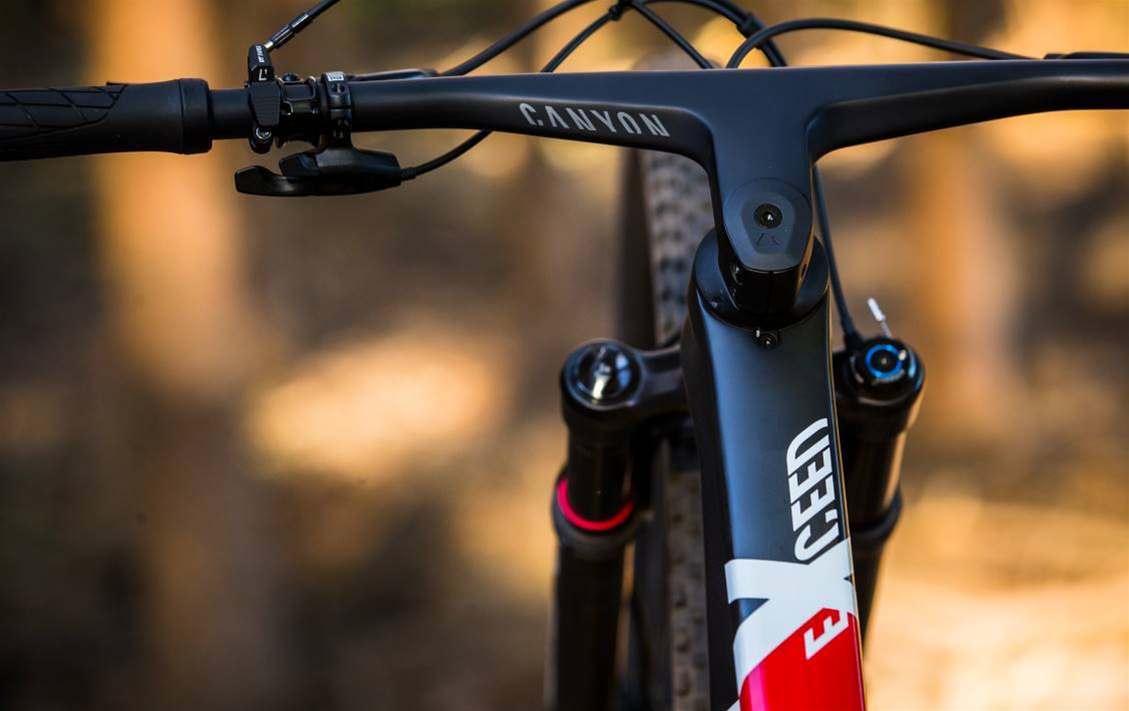 This is also the first model to come stock with a dropper post, and in this case it's the light weight DT 232 dropper post, which is an inverted design with 60mm drop.
With the team edition and a full murdered out black option (the photos with the red and black frame are actually from a CF SLX 9, where the parts are similar), this is one great looking bike, with high quality parts and frame. $5799 is a chunk of change, but a great price for what you get, if you're chasing a top-flight hardtail but don't have the funds to not look at prices.
Canyon Exceed CF SLX 9
Same same but different for this one, compared to the Exceeed CF SLX 8. With a sticker price of $7349. That's $1550 more than the Exceed CF SLX 8 - so what does that get you?
Tyres are the same, the Canyon cockpit remains the same, and the DT Swiss 232 alloy dropper is also the same.
But, you get a SRAM Eagle AXS wireless 12-speed group set.
There is also an upgrade to the XO1 Carbon DUB crank set, and wheels are DT Swiss XRC 1501, 30mm wide. So these have the new DT Swiss 240 EXP hubs, with the latest lighter, stiffer and stronger ratchet design from the Swiss masters of hubs.
The fork also changes, to the RockShox SID SL Select +. 
This is a killer package, especially considering the AXS group set and high-bling carbon wheels from DT Swiss.
Canyon Exceed CFR Team
Now it's time to move into the rarified air of hardtails that are almost $10,000. Priced at $8899, you do have the Exceed CFR as the frame - that's the fancy one with real unicorn hair used inside the frame (disclaimer, no real unicorn hair is used, see the previous page). And you can be sure that Canyon aren't hanging crap parts off the 835g frame. This bike is the Team spec, and built accordingly. Although, as Canyon don't have a true factory XC team, 'Team' is a little bit vague. Vitalo Future Cycling is their XC team - but that's not who Ferrand-Prevot or Van Der Poel ride for. Confused? Back to bikes.
The Exceed CFR Team has a Shimano XTR M9100 group set, off set with a RaceFace Next SL crank set with a 34t chain ring, and of course a Fox Factory 32 SC fork.
There's no dropper post, instead it is Canyon's own carbon VCLS 2.0 post to give a bit of flex in the back. Wheels are the DT Swiss XRC 1200 30mm. Having tested these when comparing 25mm vs 30mm rims for XC use, we can attest they are a stunning set of hoops. They even took a trip to Maydena Bike Park and Blue Derby in their stride - without complaints! Tyres remain as Maxxis Ikon 2.35" front and 2.25" back.
But if you want all the bells and whistles... you'll need to go one step higher.
Canyon Exceed CFR Ltd
The Canyon Exceed CFR Ltd bursts the five figure ceiling, selling for $10199. That's a lot of coin, but the value is high, in a relative sense.
As you'd expect, it's pretty fancy pants. The frame is black with subtle graphics, and the carbon DT Swiss D 232 One dropper post sits neatly atop the seat tube.
The group set makes the leap to SRAM XX1 Eagle Etap AXS, with the 10-52 cassette and of course a 34t chain ring on the Eagle XX1 DUB cranks.
Suspension is via a RockShox SID SL Ultimate, and brakes are SRAM Level Ultimate as well. Wheels are Reynolds Black Label, with that tricky 30mm internal front, 28mm internal rear combo. Maxxis take care of the tyres with the expected Ikon/Aspen mix in 2.35" and 2.25".
With the carbon cockpit and the carbon Selle Italia saddle, there's not much left to do except chase KOMs or finish lines.
All in, this is a really thorough range. Hardtails, and carbon hardtails for XC racing, will always be decisive. Given how XC bikes are progressing, and how diverse mountain biking is becoming, the humble hardtail really can't be so humble any more. They need to truly offer an edge to deliver when it counts. And by the specs and geo chart, it looks like the new Canyon Exceed will do that, for those chasing performance.
Get any more details on the Canyon website.
Australian Mountain Bike