Over our summer, Canyon – the precision German bicycle manufacturer – set up in Melbourne ready to serve Australia and New Zealand.
Over our summer, Canyon – the precision German bicycle manufacturer – set up in Melbourne ready to serve Australia and New Zealand. More than just another European bike brand, Canyon are a direct to consumer bike manufacturer, who aim to get riders on the best bike possible for their hard earned dollars.
Direct to consumer means just that – you don't go to a bike shop to talk to the staff, and test a variety of bikes that they source from importers. Instead, you choose your bike online, and pay for it to be delivered to your door. This means there's no need to be paying for the mark up of the importer, or the bike shop. You pay the manufacturer directly for the bike, and they send it to you.
This concept has been working very successfully in Europe, where Canyon have experienced immense growth. I visited their Canyon.Home in Koblenz, Germany, to gain a greater understanding of the brand, their bikes, and how their business will work for Australian mountain bikers.
THE EARLY YEARS OF CANYON
Part of getting to know the brand is getting to know the history, and talking to Frank Aldorf explained a lot. While Canyon as we now see it is quite young, the beginning started with owner Roman Arnold, who was road racing in Germany and beyond.
"He was racing German races on the road, and he always had to travel with his Dad in his teenage years," explains Frank."His Dad thought it was too boring to just sit there and wait for his son to finish with the race. So they started importing and selling goods from Italy to the other racers."
This meant there was a trailer to sell out of, then a mobile shop, and then a regular bike shop handling different brands.
"Roman always had this idea that he wanted his own brand, with his own idea of what the best bike would look like. He wanted to offer the best bike, the best experience. There's always a better version of something, and he thought there was a better way of making bikes. German engineering is well-known in the world, so there might be something a German brand can offer."
AT HOME WITH CANYON
Fast forward to the current day, and we are sitting outside the Canyon.Home building, talking over coffees in the warm autumn sun. At one end of the carpark there's a pumptrack, that gets used for their invitational events. There's a large showroom at the front of the building, displaying bikes from some of their champion riders, like Fabian Barel and Alban Lakata – plus the original trailer that used to sell imported parts to German bike racers. The cafe has homemade cakes, fresh salads and excellent coffee.
The building itself is a behemoth of concrete and glass, with angular shapes and horizontal lines, a wonder of modern architecture that stands apart from the traditional architecture in the town of Koblenz.
At the end of the building, countless Canyon customers are test riding bikes in the carpark, each attended by a courteous Canyon staff member. Inside, each bike model is on display, with more Canyon staff sizing up customers, explaining subtle differences in the bikes, or bringing a different model out for a test ride from the door from the workshop.
Behind the workshop door, it's a hive of activity. Every model and size is stored for a test ride, and countless Canyon mechanics are building bikes for customer pick ups, or servicing bikes that have been dropped off or sent in. There must be over 30 work stations, and each mechanic is hard at work. There's a barricaded area where prototypes are worked on – but that was strictly off-limits on my visit.
All this is at complete odds with what you would expect from what you could simply call a mail order brand. Many would suspect there would be no attention to detail, test riding, or such high levels of customer service. This clearly isn't the case. It's taken a little while, but riders really recognise that Canyon offer an exceptional product.
"Since we had our own product line, we have been able to compete in professional sport, in bike reviews and in design competitions, we were proving in all these different areas that our product is at the top of the line. People have figured there is something special about the Canyon product. With the direct model that we offer, they also see the benefit of getting this fantastic product at a lower price."
CANYON'S GERMAN EFFICIENCIES
Canyon's presence extends further out of Koblenz, to their newly extended factory in Ruebenach. The crouching giant sits on the horizon as you approach, rising out of the fields around it. While the production line isn't fully automated, the stock management is.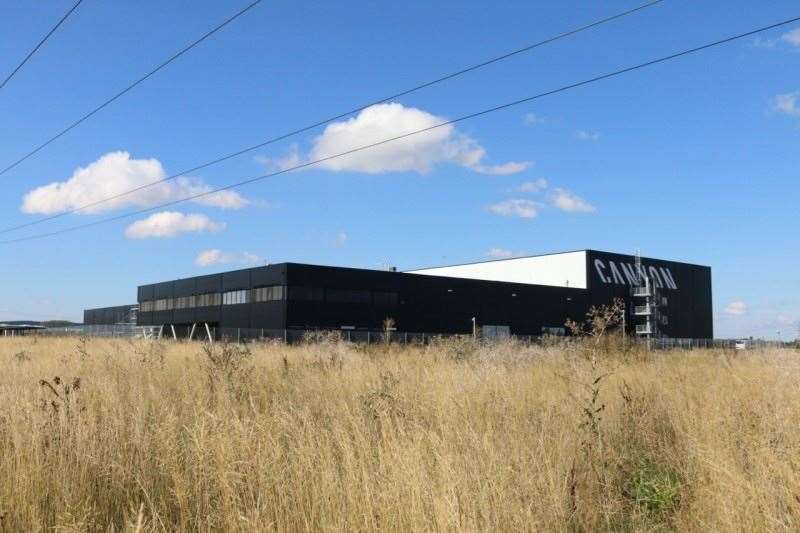 The loading bays receive all the parts, and send out boxed bikes to customers around the world. Four or five containers are delivered each day. It's in-between that is interesting. Parts come in, get sorted, scanned, and are stored in a matrix storage so the exact parts for each build can be selected without wasting time.
Canyon have 18 assembly stations where the bikes are built from the frame up, The painted frame of the bike moves around the line, and each mechanic has 60 seconds to complete their task on the bike before it's finished. Then they are test ridden on a short circuit inside. This last step is completely separate, with the mechanic tuning the bike, to make sure it is ready to rie, with every bolt tightened to the correct torque, and recorded digitally for quality control. The bike is then boxed methodically with just the front wheel, handlebars, pedals and seat removed. There's a box inside the bike box that contains full instructions on how to fit these parts, plus a shock pump, torque wrench, carbon paste and anything that is essential for the bike. It's imperative for Canyon that you really can be ready to ride once your bike arrives.
The boxes are labeled and stored or sent to the dock for shipping. The facility can store 14 000 bikes, and build kits for 28 000 bikes. Running two shifts in peak times, the factory can turn out about 350 bikes a day.
It's a very efficient process, and while this one factory builds all Canyon bikes, it's easy to see that such a production line could be reproduced elsewhere in the world as Canyon spread to more countries, thereby increasing efficiencies and increasing production.
CANYON'S QUALITY CONTROL
While Canyon have their frames and forks manufactured off-shore – their testing is probably the most stringent in the industry. Canyon were the first brand to invest in their own CT scanner, and they now have 5 test labs. Two are in Germany, and three are in Asia. Every single Canyon carbon handlebar and fork that gets used on a Canyon bike is scanned in a CT scanner for faults or weaknesses. Results are recorded in case there are problems later in the product's life.
While they don't scan every frame, they do a random selection from each production run. Canyon are so precise with their standards, that some of their suppliers in Asia have purchased their own CT scanners, to make sure their own quality control is up to scratch.
Canyon also run their own test lab, running frames and components (of their own and from their competitors) through fatigue and strength tests well beyond the required standards. Their attention to detail is second to none, and it's clear that Canyon aren't a mail order company – they are a modern and progressive bike company that sell via a different model, and that means we can get the bikes we want at a great price.
BORN IN THE EWS – THE CANYON STRIVE CF
Here in Australia, Canyon held a bike preview in Victoria which was also attended by Fabian Barel. Not just a team rider, Barel has been instrumental in the design of the Canyon Strive CF, Canyon's 160mm travel all-mountain bike. His engineering background, and racing experience makes him the perfect tool for building a refined bike to tackle the Enduro World Series.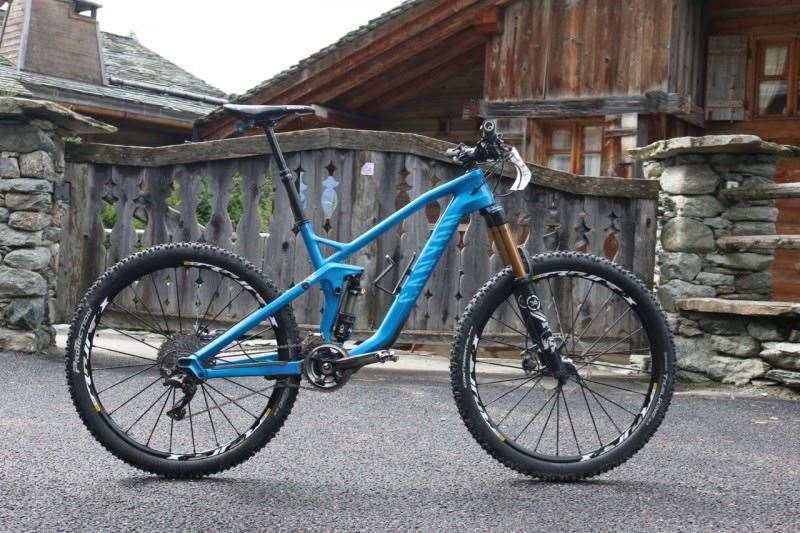 The Strive frame is long and stable, and by using the CT scanner they have manipulated the carbon layup to maximise the stiffness and strength, and minimise the weight. Tube shapes have been tuned for standover clearance, clearance for a full bottle, and no-fuss internal routing, with all hoses or cables having their own carbon sleeve inside the frame.
The real focus is almost hidden – the Shape Shifter is a small gas spring that is hidden behind the alloy rocker. Actuated from a lever on the handlebar, the Shape Shifter allows you to switch the bike from an XC to DH mode, broadly speaking. Unlike other bikes, it has nothing to do with adjusting the shock. But the gas spring actuates a link that moves the shock forward, changing the effective eye-to-eye length of the shock.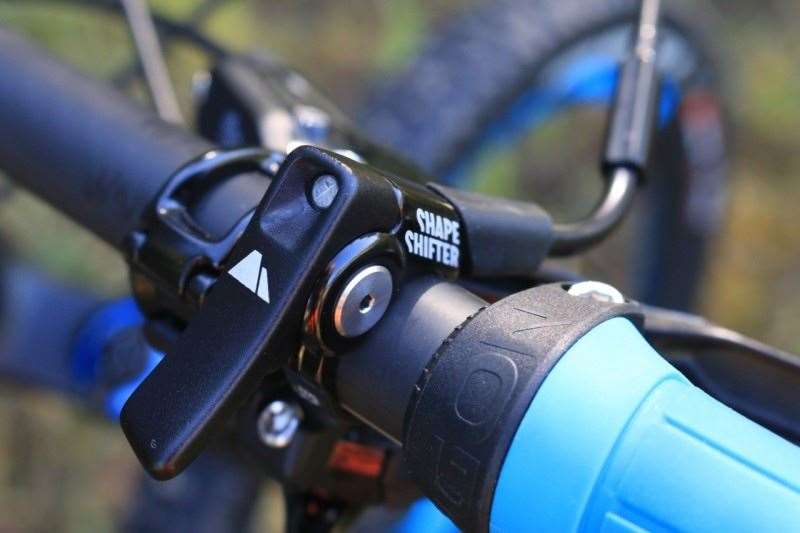 The result works across three areas. The geometry changes by dropping the BB 19mm lower and slackening the head angle by 1.5 degrees. But it also changes the suspensions travel from 130mm to 160mm. The suspension curve is modified, with a change in sag and stiffness. The system adds about 186g, and has been developed so that it can be serviced pretty easily in the field – essential for a bike that gets raced in the EWS. Fabian Barel was easily able to take one apart and show us inside the link, with a minimum of tools.
In use, it takes a little getting used to. It's a hard setting to change off the bike, but a weight shift back with the lever compressed puts you into the DH setting, and a shift forward with the lever compressed brings it back to XC, with an indicator on the rocker showing you what setting you're in. But with a few rides, it was easy enough to tell by how the bike was riding.
The frame itself is really well balanced, and it's easy to feel very centred on it, and appreciate the stiffness through the frame, link and back end. Barel was quick to point out that it wasn't a case of just making it as stiff as possible, but to get to a point of resilience and strength, but not so stiff that the bike would deflect off everything.
CANYON'S AUSTRALIAN FLAVOUR
For now, Canyon will be looking to start slowly in Australia. They have a large facility for customer service calls and technical service setup in Melbourne. We won't be receiving their full product line in Australia, but bikes that suit our riding and terrain are being introduced first.
The big question for many, is where do I get my bike serviced? Canyon's model is different to that of other big players, but the reality is any shop can service a Canyon. The increase of service only shops in Australia reflects our habits of buying online. So it is best to see this platform as a different option, where you order direct and build a good relationship with a local mechanic or shop. Canyon do have tech support in Melbourne, and that will be essential for proprietary tech like the Shape Shifter system.
Given the experience in Germany in using this model, and the time taken to get the setup right in Australia, I expect it to be popular, and an excellent option for riders looking for a unique bike with precision engineering at an excellent price. Retail prices should be released as you read this, but I think it's fair to say that the future is bright for Canyon in Australia.
Australian Mountain Bike