Specialized have shaved the grams but boosted the capability of their latest Epic hardtail frame.

Specialized have the world's lightest production hardtail chassis (775 grams, size Medium S-Works frame), and claim that it is now the most capable and comfortable XC hardtail anywhere. Specialized believe that their new Epic hardtail frame shold have you going faster than on any other hardtail, with more comfort.
Here's what they did with their new frame.
They made it lighter 
The Epic HT is the lightest production frame on earth, which isn't anm easy task. Specialized spent time fine-tuning the fiber and resin mix, as well as custom shaping every ply to eliminate unnecessary carbon overwraps. A painted medium S-Works frame weighs a mere 775 grams (+/– 15 grams). They also boosted capability, comfort, and versatility. If S-Works isn't in budget, then the FACT 11m (non-S-Works) frames weigh an impressive 915 grams—considerably lighter than most brand's top-shelf offerings.
They rejigged the geometry
The Epic HT has a short wheelbase for fast handling, but Specialized worked to make sure it offers more predictable steering and a more centered rider position for increased control. This was achieved by relaxing the head angle to 68.5 degrees, reducing the fork offset (to 42mm), increasing reach, and moving to shorter (60-75mm) stems on all frame sizes.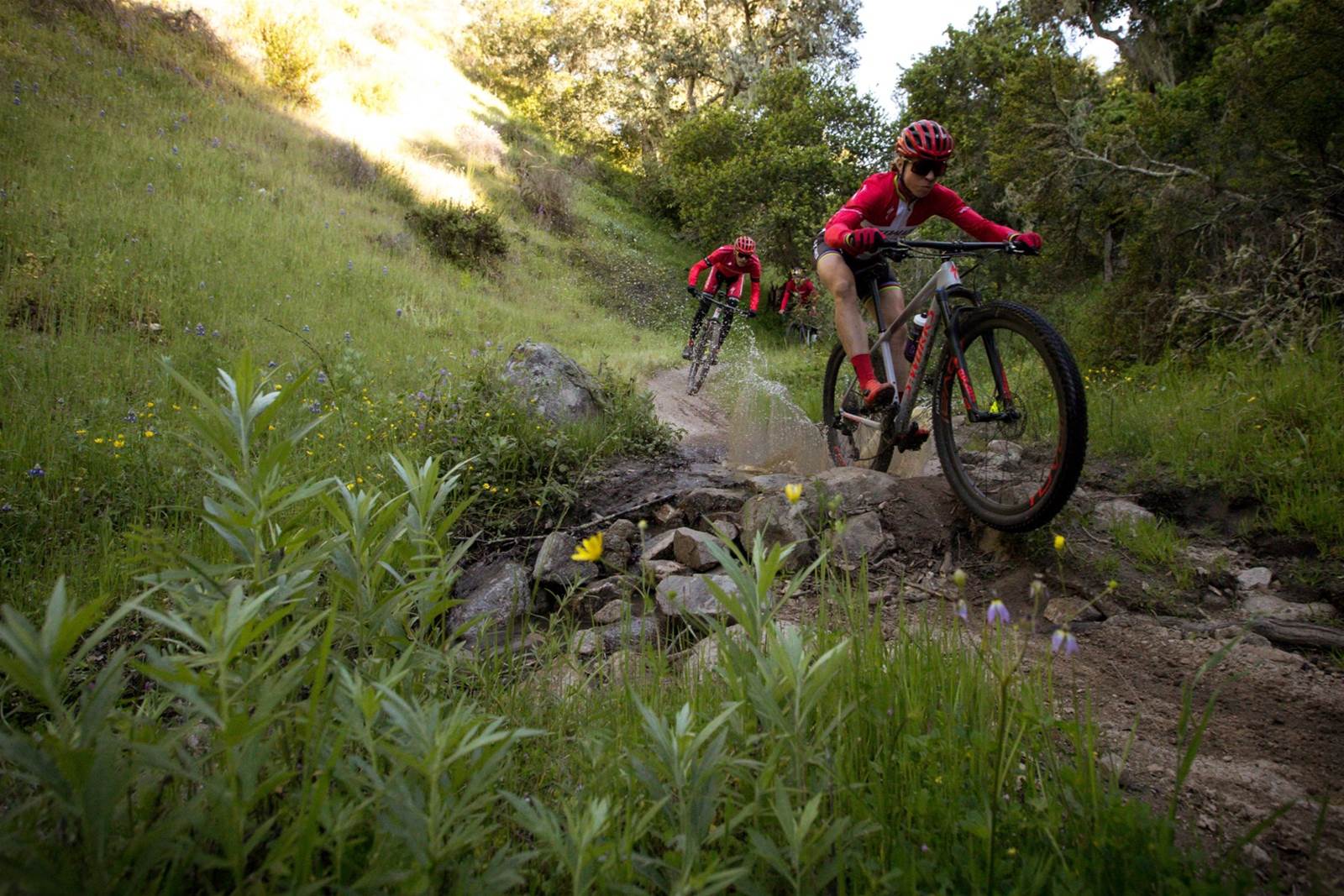 Carbon tuning = comfort
Carbon frames are stiff when they need to be, and comfortable where they need to be... if they have been well-designed. Specialized fine-tuned their composite layup and tube shaping to make the new Epic Hardtail more forgiving. With smaller diameter seatstays the vertical compliance has increased as well, helping to take the sting out of the hardtail. Likewise, the new arced seat tube design provides just as much vertical compliance as the previous Epic's smaller-diameter seat tube, which allows you to run full-length dropper posts due to its 30.9mm inner-diameter.
The Specialized Epic HT is more versatile
So not only will it take long travel dropper posts, the new Epic Hardtail also features increased tyre clearance. You can run 2.3- or 2.4-inch tyres with plenty of mud clearance. Wide rims are at home on cross-country bikes, and this gives you room to move.
Specialized kept it simple and reliable
The beauty of hardtails is simplicity and reliability. No shock bushings, hlf the suspension servicing, less moving parts... they're a racer's weapon of choice often because of the simplicity. The only bolt-on piece on this frame is the derailleur hanger, and Specialized have ditched the PressFit bottom bracket for a threaded BB. No creaks. No loose bits to lose. No hassles. Just get on and pedal. 
Here in Australia we will have one whole bike available or a frame kit. The Specialized Epic Hardtail Comp uses the FACT 11m frame and sells for $3900 - and it is available right now.
If you have something boutique in mind, then go and order the S-Works frame set, it will set you back $3700 and they will be available in October. Maybe just in time for Cape to Cape?
Drop in to your Specialized dealer for more details on their new Epic hardtail.

Australian Mountain Bike