Grant Webster has taken a 2018 Felt Edict 3 and tuned it to make it a full-on XC weapon!
Images: Diana Brettschneider
---
Grant Webster has been a stalwart of the NSW endurance mountain bike scene, with select appearances at 24 hour races in Queensland - and even the Crocodile Trophy a couple of times.
A long time rider and racer with Apollo Bicycles, when Felt Bicycles came into the stable at the distributor it was time for a switch. Lo and behold, Webster was aboard a new Felt Edict 3 - the very same one Sebastian Jayne tested in AMB Issue #168. Webster rides and races the bikes, but he also plays an important role in feedback on what works, and what doesn't for the bikes he rides and races.
"The Edict 3 sits below the Edict FRD and Edict 1, and above the Edict 5. My take is it's the 'XC all-rounder' with mid-range spec - suitable for aggressive XC, up to trail riding. For aggressive trail riding, you'd move to the 140mm Decree."
The Edict 3 fits within the 'new school XC' segment, in that it sports a longer travel fork and a slacker head angle, while still delivering a very business-like 100mm of travel out the back. The FRD and 1 are a little different, being more pure XC.
"The Edict 3 and 5 share the same frame (69 degree head angle, 73.3 degree seat angle)" explains Webster. "Edict 1 gets the same carbon layup but 1 degree steeper HT and ST (70/74.3), whilst the top of the line FRD shares that geo but loses 200g with a lighter carbon layup. Edict FRD and 1 have more of a XC geo and spec, whilst the 3 and 5 are mid-spec components with more strength and with and the slightly slacker frames more suited to trail riding. The finish is very high quality, as is the frameset and rear suspension design. This model is down-speced from the Edict 1 with heavier, more robust running gear."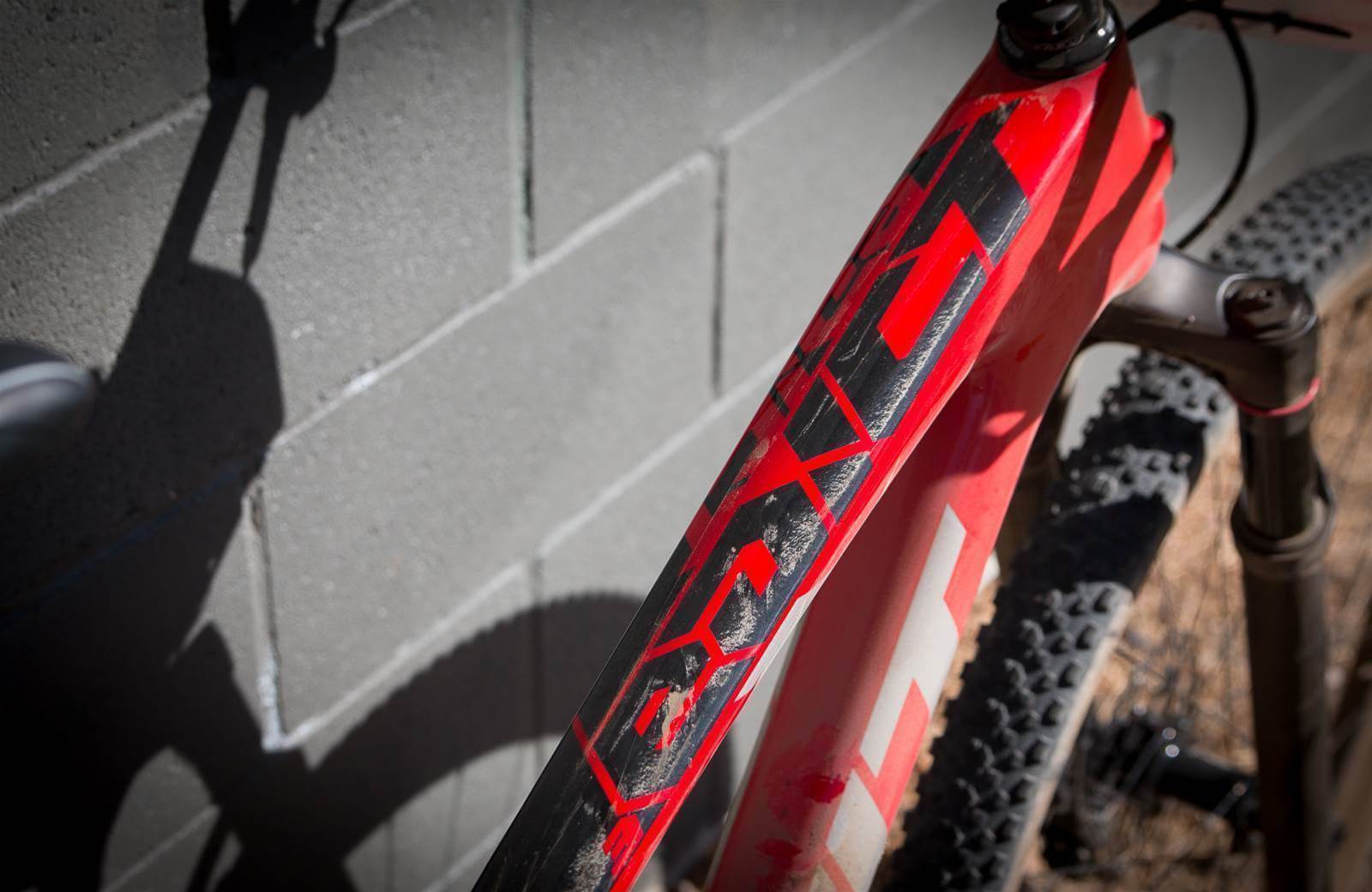 The Felt Edict top tube, letting the carbon weave cut through the paint.
But at the end of the day, Webster is a bike racer. Road, mountain, whatever - he likes to push himself.
"At this time, I've decided to push the bike more toward XC use rather than trail. It would be capable of either, depending on spec and set up. I'm running the stock frameset, fork (Reba SL Solo 120mm) and Shock (Deluxe RL Debonair 100mm travel). I've dropped the fork to 100mm, and have 2 tokens inside to help the air spring ramp up."
Shortening the fork has helped make the bike a little steeper, as Webster felt it wandered a little on singletrack climbs
"I then went to the spares bin in search of trimming some weight. The light wheel set with Nextie Carbon rims, ExtraLite hubs, DT Swiss Revolution spokes, Ashima rotors and Maxxis Ikon tyres livens up the bike a lot.
Position is critical when you want to get everything out of a bike, and the trend on many bikes is to make the seat tube steeper, to put you more over the front when climbing. As a bonus, it's usually easier to get off the back on the descents too.
"The seat tube was slacker than I'd set personally, so I've come forward with a Thompson post run forward to get power and better balance. The Bontrager saddle is a light saddle that works.
"The stem was in the parts bin (Bontrager), The Extralite bar is very light (710mm). I have dodgy wrists and elbows at times so I find the Ergon grips really forgiving. They are heavy at 130g but I've found I really can't do without them."
So far the brakes on the Felt are stock, as Shimano MT-500. "They work well, but are heavy-ish," says Webster.
Drivetrain
One thing that stands out is the silver crank, especially on a black and red bike. It's a light weight Cannondale Hollowgram crank set. Cannondale Cranks suit direct mount chain rings, and have done for years. They're light, and very stiff.
"I put in a Hollowgram crank to lose some weight, gain stiffness and keep the Q-factor very low. The BB was a cartridge unit replaced by Wheels Manufacturing BB." The shell is threaded so it's a specific BB that can take a 30mm axle into a BSA threaded frame. "Pedals are XTR, but Im going back to Time asap."
Wenster runs the stock SRAM GX shifter, cassette and derailleur, but admits "shifting is not as precise as the 11 speed XX1 that I rode last year." But it works, and he has the range he needs.
"Weight is now 10.8kg as pictured, minus the saddle bag. Ive got a set of Hope Tech X2 brakes to go on shortly which will trim a bit more."
Suspension and the ride
"The rear end is very active," says Webster about the ride of this dually. "It's magic in rough stuff, but the bike could use a bar-mounted lockout for climbing. I can't force this bike uphill fast enough with the rear open. I've added 2 tokens in the Reba and run about 80psi front/200 rear. And 24/26psi in the tyres front and rear."
Always Ikon.
Australian Mountain Bike