Issue #168 of AMB is here! It's jam packed with bike and product reviews, interviews and stories from some of the best places to ride.
The one hundred and sixty eighth issue of Australian Mountain Bike is in the shops now - or if you're a subscriber you should have it sitting on your coffee table, on your work bench or next to your... desk.
This issue is one of the most diverse magazines we have produced in ages. But that shouldn't be a big surprise, as mountain biking continues to expand and grow. Sam Hill is gracing the cover, as while he didn't win the 3rd round of the Enduro World Series (EWS) in France, he did win the first two rounds, and our opening pages are dedicated to those races and Australians who competed.
Chris Panozzo loose as a goose in Chile.
We've just launched the 2018 Australian Mountain Bike Photo Awards, presented by Shimano. Last year we had a huge response to the awards, with photographers around the country and the world entering in the four categories, and a whole portfoliio, to see if they would be in with a chance for the big prize.
This year we have four new categories, and the same backing from Shimano. So there's $5000 and a brand new group set to be won! There are also smaller prizes for voting, and each category, plus category cash now goes to 3rd. So there's a wider spread of the reward. Want the full details? Find more online.
We are so keen on AMB readers on winning things, that we're still super keen to send one subscriber and their chosen friend to Switzerland. You can find out all the details here. But basically subscribe to AMB, or renew your subscription, and answer the question "Why is Switzerland the best country for a MTB holiday" in 25 words or less, and you're in the running! This competition is only for AMB subscribers so one reader and their mate will be going. That's guaranteed.
We really want to send you on a dream MTB holiday to Switzerland!
And the rest of the mag! There's heaps of good stuff, including an interview with Australian 2x Superbike champ Troy Herfoss.
Our Ed took up the challenge of entering a bike race on the snow - so we have a feature from the Snow Bike Festival, and his tips for riding in the cold and what bike you should use.
Closer to home, we visited Derby again, to see how the tiny Tasmanian town has changed after the EWS visited in 2017. A sumamry? It's exploded!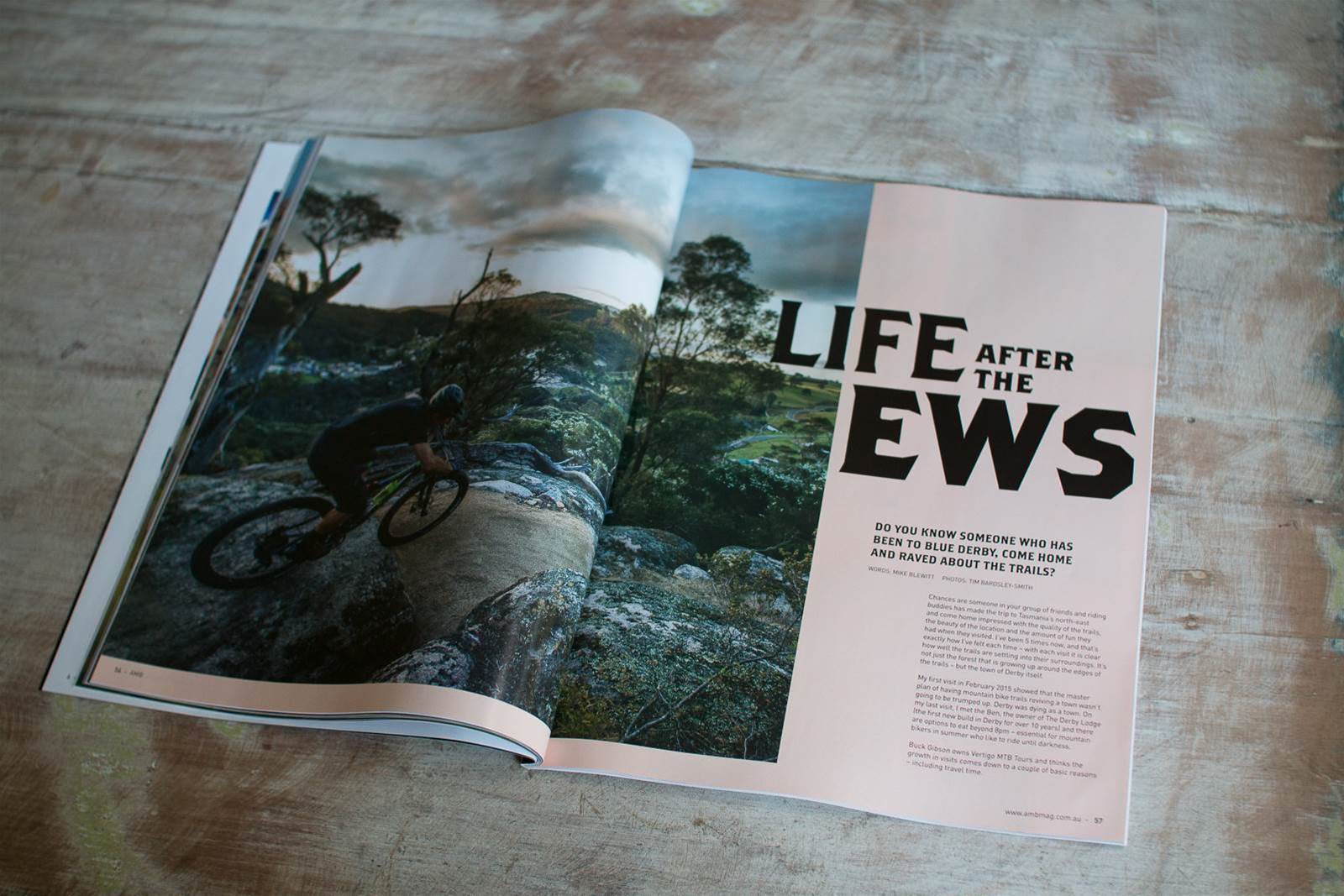 We also have a cool story from Hans Rey, who took Missy Giove and musician Tim Commerford on a multi-day ride around his home town of Los Angeles. It's surprising to think that one of the biggest cities in the world is surrounded by prime mountain biking - but that's exactly what Hans shows us.
There have been lots of new bikes announced in the past couple of months, and we've had extended trail time on the Trek Full Stache, and the range of new Specialized Stumpjumpers.


You can find our ride perceptions in our new issue. 
We also have full reviews of the Felt Edict 3, the Momsen Vipa Trail and the Canyon Spectral CF 9.0 SL - don't miss them! 
But wait, there's more! We test bikepacking gear from Sea to Summit, Dakine's rack pad, The Roam trail helmet from MET, a sweet upgrade for your Yari suspension fork via NS Dynamics, and the new Fox Float 34 SC and the Float DPX.
As usual the back section is packed with tips. From what to expect when heading to Garapine to ride trails on the Sunshine Coast, to nutrition, training, workshop skills, and Jared Rando's tips on how to brake like a pro!

That's just a glimpse into our latest issue that is a combination of hard work and passion from over 25 different mountain bikers. Go grab yourself a copy, and if you don't want to miss one in the future - make sure you subscribe!
Australian Mountain Bike