The 2021 AMB Photo Awards presented by Shimano saw some stunning entries. Here are the winners for each category.
After a big year in 2020, the 2021 AMB Photography Awards needed to be something special. Last year the categories made the type of photo the priority. This year, it was about what, or who, was being captured. We had a lot of feedback about making sure the Awards had a greater representation of who is out riding bikes. We listened, and this year we brought back the Women in AMB category from 2019, as a way to guarantee more women were represented in the Awards, and hopefully that more women would submit photos as well. We also added Next Generation, as a nod to all the young shredders who are making the rest of us rethink what is possible on a bike, but also to highlight how much mountain biking is becoming a family activity, with ways to get just about any age kids outdoors.
Whether those two categories were a deciding factor or not, we did end up with an incredible array of photos submitted across the four categories that included Action and Travel, and had the highest number of entries yet! When we shortlisted our finalists for each category, we ended up with the greatest interaction from all of you on voting as well. So here is who came out on top according to public voting.
Thanks again to Shimano Australia for supporting the AMB Photography Awards, and for Shingleback Off Road, FE Sports/Pirelli and Trek Australia for supporting the Travel, Action and Women in AMB categories for 2021. You can be sure we'll be working to run the Awards again next year, so hone your photography skills and stay tuned.
Action - Supported by Pirelli
Winner: Luca Lohrey
Sahar Kaminsky at Sprung Froth Off Blackwood Creek, Tasmania.
---
Camera body: Canon EOS 6D Mark II
Lens: Canon EF70-200mm f/2.8 USM
Focal length: 130mm
F-stop: 2.8
ISO: 125
Shutter speed: 1/2500
---
"When I opened the email that said I'd won I was quite surprised because I knew I was up against some stiff competition, there were some amazing photos in the final. I thought that I may have a chance of placing, but winning the category was unreal! This is the first competition I've entered so when I found out I was a finalist I was really stoked as I'm only 14 and I've only been taking photos for a short time. I really enjoy trying to capture the action because you never know what you're going to get."
"I have shown this photo to lots of people, and they were very impressed. Dad told me about the competition a couple of hours before entries closed and he thought I should enter. As soon as I read the description for the action category, I knew this photo was perfect for it. I also thought that if I did win, the tyres within the prize would be very handy since I have been going through quite a few this year. The prize money would help me expand my photography gear."
"This photo was taken at the 2020 Sprung Froth Off at Blackwood Creek, Tasmania. It was a fun ride day and for most of the time I was riding the jumps myself. When it came to the Whip Off towards the end of the day, I decided to get my camera out. I set myself up at the finishing berm hoping to get a good shot. I moved down to the end of the berm and captured a heap of guys slowing down in the berm. When Sahar flew into the berm and sprayed a heap of dust it looked epic and knew that if I got the right frame, it would look sick!"
"I started riding at the age of nine. Two years later I bought myself a GoPro which sparked my interest with creating mountain bike videos and editing. A couple of years later, I started using my mum's entry level camera. I became obsessed with capturing action photos of mountain bikers. Dad would take me riding to different trails around Tasmania and my favourite place to ride was Derby. It was there that I took some photos at a mountain bike race. A few months later I got my own camera with a telephoto lens which helped me to capture the very close up action that I enjoy about mountain bike photography. I also enjoy the editing side of photography and how you can make a photo unique to you."
Second: Hunter Paull
David McMillan and Jacob O'Donoghue-Price riding the Huck Yeah hip at Skyline Bike Park.
---
Camera Body: Canon 5D Mark IV
Lens: canon 70 200 f2.8 is ii
Focal length: 130mm
F-stop: 3.5
ISO: 400
Shutter speed: 1/3200
---
The inspiration for this image came from a dust cloud I had seen while riding the Skyline Bike Park. I saw the light beaming through a gap in the trees after a truck had driven up the road and kicked up a vast dust cloud, resulting in a bright beam illuminating below the dark tree canopy. I knew I had to do something with it. After scoping the bike park with my sun position app, I figured out the spot for the image. It wasn't as easy as previously imagined when it came to shooting, but after three early morning previous attempts and one broken collar bone, the crew managed to get the image I had imagined. Big thanks to Jacob O'Donoghue-Price, David McMillan, Matt Begg, and Bryn Clarke for making this idea come to life. 
Third: Riley Seebeck
Aric Duncan searching outside the box for freeride in Eastern Washington's steep sand dunes. There's a certain buzz the tyres make amongst the silent riding on the sand.
---
Camera Body: Canon R6
Lens: 70-200m 2.8 II
Focal length: 70mm
F-stop: 2.8
ISO: 160
Shutter speed: 1/2000
---
Women in AMB - Supported by Trek Australia
Winner: Ronia Nash
Sarah Walter hitting the double black line at the Whistler river jumps.
---
Camera Body: Canon 7D Mark ii
Lens: 70-200 f/2.8
Focal length: 120mm
F stop: 4.5
ISO: 1000
Shutter speed: 1/1600 
---
"I was stoked to have been selected as a finalist in a couple of categories. Honestly, I was so happy just to make it to the voting. It was a huge honour to get that far. When I read the email saying I won I was beyond disbelief, I was shocked! And of course, so happy."
"A friend of mine who lives in Australia sent me the Instagram link and told me I should enter. I had taken photos of her throughout the years when she lived in Whistler, and she knew I have a passion for photography. I honestly didn't think my photography had reached a point to be good enough to enter contests, but during Covid I spent a lot of time with my camera, reading about light and composition, taking photos almost every day. I was also spending most evenings learning how to edit. When we were finally back to bike season, I thought my photos had improved significantly in that time, so said 'why not?'. I had nothing to lose!"
"This photo was taken in August at the Whistler River Jumps. Whistler has a huge women's bike scene with women's nights, women's clinics, and much more. I have been taking pictures for WFMBike (Women's Freeride Movement). It's a grassroots organisation established by Lisa Mason that promotes inclusion and progression to inspire up and coming riders and new riders alike. During the summer, they hold multiple women's only dirt jump clinics. Sarah Walter (rider) was participating in the clinic (she also coaches for WFMBike). Sarah is one of the few female riders in Whistler who regularly hits the double black line. I love watching Sarah when she rides. This shot was the last shot of the morning. Matt MacDuff was the pro coach for this clinic, and he led a small train of people through the line, and I caught Sarah just as she was about to finish."  
"I have a passion for bikes and photography is another way I can feel connected to the huge biking community. It's a different aspect from just riding bikes with your friends. I can capture someone doing something on a bike that I could never do."    
Second: Thomas Falconer
Robin Goomes, the next up and coming women's mountain bike rockstar! With her back flip at the Innsbruck Speed & Style and her Audi Nines Invitational entry. She sure is going places!
---
Camera Body: Sony
Lens: Tamron 70-180 2.8
Focal length: 160mm
F-stop: 2.8
ISO: 400
Shutter speed: 1/1600
---
Third: Jasper Da Seymour
Leyla Sharman puts everyone at ease around her with her infectious smile and sense of humour.
Within the Tasmanian female MTB scene there are humble, hidden and outright wonderful beings loaded with stoke. There is one in particular that produces contagious dangerous levels of excitement inducing moments simply from close proximity. Leyla Sharman has only recently picked up mountain biking in the last 2 years but you wouldn't know it if you saw her hitting 30 foot gaps, no handers and seemingly endless wheelie crank flip/no footer combos. She immediately puts everyone at ease around her with her infectious smile and sense of humour, constantly pushing her abilities and the perception of what is achievable on a bike for both men and women alike. Her entourage of mates do their best to keep up with her on descents within races or big hits on technical jump lines. One thing is certain, this incredible young woman is creating a new scene for women in Tasmanian mountain biking, inspiring all ages with her incredible abilities and positive outlook on all aspects of life, not too bad for a 15 year old. Don't stop Leyla!
---
Camera Body: Canon 5D Mk3
Lens: 70-200mm
Focal length: 200mm
F-stop: 2.8
ISO: 100
Shutter speed: 1/400
---
Travel - Supported by Shingleback Vertical Racks
WINNER: Laurence Crossman-Emms
Sometimes the easiest route isn't the best route.
Sometimes the easiest route isn't the best route. We spent four days on a trip climbing Mont Thabor with bikes, not the most common bike packing hill to climb. We all spent many hours with bikes on our shoulders, lugging them up steep rocky steps…very un-pedal friendly. Here Manon, Christian, Emily and David navigating this tricky ridge up from one of the many beautiful water falls and river crossings.
---
Camera Body: Canon 1dx Mk2
Lens: Canon 16-35mm 2.8 L
Focal length: 16mm
F-stop: 5
ISO: 100
Shutter speed: 1/50
---
"Winning the Travel category of the AMB Photo Awards was a great surprise. I was really pleased to make it through to the final round with 3 images in separate categories, so to then win a category was the icing on the cake. With the last 18 months being such a challenging time for myself, family, my friends around me, and pretty much everyone on every corner of the globe, moments like this become ever more special, making that cloudy sky a little bluer with every step. AMB always do such a great job hosting the Photo Awards and I am very grateful to be a part of it."
"I'm not a hugely competitive person, I'm not a racer, but I do always love a bit of a friendly challenge, be it doing a big ride, learning a new skill, or just something that is going to push the creative mind. There are a few photography competitions I like to enter when they come around and the AMB Photo Awards is always one I like to be a part of. The talent pool from both professionals to amateurs is so high, and it's great to scroll through all the entries and finalists. The combination of judging and public vote is a format that gives everyone the opportunity to get involved."
"I do love a good bike ride, who doesn't? So when I was asked by Manon Carpenter to film and photograph a big ride, I was in! The ride was a tour of a lesser-known mountain in the Hautes-Alpes in France. The tour would take in 112km with 5km of vertical gain over 4 days, around, up, and over Mont Thabor. My goal was to film, document, and photograph the challenge as Manon, her partner, and two close friends attempted the route. The route, although challenging was made further challenging as carrying a large pack of camera gear, supplies and sleeping gear doesn't make things easier. The trail was a mix of steep pedalling up, lots of shoulder hike a bike but coupled with plenty of beautiful French singletrack. The winning photo was taken on this trip during one of the many shouldered climbs. Sometimes the easiest route isn't the best route. Here Manon, Christian, Emily, and David are navigating this tricky ridge up from one of the many beautiful waterfalls and river crossings en route. I couldn't not use the opportunity to snap this image."
"Mountain bike photography for me is just a marrying of passions really, I like bikes and I like taking photos. I started to snap photos of bikes when I was young. Naturally there is always a friend in a group that is better than the others, I was not that one so I would stand on the side lines watching. One day I thought I would take my Mum's camera along and it all began from there. After several seasons in Canada, skiing, and riding bikes, I returned to the UK and set upon making this passion a career. Now I have been photographing mountain biking professionally for over 10 years, working on commercial shoots, editorial projects, and on many exciting bike rides. I'm always grateful to work with the many amazingly talented athletes and industry people on my travels, and thankful for all opportunities I have had."
Second: Denzil Heeger
The old faithful Triton travelling through golden hour while on a little detour to Linga Longa Bike Park via the winding roads of the Brockman Highway.
---
Camera Body: Sony A7III
Lens: 70-200 GM f2.8
Focal length: 200mm
F-stop: 2.8
ISO: 800
Shutter speed: 1/8000
---
Third: Matt Wood
It's been far too long since I hiked up a mountain first thing in the morning, Anthony Boussetta traveled all the way from BC to hike up Coronet peak at sunrise.
---
Camera Body: Canon 5D Mark IV
Lens: Canon 70-200mm f2.8 IS II
Focal length: 130mm
F-stop: 4
ISO: 800
Shutter speed:1/3200
---
Next Generation
Winner: Denzil Heeger
Not only is he one of the top racing prospects in the state in both Junior XC and Enduro, Bailey Christie also looks great in front of the camera and is always up to knock out an early morning shoot even when I'm testing some new gear.
---
Camera Body: Sony A7III
Lens: 70-200 GM f2.8
Focal length: 123mm
F-stop: 3.2
ISO: 800
Shutter speed: 1/250
---
"I was just super stoked to see the email come through really! Last year I'd been a finalist in a category so to see an improvement in my work recognised was really awesome! Huge shoutout to everyone who voted for me and all the people who support me over here in the West Australian mountain biking community. 
"I just really wanted to try and push my photography and to create the best images that I could. As I shoot throughout the year, I definitely keep the awards in mind and keep certain bangers off Instagram. I'm also constantly looking for new features to shoot that might make for a standout shot.  
"I was out riding with my mate Luke, and we actually ran into Bailey as he was finishing up a 75km training ride. He asked me if I was keen to shoot the next day, and we locked it in. I had been wanting to experiment with some flash work and knew there was a good chance of fog in the morning, so we got there early and hit a couple of different spots for photos. This was the shot of the day, and I'm glad I held onto it for the competition!"
"I'm an average rider at best, so it's good fun to work with the super talented riders we have over here in Western Australia. I just love showcasing the talent and riding community we have over here."
Second: Ewald Sadie
As we headed down the tree lined dirt road, the sun hit the morning mist just right, creating an incredible array of moody sunbeams that lasted only a few minutes.
On a recent winter weekend getaway to the pristine Elgin Valley, South Africa, twins Neil and Christian were up with the birds as per usual, ready for a quick morning spin in search of muddy puddles. As we headed down the tree lined dirt road, the sun hit the morning mist just right, creating an incredible array of moody sunbeams that lasted only a few minutes. Right place, right time.
---
Camera Body: Canon EOS R6
Lens: EF100mm f2.8 Macro IS USM with a EF-RF adaptor
Focal length: 100mm
F-stop: 7.1
ISO: 100
Shutter speed: 1/160
---
Third: Amelia Chapman
Meet 9 year old Kobe; one of the coolest little shredders you will ever meet. He rides without fear and has big dreams to compete at RedBull Rampage one day.
---
Camera body: Sony a9
Lens: Sony GM 70-200 2.8
Focal length: 137mm
F stop: 2.8
Iso: 800
Shutter: 1/1000s
---
Young Photographer of the Year - Ethan Lucioni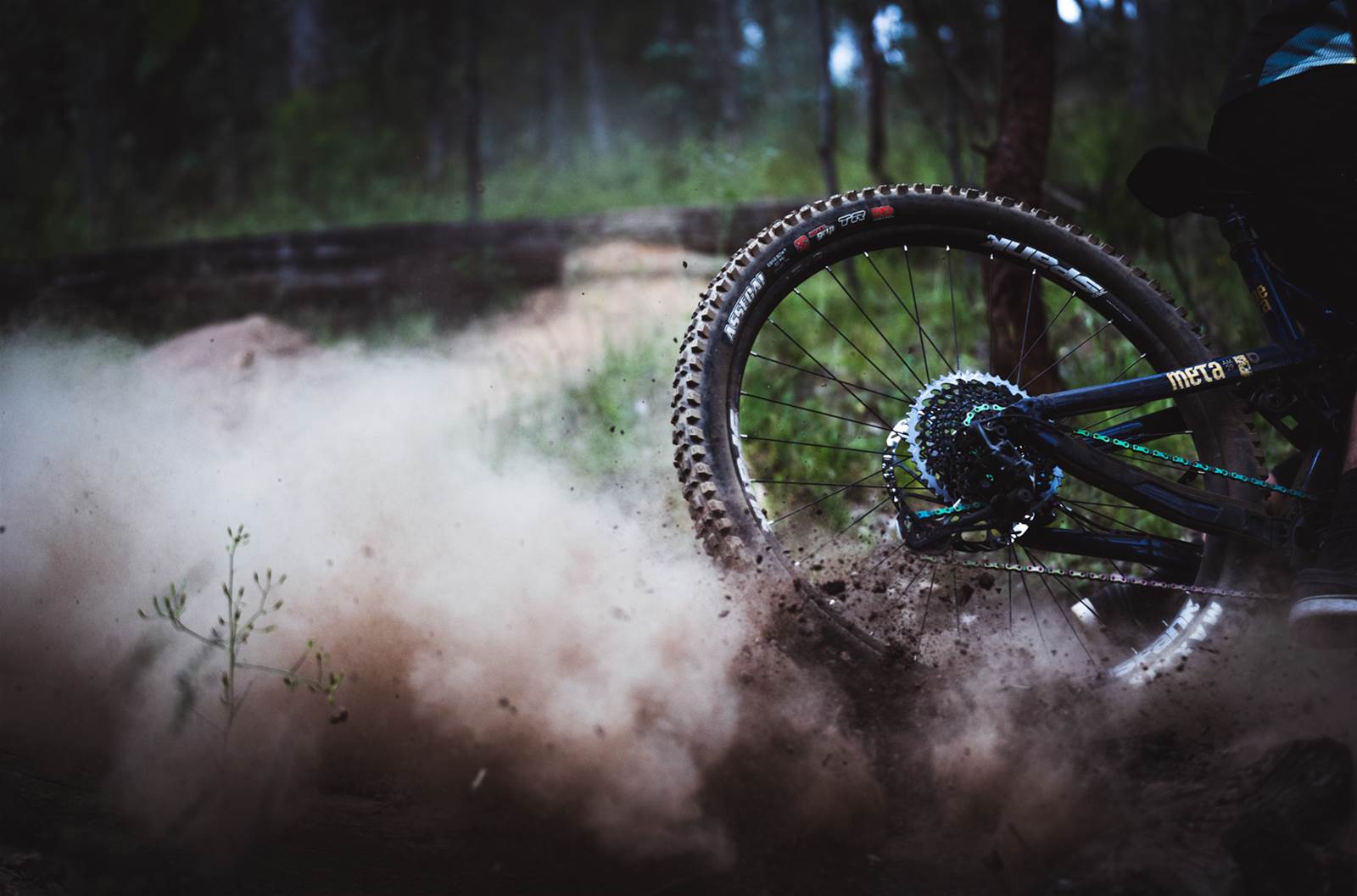 A dusty day in Mt Beauty, Victoria. We were rushing to get some sort of photo and 30 seconds after this shot a storm rolled in and soaked us as we were racing down the trail to the car.
---
Camera Body: Sony A7III
Lens: Tamron 70-180mm f2.8 lens.
Focal length: 70mm
F stop: 2.8
ISO: 1000
Shutter speed: 1/640
---
"My reaction when I won was one of pure joy. I was lying down in bed after sleeping in all morning and decided to check my emails. After seeing I had won Young Photographer of the Year I leapt straight out of bed and hugged my parents. I was stoked.
"I first found out about the AMB Photo Awards last year. Even though I had missed the submission for the 2020 AMB Photo Awards, the idea of having an Australian photo competition with a category for under 20s was extremely encouraging. As soon as the 2021 submission window opened, I submitted my best photos and prayed everything would go well. Of course, the full Shimano Deore XT group set was something I really wanted but the chance to shoot paid work for AMB magazine was what I mainly looked forward to."
"The photo was taken on a Tuesday afternoon in Mount Beauty, Victoria on a track I can't remember the name of. Me and my mates Zach and Tom were staying up in Bright for a weekend and getting shuttles at places like Falls Creek and Mount Beauty. My bike had been playing up all weekend and luckily, I had snapped a couple of spokes in the morning. Because my bike had broken, I was able to walk the trail and get the winning photo. Unfortunately, having no bike also doomed me as a thunderstorm rolled in 30 seconds after taking the photo. I had to run down the trail with my camera in my hand to escape to the car waiting at the bottom."
"Mountain bike photography for me is a perfect combination of the things I love. I started photography in 2016 using my mum's Canon EOS 550D, and I started mountain biking just one year later in 2017. Since then, I have bought my own camera and bikes because I believe photography and mountain biking are exactly what I want to do in life. The rush I get when me and my mates are flying down the trail is awesome, and I love using my camera to capture that feeling. Mountain bike photography also brings other benefits, for example, I travel to crazy places with my mates to ride bikes and at the same time I can take photos."
Australian Mountain Bike