Got some big mountain bike rides planned? Here's a pack list to make sure you never have to walk out again.
It is easy to head out for a short ride after work with not much in the pockets, and the penalty for a bad mechanical might be a call of shame or a walk home. If you're planning a bigger adventure into the hills and plan to be out all day and covering a lot of ground in more remote areas, it pays to be able to have anything you might need on hand. Clearly you can't take everything you might need, as you'd never get moving with all the possible spares and tools you would have to think about taking. But here's a start for what to take for big days in the mountains. This is just a suggestion, the best thing you can do is to look over your bike thoroughly and understand where you ride, to know exactly what you should be carrying to get through even the wildest rides when they go a little pear shaped.
Enough water, and a way to carry it.
This should be a no brainer. If you can't fill up anywhere, consider being able to carry up to 1L for each hour you plan to be riding for summer. This is where hydration packs really come into play. If you're not riding in the Alps with an abundant water supply – take what you need.
Consider packing some purification tablets or similar if you'll pass water, but don't fully trust it.
They might not be trendy for your one hour post work spin, but hydration packs come into their own on longer rides.
A map – or a plan!
If you are planning a really big day out, take a proper topographic map and a compass for your route. If it's a little less wild, use a GPS with your route loaded and lots of battery life. Tell some people where you're going and when you will be back.
Food
Take more than you think you will need, and look for a mix of real food and sports food. Sports food tends to pack a lot of nutrients and energy for the weight and size. But it can get a bit boring. Don't forget something like Hydralyte to add some electrolytes to your water.
Sports food packs plenty of bang for buck, but variation is also essential for longer rides.
Clothing
Depending where you are going and when, this might be something for sun protection, or a windproof top, or a full storm shell. A light, stowable jacket is really versatile, and a couple of extras like spare gloves, socks and a buff can do a lot for wet conditions. Dressing and packing for the conditions can be make or break!
READ: 100 Percent Hydromatic Jacket Review
First Aid Kit
Don't skimp here, you'll want at least one compression bandage, a triangular bandage, a wound pad, latex gloves, some painkillers, antiseptic cream, alcohol wipes, steri-strips, bandaids, a space blanket, and some tweezers. And that's a minimum. When did you last do a First Aid course anyway?
Tools
Any old multitool won't really cut it. Make sure you have all the tools you need, like a chain breaker, spoke tools, and useable length tools for any fitment on your bike. If you're not sure, see how far you could disassemble your bike with the multitool you have. Taking some zip ties weighs nothing and they can be useful in a lot of scenarios.
A mini Leatherman tool is barely 50g, and has pliers, cutters, scissors, a knife, and a small file. Chain lube will help keep things running and a whistle will be useful if things get bad – you should have one in your first aid kit.
 
A spare link and derailleur hanger
This should be a minimum. Make sure the quick link works with your chain, and know how to change your hanger. You might add a spare cleat, brake pads, spokes/nipples or even grips to this lot. It just depends where you're off to and how prepared you want to be.
A phone and personal items
A fully charged phone is important – even if reception will be patchy. If you're going into areas without service, consider getting a SPOT tracker. Remember to throw in some suncream as well so you can top up, and an action camera for memories.
And hey, this is meant to be fun so if you have room throw in a small towel if there's going to be somewhere to swim!
Tubeless parts
Flat tyres are part of riding, so while checking your tyres and sealant before you leave is smart, that's not the end of it. Take a plug kit (and know how to use it) along with a small bottle of sealant, some tyre boots and even a new valve. Even if you don't need it, in a larger group someone might!
READ: How to use a Stan's DART Puncture Repair Tool
Inflation and tubes
As above, flat tyres happen. A CO2 will work for one puncture. And then what? I carry a pump first and a CO2 second. Make sure you have at least one tyre lever, and I suggest two tubes. The orange one is a crazy light Tubolito tube – these are light and compact and quite strong. They're not cheap but tubes are bulky and heavy, and these are a great way to cut back on weight and space. I run a couple of metres of duct tape around my pump for other trailside repairs.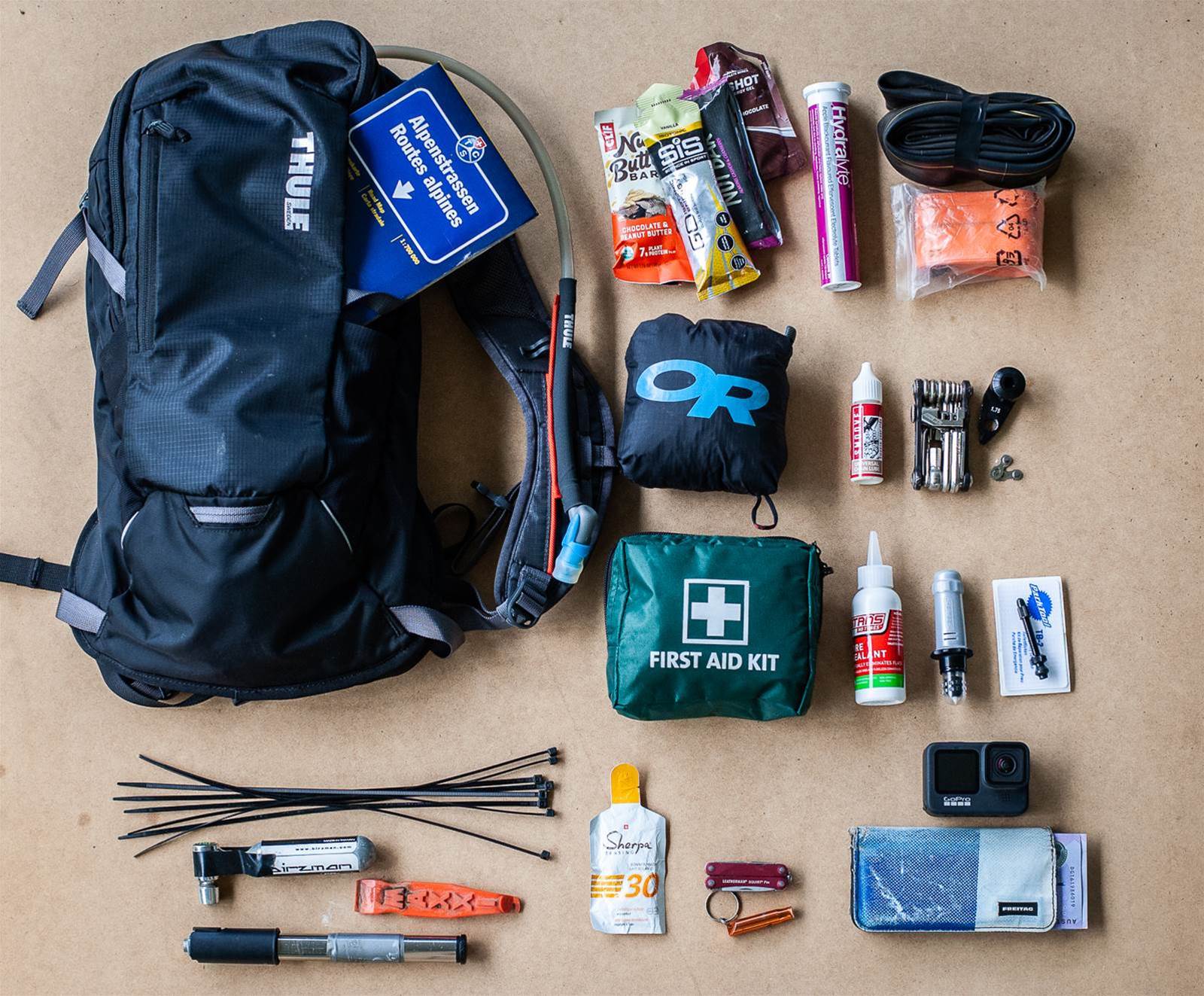 Australian Mountain Bike