Pirelli's Scorpion 2.4" LITE range might be just the tyres that your down-country bike needs.
As a general combination, the Mixed front and Hard conditions rear is one I would happily keep running. The tyre weight is ok, about the same as something like a 2.4" Maxxis Rekon or even a Dissector. But the combination has some good tread advantages compared to either of those, with more predictable grip at any lean angle, and so far exceptional wear.
Scorpion Mixed. Bit o this, bit o that.
It is important to remember that Pirelli's single compound isn't layers of compounds. A number of tyre manufacturers use 2 to 3 compounds, putting the softer compounds on the edge and shoulder knobs so they don't wear too fast, but give good (chemical) grip when cornering. This is usually an outer layer on a much firmer compound underneath. So when you see edge and shoulder knobs peeling - that useful layer is gone. And that's why the performance of some tyres really drops off a cliff after not that much use.
In comparison, Pirelli's SmartGrip compound is the same compound all the way through. It is a little firmer than some, but it's consistent. Even when I took the rear tyre off, it's dirty but doesn't really show much wear. I have replaced other tyres, admittedly low tread height models, after similar conditions and use.
The Soft conditions tyre is the most aggressive.
When sticking with the Rear specific and the Soft and Hard conditions on the front, the performance was about as expected. South east Queensland is about as dry as it gets right now, and if your trails are usually hardpack, now is the time they are either baked like concrete or crumbling at the edges. In those soft, crumbly conditions, the Soft tread is actually amazing.
On the one hand I felt like I was using too much tyre, as the design of the tread is to dig into the terrain to find traction. And that it did, while also chewing it up. But save for some more rolling resistance, the Soft conditions tyre really hauled at speed on descents, and ripped on off camber singletrack where the tread found more traction than I thought was available.
Comparing that to the Mixed conditions tyre, it was also really good on those conditions, but more likely to move around a little while finding traction. It still has deep tread, and some wanting the security of deep lugs might look past the Mixed - but it really is a very versatile tyre, feeling especially good in loose over hardpack and the general conditions in my greater area.
For interest, I put it on the back with the Soft on the front for some very loose and dusty trails - and the grip was all-time! I didn't use the Soft that much though, it really suits loam, or wetter or even softer terrain. Even on timing myself on the one loop it didn't make me faster - it just felt grippier in the very loose, dry terrain. 
Running the Hard conditions tread on the front was FAST! You could feel it wanted to move around when getting on the gas on loose over hardpack corners, and it did dance a little on the very dry off camber trails - but it always found the grip needed - it just didn't hit that first up.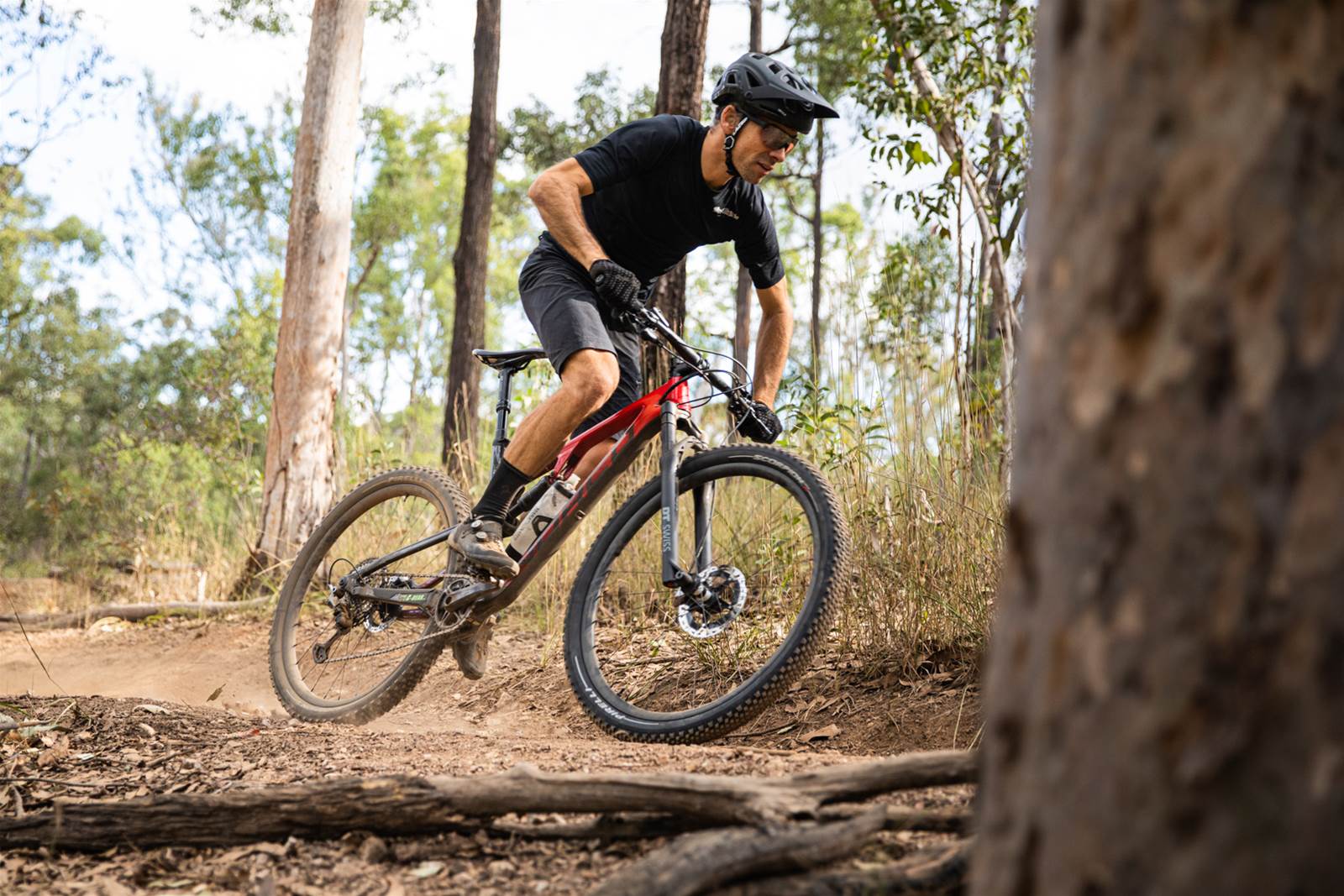 To me, that's a perfect compromise if you want something faster rolling and lighter. If you're wanting to move fast, all you need is enough traction to have just enough control to keep moving. And the Hard conditions tyre provided exactly that. Using the Soft felt awesome, but also a bit slower to move around. The Hard was fast in, fast out, on to the next section. There wasn't a sense of sliding through, but more a sense of just enough control but without anything holding you back.
Australian Mountain Bike