Ion's range of clothing reaches into an extensive array of women's specific gear.
Ion are a versatile brand that cater to both water and wheel sports which, according to their tagline, are United by Stoke. So. It's natural that their look is a hybrid of dirt-riding toughness and dreamy surfy summer daze. Their 2021 trail-surfing lineup consists of the Traze range, designed for breathability and flexibility in general trail riding, and the Scrub range, which is extra durable and more suited to enduro and freeride. Imogen Smith took a look to see what the water sports pedigree of this brand brings to the dirt.
Ion Women's Traze Shorts
The women's Traze shorts come with all the same features as the men's . For me the highlight was their super lightweight, ventilated polyester fabric that was also very flexible and stretchy no matter what I was doing.
The Traze women's shorts are a tight fit, so if you're buying online be sure to remember that the sizes in both the men's and women's lines run a little small. I tested a 34 / XS size and struggled a bit with the fastener at first, especially with a pair of bibs on underneath, but I got there in the end. And if you do go up a size, the Traze shorts come with a handy Velcro waist adjustment on both sides inside the waistband so you're pretty sure to get a snug fit no matter what. The single pocket on the left hand side was good, but another one on the other side would have been better. I loved that these shorts fasten with a handy, tough Velcro fly and a press-stud to do up - super convenient, tough, and quick.
Overall these are a great short for Aussie or New Zealand summer riding: Lightweight, stretchy, and ventilated. These shorts look great, too, with a relaxed, low-waisted fit reminiscent of your favorite pair of boardies. In fact, you could easily repurpose them for a trip to the beach once the shredding day is done.
RRP: $154.95
Ion Womens Traze SS Button Tee
The Ion women's Traze SS Button Tee is another handy addition to the wardrobe. Like the Traze shorts it's super-stretchy and comfortable, and has a few features that set it above the rest.
There's a handy elastomer band at the bottom back of the tee to keep it stuck in place when you're getting air or generally making the bike dance.
The two tiny press studs at the neck open just enough so you can get the jersey over your head with a helmet on - should you get stuck in that position. While the jersey in small was a great fit, the sleeves were a little short for my liking: cap sleeves, while cool, really just spell sunburn to me - but different women of different preferences and shapes may very well have a different take.
There's a handy little pocket at the back of the jersey too, but while it's big enough to fit a phone, I found that if I put my phone in there it was a bit heavy and dragged the jersey down a bit too much - but it 'd be perfect for a credit card or some cash, or a lift pass if you're lucky enough to be riding an uplifted bike park.
RRP: $94.95
Ion Traze full finger gloves
The Traze gloves are unisex but I found (for once) that a small was actually small enough for my lady hands and a really great fit. These are a good summer glove for riders who like a bit of adventure and the occasional risk but still want to keep as cool as possible.
They feature a single-piece palm with added 'nerve nugget' padding designed to relieve the pressure on the ulna nerve, which is often compressed during long stints behind bars and leads to a tingling or numbness in the forearm and hand.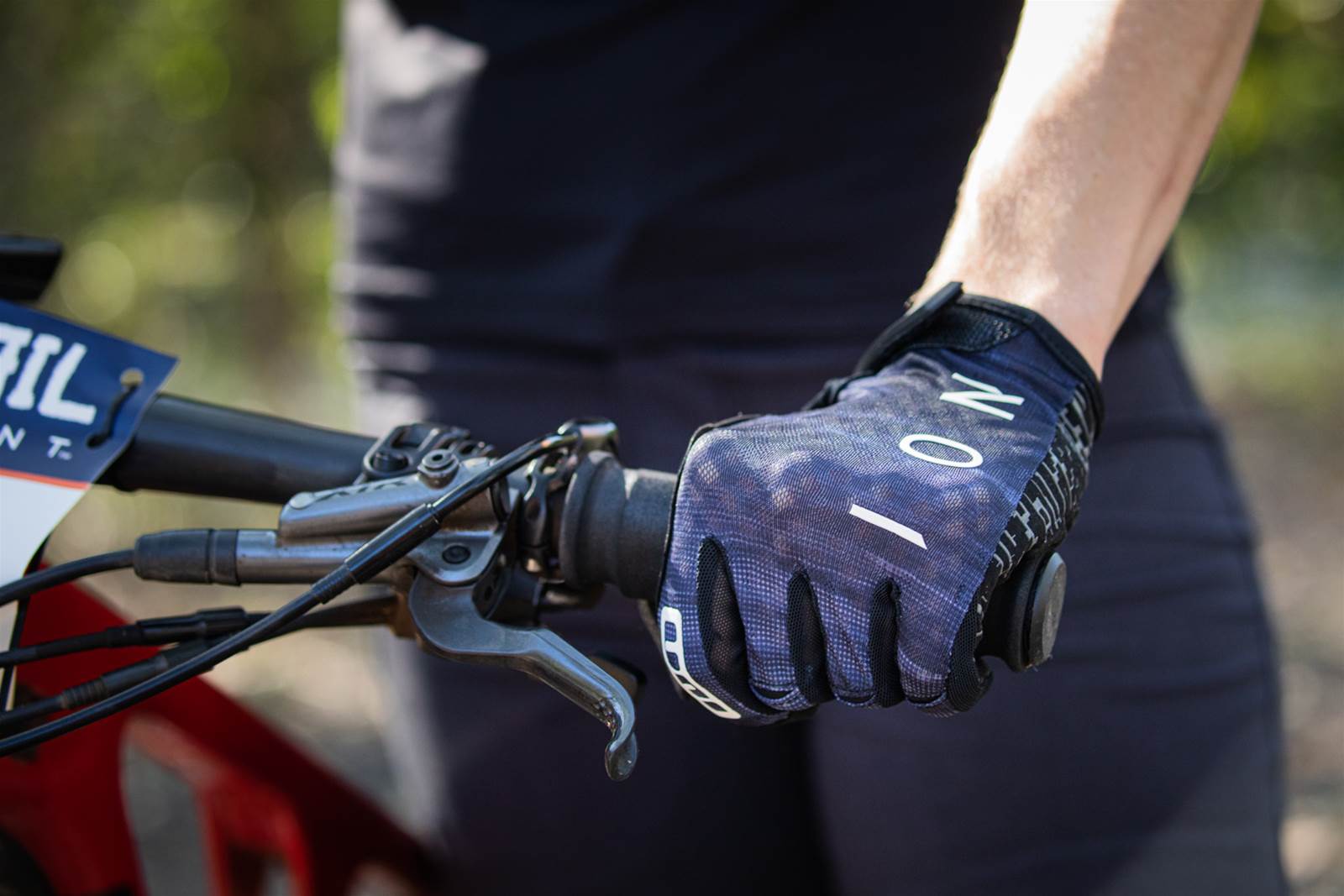 The fingers are coated in a grippy silicone pattern which also provides digital functionality (although you might have to press your screen longer and harder than you would with bare hands). In the interest of thorough testing I managed to crash really hard on loose, rocky ground and they gloves came up waaaay better than the rest of me - so nice to know that the lightest glove in the Ion range is also tough when it counts.
RRP: $54.95
For more details on the Ion bike clothing range, take a look at their website.
All photos: Colin Levitch
Australian Mountain Bike