Ion have a huge range of clothing, and we're starting to see more of it on our shores.
Ion are a huge brand in the world of surfing and mountain biking gear - and their products have been trickling into Australia. The brand is all encompassing, offering body armour, footwear, gloves, clothing for trail through to downhill racing, backpacks, and even travel gear and storage items.
What's great to see is an extensive range of men's and women's clothing, 
I was sent a Traze Amp short sleeve jersey to try out, along with some of the Traze Plus shorts. I also tested the Ion Scrub Select shoes and Traze kneepads, keep an eye out for coming reviews on those.
Ion Traze Amp SS jersey
A comfortable shirt for warm weather is an absolute must in Australia. And the Traze Amp SS jersey hits the mark. The jersey has a fitted cut, so it's not about to flap in the breeze too much, but I never felt it was restrive over the shoulders either, in part thanks to the raglan cut. 
The material is a recycled polyester, which means it dries fast. If you're a natural fibres sort of person, you're best looking elsewhere. The sides have a lighter weave for greater breathability, which anyone will appreciate on warmer days.
There's a small zippered pocket on the left hip, and like most pockets on trail jerseys, you really only want to put the lightest of items in there. It suits a credit card or a few notes - I'd hate to have a multi tool in there.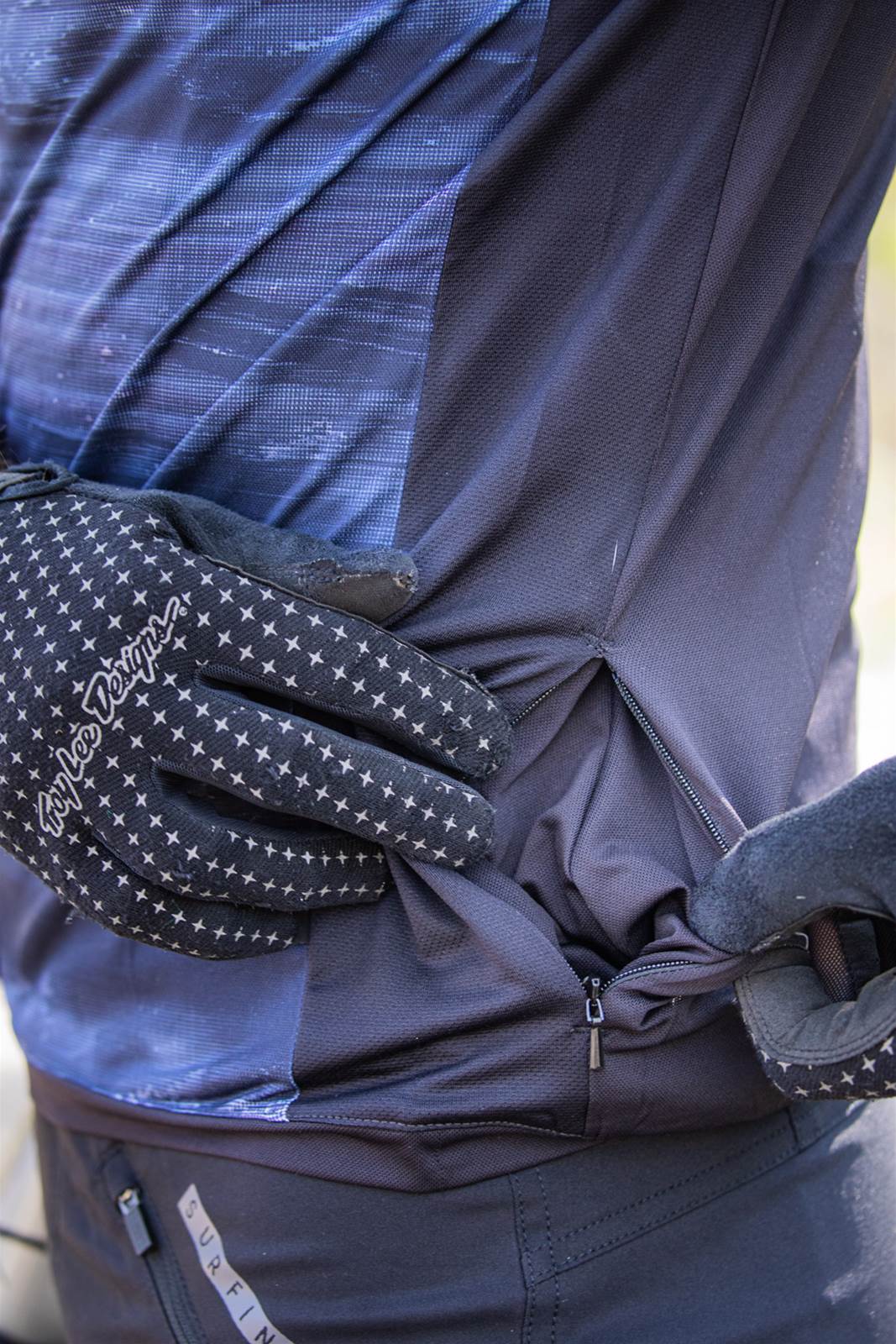 In a similar position on the right hip there is a built in sunglasses wipe. Not one on a string to flap around, but actually stitched into the corner, matching the pocket but mirroring the location. Given the very light jersey material, it actually helps the jersey feel really balanced.
On the bike the jersey doesn't really ride up or move around - which is about what you want. The sleeves are pretty standard for a short sleeve, but if you're after a tiny bit more length I'd size up. I was in a small which had the fit I wanted. If you're after a more relaxed fit, bump it up one.
RRP: $94.95 
Ion Traze shorts
A good set of shorts is a wardrobe essential, and the Ion Traze shorts are pretty no-nonsense. They're on the lighter end of the spectrum compared to some on the market, but they don't skimp on features.


You'll find some very simple venting on the lower legs, with two zipped pockets on the front, at an angle so they actually work when you're on the bike. The branding is super subtle, but a little bit Euro. Surfing and trails!
With little houses for the ends of the zipper, and a press stud closure and internal velcro and elastic adjusters, there is absolutely nothing to snag on the Traze shorts. Well, except for the crotch, which isn't gussetted. But I still didn't end up snagging it on the saddle. Whether that's because super long dropper posts are the norm, or due to a good cut could go either way. They're a really nicely fitting pair of shorts.
I did find they could maybe be a tiny bit longer in the leg. Maybe. There was a small gap when riding with the matching knee pads. I'm not super tall, so it's not a leg length thing. For riding without knee pads the length was absolutely ideal - and the Traze are a comfortable pair of shorts on the bike and then kicking back post ride.
RRP: $159.95
Don't miss our latest reviews and in-depth features - subscribe to AMB Magazine today. And have you subscribed to our YouTube channel?
All photos: Colin Levitch
Australian Mountain Bike