Bontrager's XR1 tyres are their premiere XC racing rubber.
Words and photos: Mike Blewitt
---
Bontrager may not be the first brand that springs to mind when you're shopping for tyres, but those in the know may have been reaching for Bontrager rubber for a number of years. With an update across the range of treads in the middle of the year, I had a pair of the racey Bontrager XR1 Team Issue tyres sent out, in 29x2.2". This is one of the treads that the Trek Factory XC team use for World Cup racing. In fact, it's the tyre that Evie Richards used to win the XCO World Championships! Could it help me go faster as well?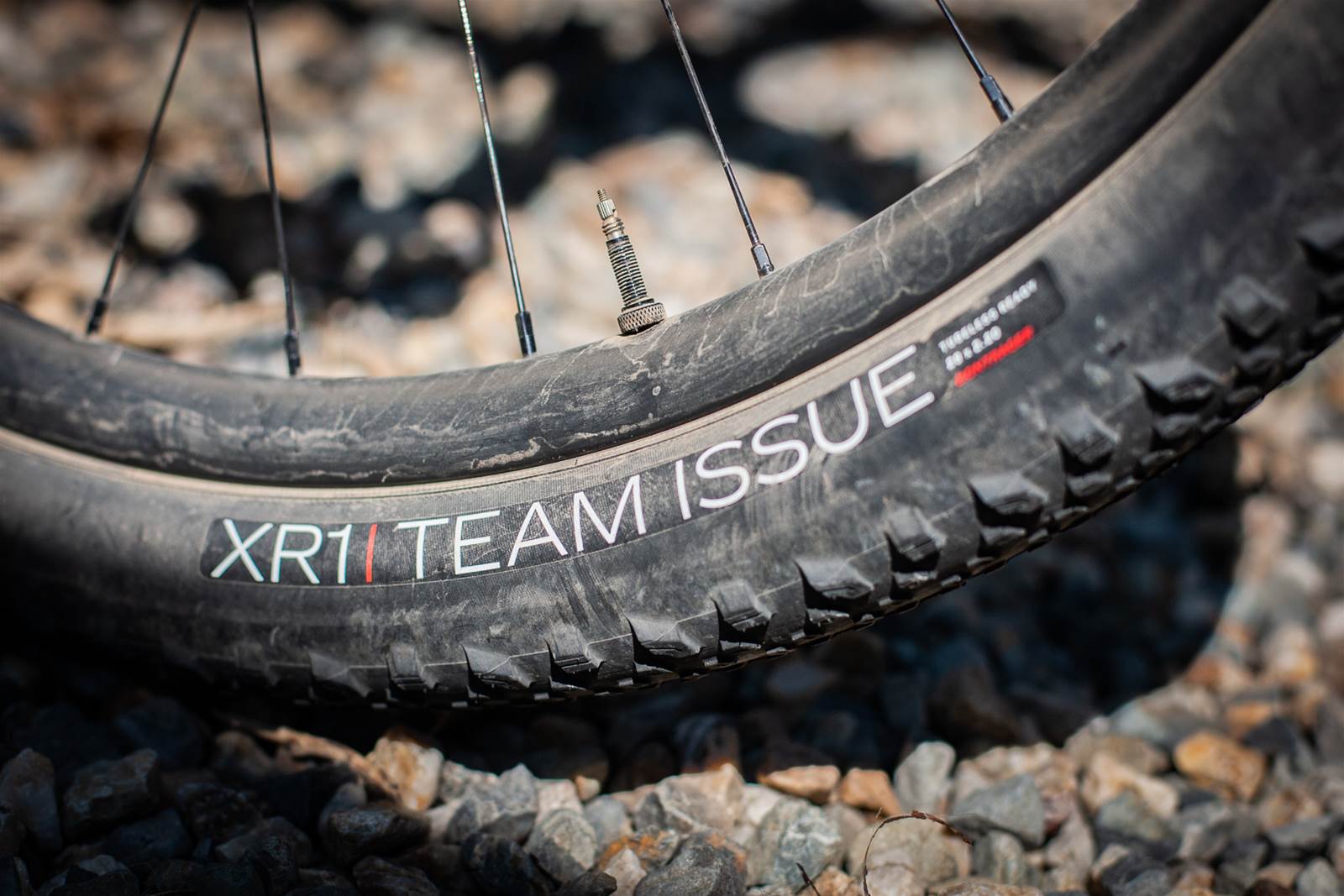 The XR1 Team Issue tyres are aimed at between the tape usage.
A closer look:
The Bontrager XR1 Team Issue tyres are built around a light 120tpi (threads per inch) basing in a 2.2" width. Sure, it's not that wide, but I found they inflated nicely on some wide 29mm internal carbon wheels – about the same profile as what Trek team riders would be using. The tyres came in at 643g, and the casing has what Bontrager call 'Inner Strength' which is a very supple layer of protection. It feels about the same as a Maxxis Exo casing on an Aspen, and similar to the ProWall casing on Pirelli Scorpion XC RC tyres. And both of these are a similar type of tread and tyre to compare the XR1 Team Issue to.
The bead popped into place easily, and the tyres only seeped a little before their first ride to get the sealant around – this is common with most similar tyres. With a size of 59.14mm across the tyre once it has expanded, the edge knobs are right on the very edge of the casing, even a little inboard. So the XR1 isn't a tread to pull you out of ruts or to hang on tight on off-camber corners. As the small tread blocks and low height should tell you – they're about going fast.
The tread on the XR1s is low profile and minimal.
On the trail:
As you'd expect, the XR1 Team Issue tyres can pick up speed really quickly. Giving the pedals a few quick stabs creates an instant response, but given the low tread height, you do get a bit of slip on dry and loose terrain. More consistent acceleration was rewarded with consistent traction, and the same can be said for braking on descents. It was easy to hit the panic levers late and lose traction, but if you planned your braking before the corner (as you should) the tyres were way better behaved, with no surprise washouts once you had the right entry speed. Of course, all this is said with the understanding that the XR1 Team Issue tyres are a light weight, cross-country and marathon racing tyre.
I did spend a lot of time on fire roads, rail trails, multi-use trails and road on the XR1s, and the tread wear has been acceptable. Compared to a Maxxis Aspen, they have kept more of their grip as they have worn – but not as well as the Pirelli Scorpion XC RC. Given the low tread height and light weight I was a little concerned about their effectiveness on singletrack, but I was surprised that they're still quite capable, when riding to suit the tyres. High speed is fine, but you need to understand the limits of the tyres and not enter off camber, loose corners expecting to grab some brakes and be ok if you need to wash off speed. Similarly, rock gardens are best tackled with a known line, pre-jumping harsh edges and keeping it smooth and fast. Exactly what you would expect from a race tyre. 
Final Thoughts:
The Bontrager XR1 Team Issue tyres are one of the lightest tyres I have used that aren't pizza cutter thin or that do away with any casing protection. They flew on hardpack trails, and held their own on loose over hardpack when given the direction needed. If you're looking for a fast tyre upgrade for your cross-country or marathon bike, I'd take a look at these. You might even bolster the front with an XR2 Team Issue for a little more capability.
---
Hits:
Fast and light
Good tread wear
Good strength for weight
Supple
Misses:
A small performance window for most
RRP: $79.99
From: Trek Australia
Australian Mountain Bike