Dr Fiona Herron's almond and cacao snack balls are quick and easy.
Words: Dr Fiona Herron
Photos: Chris Herron
---
This recipe is a favourite of mine, as a super easy, four-ingredient, delicious and nutritious snack.
Almonds (technically seeds) are a good source of fibre and protein and are full of beautiful unsaturated "good" fat. I activate my almonds, which is not essential – however, if you notice some bloating or abdominal discomfort after eating almonds (or any raw nut) you might want to try activating. The activation process involves soaking the almonds in salt water for about 12 hours and then dehydrating them for another 24 hours (in a dehydrator or oven).
What does activation do? Essentially, seeds contain enzyme inhibitors that stop them sprouting in dry conditions and it is these inhibitors that cause the uncomfortable digestive symptoms. The process of soaking and dehydrating the seeds allows the enzyme inhibitors to be released (i.e. it mimics the sprouting process) making the nuts much more digestible. While this is an ancient and traditional process, I haven't found any specific scientific research describing the exact process. However, from personal experience I do notice a big difference when I activate my almonds – they are much gentler on the gastrointestinal tract and still have the same health benefits.
Ingredients:
Use organic where possible and always read ingredient labels – I've kept measurements in grams as it is difficult to accurately measure a cup of almonds etc because of their odd shapes.
- 140g raw almonds
- 170g dates (roughly chopped)
- 30g raw cacao powder
- 20g tahini
- 50g raw almonds for coating balls
Method:
Using your trusty food processor, blitz almonds for coating to a fine powder (store this in the fridge in an air-tight container – can be used the next time you make these snacks as it won't go off if stored in the fridge)
Blitz almonds for snack balls until crumbly/almost powder-like
Add chopped dates, cacao and tahini and blend – the mix is ready when you press it and it sticks together
Measure out a tablespoon of the mix and form into a ball
Coat with the powdered almonds
Place (and store) in the fridge to firm up
Makes approx. ten 36g balls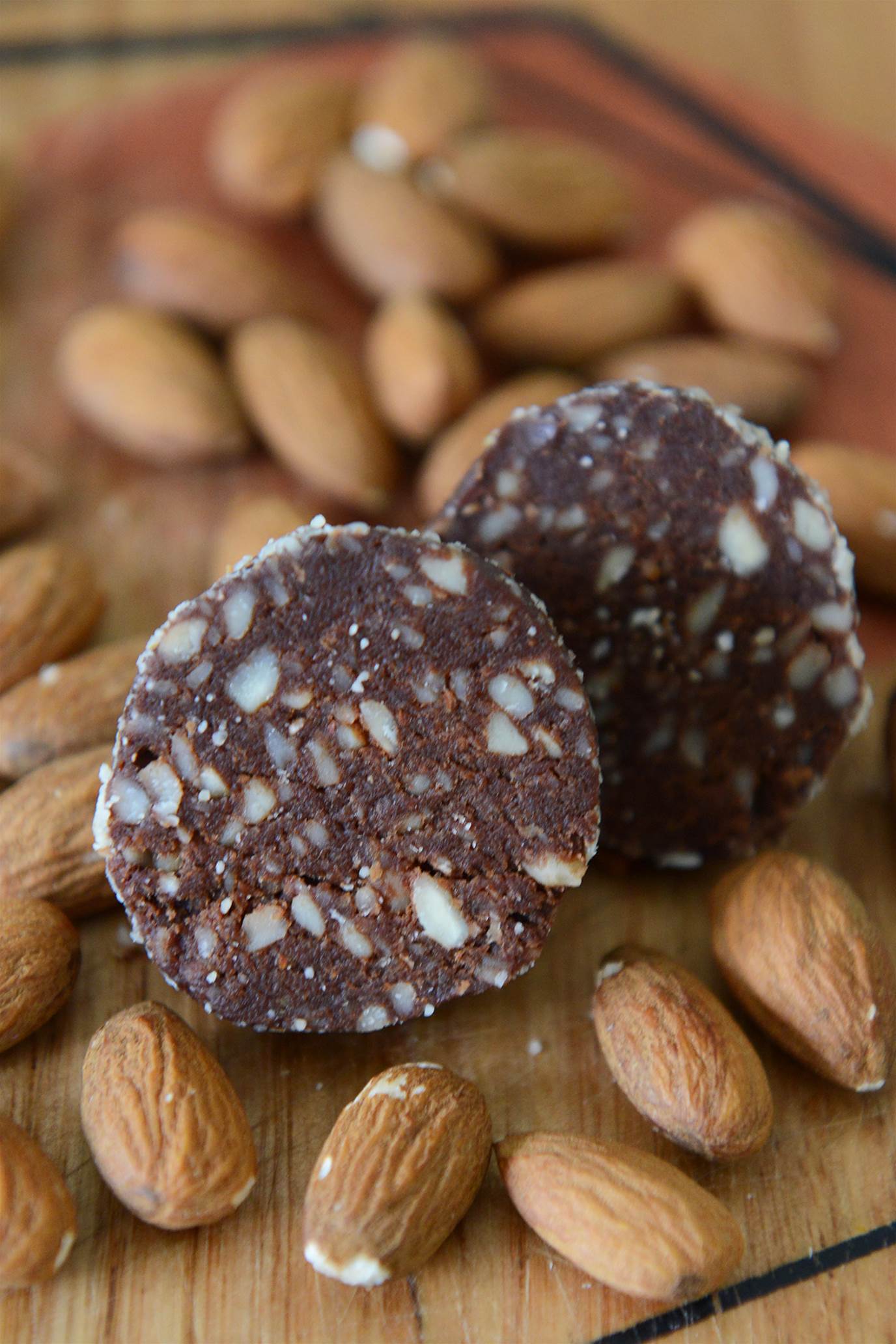 Yum!
Nutrition per serve (36g):

Energy – 641kJ
Protein – 4.5g
Fat – 8.6g
After more delicious recipes? Click here. 
Australian Mountain Bike