Ignition is back for 2022, the legendary mountain bike festival will hit Falls Creek in November - but tickets are on sale now.
If you're like us, you already have your eyes on the horizon of another epic summer of mountain biking. A summer of mountain biking in the alpine areas deserves a celebration, and the Ignition MTB Festival is back for 2022, providing the perfect party to get the green season kick started. Put 18-20 November in your calendar, and head to the Ignition MTB Festival website, as tickets are on sale now and they won't last long.
What is Ignition all about?
Igntion is a kick start to a summer of mountain biking up at Falls Creek, but more broadly it is a great way to celebrate so much of the high country being more accessible for summer, with the winter coat removed for the green season.
To that end, Ignition could be sumamrised as a party, for mountain bikers, on the trails and at the trail head. What's not to like? The event is ticketed, with one day tickets selling for $95, while two day and three day tickets are $180 and $225 respectively. Festivities kick off at midday on Friday 18 November 2022, so a Friday only ticket is just $75.
Two and three day tickets also include dinner on Saturday and breakfast on Sunday. Otherwise, dinner tickets are $35 (or just $15 for junior shredders).
What's on at Ignition?
Besides a good time, there's a fair bit going on at Ignition, according to the event program! Pending conditions, 11km of new singletrack should be open to ride, and Blue Dirt are on hand for shuttles from Howman's Gap to the event village, and up to the Summit. The Falls Creek trail network is your playground, but there's more than just trails to ride at Ignition.
Get a look at the Falls Creek MTB Trail Map
Demo bikes are available to ride at Ignition, with Norco, Rocky Mountain, Canyon, Mondraker, Merida, Commencal, YT and Forestal all in the event village. And have you been thinking about a fresh set of goggles? Go speak to the people in the know, kick some tyres - and then take them to the trails. Oakley will even have pairs you can demo to see if they're what you're after.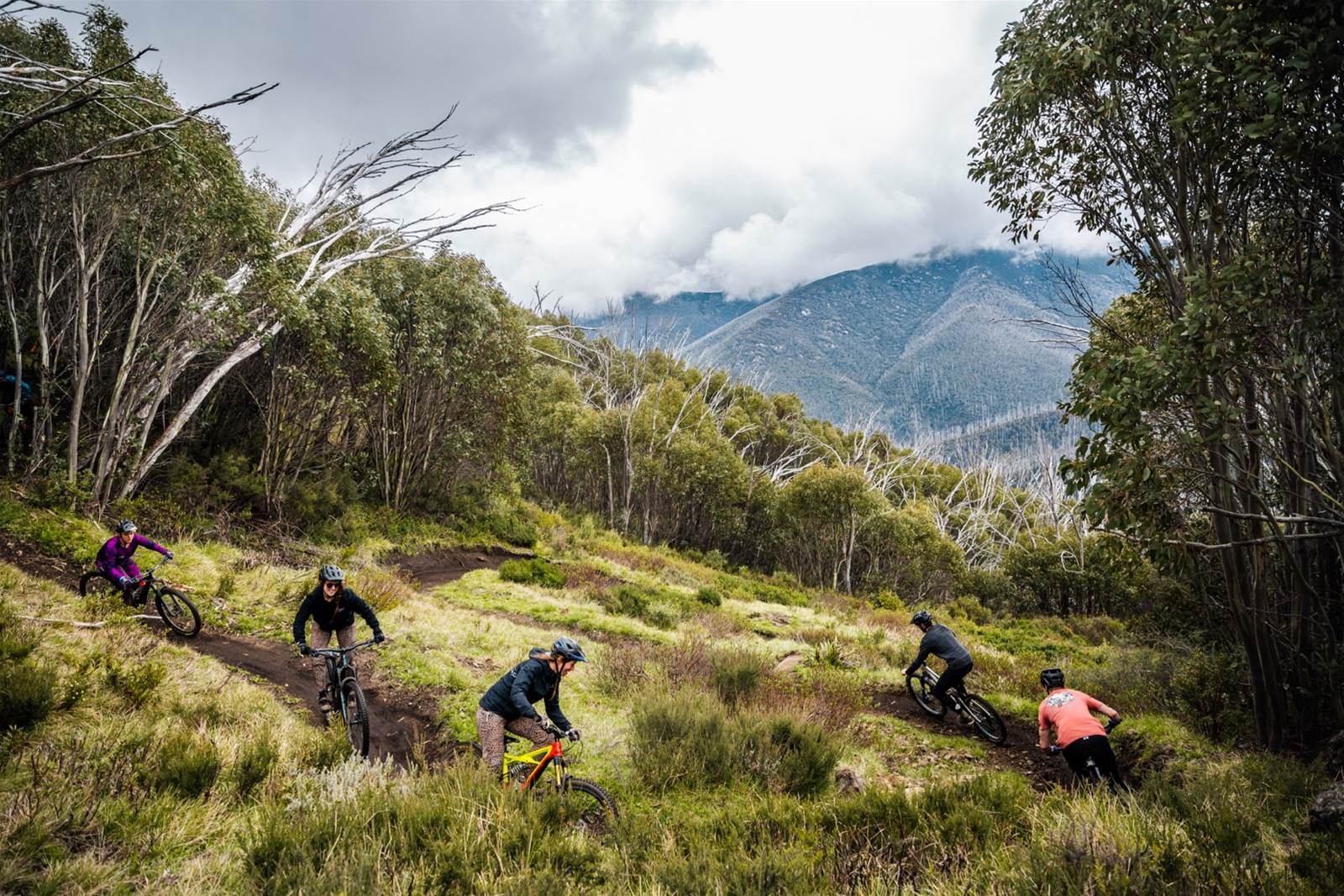 If you want to step away from the shuttles and explore a little further, you're in luck, as there are two guided backcountry rides during Ignition.
One ride takes on the iconic Fainters Track. Just because it's a well-known route running from Falls to Mt Beauty doesn't mean it's a walk in the park. It is still a demanding ride, and very committing once started. You really want to make sure you pack everything for a big day of mountain biking. If you're not sure what to expect, check this gallery and video with high country locals Ben McIlroy and Chris Panozzo, on riding Fainters. 
The other option is the Falls Creek Huts Ride. This route meanders along the aquaduct trail, visiting some of the historic high country huts. It stays high on the plateau, but avoids major climbs - just delivering big views and a great trip into the backcountry, without going too far from the comforts of Falls Creek resort and bike park.
If you want to advance your riding, then you should line up one of the skills sessions. There are beginner skills sessions and intermediate skills sessions to take part in, along with women's only group ride.
Check out the Ignition event program for the timings for the guided rides, shuttle services, skills sessions and women's only ride.
Socialising at Ignition
This is actually a major part of the Ignition MTB Festival. The Bike Village and expo are designed so you can mingle, meet people, catch up and share stories. And as such, you'll find there are food carts throughout the area, and even the Blue Dirt Can Bar after midday!
The magic really happens from midday onwards, with the Bright Brewery Beer Hall coming alive and live music kicking off soon after. Don't fret, you don't have to get stuck in one place, as mini brewery bars are open across the whole bike village, and there are food carts aplenty as well.
Is that it? No way. There's a qualified mechanic setup to keep your bike running, Lilli Pilli Spa is open for a bit of post-ride pampering, yoga sessions, the espresso martini happy hour shouldn't be missedand you can even get your own action photo from the MTB paparazzi on site!
Why should I go to Ignition MTB Festival?
If you like to go ride bikes with others, enjoy the trails and mountain bike brother/sisterhood from dawn until dusk (and beyond) then we reckon you'll have a good time at Ignition.
One of the best things though is how everything is in one place. There are a bunch of accommodation options right in the Falls Creek, so you can park the car, unload your bike, and enjoy your stay. 
Ignition may be a big weekend on the mountain, but it could also be a great way to kickstart a longer stay in the high country. Why not stay on up at Falls Creek to ride a little more? Or, head down the hill for a day or two in Big Hill MTB Park in Mt Beauty, pop through the gap to Bright, or even head over to Mt Buller. There is so much to do in the area, you'd be mad to not take a few more days off work to stay longer and enjoy the start of an alpine summer.
Ignition tickets go on sale 22nd June 10:00am. Tickets are capped, so jump into the group chat, get a crew together and book!
Australian Mountain Bike