Riding in the alpine playground of Falls Creek isn't all full-sends and dropping in. This loop is a cracker for families and on bike chills.
Photos: Matt Staggs, Dom Hook
---
Falls Creek is one of my favourite Australian riding destinations, because of the variety of riding on offer. Perched just below the ridgeline, the Falls Creek alpine village has just about every type of riding to keep a bike rider happy. You might know Falls for some of the classic descents like Big Fella, or the long, flowing descent of Flow Town. But the resort trails have a multitude of options, and that's just the beginning.
From Falls Creek, you can tackle long winding descents all the way to Mt Beauty, on wild four-wheel drive trails that will make you rethink the phrase 'just fire road'. There are access trails that traipse the alpine plateau, from bluff to hut, to valley and back again. And of course there are trails that meander along the aquaduct, offering an easy pedal for tired legs, or an easy stride for little riders aboard a balance bike.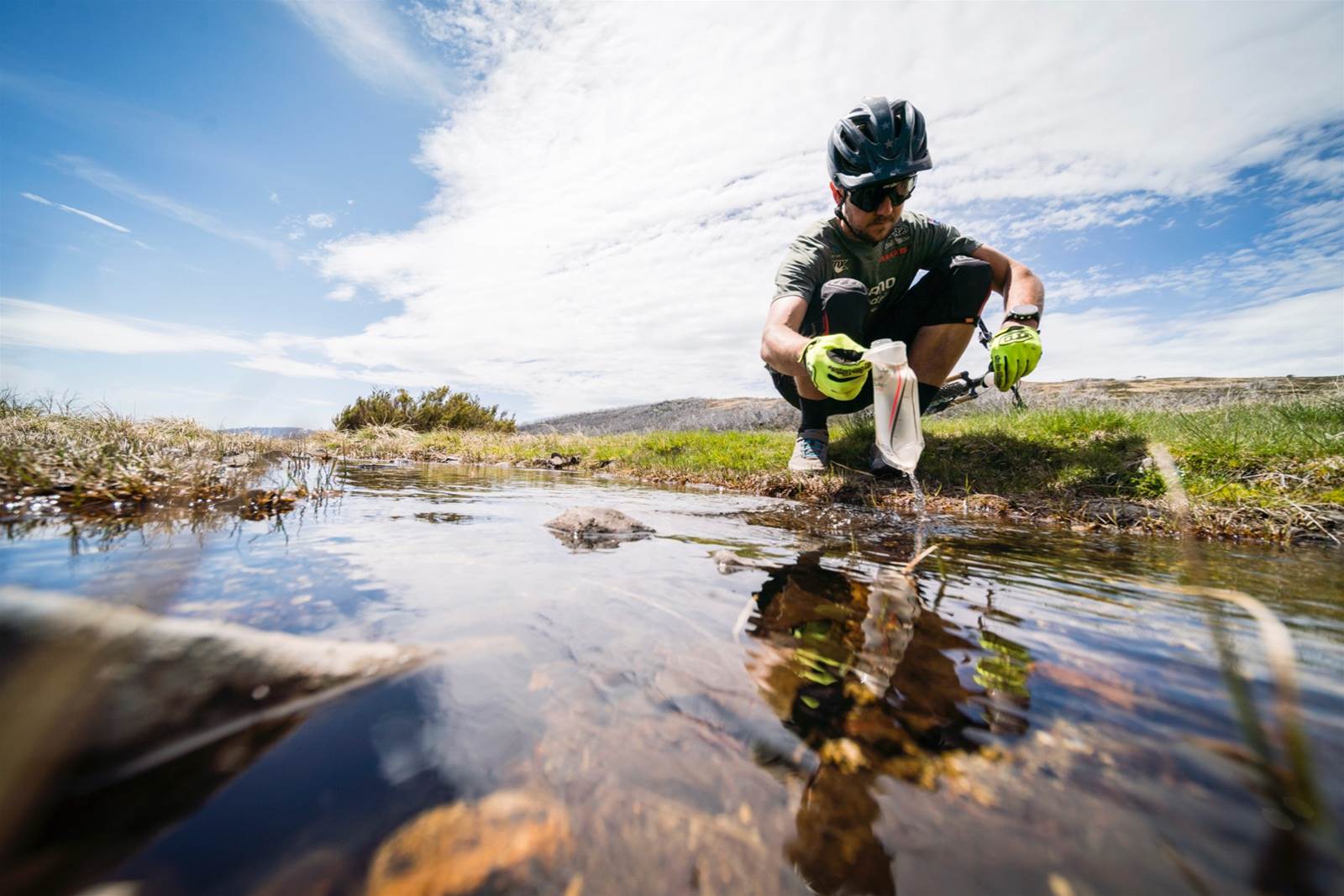 The Huts and Aqueducts ride is one that suits newer mountain bikers and adventurous families alike. With 40.6km to travel, treat the whole loop as a suggested itinerary for a family ride. There are options at Langford Gap and on Wallace's Track to make shorter options without taking out any of the interest. If you do the whole loop, you've got 794m of climbing.
The route leaves Falls Creek Village and goes along the dam wall, before turning left onto the Big River fire trail, and then the Maurum Point trail. This is a good spot to look for brumbies on the flats below. You'll join the Langford East Aqueduct, and soon after you can short cut out at Langford Gap and return on Bogong High Plains Road.
Otherwise carry on, and keep an eye out for the right hand turns to Wallace Hut and Cope Hut. Both make a great detour, or short cut if you like as the trails carry through to Bogong High Plains Road. Otherwise, when the aqueduct reaches the right, turn right and pedal along the tarmac back to the village. You can reverse the route to climb up the road if you prefer.
While it's low on technicality, this route really puts you on top of the plateau and takes you past some of the prettiest areas, while stopping off at a couple of historic huts as well.
GETTING THERE
Falls Creek is about 5 hours from Melbourne and 7 hours from Sydney, typically accessed by the road from Mt Beauty, although the road from Omeo and East Gippsland is another option.
TECHNICAL NATURE
This route has very low technical demands, but the variety of riding in Falls Creek covers easy gravel rides through to demanding gravity trails. The trail grading makes it easy to match your skills to the trails.
YOU'LL NEED 
When you're in any mountain environment, pack water, food, a phone, a jacket and any spares to keep you out of trouble. There's not a whole lot of shade on this route, and it would be easy to get caught out on a hot day – or in a storm.
DISTANCES
This route is about 40km, but you can ride from 5km to 80km routes (or more!) from Falls Creek. The suggested gravel rides showcase lots of easy offroad routes.
LOCAL KNOWLEDGE
Look beyond the resort trails. They're great and easy to follow, but pick up a topographic map and a compass, and explore the high plateau if that suits your fitness and skills.
BEST TIME OF YEAR
Summer is a great time to visit, with late summer mixing well-ridden trails, cool mornings and warm days.
WHILE IN THE AREA
Go for a drive – Bogong High Plains Road is pretty spectacular. And why not visit Big Hill MTB Park in Mt Beauty?
Get lots of details about summer at Falls Creek on their website.
BIKE HIRE AND SHUTTLES
Head to the Village Car Park for bike hire from Blue Dirt with Stumpjumpers available from $99 and kids bikes from $35. Blue Dirt also organise shuttles from $70 per day.
Make sure you leave time for a coffee in Falls Creek!
Australian Mountain Bike