Giant's 2018 model range sees two all new frame designs and updates to the favourites.
---
STOP! Did you actually want to see the 2019 Giant range? Follow this link!
---
Giant have often been leading with mountain bike design, including adopting 29" wheels, and then shifting their range to 27.5" wheels to suit the needs of their bikes, and of course perfecting the Maestro suspension system. Bikes like the Giant Trance have become trail favourites, even if the current models don't quite seem like what we saw when the Trance was first released!
Did you see our Giant Trance 1 review?
There was a bit of a gap though, acutely felt by cross-country folk. The Giant Anthem morphed into a 120mm travel 27.5" wheeled trail bike. And while it was perfect for cross-country riding, it was a little too much bike for cross-country racing. 
Take a look at the 2018 range from Liv!
Enter the Anthem 29er
The Giant Anthem Advanced Pro 29er 0. So hot right now.
The Anthem has been redesigned to be a World Cup capable XCO rig. With the Maestro suspension using a trunnion mounted metric shock and carbon linkage, the frames have 90mm travel. Why not the 100mm as before? Testing showed that only 90mm was ever truly used, and this means that Giant can also keep the back end of the bike about 25mm shorter than the last 29er Anthem.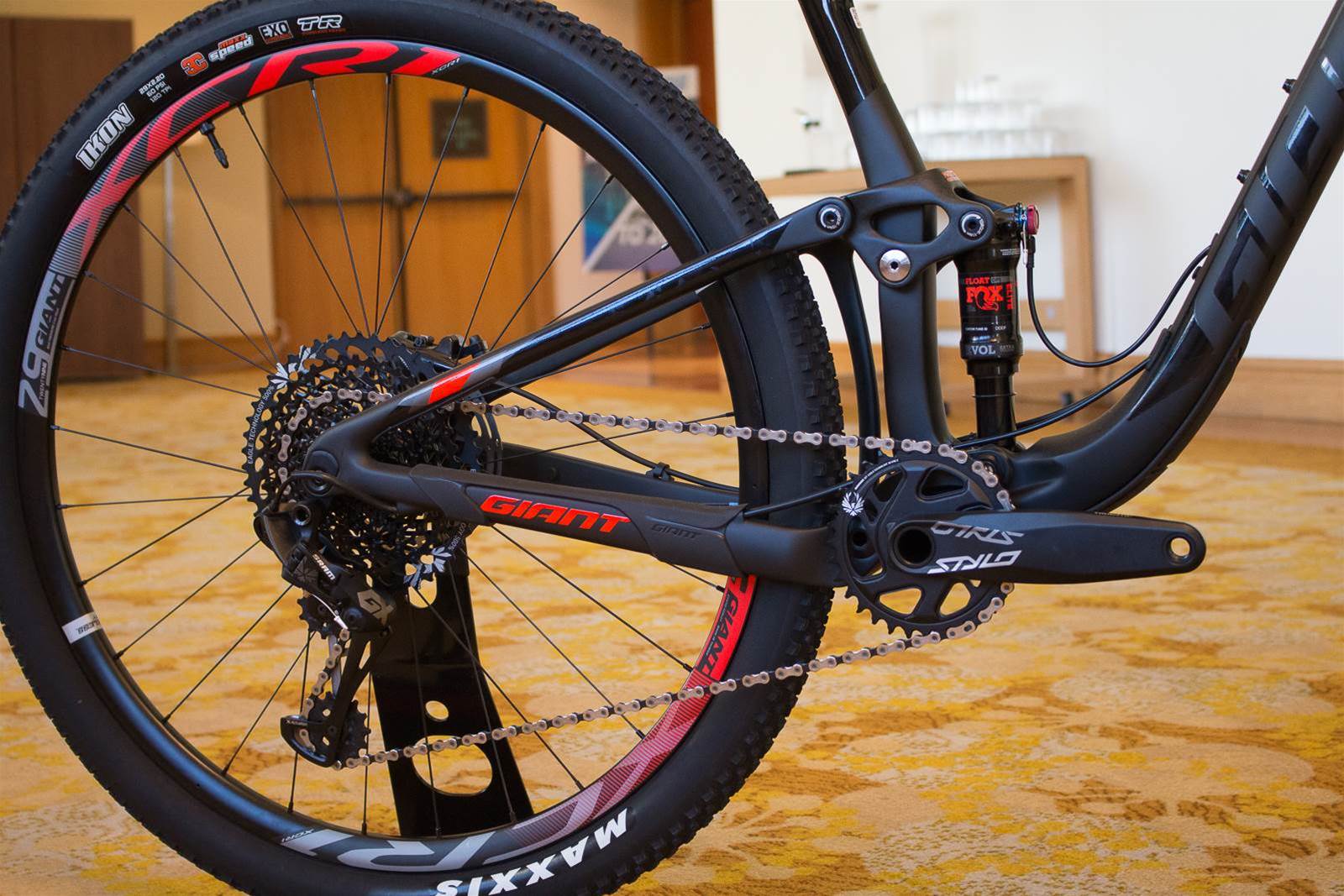 The top 3 Giant Anthem 29ers will come as 12-speed.
The frames boast internal routing (including for a dropper post if you want to run a 27.2mm dropper on your bike), and the Anthem Advanced models use carbon swing-arms, a new step for Giant. They state that with a move to Boost spacing the weight savings and stiffness over alloy were finally worth it.
Each Anthem 29er has Fox 32 SC forks, with custom coloured graphics.
Both the Advanced Pro 0  ($8999) and  Advanced Pro 1 ($5999) use SRAM 12 speed Eagle drivetrains, with XX1 and GX respectively. They also both use Fox suspension with a dual-lock out lever. Wheels are Giant Composite models with Swiss internals The carbon frames are 1x only, but the alloy frames come 1x however can run 2x - or a chain guide.
All this for $3499? Yep.
With pricepoints of $3499 and $4999 for the Anthem 29er 2 and 1, it really looks like Giant have jumped back into the cross-country full-suspension market in a big way. We can't wait to ride one!
The Giant Anthem - your singletrack ninja
The 27.5" wheeled, 130/110mm (front/rear) travel Anthem Advanced and Anthem have had a few spec changes along with rad new colours. They have gained 10mm of travel up front, and the Anthem Advanced 0 leads the charge and sees a change to a RockShox Super Deluxe RCT Debonair rear shock as well. A true nod to the hard hitting capabilites of the Anthem platform.
The SRAM X01 Eagle group set provides a 12-speed gear range, and the build is finished with Giant;s bars, stem, post, dropper and TRX 0 composite wheels. Plus the colour is hot.
This is a lot of bike for $7999, but you can save $2000 and get the Anthem Advanced 1. With GX Eagle and Fox Float Performance Elite suspension and Giant TRX 1 composite wheels, it's still all killer with no filler, but the suspension is reigned in a little compared to the top model.
The Anthem range in aluminium
The three models of aluminium Anthem offer some incredible bikes. From the $2999 Anthem 3 with RockShox suspension, Shimano 1x10 (with a 11-42 cassette) and a Giant dropper post, through to the $5299 Anthem 1 with GX Eagle and RockShox Pike RC Solo Air and Deluxe RT Debonair - these bikes are set to shred.
The Giant Anthem 1
The Anthem 2 hits a sweet spot at $3699. The frame is set off in an awesome black and red, and the Fox 34 and Float DPS EVOL suspension will be plush and reliable while the Shimano SLX 11-speed drivetrain will deliver all the range you need with an 11-46 cassette, plus run for ages and be cheap to look after.
This bike is right on the money for a high-performance short-travel trail bike for under $4k. Infact you could walk out of a Giant dealer set to ride for not too much more than $4000 once set up with pedals, plus some fresh shoes and helmet. 
It's all about Trance
The Trance Advanced 1 - one of the best looking bikes around!
The Giant Trance doesn't see big changes for 2018 although the line up looks killer as always. With two Advanced (carbon) models and 3 alloy, there's something for just about everyone who wants a 150/140// front/rear platform. These will suit riders looking to charge their local trail centre or tackle an enduro. Run laps at Buller, or take on longer alpine trails like the Alpine Epic or Flow town at Falls Creek - this bike is perfect.
Yay! Fox DPX2!
The Trance Advanced 1 is a stand out at $5999. While that's no small amount of money, the Advanced carbon mainframe is matched with a Fox 34 Performance Elite fork and new DPX2 rear shock. With GX Eagle 12-speed and TRX 1 Composte wheels this thing is set for anything.
The 3 alloy models run from $2999 through to $5299. And while each one represents great value, the Trance 3 could be a perfect entry point to harder trail riding. With a 10-speed Deore group with an 11-42 cassette, the suspension sees a Suntour Alon 35 fork matched with a RockShox Deluxe R fork.
The wheels are tubeless ready, the cranks are tough Praxis units, and Maxxis High Roller II tyres will serve any rider well. This bike is a great starting point for people wanting to experience the fun of mountain biking in our latest trail centres which focus on easy climbs and banging descents.
The Stance 2 remains in the line up, and with 120mm travel with a lower grade alloy frame, and 2x10 gearing, it's a good option for the casual trail rider.
Make it Reign
The new Giant Reign was launched in late July and seeing them in the 'flesh' was a good reminder of just how aggressive they are.
The slack 65 degree head angle is mated with a 46mm offset fork to keep them slack and stable, and with toptubes lengthened by about 20mm riders will have the stability they want.
The addition of a coil shock is also matched with a remote on the Reign Advanced 1, which Giant claim means it will climb as well as a Trance when locked out. That's impressive.
While the Reign Advanced 0 is set for EWS stardom at $8999, the Reign Advanced 1 is a cracker at $6499. Fox Performance bouncey bits and GX Eagle make for a super package on a top end carbon frame.
The Reign 1 and 2 at $5999 and $3799 are full aluminium bikes with 12-speed GX eagle and 10-speed Shimano Deore respectively. Obviously with a Lyrik fork and Eagle the Reign 1 suits the rider who wants and alloy frame and performance parts, and the Reign 2 is ideal for someone who just wants to hit stuff and save some coin on the drivetrain spec.
Long live the hardtail!
The hardtail truly isn't dead. And the Giant XTC Advanced with Boost spacing, and 29 or 27+ capability shows that.
With slacker head angles at 70 degrees (slack for XC) matched with 51mm offset forks, 425mm stays and 750mm bars, there's plenty of 'new school' XC in the XTC.
The top Advanced 29er 0 has a full XX1 Eagle spec with a Fox 32 SC Factory fork and Giant XCR Composite wheels. It's feather-light and ready to line up at a World Cup or National Series round.
The sliding drop outs are a neat feature, meaning you can set it up singlespeed and not have to worry about some funny chain tensioning device. The XTC Advanced range starts at $2799 with the XTC Advanced 3, featuring Suntour forks, a Deore 10-speed group set, and goes to the 0 as pictured above for $8499. Bearing in mind they all have the same frame, it really is a case of choosing your parts kit.
What we really liked the look of was the Giant XTC Advanced + 2. Based on the SLX-specced XTC Advanced, and selling at $3499, this model ditches the 29er wheels for 27 Plus units, and gains a dropper post as well.
This looks like fun.
The RockShox Judy fork is upped to 120mm travel, and the rotor grows to 180mm to match. What's harder to see is the included ISCG mounts on the XTC Advanced frames.
While a Plus hardtail might not be for everyone, bikes like this show that beyond the confines of XC racing there's still plenty of life in hardtails just yet.
There was heaps more at the Giant 2018 show, like the Glory range and their eMTB range as well. Head to the Giant Australia website for all the details.
Australian Mountain Bike