The new Yakima OnRamp can cart two 30kg eMTBs with ease, and help you load them with an inbuilt ramp.
We get to test a whole range of bike racks, shuttle pads, roof racks and more here at AMB. There are about as many ways to carry bikes as there are bottom bracket standards, and a few years back we put a feature together comparing some (but not all) of the most popular bike racks on the market. You can find that here. Yakima feature prominently in that feature as they do a wide range of racks that really suit mountain bikes, and their new OnRamp is another product that has been designed to work for mountain bikers, without breaking the bank, selling for $799.
The Yakima OnRamp has just been released, it's a 2-bike carrier that mounts into a 50mm hitch. The rack can take two bikes weighing up to 30kg, but what is even cooler is the ability to carry two bikes up to 18kg while four-wheel driving. Not many racks are actually rated for proper offroad use, but the Yakima OnRamp is. The whole unit weighs 20kg, so it's not too much of a hassle fitting it up and removing it.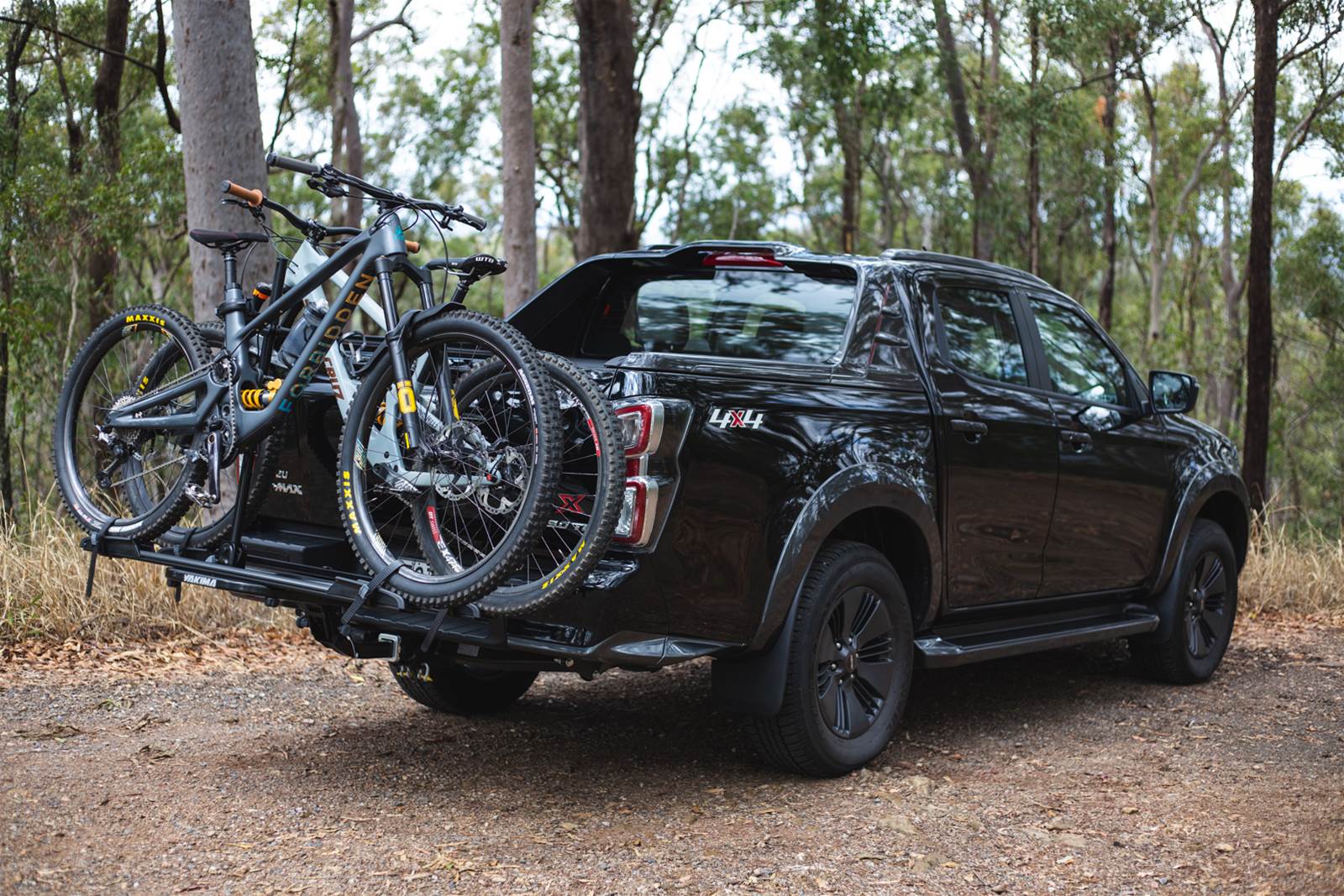 The OnRamp is a tray style rack, supporting the wheelbase on a horizontal tray and securing the bikes to a vertical pole, that can fold down for storing the rack or driving with it upright. The tray style is quite different to something like the Yakima Dr Tray, or the Yakima  Evo we have tested previously. Yakima are proud (and rightly so) of their wheel clamping tray racks and roof racks, which don't clamp the frame. But when it comes to creating a bike rack that can be rated for offroad use, clamping the frame and wheels adds a much higher level of security, while also reducing complexity and not sending the costs too high.
It's that last point that Yakima have really worked on. Being honest, the Yakima OnRamp doesn't look as flash as some of the top Yakima products. It has been built to serve a purpose, last a long time and hit the market at $799. But rest assured, they haven't skimped on the functionality of the rack.
 
The Yakima OnRamp has a tray style base, with two long supports for a bike. Each one has a cradle at each end, with Yakima's ratcheting straps. You can get a strap extension kit if you use a fat bike.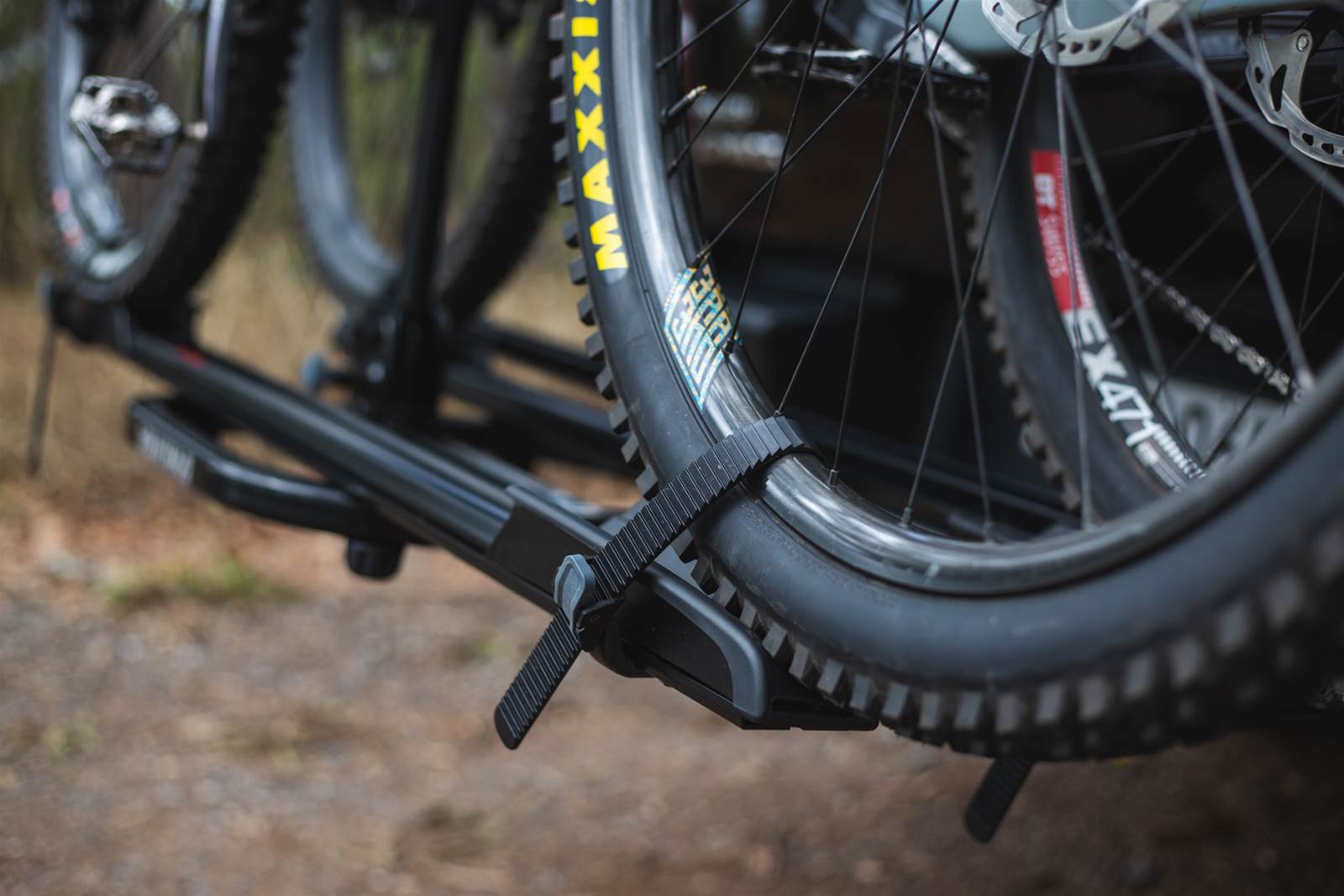 The rack is designed to carry each bike top to tail, and the trays and cradles can both slide left to right to adapt to different wheel base lengths. The trays just use a hand-adjustable knob beneath the tray, although the cradles do need a 10mm spanner.
To secure your frame, there is a vertical post with two clamps. It actually uses the same strap ratchet system as the wheel cradles, which by their length are inherently torque-limited. Yakima believe that this system is the most secure and simplest they can offer. It is quite versatile, and like any rack that clamps the frame, you might need to try a couple of options for which bike to load inboard, and which outboard, to get the easiest fit. You'll probably find that you secure the top tube or seat tube on one bike, and the down tube or top tube just behind the head tube on another.
Given a lot of vehicles are getting taller, and bikes can be getting heavier, Yakima have made the OnRamp easier to use for eMTBs and big bikes. One of the constraints with popular vertical bike racks is how high you need to lift your bike. Especially on the back of a 4WD! Yakima's OnRamp has a ramp which clips into either wheel tray, from either side, so you can wheel the bike up. This suits eMTBs, big bikes, or just long days of shuttles when your arms turn to rubber.
The ramp gets secured at the back of the rack so it is always there, and the clip to attach it for ramp duty is lipped so it won't fall out of place as you wheel your bike on, or accidentally kick it. You need to lift it up to horizontal to take it out.
The hitch mount attachment allows the Yakima OnRamp to fold up and out of the way when not loaded up, but you can also drop it back a little to access the boot of your car, or tail gate. It doesn't drop down completely, but it should allow you to get the access you need. If you want more access, Yakima do make the BackSwing as an accessory.
The Yakima OnRamp also comes with a cable lock and key barrel to keep your bikes safe for any snack stops. It doesn't come with a plate holder or light board though, and depending what state or territory you're in, you'll need to order an accessory plate. Yakima have the PlateMate for an accessory plate, but if your lights are obscured, make sure you get a light board as well - Yakima do have the LightMate which covers a plate holder and light board all in one. It should cost about the same, or less than a fine. Not having one built in makes complete sense for a rack rated for 4WD use, as it saves smashing it up when taking on 4WD only roads. If you want an all in one system, a loading ramp, and you're not fussed about 4WD ratings, take a look at the Yakima FoldClick.
So far it has been really impressive, but we'll have a full review in a coming issue, after some more time loading and unloading, and hitting some 4WD routes to see how secure the Yakima OnRamp is.
RRP: $799
From: Yakima Australia
All photos by Gerard Lagana.
Australian Mountain Bike