The Marin Gestalt X11 is a bit of a curiosity here at AMB - with features often found on a bespoke gravel or adventure bike - and drop bars!
Drop handlebar bikes don't often find themselves on the pages of AMB or within our internet feed or features. But there are exceptions and here's why: riding off-road is fun, and sometimes using a drop-barred bike is the way to do it. From jumping into a cyclocross race through to packing up for a long dirt road adventure, or just making buff trails more interesting - a drop-handlebarred off-road rig can be a whole lot of fun.
The Marin Gestalt X11 is an alloy framed bike with a full carbon fork, through axles, 1x11 group set, hydraulic disc brakes, and a dropper post. It's that last feature that makes it stand out from the crowd a little, as the dropper post has been linked to the left hand SRAM shifter. This is usually an upgrade made on a custom build bike, not something coming on a stock bike for well under $3000.
The Marin Gestalt X11 comes from Bicycles Online, which means it gets delivered to your door in a box ready to build and then go ride.
With a quick look over the geometry, the Marin Gestalt X11 has a tall head tube (170mm on the 56cm frame we have on test) and a 73.5 degree seat tube and 71.5 degree head angle. It sounds like retro mountain bike geometry, but it combines for a reasonably upright but agile handling bike. Thanks to the dropper, shifting your weight backwards on steeper descents should be easy, and you can do it while in the drops which is often the most secure feeling position on a bike like this.
Out of the box
The Marin Gestalt X11 comes just about ready to go, with the front wheel, seatpost and bars all needing to be fitted.
Like when unboxing the Marin Alpine Trail 8, I was impressed to see the detail in the packing. There's not lots of foam padding around frame tubes, with lots of cardboard and zipties, which is the standard for a bike box that would arrive at most bike stores.
The Marin has a select few re-useable velcro straps and dense foam pads, padding the parts that are held together. This way there's no damage to the frame tubes, and a tiny bit less waste as well. The polystyrene cover for the disc is a nice touch, as it means it can stay on - so you don't need to fit it.
In terms of building the bike, it was really straight-forward, especially with the included mini tool in the box of bits.
 As experienced last time with the Marin Alpine Trail 8, the shifting and braking was spot on right out of the box. The Marin Gestalt X11 did have two things that were a little tricky though.
Firstly, the front through-axle in the full carbon fork means that the alloy axle has to thread into a nut on the other side. This isn't secured into place so it does fall out when the axle is removed. This will be secured before testing starts as it would really suck to lose it while making a trail side repair!
The dropper post is a bit of a fuss when building, although this is a one off. The outer enters and exits the alloy frame through round holes, but of course it needs to do so on an angle. With the chainstay bridge needed to be negotiated under the bottom bracket shell, pulling the excess outer thorugh once the post is connected (which is very easy in itself) becomes hard. I had to remove the rear wheel to easily get to the outer and pull hard enough.
This is a once off frustration, but it does mean the build process is a little harder. I actually found the Marin Alpine Trail 8 was a faster bike to put together. Still, it was barely 15 minutes total to have the bike built and some pedals fitted. Without pedals, the bike came in at 10.03kg. That's not light, but the variety of rack mounts and fender mounts on this bike are a reminder that it's built to do a whole bunch of different things, including hauling some gear.
The build itself is pretty spot on, especially considering the $2499 price. Marin have used a SRAM Rival 1x11 drivetrain, which includes flat-mount hydraulic brakes.
For those not familiar with the SRAM drop bar range, Rival is a few from the top, but with simialr ergonomics to Force and Red that sit above it in the mechanical group sets. The hoods are quite large and feel very secure, even on rougher terrain.
The cassette is a 10-42 on an XD driver, and the Sram Rival rear derailleur is specific for a 1x drivetrain which means it has a clutch for chain security.
The wheels are alloy and tubeless compatible - and so that's the next step before taking this bike out. The WTB Riddler tyres are a 37c and tubeless compatible as well, so fingers crossed they inflate easily with some sealant and valves.
The frame does look like it could take some slightly bigger rubber, but probably not beyond a 40mm tyre. And you wouldn't want it to get muddy.
That's pretty normal for a lot of gravel or adventure bikes, although some have lots of clearance and are designed to run full 29x2.2" tyres. Not many do that, but a few frames have that option.
This bike should be a whole lot of fun, and while now is the time to get out on it and ride some trails, some back roads, and some big routes plotted via Google Maps or Strava - you'll find our full review in Issue #177 at the end of August.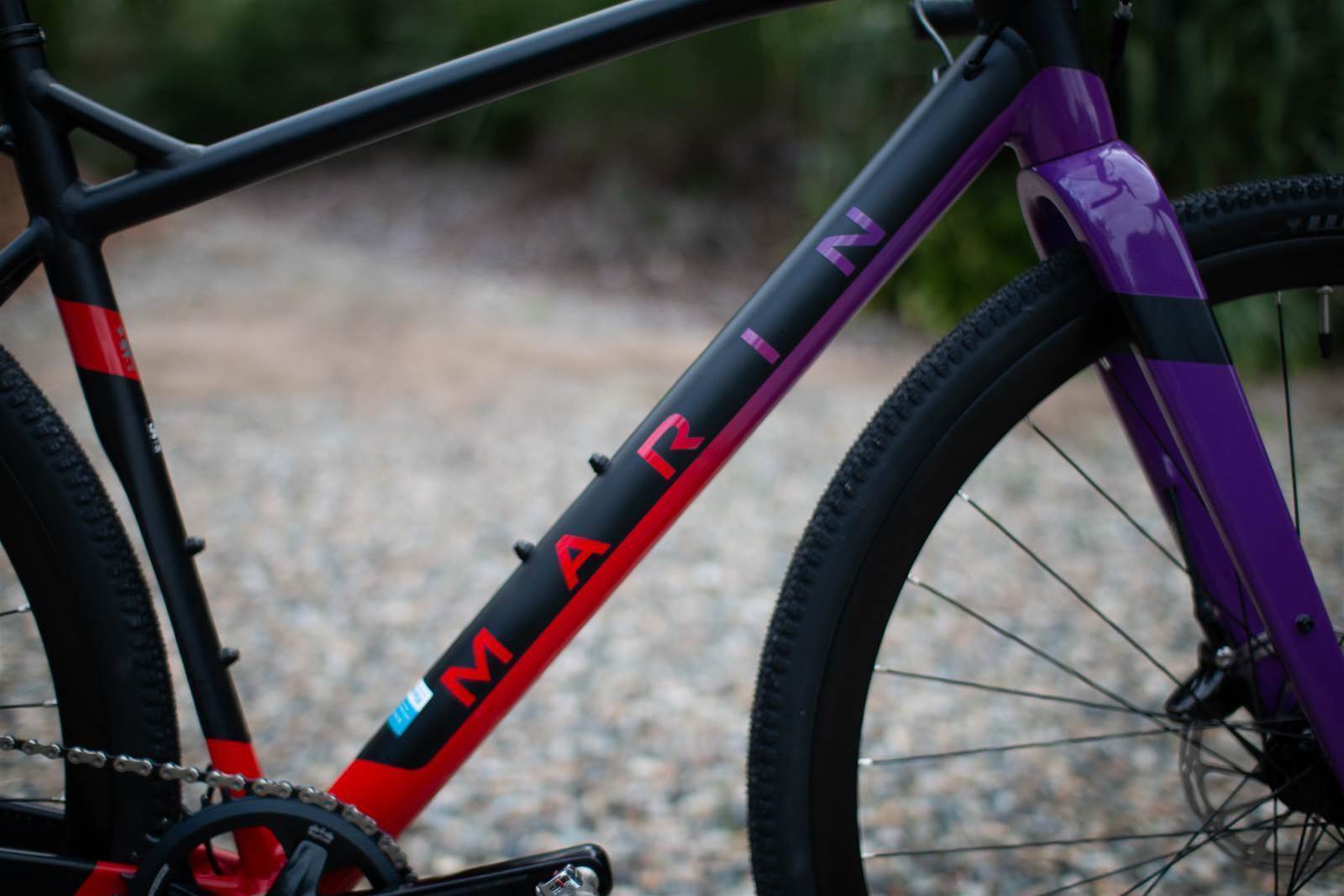 Australian Mountain Bike