We have just received a Marin Alpine Trail 8 - here's a look at how it comes fresh from the box!
Marin's Alpine Trail 8 is getting praise around the globe as a big-wheeled, big-travel mountain bike that comes with a spec that ticks the boxes on an alloy frame that is built to go the distance and not crush your wallet.
The Alpine Trail 8 has 29" wheels, sporting 160mm travel up front and 150mm out the back. The geometry is pretty long, with a 465mm reach on a large. The head angle is 65 degrees across all 4 sizes from Small to XL, and the seat tube is around 76 degrees, with small variances between the sizes. Fork offset is 51mm.

Thanks to Boost spacing the chainstays are a short 430mm - which on a long travel alloy 29er with 2.6" tyres is pretty damn good. The BB is threaded, and has ISCG mounts for getting fully hectic.
The alloy frame's tubes have been shaped and manipulated extensively, and the bike has full internal cabling. The suspension rocker is forged for stiffness, and the chainstay is bridgeless - which is a key part in keeping the back end short.
While carbon bikes are always the dream bike builds, Marin wanted to realise the Alpine Trail in alloy, explains their brand director Chris Holmes.
"We developed the Alpine Trail using our MultiTrac suspension platform, and evolved it into being that big, all-mountain performance type of bike by adding the travel, using 29 inch wheels. We started out by just doing the alloy frames because it's a lot more affordable and easier for us to get into the market using alloy. While we have a big name and are somewhat of a big brand, we still have a relatively small staff here, so we need to focus where it really matters. And getting the aluminium frames out is something that is easy for us to do and cost effective."
The Alpine Trail platform really ticks the boxes for a long travel 29er in terms of geometry and features, and the MultiTrac suspension means they can have a long-travel system that pedals well too. Doing this in alloy brings the bike to a wider audience.
"We wanted to start with something to give the riders an amazing bike that doesn't happen to cost a lot. We're not going out screaming that the bike is a value bike or a budget bike by any means, as it's still not a cheap bike. But some of us bike nerds tend to think a few thousand dollars isn't that much – but it is still a lot of money for most people to spend on a bike. Not to say we aren't thinking about doing a carbon model down the line, but our priority was to get an aluminium model out there. And by building it with a really smart spec you're getting most of the performance you're getting from a high spec bike, but with trickle down technology."
Coming direct from Bicycles Online, the Marin Alpine 8 will be shipped to your door just about ready to ride. This test bike arrived yesterday, so here's a look over it.
Like any brand selling direct, the bikes really have to be just about ready to go out of the box, and packed securely. While a bike arriving at your local bike shop to build may have a whole lot to do like tuning the gears and brakes, or even triming hose and cable outer lengths. Plus then there is tubeless setup as well.
One nice touch - no excess packaging inside!
Much like a Canyon, the Marin has very little excess packaging inside. There's cardboard to stabilise the rear wheel, and the same around the fork. Everything else is held in place with re-usable velcro straps and high density foam pads.
This might seem like a small detail, but smart packing makes your build time shorter and means your bike arrives in one piece. Rotors are on and covered, and there is a plastic protector over the rear derailleur. All you need to do is put the dropper in, put the bars on, set your seat height, pressures, fit pedals and you're away.
Fitting a KS Suspension dropper post is really easy.
The 2.6" Vee Tires are tubeless ready, and a quick look to see an alloy black valve and a shake to hear liquid let me know that they came setup ready to ride from BIcycles Online. That's a really nice touch. It means there isn't much in the box - just a hanger and a couple of spare zip ties.
With a set of allen keys, the bike was ready in a flash. The Deity bars were easy to setup with subtle guides for alignment. The dropper lever sits nicely under the bars, and the new split-clamp KS lever is a lot easier to deal with than their original two piece design.
The Fox 36 has a Kabolt axle so that meant pulling out the 6mm allen key.
A quick check of the hardware on the bike showed everything was secure. The gears ran smoothly, and the slightest bit of disc rub was solved be readjusting the caliper while holding the brake firmly. This is all really simple stuff.
I threw the bike on the scales before fitting pedals.
 It's no fly weight, but for a bike with a 160/150mm travel spec and 29" wheels - it is really quite good, especially in alloy.
As far as spec goes, the bike is driven by a SRAM NX Eagle group set. But, it does have the XG 1275 cassette which means you get the full 10-50t range, not like with the 11-50t NX Eagle cassette.
For stopping, the Alpine Trail 8 is slowed down with TRP Slate 4-pot brakes on a 203/180mm rotor combination. The TRP Slate brakes are often overlooked, but offer a lot of braking power and lever adjustment.
Suspension is handled by a Fox Float 36 Performance with 160mm travel up the front, and a DPX2 out the back. Unless you want a coil spring, I can't think anyone is going to grumble with this spec on the Alpine Trail.
The cockpit setup sees a Deity stem and bar combo with lock-on grips. The KS Lev dropper has 150mm drop (125mm in small) and is topped with a WTB Volt Race saddle, which is often a crowd favourite.
All up, the spec is a mix of parts which are typically warmly received by mountain bikers. From Fox suspension, to a SRAM Eagle group set, 4-pot brakes, rims that have a 29mm internal width, 2.6" tyres, Deity cockpit and a reliable KS dropper. This is a whole lot of bike for $4199. There is a model down, the Alpine Trail 7 which will sell for $2999.
Both bikes are available to order from next week on Bicycles Online - although full stock won't land in Australia until late April.
I was really impressed with how simple it was to put the bike together. I have a reasonable home workshop setup, but I could have done the whole lot with a multitool if needed.
Next up - ride time! This bike will be tested for Issue #175, and it's coming down to Tasmania for a visit to Maydena and Derby. Marin say it's a bike to pedal up and bomb down, and that's why it's their key enduro offering. And Tasmania seems like the ideal place to test that claim.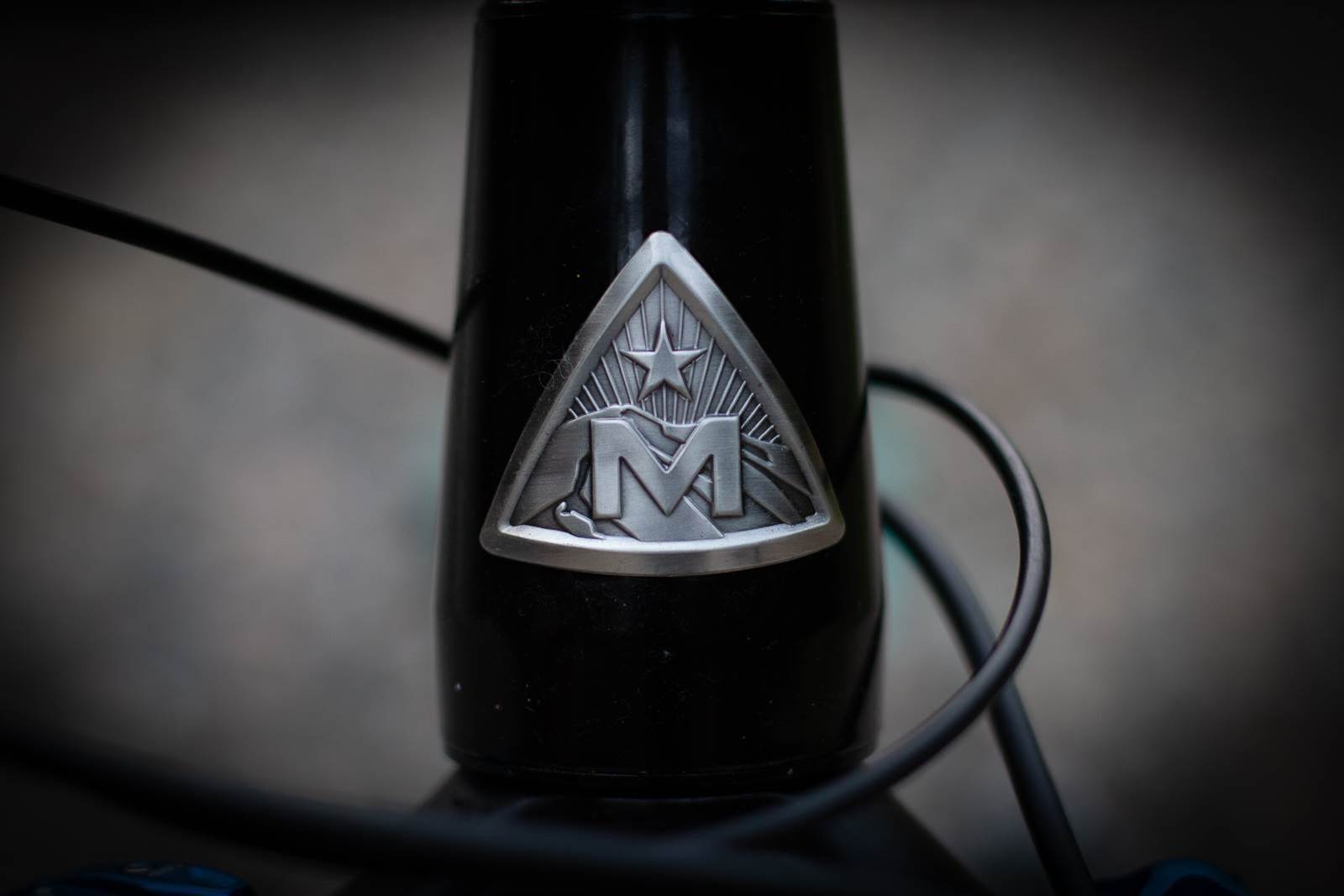 Australian Mountain Bike