Shimano have just announced 12-speed XT and SLX group sets - and we've ridden them.
With the release of Shimano XTR M9100 12-speed in May 2018, everyone knew it was just a matter of time until the 12-speed options came to Deore XT, and later SLX. Some might not have expected both to happen at the one time, but that's exactly what Shimano have revealed overnight.
Shimano make no bones that they were a little behind having group sets that offered the super-wide range that mountain bikers wanted with a single chainring option. And then when Shimano XTR M9100 was released, they couldn't hit their delivery dates with complete group sets after fires in one of their main production facilities knocked out important equipment for the finishing on the M9100 crank sets.
But with those crank sets now shipping, Shimano have 12-speed Deore XT landing in dealers in mid-June, and 12-speed SLX is just a few weeks after that. Along with XTR M9100, all the parts from each group set are compatible. Shimano have a slogan 'Make your mark', as they believe that with the three group sets, different brake sets, some wheel options, and yes even a 2x option, you can do some high end customisation on your bike, and make it exactly what you want it to be.
In mid-May, I was invited by Shimano Australia to go ride the new Shimano Deore XT group set in the Pacific North West in the USA, talk to some of the people behind the changes, and really put the gear under pressure.
The all-new Shimano Deore XT and SLX
The best news is that Shimano Deore XT 12-speed shares just about all the tech from Shimano XTR 12-speed. Here's a run down on the parts.
Crank sets
These are essentially the same as current Hollowtech cranks, but with the direct mount chain ring option. In fact, if you have a set of MT900 cranks (shipped with XTR group sets while the M9100 cranks were delayed) you pretty much have an XT crank with an XTR chain ring.
XT chain rings run from 28-36 and they are a two-piece ring with steel teeth for durability. If you wanted to run a 38t chain ring you could fit an XTR chain ring - they're compatible. Similarly, if you have XTR cranks and want a 28t, you can fit an XT chain ring.
The SLX crank has a raw metal looking finish - but is essentially the same crank with a slightly more basic chain ring. Again those are corss-compatible, but SLX chain rings run 30-34t.
The XT and SLX crank sets come in 3 Q factors for 3 chain lines, basically for non-Boost frames, Boost frames and super Boost.
Shimano have kept a 2x crank set on as well, with a 26/36 ratio. It is the same crank but the big ring direct mounts to the crank and the little ring attaches to the big ring.

Chains and cassettes with Shimano Deore XT and SLX
Visually these are very similar to the XTR units. Both come in either a 10-51 or 10-45 option. On XT there are 2 alloy sprockets and the rest are steel. On SLX there is 1 alloy sprocket. Unlike XTR there are no Titanium sprockets, for obvious reasons to keep the costs where they should be. The cassettes still have the beam spider construction, which is lighter and stiffer than complete sprockets running to the freehub body.
The cassettes all require the Microspline freehub, and there are XT and SLX level hubs that are also released.
A chain is a chain is a chain - right? Well yes and no. You can mix and match the SLX, XT and XTR parts all you like. But the XTR chains are lighter, stronger and last longer. The higher end chains have different surface treatments which increase durability and reliability. 
The SilTec coating actually reduces friction and increases the strength of the chain, and the hollow pin construction of the XTR chains is actually stronger, as the peening (or flaring) of the ends of the chain pins on a hollow pin actually flares out more for better security of the plates.
So if you only upgrade one item to XTR - your chain is a good place to do it.
All the chains come with quick links, and they are also a bit longer out of the box than before due to the chain requirements of a 51t sprocket.
Hyperglide Plus
This is the silent hero of Shimano 12-speed group sets, and yes that's a bit of a pun. Hyperglide was the innovation that Shimano had decades ago to make shifting smoother. It's the ramping and shaping of the cassette teeth (and chain rings, but we're all on 1x now, right?) and shape of the chain plates to make the downshift to lower gears (larger sprockets) much smoother. So instead of the top derailleur pulley just moving below the gear and hoping it engages in the next pedal stroke, the shape of the teeth and chain actively make it happen.
Bryn Atkinson showing how well the SLX group set stays in place. Even at Bryn speeds.
Hyperglide Plus extends that to the upshift to (going to a harder gear) and the chain actually stays engaged with the cassette the whole time. So even if you're shifting up or down under load, it keeps driving the cassette and therefore your rear wheel. Not only is it more secure, but it is faster, and even improves underload. So yeah, panic shifts into a pinch climb are good. Dumping gears to chase your mate down the trail - that's also fine. It's secure, and it's fast. And it does it all pretty quietly too.
Derailleurs for Shimano Deore XT and SLX
All the new derailleurs are what you'd expect - Shadow Plus. So they sit out of harms way and have an adjustable clutch that can be turned on and off for easy wheel removal and fitting. Pulley wheels are 13t and there's a bump stop for quiet running on rough trails.
What you don't get with Deore XT or SLX is a short cage (GS) rear mech. There is a 1x and 2x option for both XT and SLX, and the 2x mechs will work for 1x - but they haven't been optimised for that.
There is a SideSwing front derailleur, available in most clamp types.
Shifters for Shimano Deore XT and SLX
Just like the new shifters for XTR M9100, the new shifters use iSpec EV - although bar clamp models are also available. So they attach to the brake levers and have a 30 degree rotational ange so you can get the position just right. Add in 14mm of adjustment inboard and outboard and getting your ergonomics right shouldn't be an issue.
While there isn't a huge difference for feel in some XT and SLX parts, the shifters is not one of those. The XT shifters more closely mimic XTR, with a 2-way release lever, multi-release so you can shift more than one gear at once, and instant release which means there is just zero lag with the shifting.
SLX doesn't have the instant release or multi-release. So it means it isn't as fast or aggressive to shift, and it has a noticrably softer action at the lever compared to Deore XT or XTR. If you ride aggressively, or race, you will prefer the feel of the higher end shifters. The shifting performance of SLX is not inquestion - it just doesn't have that ultra-precise feel of the top shifters.
The left hand levers for a 2x setup are simple one lever design - and we hear they are an awesome upgrad for some fork lock outs if you don't use an under the bar dropper lever!
The lowdown on Shimano Deore XT and SLX brakes
You will have seen that Shimano XTR levers went for an onboard clamp with a bar contact point where the clamp used to be. Well that comes to Deore XT and SLX. It makes for a stiffer brake, and that's something that benefits anyone.
The XT brakes have shorter free stroke and have a 2 and 4 piston option. The lever remains the same, with Servowave and an updted feel so the modulation is more progressive. The lever blade is also a little taller.
The calipers have also got an inboard banjo mount, which can help for cleaner routing on most frames and forks.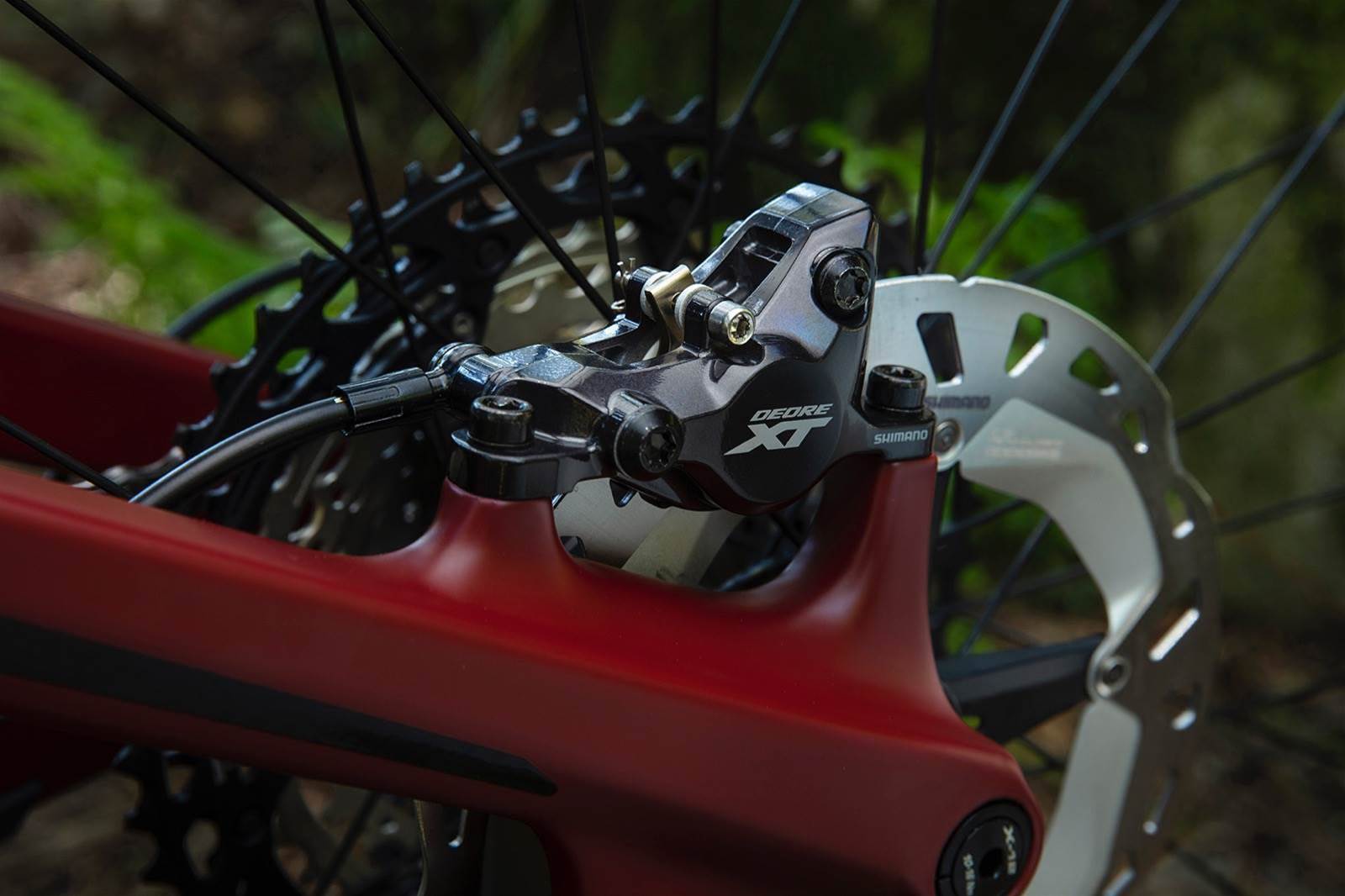 The SLX brakes have all those same options, just with some slightly different materials and finishing. Both brakes with have resin and metal pad options in finned and unfinned. The resin pad has been redeveloped for way better modulation and wear - Shimano claim they are 40% more durable.
Rotors adapt the same Freeza tech as XTR for faster cooling, but they don't have the same finishing, to keep the pricing down. Sizes run from 140 through to 203mm.
Rolling stock for Shimano Deore XT and SLX
Shimano aren't moving away from cup and cone bearings anytime soon, and given how the XT hubs we rode feel - that's fine by us.
There are two XT level wheels,one with 28 straight pull spokes and a 24mm internal wdith, optimised for 2.35" tyres. This M8100 TL wheel set weighs 1717g in 29". 
The M8120 TL wheels are designed for aggressive trail riding, with a zero dish wheel thanks to an extra wide hub flange. there are 28 J-bend spokes and an alloy rim with a 30mm internal width. Weighing 932g in a 29" size or 1846g in 27.5" - these could be a go to wheel.
There is also a non-series MT620 wheel, with 24 J-bend spokes and a 30mm internal rim, with Boost hubs.
The hubs whether in a wheel or on their own have a 7 degree engagement, which is about the same as a DT Swiss Star Ratchet if you pop for the 54t upgrade. They come in 28 and 32h options, with a straight pull model in 28h designed for a 3x build.
Pedals
The same updates to shape roll down from XTR, with better contact in the right areas thanks to improved design, focusing on shoe to pedal contact on the sides and rear of the pedal.
When can I get it?
Soon! Your local Shimano dealer should be able to get you any Deore XT parts by the start of July, and complete group sets a couple of weeks ahead of that. SLX parts are about a month after that.
For pricing, visit your local dealer as it really depends on the configuration that you're after. But the approximate price points will be about where XT and SLX have traditionally sat.
What does it weigh?
Well the simplest way to put this is in a like for like spec, XTR weighs 365g more than M8100 XT, and SLX M7100 weighs 148g more than XT in a like for like spec.
So... how does it ride?
On the trails on Shimano 12-speed Deore XT
It's quite a treat to have a high end bike built up for you to test a group set. Shimano built a Santa Cruz Hightower with a full Deore XT group set to ride for a couple of days in and around Bellingham, Washington state in the USA.
With only about a dozen hours riding XTR 12-speed, riding the new XT on a new bike actually was a great way to get more time on some of the tech that carries across most of the 12-speed group sets.
There are four things that really stand out.
1. The speed and accuracy of shifting
This is for upshifts and downshifts, and also the consistency of the shifting load felt at the shifter lever. The effort at the lever remains the same, even under load and no matter where you are on the cassette. I also had zero ghost shifting issues thanks to greater chain stability with the updated chain ring teeth and chain. What's more, it was silent, even when pointing up at over 20 percent, or down over roots and into steep chutes. 
2. Predictable and consistent braking
With a combination of rotors that deal with heat better, and a 4-pot design and updates to modulation, I never felt lacking with the brakes. The new levers are super stiff, and all in all it was a really confidence inspiring package - whether you wanted to feather the brakes or jam them on.
3. Excellent climbing and ratcheting
The rear hub system is new, and it involves two drive plates being pushed together via a spring. It engages faster than any other Shimano hub I have ridden on, and they spin for days!
Faster engagement means a small pedal dab has more effect, and applying extra torque on low cadence tech climbs feels more precise, especially when traction over wet roots and rocks is a concern.
The hub buzzes nicely at low speeds but at higher speeds it runs almost silenty, which is a nice feature. So far they are the best Shimano MTB hubs I have ridden.
4. Dialled ergonomics
From the integrated iSpec EV dropper lever, to the myriad of options for getting the shifter in the right place, everything just fell to hand. This was a really easy group set to get along with, and so many of the updates are most noticeable when you go back to a different bike.
Overall, I think Shimano have nailled these two group sets. 
It's clear that Shimano came to the 12-speed game a little late. They always had the range, albeit with 2x group sets. But given the limited time I have had on the Deore XT and XTR parts, and some carpark shifts on SLX, it's clear that Shimano have brought a superior 12-speed gear range to the mountain bike realm, with the solid build and engineering that they have been known for for decades.
We'll have a further look at the ins and outs of the 12-speed group set parts and how they work on the trial in our next issue, along with a look at the trails in Bellingham where we test rode the Deore XT gear. If you never want to miss an issue, make sure you subscribe.
Australian Mountain Bike