At the gateway of the Otway Ranges, in the hinterland of Victoria's Great Ocean Road is the quaint old town of Forrest.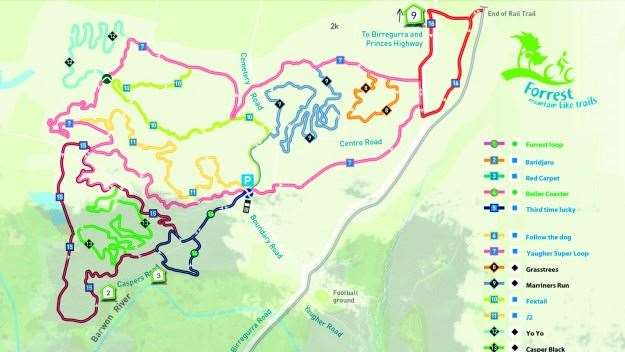 At the gateway of the Otway Ranges, in the hinterland of Victoria's Great Ocean Road is the quaint old town of Forrest. Once a logging town in the late 1800s, it has seen many changes from tramways carrying freshly cut timber into the railway, to mountainbiking that now makes up a large portion of the economy of Forrest.
Bordering the National Park, it is highly-managed and controlled land. The local bike club work closely with the Department of Environment and Primary Industries, DEPI, and land owners in maintaining the trails. Being in a very high rainfall area, DEPI have been laying down limestone on the trails. This is for damage and to give the surface a bit of firmness as well. Once embedded into the trail you only notice that you are riding on a dry trail. The trails weave around the native blackboys or grass trees that tend to poke you in the eye on the tight corners. Riding through the stunning rainforest with flowing trails through tall gums and ferns and riding up and down the creek bed of Mariners trail is a lot of fast and flowy fun.
Around seven years ago, local Jeff Fox's trails were incorporated into a new trail network designed by Glenn Jacobs. Now there are over 60km of sweet, flowing, signed singletrack in two areas with two main trailheads.
The Yaugher trailhead is a few kilometres north of the town. The Forrest or Southern trailhead, just south of the town, incorporates the town of Forrest and a 6km climb out to Lake Elizabeth. It is one of Victoria's, if not Australia's, best riding destinations.
A study is currently underway to develop the trail network further. Expansion ideas include Barramunga to the south with some amazing gravity fed trails from the lookout of the West Barwon Reservior. These trails are around 3-4 years away.
With over 100 years of history and set in a stunning rainforest, Forrest is not just an amazing trail network but a tourist destination in its own right. It also has everything you need to make it a great weekend destination: great food and coffee, plenty of accommodation and a micro brewery. And did I mention some of Australia's best mountainbiking?
Toilets Yes
Drinking Water Yes
Parking Yes
Trails Signposted Yes. The Yaugher trailhead is north of Forrest off Boundary Road. The Forrest trailhead is on the RHS just after town as you're heading south to Apollo Bay.
Mobile Reception Telstra and Optus
Shelter Yes
BBQ Facilities Yes
Accommodation Yes
Local Bike Shops The Corner Store is run by Jess and Norm Douglas. It is a cafe with bike hire. They also run skills clinics throughout the country
Local Club Contacts The local bike club is mostly made up of non-locals. There is a social ride on Thursday nights and a regular brew crew ride. rideforrest.com.au has all the information you will need from mountainbiking to accommodation
Regular Events Forrest Festival multiday race, Forrest 6 hour, Kona Odyssey 100km
Getting There
Forrest is about two hours or 158km south-west of Melbourne.
Technical Nature
There are a range of trails from green through to black.
You'll Need
A raincoat. The locals say it rains nine months of the year and drips off the trees for three. Good to have a change of clothes and a towel because it'll probably be muddy.
There is limited grocery shopping in Forrest. Essentials are available from Forrest General Store. There is no petrol station in Forrest.
Distances
The Yaugher trailhead has 44km of trail network. The Forrest trailhead has 22km of trail network.
Best Time of Year
The cooler months before winter sets in and the trails gets too muddy.
Australian Mountain Bike