The Advent 1x9 group set from Microshift sells for $200 - but how does it perform?
As drivetrain get ever wider gear ranges on a single chain ring, prices are also sky rocketing. Shimano's XTR M9100 group set with a 10-51 range isn't a cheap option, although the new Deore XT M8100 and SLX M7100 bring the same range to a lower price point.
SRAM have brought Eagle 11-50t options to the NX level and now the SX level although that is primarily a group set for original equipment - meaning it comes on complete bikes. That is likely to change. These are great budget moves, and it means SRAM have a 12-speed group set which should cost approximately what a Shimano Deore 10 speed group set costs.
Here's the thing though, Microshift have a 9-speed (yes, just 9 options) mini-group set with a clutch derailleur and 11-42 cassette that sells for $200. Thereare three parts, a shifter with a standard bar clamp (cable included), a 11-42 cassette that fits a normal SRAM/Shimano splined hub, and a clutched derailleur. The clutch can be turned on and off and is adjustable.
Microshift think that drivetrain costs are getting out of hand, and the precision required to keep a 12-speed group set running is over the top. Tolerances are tight with 12-speed. From narrow chains, to a special tool to determine B-tension, chains that are matched to cassettes and chainrings... it all gets very precise, and a bit finnicky for some. The other side of that is it gives a huge gear range, super smooth shifting and a quiet drivetrain. It just costs a chunk of change.
So the Advent group set is designed to cost a lot less, meaning you can spend your money elsewhere. Maybe on fresh tyres, better brakes, better suspension. Maybe not even on your bike!
KWT Imports sent a Microshift group set over to play with, and it has been fitted up on the Transition Smuggler frame set. Yeah, $200 drivetrain on a $5k frame kit.
A closer look at Microshift Advent
Before fitting the parts up, I threw them on the scales. The rear derailleur is 384g (about 60g heavier than SLX 12-speed), the shifter is 131g with cable (actually quite light!) and the cassette is a hefty 529g.
Being 9-speed, the cassette teeth are pretty thick, and Microshift claim that therefore along with a 9-speed chain, they will last longer. Plus, the increments in cable tension for shifting is less, so there is less fine-tuning than on a 10, 11 or 12-speed group set.
The shifter uses a normal bar clamp.
Setting up Microshift Advent
This was all really simple. Slide the shifter on, bolt the mech on the frame, and fit the cassette. Now, I don't want to sound elitest but I don't have any 9-speed chains hanging around anymore. I had some older Shimano SLX cranks with a previous generation Praxis Narrow-Wide chain ring attached, so I used those along with a Shimano XT 11-speed chain.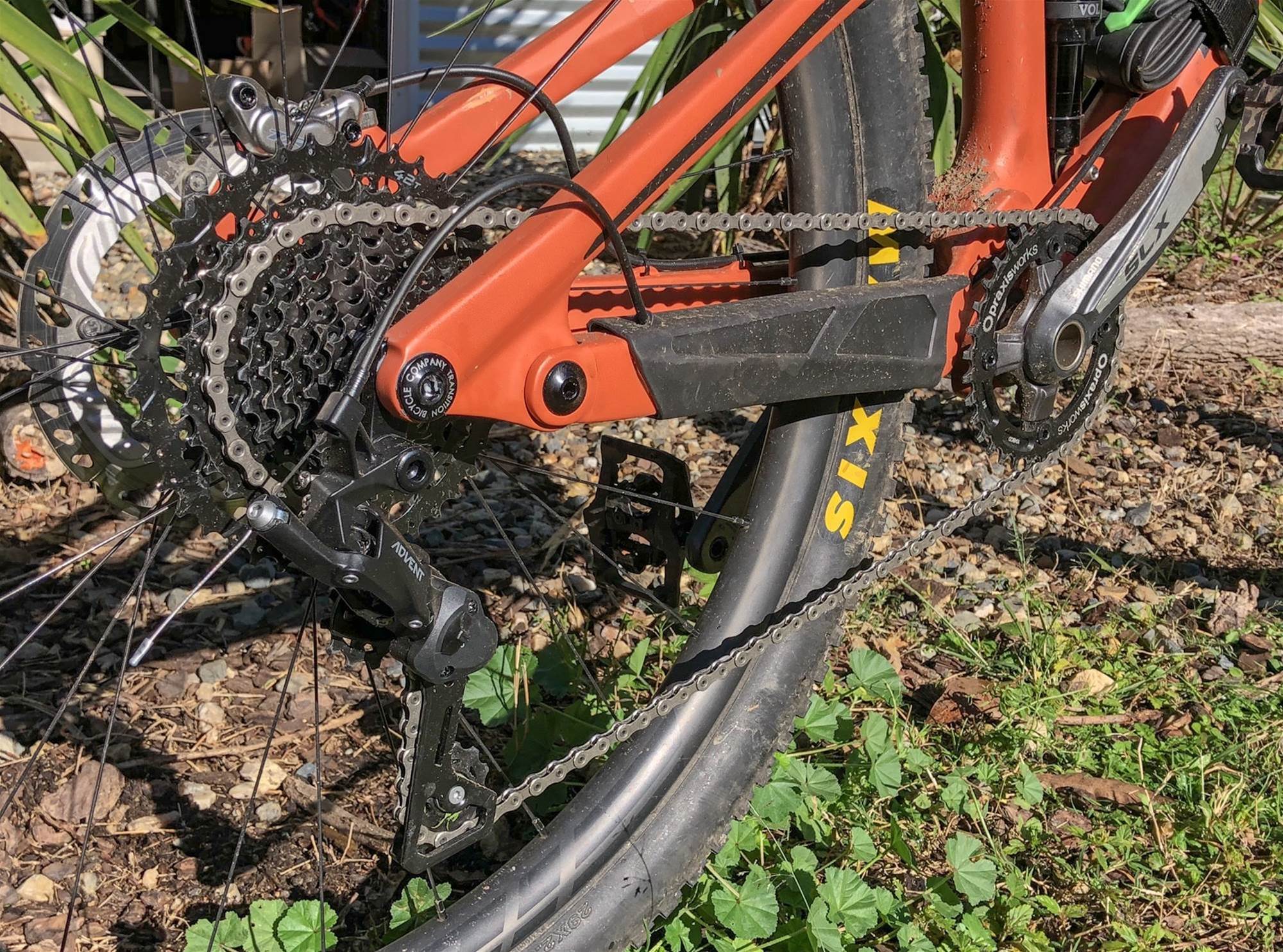 Set up was easy. While the shifter comes with a cable you do need to BYO gear outer. I used Shimano SP41 as good quality gear outer makes a difference. Before fitting the chain, I set the gear limits, and once the chain was on I adjusted the B-tension.
As the shifters run on a sealed bearing and have a nice long paddle, the shift feels good. It doesn't take up the cable as quickly as a high end SRAM or Shimano shifter. But considering the total cost of the three components, that's fine. The shifter doesn't have dual-release like a Shimano shifter, or operate thumb-thumb like a SRAM shifter. But again, that's fine. It does down shift up to 3-gears at a time on a long throw, and that's more useful than either of the previous features on a 1x group set.
On the trail, the shifting is flawless so far. As stated, there's a tiny bit mroe lag than a top tier group set. But there have been no missed shifts, dropped chains, or trail side tune ups. It seems like Advent is the perfect choice for builds where you don't need the widest gear range, but you do need reliability and cost effectiveness. A trail hardtail, park bike, or budget conscious build are all a good fit. But our Transition Smuggler is a pretty sweet build and by no means does Advent feel out of place, and so far the 11-42 range on a 34t chain ring has delivered a perfectly good gear range. 
So far it's a big thumbs up - but we'll have a full review in a coming issue.
---
Don't miss an issue - subscribe!
Australian Mountain Bike