Saturday's XCO National Championship bouts saw conditions and courage come into play, with Bec McConnell and Dan McConnell reigning supreme in Elite.
It's been a big week of racing so far, with sub-juniors and Masters racing the cross-country events yesterday, while downhillers have had a few days practice on the challenging course here at Maydena Bike Park. While the Downhill competition builds as a slow crescendo all week (before exploding tomorrow) there has been XCO racing since Wednesday, with the big one today with all the UCI categories - U19, U23 and Elite.
After dusty, blown out conditions all week, the clouds had arrived right on time, the temperature was warm at 17 degrees but the clouds were looming. There wasn't much rain, but the clay based lower slopes and pumpy flow trails were powder, and it didn't take much rain to change that to a mix of mud with a claggy consistentcy.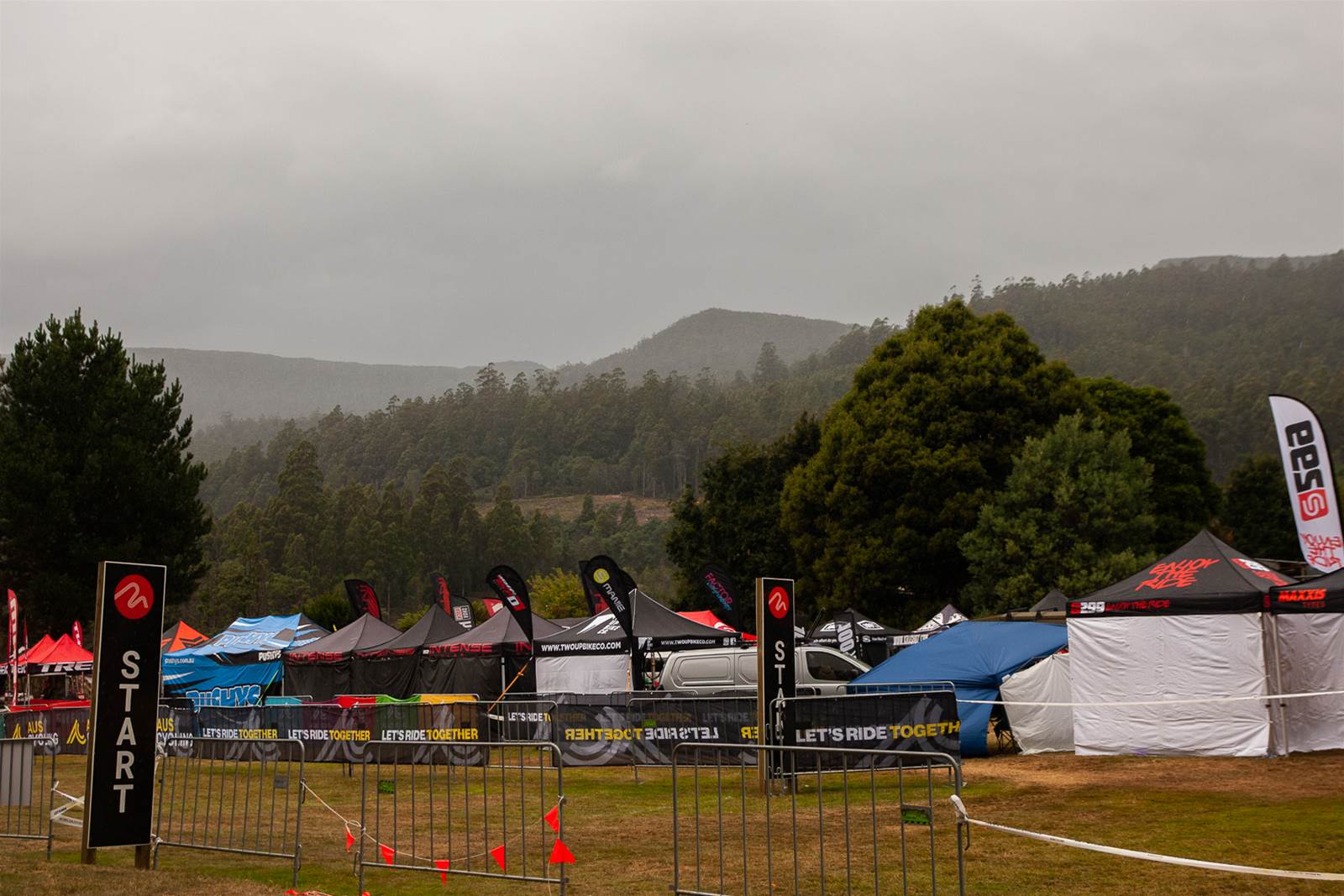 The women's categories were off first, about 20 minutes after it started raining. Would it be ok? Slick? Better? The dirt under foot didn't look great, but the question was - how would the forest be? Many thought the sandier nature of the soil up there, and tree cover, it would be good. But getting there - not so much.
In the first pass of the feed zone, Bec McConnell came flying through, "tell Dan to fit the muds!" she exlaimed, urging her supporters to pass on the course feedback to husband Dan McConnell.
We looked across to the jump lines that the XCO course passed through, with the top clay coating now turned to slick peanut butter. There were crashes as clogged tyres slid across the tops of table tops, and some younger riders couldn't even get atop some of the near vertical faces of the up ramps.
Zoe Cuthbert came through, already a long time behind Bec, and each rider who came through was fighting their bike and conditions. Those with a little less clearance in the frames were running their bikes - the wheels no longer turning.
It was difficult to judge how things would pan out. Sure, experience helped. But luck played a big role, and while some pushed on through the adversity, others fell by the wayside down to pure bad luck.
Kathryn McInerney ran her bike in about 3 times, but finally had to abandon when her bike would no longer work. 
Meanwhile, the U23 racers were making inroads into the Elite women's field, with Kath Hosking leading the charge and Izy Flint behind. Holly Lubcke was hot on their heels. Those positions remained by the finish, with the 3 riders having a great race despite the conditions.
Soon enough, Bec McConnell came into sight. Her secret? Beyond years of experience - it was fitting mud tyres. "I know I can ride mud tyres in the dry, but I can't ride my dry tyres in the mud." 
Zoe Cuthbert was 11 minutes back with Karen Hill a further 8 minutes back in 3rd. All other riders finished one lap down, although there were 3 DNFs and 3 DNSs.
Hayley Oakes kept her lead in U19 women, with Lillie Pollock in 2nd and Zoe Davison in 3rd. Full results are online. 
Men's cross country racing
The weather was clearing, but the course wasn't back to how it was yesterday. The Elite men went off first, then U23 and U19, with much bigger fields than in the women's races - although overall the numbers seemed a little lower than previous years.
Each year we don't hear much from Bec and Dan as they go about training for international races. And almost each year, they come out and blow the doors off their competition at the National Championships. That's not to say it's easy for them - but they really know how to make the big day count. And right after Bec McConnell did that, Dan McConnell went about doing the same, forging a clear gap on the first loop of the first lap, with Cam Ivory in 2nd.
Tasman Nankervis was in 3rd, with Ben Bradley in 4th and Jared Graves in 5th - with some mud on his left side.
The race was on, but the question was could anyone catch Dan? Was Graves going to close in?
In the U23, Sam Fox was increasing his lead, with Matt Dinham chasing and Cam Wright behind Matt. Fox increased his lead, riding a wave of local support.
Graves was working through the field, and had moved into second place at the bell lap - but would that be it? Could it improve? The gap ahead to McConnell was much larger than the gap behind to Cam Ivory and Tas Nankervis.
The U19 race would be won first, with Joel Dodds winning ahead of Isaac Fletcher and Riley Corke. And then it was Sam Fox who won the U23 men's race, with Matt Dinham in 2nd and Domenic Paolilli in 3rd, a big ride as a first year U23.
A little bit of course intel and a change to mud tyres might have helped, but Sam Fox has been a champion in the making for a few years.
Soon after it was McConnell with a clear 5 minute lead ahead of Graves in 2nd place, with Ivory under a minute behind.
The rain was falling harder on the final lap, and it's clear it was an epic finish to a challenging event.
The cross country racing here at Maydena Bike Park was not without some controversy. The course wasn't what some expected, and for those who stayed away - maybe it was what was expected. But the calibre of racers today showed that racing is about performing on the course you are delivered, and there would be no denying that every single National Champion is very deserving of their wins.
With the whole event back here in 2022, here's hoping AusCycling and Maydena Bike Park can work together to make a modern XCO course of an international standard, to really showcase how our top riders perform, and to offer levels of progression for the younger categories.
Full results are online, now get ready for lots of Downhill racing (and some short track) tomorrow!
Australian Mountain Bike