Friday saw all Masters and U13, U15 and U17 race cross country at the AusCycling MTB National Championships.
Friday had a whole bunch of cross country racing at the 2021 AusCycling MTB National Championships. The Masters men and women and younger categories all were on the line to race the challenge of the shorter cross country course here at Maydena Bike Park.
On Wednesday the AusCycling commissaires opted to change the cross country course depending on category they were racing. What that meant was that any non-UCI categories (so everyone except U19, U23 and Elite) would ride a shortened version, turning off the second climb a little earlier. It would reduce the total climbing, but also take the trail Tinder out. As mentioned yesterday – the full course is a tonne of fun. Tinder has a committing entry but is totally manageable on an XC bike. But, it's steep and sustained, and has no B-line incase there is a bottleneck due to a crash or mechanical. If a race can't progress due to an injured rider – it has to stop.
Even half way down Tinder it's still steep and sustained.
I spoke to Claire Whiteman, President of the Commissaires panel, about the steps that lead to the decision.
"It was based on the technical difficulty of the climb and descent for the second half of the loop. The amount of vertical climbing, which was over 300m, is a lot. And the forecast rain for Saturday was part of the decision. There will be disappointed riders who are able to ride that track, and they're more than welcome to ride it in practice, and time themselves on it."
There's a lot of climbing up downhill tracks in the XCO course, much more than the usual 3 minute climbs of modern XCO
There were plenty of disappointed riders in the younger and older categories, who were in Tasmania expecting to race on a wild and technical track. With the dry conditions the shortened course is anything but easy, but the cherry was taken off the top. Having no B-line option on Tinder did mean that with a change in conditions the trail could be a bottleneck. This is a National Championship, with racers willing to take high risks for the reward of a National Title. And this trail has very few options for passing, or racing bar to bar. Building a B-line wasn't an option.
"Due to being in a commercial mountain bike park we needed to work with them in terms of putting A and B lines, and another reason was they weren't willing to change part of their mountain bike park (their investment) for just one weekend of racing. Once you put in a B line it can be difficult to get rid of it."
We've all seen new lines develop at our local trails, and this is easy to see – that any new trail (even temporary) will attract riders looking for different options around demanding sections of trail. With a two year agreement with AusCycling, I did ask whether discussions about building a specific XCO course would be something happening in the future
"Absolutely. Absolutely. It's a learning curve for everyone. It's the first time we have run races at Maydena, and the first time operating as AusCycling. There is always room for improvement."
Maydena Bike Park has shown it's an international calibre gravity bike park, and here's hoping that can grow to accommodate cross-country as well for events like the AusCycling National Championships in 2022. The Downhill course is said to be one of the very best – and with so many racers competing in cross country here's to 2022 and seeing a similar offering.
The racing.
U13, U15 and U17 riders filled the dusty course first up, and U13 riders had just under 10 riders on course, unfortunately with only one U13 woman. Hopefully we see this change in the future, as while racing is competitive – it's also an excellent sporting community to be a part of. Seeing lots of riders and families reconnecting here after just about 12 months without major racing is a real bonus.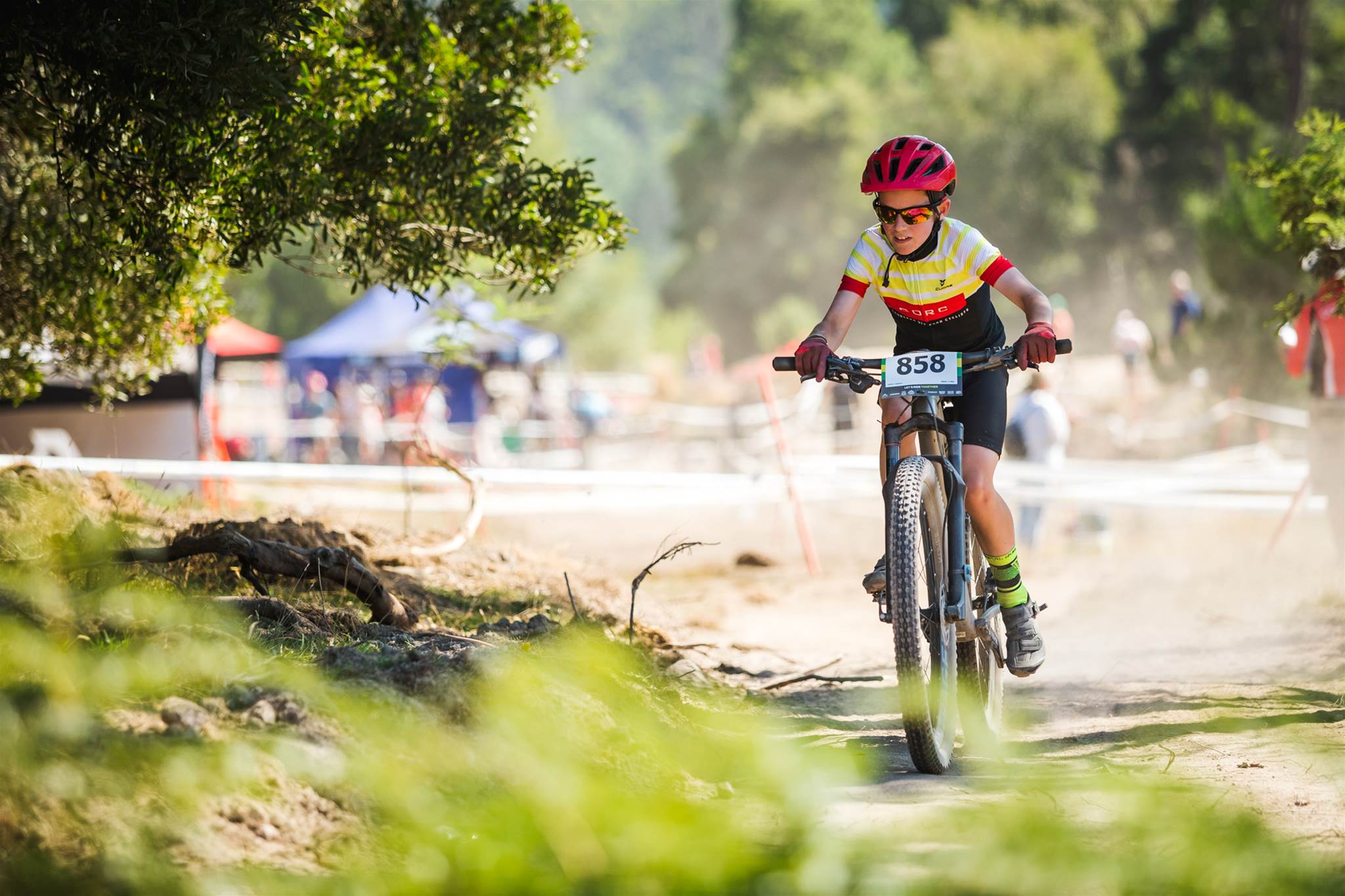 U15 had some better representation with 6 women and five finishers, while the u15 boys filled out to 15 finishers. U17 boys were also huge, with 26 racers – but unfortunately only 5 women. We've had some people mention that we need to cover more of the women who are racing – we're trying but there's not many people between the tape!
Masters Racing
Masters racing were split into a few categories racing at once, with Masters 1 to Masters 4 racing with Expert Men first up. Some of these start lines looked like an elite start of just a couple of years ago – and the pace and racing intensity was there to match the fire power.
Unfortunately, there was a bad crash on the second lap, with the injured rider having a head injury, and fallen across the track. With the course blocked the race was cancelled, with results being taken from lap one.
While there was an air of disappointment, most people agreed that if it was them laid out with a head injury, they'd want the race cancelled as well. The rider didn't need a helicopter, and we wish him the best with his recovery.
With a delay and extended break, the older masters categories took to the course. There can be a little confusion with so many categories, but in general the experienced riders know who their competitors are - they've raced them for a number of years!
 Masters women were low on numbers in Masters 1 and 2, but higher in numbers for Masters 3 with 5 riders. Otherwise each category had less than 5 riders. Tasmania is a big trip for most riders, and after the last 12 months there has been a lot of uncertainty about travelling from one state to another. Those who made it got to race on a challenging course on an amazing bluebird day. No risk, no reward!
Full Masters results are online.
Looking ahead
Tomorrow the U19, U23 and Elite races go ahead, with Downhill seeding in the afternoon. While we'll get to see some high power riders before lunch, the afternoon will reveal who has found the best lines on the ever changing downhill track.
The XCO racers have high lap counts for a long lap, with Elite women racing 5 laps, U23 4 laps and U19 3 laps. For Men, it's one lap more per category. This is a pretty long race, given modern XCO standards aim for 1h15min - 1h30min for Elite women, and similar for men. We may see race times of 1h35min to 1h45min. But - the commissaires will have made the decision based on winning times - and some top athletes are racing!
The Time Trial (XCT) yesterday did offer an opportunity to see wha race times might look like, and it's one that Elite racer Luke Brame took advantage of.
"That was the plan, it was good to see how much it hurts ny the top, it's a long way up. The track is deteriorating a lot with ruts and dirt – but with rain forecast it shold make it interesting."
Luke didn't fully open up, and reckons he can find more time.
"I think I did 19 something, which is off the pace. But there's time to gain there where I cruised the flat sections. It's a long lap time wise, one of the longest I have raced. I knew pacing myself was going to be important, but Saturday is really going to be a test for how long you can push yourself. It's going to be hard. I'm looking forward to it."
Here's to a big day of racing!
Australian Mountain Bike