The Cannondale Scalpel HT brings you speed, simplicity and fun in one package.
Cannondale have redesigned their cross-country hardtail for 2022, taking the Scalpel name and adding a HT to it. This marks the end of the F-series of hardtails, a series of bikes that saw riders like Cadel Evans through to Anton Cooper rise to be the best riders in the world. 
Cannondale have always made super light frames, and the F-series hardtails were no different. That tradition is not changing with the Scalpel HT, with the Hi-Mod frame on the top model weighing a scant 895g claimed weight. In terms of a production hardtail you can buy, few are lighter.
The Canyon Exceed CFR is 835g in a medium, but beyond weight, Cannondale probably have the edge in the updated geometry of the new Scalpel HT.
While low weight is to be commended, geometry, handling and features are one of the true battlegrounds when it comes to choosing the cross-country bike you need. Anyone looking to invest in a new bike has to determine what their tick list is involves. And there are lots of considerations, including but not limited to:
- Fork travel
- Number of water bottle mounts
- Dropper compatibility
- Tyre clearance
- Chainline
- Bottom bracket standard
- Internal routing system
- Frame weight
- Ride compliance
- Reach
- Seat angle
- 2x compatibility (yes, really - still useful for bikepacking events)
Cannondale have gone to town with the features on the new Scalpel HT, and they all add up to create a bike that on paper, looks to be as fast as it is versatile. So while it might suit those chasing all-out speed bumping elbows between the tape, it will suit those chasing long miles in the saddle, on terrain that would unsettle a gravel bike.
New geometry
Longer, lower and slacker may be a catchphrase, but sometimes it's a case of everything in moderation. Cannondale have moved to a slack 67.0 degree head angle, one of the slacker head angles around for a cross-country hardtail with a 100mm fork. The top Hi-Mod 1 model has a 110mm Lefty Ocho which knocks the head angle to 66.5 degrees.
Cannondale have also decided to use size specific chain stays, which is a big win for everyone. It means the back end length increases or decreased proportionally with the size and reach of the bike. You'll also see that the seat angle gets steeper on larger bikes. This works with the same concept on fit. Ask anyone tall how much it sucks climbing, and you bet it will be because with their seat height up, they're weight is so far back the bike wanders around. This geometry is all about staying centred, balanced, and poised for attack.
With a slack head angle, Cannondale are using a modest reach, combined with what looks to be a longer stem - around 80mm based on best guess. This maintains the reach on the bike while adding some leverage to the steering, as opposed to going to 60mm stems like some cross-country bikes are built around, with longer reach. The fork offset is 44mm, which also helps agility at low speed on tighter climbing trails.
But, you'll see that the wheelbase is far from short, and with the slack head angle and 62mm bottom bracket drop, the Scalpel HT will have a bunch of stability at speed. Which is good, as the outight goal of any cross-country bike is going as fast as possible.
A fancy back end
There's a lot going on out the back on the Cannondale Scalpel HT. Firstly, no more funny spacing - it's a 148x12 Boost spacing, with a 55mm chainline. This is perfect for racers who aren't on the factory team, as it means easy wheel swaps when at events, especially if it's someone else helping you out for good karma. It's an ideal match for the Scalpel HT 3 and HT 4 models coming into Australia, given they have a RockShox SID fork as well. If you do a race wheel upgrade, you have a world of choice.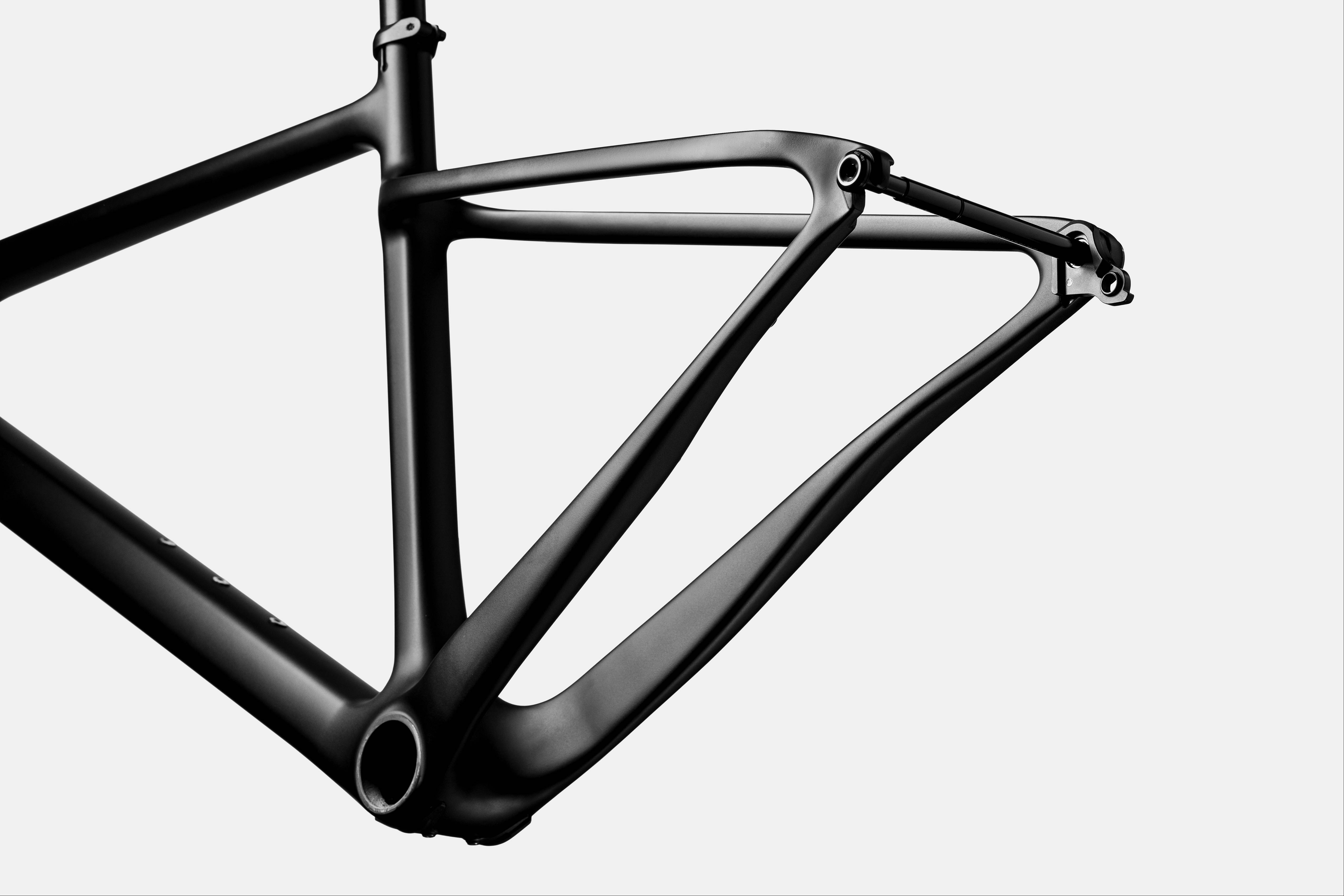 More about the back end though - it's all in the tube shaping and design. The chain stays are sculpted for some give, which is absolutely aligned to the Scalpel name, given they have been doing that for almost two decades.
And you thought carbon flex stays were new?
The chain stays are tall near the PF30 83mm bottom bracket shell for stiffness, but flatter near the drop out. You can see the open non-drive side drop out above. Cannondale call this speed release. It means when you need to change a wheel, once the through-axle is unthreaded, the wheel can drop out. There's no need to remove the axle and push it into the wheel again. Smart money would have a spare axle in your spare wheels so it's super fast. Pricey? Not really, compared to the cost you already spent on spare wheels.
The hanger is the Universal Derailleur Hanger, that a lot of brands are adopting. Why? Because it's a universal design, aiding parts availability globally. And that sounds great.
The seat stays are dropped down the seat tube as well. This allows a little more give thanks to the shaping of the stays, but also via the seat tube.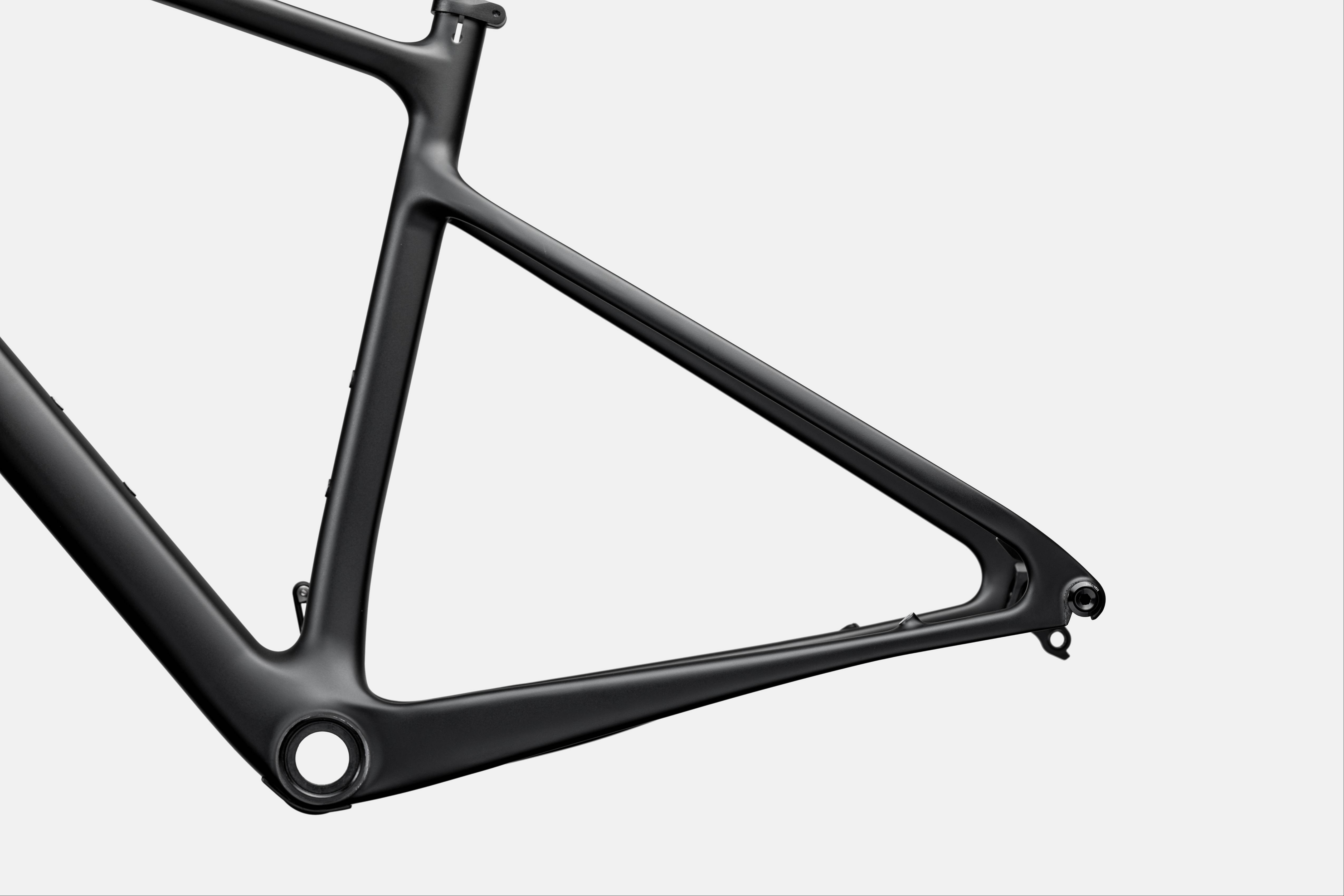 Interestingly, the seat tube still takes a 27.2mm post. This is a boon for flexy comfort, but less popular for dropper post options. That said, short dropper posts do good work, and something like the DT Swiss D 232 dropper post in alloy would suit this bike - although no Scalpel HT models come with a dropper post. Dropper posts go with XC hardtails like mascarpone goes with panettone, helping keep your body position dialed when the trail or race course gets rowdy. Which, if you haven't watched a World Cup XCO race recently, I can assure you XC does get a bit hectic at times.
Handy frame features
There's more going on than just geometry, weight and a fancy back end - Cannondale deserve some kudos for their thoughts on the cable routing. While it's still built for the best hose routing for for right to rear brakers, you can choose whether you run full gear outer through the frame, or use a cable stop.
 This might seem like a small detail, but a race bike needs to be easy to service, no matter where you are. That might be a hotel room, in a car park, or maybe at a service tent. Either way, full length cable housing is more weather proof and easier to slip a new cable into. But the cable stop option is lighter, if that's what you're chasing.
The port on the drive side looks to be optimised for full outer, being there for a dropper post. It would be interesting to see if the rear hose could slide in, for neat routing around the head tube for left to rear brakers.
 
The frame has two bottle mounts, and it's a 3 bolt setup on the down tube so you can run a single bottle lower, or use a nifty accessory mount if you like. Cannondale also have sideways facing seat tube slots at the clamp, just helping to keep some crud out.
Cannondale also have a chain guide for chain security, as dropping a chain is not fast at all.
And of course, there is the wheel sensor! A sensor that provides speed, routes, service intervals and more - all linked to the Cannondale app. This is something I'm keen to hear more about, especially for riders to track bike hours to manage servicing.
Models in Australia
We have two models coming into Australia by mid-2022. The Cannondale Scalpel HT 3 and the HT 4.
Both share the same frame, although it is not the high mod 895g frame. We don't have a weight on the standard frame, but based only on a hunch with how the differences play out with grades of carbon, it would likely be 1050-1200g across the range of S, M, L and XL. 
Cannondale Scalpel HT 3 - $5199
Fork: RockShox SID SL Select+ 100mm
Group set: Shimano Deore SLX/XT 12-speed
Brakes: Shimano Deore M6100
Wheels: NoTubes Crest Mk4
More details
Cannondale Scalpel HT 4 - $4099
Fork: RockShox SID SL 100mm
Group set: Shimano XT/Deore 12-speed
Brakes: Shimano MT500
Wheels: WTB STX i23
More details
Our take on the Cannondale Scalpel HT
There's a bit to take in here. The humble hardtail has continued to evolve, with trail hardtails being very popular amongst riders and brands, along with some pretty hardcore hardtails as well, like the Norco Torrent.
Make no mistake, the Cannondale Scalpel HT is designed to be an all-out cross-country hardtail. But that doesn't mean it's for racing only. The light frame with built in compliance will be fun for anyone to ride who likes a light and fast bike. The geometry is progressive, but still built for purpose. And the frame features will help let you get the bike setup how you want it.
I'd be interested to see what the frame clearance is like for a modern 2.4" cross-country tyre on a 30mm wide rim. All the stock options are on the narrower side for rims and tyres, and this is a huge area of growth in cross-country riding and racing. So much control and speed can be gained from this interface.
Not everyone will be interested in getting a bike like this, but I couldn't do without my own light weight carbon hardtail. It's my main bike for rides where I go exploring, for rides where I don't know where I'll end up, and for bad weather - as there's less to clean up. There's a lot of fun to be had on a cross-country hardtail, and it's so good to see Cannondale deliver a bike that comes from their roots, but speaks to the future as well.
Australian Mountain Bike