Trek's new Slash has more travel, updated geometry, internal storage and even better suspension than the popular original.
Trek have just released their 2021 Slash, with a completely redesigned frame and updated geometry and suspension kinematics. The 2021 Trek Slash sees a bump up in travel, from 160mm in the front and 150mm in the back previously, to 170mm in the front and 160mm in the back. But there are way more changes than just suspension travel for the new enduro and all-mountain bike, and Ben Morrison has been riding a Trek Slash 9.9 for the last month and can give you the low down.
Photos: Nick Waygood
The original Slash ticked so many boxes when launched in 2016 and was leading the charge into the world of Enduro both at the Enduro World Series and for the everyday rider racing at home. Trek made some running changes releasing them on their Alloy Slash which I tested a couple of years back, but these changes were very conservative and just served as a tease of things to come for riders holding out for changes to the carbon Slash.
One of the most exciting things about the new Slash lineup from Trek is that there is no compromise across the range, because Trek have made all of these changes and adjustments to both the carbon and alloy frames. And that includes the frame storage (or lunch box) and water bottle fitment inside the frame on every size and every model!
Australia will have the following models, and they're all available from dealers right now:
SLASH 9.9 X01 $10,999 | SRAM XO1, RockShox ZEB Ultimate, Line Elite wheels
SLASH 9.8 XT $8,499 | Shimano XT. RockShox ZEB Select+, Bontrager Line Elite wheels
SLASH 8 $5,999 | SRAM GX, RockShox Lyrik Select+, Bontrager Line Comp wheels
SLASH 7 $4,999 | SRAM NX, RockShox Yari RC, Bontrager Line Comp wheels
You can also get a Slash Carbon frame kit for $5656, or the Alloy frame kit for $3312.
Geometry on the 2021 Trek Slash
When testing, Trek tried many different changes around the trend of longer and lower and slacker, but found some changes while being very cool pushed the Slash more towards the direction of excelling in one realm of riding more than another. One of the things Trek's race team raised was how the bike needs to perform all day, not just climbing or descending. It was important that the bike was a balanced and composed package.
What Trek did was lengthen out the reach and steepen up the seat tube, not using crazy numbers but using numbers that have made this a much much better bike. Reach increased by up to 30mm depending on the frame size with a large coming from 454mm and now ending up with a reach of 486mm.
As with the 2019 alloy frame, Trek has added a medium/large size which grew from 444mm on the alloy frame to 469mm for the new alloy and carbon frames. The seat tube shifted forwards from 73.6 degrees to 75.6 degrees. While not a crazy steep angle it does work a treat. These changes are also worked around a 35mm stem length where the original Slash was designed around a 50mm stem. The bottom bracket is also 8mm lower for greater stability, and the fork offset has been reduced to 42mm. The MinoLink can still let you make minor adjustments, which are all noted in the geometry chart below.
Want to geek out on all the geo? We got you.
Trek also updated their KnockBlock system which prevents full bar rotation. The crown clears the head tube and there is movement through to 72 degrees past dead straight, either side.
Keeping these changes in the front of your mind, Trek say do not be frightened by them. If you rode a medium before and you like it, stick with medium in 2021. We also see a slightly longer rear end with an increase from 435mm out to 437mm, this feels shorter than it is but also as long as it is, which is a very hard thing to describe. The best way to describe it would be as the best of both worlds, in the slower tighter trails you don't need to drag of muscle the Slash around corners and when you then get it out in a straight line the stability is there even over roots and rocks as you get faster and faster, while still allowing you the maneuverability you loved from the old Slash when it comes to last-second line changes.
With the input of their team Trek pushed the head angle out to 64.1 and matched that with a 44mm offset fork giving you a very easy to control bike across all trail types and conditions. Running along the theme of handling the bb was dropped 8mm to match these new changes and can still be adjusted to be 6mm higher or lower using the mino link system.
Some other notable changes have been the increase in seat tube size to 34.9mm which allows for more room in the seat post and the construction of more reliable longer dropper posts. Trek took advantage of this and redesigned their Line Elite dropper post now offering 100mm-200mm lengths with a stiffer, faster design. Trek also took a fair chunk of weight (about 440g) out of the Slash with a frame set coming in at 2450g.
We also see the use of the newish Universal Derailleur Hanger or UDH by SRAM, we saw this on a few other bikes in Trek's 2020 range and several other brands. Fingers crossed this takes off meaning one hanger for any bike and we cannot see any downsides to that!
The Slash stays as 29"
With plenty of gravity bikes going for a mixed wheel size, or mullet option, with 29" front wheels and 27.5" rear, Trek have stayed on 29" front and back. The Slash is a race bike designed to go fast and the 29" wheel is faster, so they worked around this size.
Engineering and technology advancements mean that the 29" wheel now works on all of the Slash frame sizes and Trek have had great feedback from their team - which does include some smaller riders. Trek understands that many riders will still want that nimbler and more playful feel you get from a 27.5" wheel and that is where the Remedy comes into play.
Project One
As is the trend lately with Trek we are slowly seeing all their new models slip into their Project One range. Project one is a system you can play with online to create a full custom painted and specked bike, now the Slash is now part of this! The design team that worked on Slash told us that before settling on the colors we can buy off the shelf they had to cut around 40 options that had made the short list, some of these made it into Project One as a standalone option for you to pick.
Custom RockShox suspension
When it comes to suspension it has to be said the Team from Trek and RockShox did an amazing job working together to develop a shock that was made to work on the Slash and no other bike. Yep that is right you have a fully custom-made shock with the Super Deluxe Air Thru Shaft. The Slash is compatible with a huge range of shocks both air and coil already on the market from Fox, DVO, MRP and RockShox with one known exception being the RockShox Super Deluxe Air as in the last 30% of the shock travel the lock out lever will impact the frame. Yes, the Slash has a Super Deluxe Air, but it's a custom model.
One of the advantages of building a shock around a bike is knowing if things will get in the way of a bottle or frame such as a lockout. The solution was to move the lockout off to the side where there is more room in the frame and it is easier for the rider to access. You also get to work on things like the tune of the bike for what you want the shock to do not just making do with what manufactures are offering.
You might notice a blue dial sitting around the now conveniently numbered rebound dial. This adjusts the Low speed compression (and is exclusive to the Slash) in the positive setting it is working on impacts of movement around 2-10 times per second which is rider input like pumping or pushing the bike into the lip of a jump, the - works off 40-100 times per second generally being impacts coming from the ground up like roots and rocks you might be hitting at high speed on a steep technical trail. The 0 setting is kind of your baseline and good if the trail has a mix of features or if you do not know how you want your bike to perform specifically.
RockShox and Trek were able to significantly increase of air spring over a stock Super Deluxe Ultimate shock to the point of it being almost like having a MegNeg can installed from new. Stock this shock comes with no spacers in positive or negative air spring, allowing adjustment in each, you can install up to 3 tokens if you are looking for a much, much more progressive shock but the standard rate should be fine for most riders, as it's a great level of progression and ramp up in its stock configuration.
Trek made a move away from their RE:aktiv tune found on some of their other bikes for the Slash in 2021 due to Enduro being so focused on DH style riding where the use of a shim stack inside the shock is a much better way to tune the shock offering excellent performance. The RockShox Super Deluxe Ultimate damper actually already addressed some of the things Trek was chasing so it was a no brainer for them in the end to move away from RE:aktiv and go with shim stacks if everyone getting involved was on the same page before the collaboration even started!
But that bike looks so big - how does it ride?
Big tubes, big 38mm forks and mega 820mm (835 inc grips) wide bars! Dealers reading this please get people to sit on this bike with bars appropriate to the riders build or size, the this will 100% change the visual stigma and make sure riders are on the correct size bike, as Trek say if you road a medium you still ride a medium.
I setup the rear shock with 30% sag and in the 0 low speed compression setting to start with and used the recommended air pressure setting by RockShox for the new ZEB while using the same rebound, high speed and low speed settings used on a Rock Shox Lyrik along with a single token. I also cut down the bars to 750mm (760mm including grips).
There is something about Treks that just works, in the time taken to bed in the brakes properly I found that the Slash started to feel familiar already. This lead into my first run, the trail I used covers a few different things, sprinting, jumps, fast rock section, rooted corners and some smaller drops. From the word go the internal monologue was "I am definitely faster on this bike".
Over the coming days returning to the same sets of trails and often in very wet conditions some minor changes were made to my setup. My confidence grew on every run finding the limit more times that the Slash itself. I did make the odd change to suspension increasing the ZEB's pressure by 2 PSI. Yep, 2 PSI elevated the ability again of the Slash but brought the rider along with it. I also spent time using both the positive and negative settings on the low speed compression to really take advantage of things.
The Slash is a must ride bike and it is extremely hard to put into words the feeling you get other than saying it just feels evenly planted and under control almost all the time. Watching someone ride the new Slash is not very exciting as there is next to no body language coming off them until you look at the bike and notice it is getting wild, but it's not impacting the rider.
The easiest way to describe this feeling or look is to watch someone like Eli Tomac hitting a whoop section on his Motocross bike, the bike is just going mental up down backwards and forwards but Eli just looks like he isn't moving and as if he is riding on a smooth road. That is what the Slash does for its rider and it's fantastic!
Trek have done an outstanding job with the new Slash the suspension setup is amazing front to back and mixed in with some new and nicely balanced geometry changes it really does offer the full package. Riding the Slash it's no secret this was designed to win races as much as it was designed to be used as an all-day long travel trail bike.
The Slash is not perfect but no bike ever will be due to the range of riders and opinions in this world. If I could ask for a few changes it would likely only be in spec, such as a 220mm front rotor (the ZEB takes a 200mm with no adaptors) and either a 200mm or 220mm on the rear (which the frame will take with ease). Moving from a stock 30t front chain ring to a 34t and with the new larger Eagle should be fine in here in AUS (note 34t is the max you can fit). As I said these are only some minor issues and focused more rider a rider preference not the bikes performance itself.
Bravo Trek, Bravo.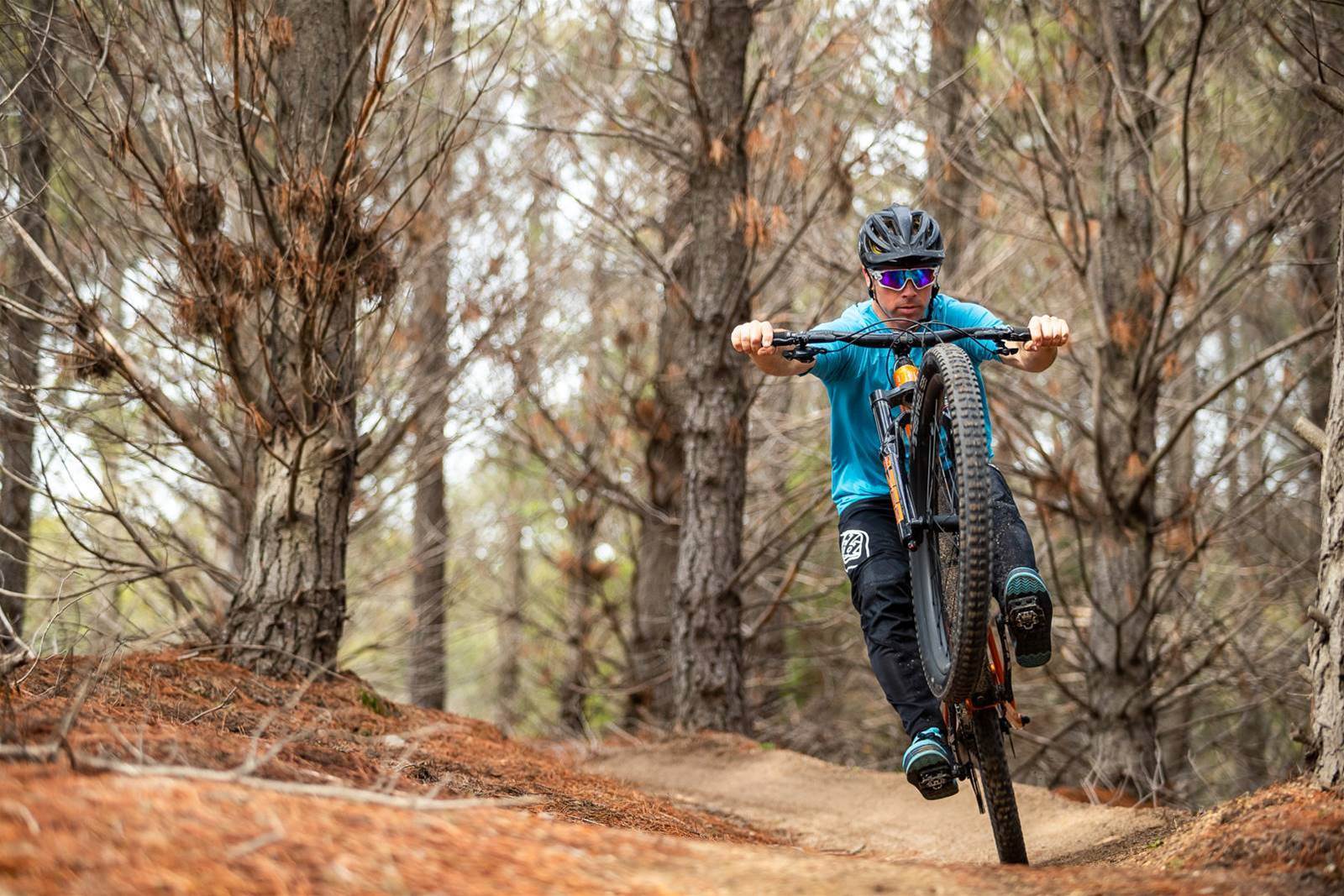 Australian Mountain Bike