We put Merida's Ninety Six RC 9000 to the test.
Words: Mike Blewitt
Photos: Colin Levitch 
---
Intro:
Merida are synonymous with making great value mountain bikes, but some people forget that they're also top performers. While Merida pulled back from their investment in World Cup cross-country racing to focus on eMTB development, their new Ninety-Six shows that they didn't stop working on their top tier full-suspension cross-country bikes. The Merida Ninety-Six RC 9000 is the top spec cross-country bike from Merida, with Shimano XTR M9100 12-speed, Fox Factory suspension and dropper post, and some lovely DT Swiss XRC Spline 30mm carbon wheels. It sells for $9999.99, so about $800 less than the Orbea Oiz M Team, and with a Fox Factory dropper post included.
Swinging off the back of the Merida Ninety Six RC 9000!
We had the Merida Ninety-Six RC XT on test previously, and for the most part this bike is the same, but with more of an upmarket spec throughout. A key difference that you may not notice on a spec sheet is the grade of carbon fiber used in the layup of the 9000 frame compared to the XT model, or the 8000 or 5000 models. The Ninety-Six RC 9000 uses Merida's CF5 carbon fiber, which is a higher quality material, and a medium frame is claimed to weigh just 1695g. Merida have four grades of carbon fiber across their entire bike range, from CF2 up to the CF5 used here. The higher quality materials let Merida use a little less of it while not giving up strength or stiffness. The downside? Bikes with CF5 frames will cost more than the same looking frame in a different grade of carbon fiber.

The past two years have seen a new age in cross-country mountain bikes. Anyone who has watched top level cross-country racing will know that a modern world-class cross-country race course is a very committing challenge, with demanding technical features. They may be natural features or purpose built, but a modern course has these features coming thick and fast. The Cairns 2017 World Championships course was a perfect example, with features like Jacob's Ladder, The Croc Slide, Rodeo Drop and many more testing riders on every lap. Bikes have to keep up, and you'll see cross-country frames that are stiffer, have a longer reach and slacker head angles, plus steeper seat angles to keep the front wheel down when climbing, shorter offset forks for low speed agility, and typically a more progressive rear suspension system to allow for traction over rocks and roots, but a good rising rate for bigger drops.
And the bike parts spec is changing as well, with dropper posts becoming nearly standard equipment on top racer's bikes, along with wider tyres or at least wider rims to give the tyres better support. Bar width and stem length will be decided by rider preference and fit, but many new bikes are designed around 60-70mm stems and wide bars. Add the fact that some bike models can be converted to a 'downcountry' spec with a longer fork and even a longer stroke shock, and you'll have to agree that cross-country bikes have never been more capable, and versatile, than now.
Dropper posts are becoming commonplace on XC bikes.
Merida have adopted all of the updated geometry trends, with a 68.5 degree head angle, 76 degree seat angle (on the large I have on test), 473mm reach and 435mm chain stay length across all sizes, S-XL. There are two bottle mounts inside the main frame – perfect for marathons, stage races and long rides – and an accessory mount beneath the top tube. There's lots of standover height, a racey push to unlock remote suspension setup, a mini chainguide and a neat Flexstay arrangement on the full-carbon frame that ditches the rear pivot to rely on engineered flex in the rear triangle instead.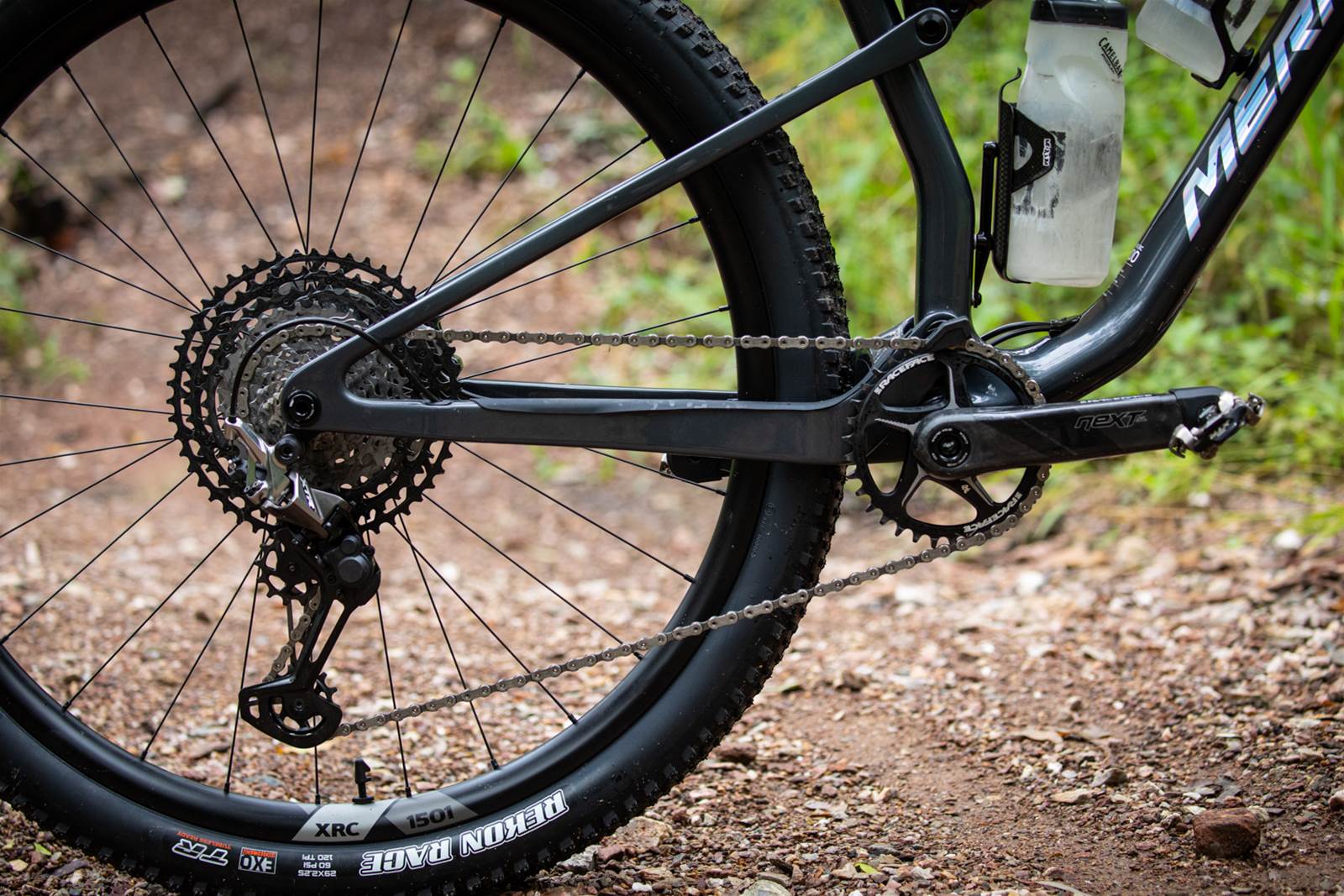 Flexstay rear suspension designs are becoming ubiquitous in the XC market.
With the Olympics set for 2020, and now 2021, we have seen a lot of updates to brand's cross-country bikes. Globally there are a lot of new designs, and here in Australia the likes of the Specialized Epic, Orbea Oiz, Canyon Lux, BMC Fourtstroke, Cannondale Scalpel and the 60mm travel Trek Supercaliber lead the charge in this arena. The arrival of Mondraker and the F-Podium will add more options to the market. So how does the Ninety-Six RC 9000 stack up?
---
Tester: Mike Blewitt
Riding Experience: Around and about. Lots of marathon and stage race experiences.
Generally Rides: Norco Revolver FS, Norco Revolver HT
Height: 178cm
Weight: 73kg
Bike Test Track: South East Queensland Alps
---
Initial Impressions:
The black, high gloss frame and mirror finish decals look the business on the Merida Ninety-Six RC 9000. Looking over the bike, it's a tick list of what any cross-country or marathon racer would want. The Shimano XTR M9100 12-speed group set is driven by a Race Face Next SL carbon crank set. These cranks are super light, and while they're not XTR, replacement chain rings are around half the price. The Fox Factory 32 SC fork has a 44mm offset, working hand in hand with a longer reach and slacker head angle on a cross-country bike. The Fox Float DPS shock is paired to the fork via a RockShox TwistLoc remote lock out, sitting on Merida's own 740mm carbon bars.
Race Face Chainrings are far cheaper to replace than XTR ones.
Fox also take care of the 150mm Fox Factory Transfer dropper post. Shorter dropper posts are often favoured but to be honest, a shorter post from Fox weighs about the same as a longer post – so use what you can.
The DT Swiss XRC 1501 Spline 30mm wheels are a component highlight, just like they were on the Orbea Oiz tested a couple of issues back. The 30mm inner width is a perfect match for the 2.25" Maxxis Rekon Race tyres, and possibly a better match with the 2.35" variant. Alas, 2.35" is the maximum size the Ninety-Six can accept, and the new 2.4" WT casing is huge – it won't squeeze in. The upside of the slender stays is exceptional heel clearance when pedalling – I had zero scuffs.
There isn't a ton of rear tyre clearance.
Getting the bike setup was simple enough, matching my settings from my own Fox 32 SC, and setting the rear shock up with 25% sag to start. Two Camelbak bidons fitted just fine in the cages, and the 740mm bars felt spot on. I spend the majority of my time riding a full-suspension or hardtail XC bike, and moving to the Ninety-Six RC 9000 was a cinch, everything fell in place perfectly. It weighed in at 10.42kg setup tubeless, with two cages and without pedals.
Two bottle cages and fantastic rear suspension - what more could you want.
On The Trail:
If you're still on the fence about getting a new cross-country bike and put off a little by the rapid changes in geometry, let me reassure you that sitting on a modern cross-country bike feels normal – but better. While the reach is longer, most seat tube angles are about 2-3 degrees steeper, so you're still really centred, you're just over the pedals more for climbing. That means you don't need to scoot forward as much. And that slacker head angle is great for high speed stability, but with a reduced offset fork, the steering is still nice and agile at lower speeds.
What's immediately noticeable is how readily the Merida wants to accelerate. The frame is nice and stiff when you jump on the pedals, surging forward with minimal input. That's all well and good, but when you'll really notice the updates to modern cross-country bikes is when things get a little rowdier.
The Merida Ninety Six RC 9000 responds well to quick accelerations.
The frame and suspension design really shine for the Merida Ninety-Six RC 9000. The frame is  stiff, which is a huge bonus for handling and control. Even in really rough sections where you're working the bike from one line to another as the trail changes, it's not shifting off line. The DT Swiss wheels play a role here, as they aren't a flimsy, cheap carbon rim, but a stout carbon rim from the people who built the rim that Aaron Gwin rim bashed down the Leogang DH World Cup in 2014. The Fox 32 SC isn't always regarded as the the stiffest fork, but I think it's a good match to the bike overall, and I like the feel once you've taken the time to get the settings right.
The rear suspension has been designed with added progression. This means it will ramp up more when deeper in the stroke. Getting the suspension working in extended rougher descents is where it really comes to life. With a plush initial stroke, you've got the added traction and control. Thanks to such a high level of support from the midstroke as the suspension ramps up, it's the perfect basis to still be able to pump off features to work the bike to a new line or over a larger obstacle. I was thoroughly impressed at how composed the Merida remained in rocky chutes and high speed rock sections. There's no mistaking it for a long travel trail bike, but in terms of a bike that needs to get from point A to point B as fast as possible, it's a really capable cross-country frame.
---
Can't get enough XC tech? Check out more of our XC bike reviews below:
TESTED: Merida Ninety-Six RC XT
TESTED: Specialized Epic vs Specialized Epic EVO
---
Similarly, the Merida remains balanced when pushing in and out of high speed berms, with the whole package feeling direct and planted, yet ready to change lines. Merida do sell a Ninety-Six 8000 with a 120mm fork with 35mm legs, and part of me thinks that without having an option for a longer stroke shock, it might not be worth it. But as I've ridden the bike more, I think that how the frame uses it's 100mm in the back, it would be fun with a 120mm fork. However I really think this design shines as a cross-country, marathon and stage race bike.
Pumping the Merida through berms generated plenty of extra speed.
There's not much to say about the rest of the component spec, it all blurred into the background and performed consistently as expected. My one niggle was the TwistLoc remote. Merida have acknowledged that they won't stay tight on their carbon bars, which is one annoyance. With a push to unlock suspension setup, it leaves the Fox suspension ready to lock out again with a very light action to spring back to the default lock out position. I love this on my own bike with a Fox under bar lock out. But with the TwistLoc it would lock out again with pressure on the grip section. That could be when preloading the front end into a rock garden, or pushing into a corner. At best it's frustrating – at worse it's dangerous. I'd expect your bike won't leave the store with this lock out. It's about as difficult to change as a tyre or saddle and certainly isn't a blight on the bike – just a component specification that isn't truly compatible.
There's a fair bit happening on the left hand side of the cockpit.
Our Take:
I'll be the first to admit that I'm pretty fussy with how a cross-country and marathon bike should ride. And with a change to the lock out lever, I would happily zip tie a number to the bars of the Merida Ninety-Six RC 9000 and line up at just about any event in the cross-country, marathon or stage race scene. Selling for about $10000 you would expect the bike to really deliver, and it does. There are no short cuts on the parts specification, although I do suspect the slightly awkward cable entries into the headset top cap is a precursor to SRAM AXS models in 2022.
The headset cable routing is a bit awkward.
In terms of features, the Merida ticks all the boxes, including the really big one of twin bottle capacity. You might only carry one for a lot of the time, but whether the second cage carries spares, a jacket stuffed in an empty bidon, or life giving fluids on a hot day – you'll be thankful it's there.
Beyond the features and parts spec, the standout to me is the capable ride of the frame's geometry, it's precise handling and supportive ride. It's a fine line to build a bike that can be supple at low speed and supportive at higher speeds, but based on my testing Merida have achieved it. Even with a few locked out moments, I still set some personal records on the key local trails I use for bike testing (and yes, faster than on an Optic, Transition Smuggler, my own bike or Merida eOneForty). Merida have done an excellent job with this frame design, and this bike is considerably more expensive than the XT model we tested previously. If you want the best bike I would suggest buying this one. Every component except the stem is a higher quality item, and the ride improvements from the wheel set alone makes a big difference. Merida have one of the best value top-spec cross-country full-suspension bikes. It goes head to head with the sold out Canyon Lux CF SLX 9 Team on value, although it arguably has more progressive geometry. It also runs very close to the Orbea Oiz M Team we tested – and that bike's ability to change to a longer stroke rear shock and fork for a 120mm bike is a nice option, if you're likely to have a spare $2000 worth of suspension components on hand. But if I had ten grand burning a hole in my pocket and a need for a modern cross-country and marathon bike – I know what I'd be buying.
Mike loved his time on the Merida Ninety Six RC 9000.
Price: $9999
From: https://www.merida-bikes.com/en-au
Australian Mountain Bike