The opening round of the XCO World Cup landed in Stellenbosch - and the new course didn't disappoint!
It's not even the middle of March, but the first round of the UCI Cross-Country World Cup has been run and won. With a calendar that normally starts in April or May, the World Cup racing was super early this year, as the organisers of the Cape Epic won the rights to hold a World Cup a week before their iconic event in the Western Cape, South Africa.
The world is a stage - get your head around stage races like the Cape Epic.
And while the early date put pressure on a lot of athletes based in Europe (which is still ground zero for much of the World Cup scene and the talent pool), it was clear that they had done their training camps. From early season training in Stellenbosch itself, Australia, Hawaii, the Balearas Islands, Cote d'Azur - or just 200km ice skating races (yes, really) it didn't look like anyone was coming in underform. This is the World Cup. There is no margin for error.

The women's race often has a question mark over who can win. With so many World Champions and World Cup overall winners duking it out each race, every World Cup is an open book.
2017 World Champ Jolanda Neff was a surprise starter having broken her collarbone 5 weeks ago in a cyclocross World Cup - and she lit it up on the first lap as usual. But it was France's in-form Pauline Ferrand-Prévot and Denmark's Annika Langvad who ended up head to head at the front of the race, with the Netherlands' Anne Tauber a best ever third.
Neff trailed with her Polish team mate Maja Włoszczowska. Germany's Helen Grobert was closing.
Small mistakes by Langvad had her chase back to PFP a number of times, and it was clear Langvad had the strength to win. She eventually got away on her own, riding to another World Cup opener victory. PFP was 2nd, with Tauber 3rd - her best result ever.
The sprint for 4th was high action as Neff and Włoszczowska were mown down by Grobert, who took 4th relegating Włoszczowska to 5th and Neff to 6th.


The 33-year-old Langvad said, "It was a really good day for me on an intense course where it is easy to make small mistakes. I had a stick in my wheel plus I had to unclip and run. I always manage to keep my head composed and come back, though."
Rebecca McConnell finished 15th, an excellent start to her World Cup season with her new team.

 
Who can stop Nino Schurter's winning streak?
Absalon broke a bone in his wrist earlier in the week. Mathieu van der Poel would have his work cut out starting so far back on the start grid. Kulhavy hasn't been that impressive in early season racing. So where would the threat come from?

New Zealand, apparently. In the opening lap Anton Cooper was full gas, with 2017 U23 XCO Champion Sam Gaze right on Schurter's wheel.
Cooper would fade a little and drop from the top 3, and then top 5. But it was clear Gaze was the man to take the race to Schurter.
But the cocky young New Zealandar was playing the game. He was happy to put Schurter under pressure, then force the reigning World Champion to do the work to stop the fast Frenchman Maxime Marotte, or cyclocross wonder child Mathieu van der Poel from closing in.
Gaze would often lead a descent, then sit up through the grassy tech/feed zone, forcing Schurter to the front on the climb to maintain their gap. Towards the end of their 6th lap it even looked like Gaze threw his bottle at Schurter's rear wheel. The Swiss was clearly working hard, his body positioning and language lacked the normal composure he has on the bike.

Gaze led going into the final sprint with Schurter slipping a pedal close to the finish line while Frenchman Maxime Marotte fell just short after a late comeback - he was just one second behind Schurter - probably the ride of the day!


Gaze revealed, "It's a dream come true. I grew up idolising guys like Nino. You always dream you can do it and it is a beautiful moment when you finally do it. I started to cramp up with a lap and a half to go and I put on a poker face. I got closer to the finish and knew I had to be in front to have the advantage in the sprint."
Nino rode ride past Gaze as he cramped after the line - clearly furious about pulling his foot. From where we sat, watching a small screen, it looked like Gaze had about two bike lengths anyway, not something Schurter would have closed down. But looking at the flower ceremony and no real sign of congratulaitons on social media post-event, there is certainly a grudge match brewing!
Dan McConnell didn't have the greatest day, but is clearly motivated for the rest of the season. Go get 'em Dan!
But what did we learn from the first XCO World Cup?
New bikes, new styles at the World Cup
A few things came out at the World Cup. Clearly, Nino Schurter is riding and racing on Eagle Etap for one - a wireless version of SRAM's Eagle 12-speed drivetrain. Will it be available for the general public? Probably. When? Who knows - but if they are happy enough for it to be public it should be within 12 months.
There was also a big move in some bikes that riders used.
In the men's top 5, all men were on full-suspension bikes. From a Specialized Epic, to a Scott Spark, Cannondale Scalpel Si, a new Canyon, and a BMC Fourstroke.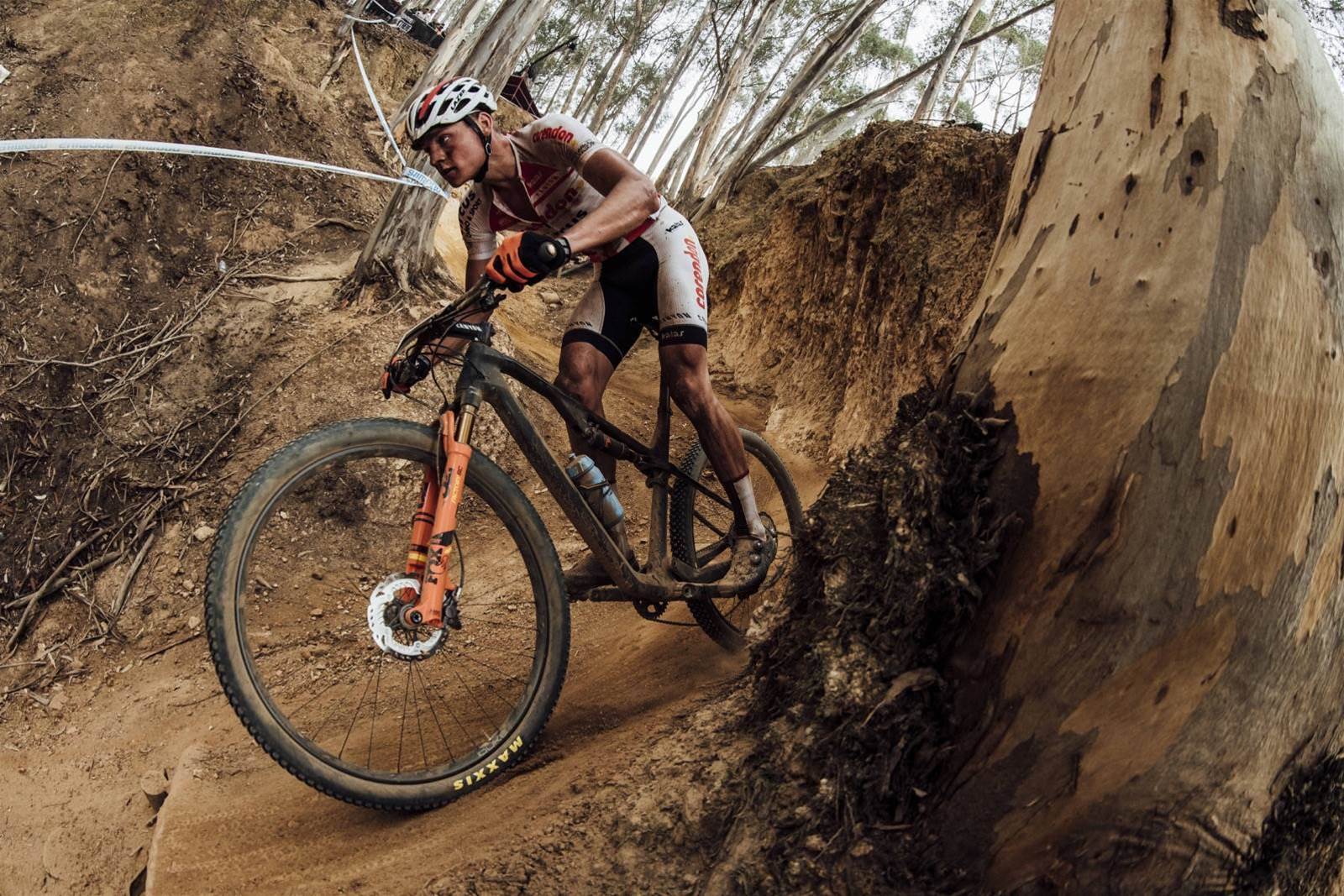 Yep - that's a new Canyon, yet to be released.
There was a KS Lev Ci dropper post on the BMC of Carod, but the other 4 'high posted' the whole race. The same can't be said for the women's race.
Langvad, Ferrand-Prevot, Tauber, Włoszczowska, Neff and more inside the top 10 all used dropper posts, and although full-suspension bikes were in the majority, Neff and Włoszczowska still ride hardtails. Notably, they didn't use a 65mm dropper like Carod did, but usually 100-125mm dropper posts. The addition of a dropper to a hardtail brings in a lot of versatility in a lighter weight overall package - which counts when you're barely 50kg.
New generation
With Sam Gaze winning, and Anton Cooper inside the top 10, New Zealand is punching above it's weight but it's a show of the younger generation taking hold. Both Cooper and Gaze have been U23 XCO World Champion. The women's race saw a number of riders moving up from U23 too, including Allesandra Keller, who finished 7th.
The next round is in Albstadt, Germany, in May. But the Downhill World Cup kicks off in late April in Croatia - what new technology and young talent will we see there?
Australian Mountain Bike