The Tokyo Olympics are about to start - who can win the mountain bike races?
Photos: Bartek Wolinski/RedBull
---
The Tokyo Olympics have had a rough run, being postponed by a year and now held without spectators for all events. Some athletes haven't been able to attend for some events due to positive Covid cases within their teams, and some say the Japanese public would prefer the Games weren't going ahead. But, the Olympics are still the pinnacle for many sports, with an Olympic medal being one of the greatest achievements possible, and that's certainly the case for cross-country mountain biking. While the World Cup is the big show, the top racers have been working towards qualification for the Olympics for years, with multiple athletes from a country forming a long team to work towards increasing a country ranking, and gaining more starting positions at the Olympic Games. Yes, it's just one race, but it's a very big deal.
The course in Izu, Japan, had a test event in 2019 that saw Swiss riders Nino Schurter and Jolanda Neff win on the highly technical course. It also saw plenty of riders get busted up.
The course is 4km long and each lap has 180m of climbing. That's less than some of the World Cup courses, but it's more than enough to make a difference. More taxing will be the terrain, with lots of huge boulders and logs used to create demanding features.
How can I watch it?
Channel 7 have all the rights for viewing, and with the men on at 4pm AEST on 26th July and Women on 4pm on Tuesday 27th July, the time zones are friendly! Scheduling doesn't show the MTB being covered on television, but you can tune in to the 7 Plus App for your device or smart TV.
Who is racing?
Here are the complete start lists for the women's and men's races, which take place on 26/27 July. Each race has 38 riders starting, far less than in a World Cup, so you can expect some break out performances from riders who have been chipping away at the World Cup, but not broken through just yet.
Women's start list
Sofia Gomez Villafane (Argentina)
Rebecca Mcconnell (Australia)
Laura Stigger (Austria)
Githa Michiels (Belgium)
Jaqueline Mourao (Brazil)
Catharine Pendrel (Canada)
Haley Smith (Canada)
Bianwa Yao (People's Republic of China)
Jitka Cabelicka (Czech Republic)
Caroline Bohe (Denmark)
Malene Degn (Denmark)
Rocio del Alba Garcia Martinez (Spain)
Janika Loiv (Estonia)
Pauline Ferrand Prevot (France)
Loana Lecomte (France)
Evie Richards (Great Britain)
Elisabeth Brandau (Germany)
Ronja Eibl (Germany)
Kata Blanka Vas (Hungary)
Eva Lechner (Italy)
Miho Imai (Japan)
Daniela Campuzano Chavez Peon (Mexico)
Michelle Vorster (Namibia)
Anne Tauber (Netherlands)
Anne Terpstra (Netherlands)
Maja Wloszczowska (Poland)
Raquel Queiros (Portugal)
Viktoria Kirsanova (Russian Olympic)
Candice Lill (South Africa)
Tanja Zakelj (Slovenia)
Sina Frei (Switzerland)
Linda Indergand (Switzerland)
Jolanda Neff (Switzerland)
Jenny Rissveds (Sweden)
Yana Belomoina (Ukraine)
Haley Batten (United States Of America)
Kate Courtney (United States Of America)
Erin Huck (United States Of America)
Men's start list
Daniel Mcconnell (Australia)
Maximilian Foidl (Austria)
Jens Schuermans (Belgium)
Henrique Avancini (Brazil)
Luiz Henrique Cocuzzi (Brazil)
Peter Disera (Canada)
Martin Vidaurre Kossmann (Chile)
Peng Zhang (People's Republic of China)
Ondrej Cink (Czech Republic)
Sebastian Fini Carstensen (Denmark)
Jofre Cullell Estape (Spain)
David Valero Serrano (Spain)
Victor Koretzky (France)
Jordan Sarrou (France)
Thomas Pidcock (Great Britain)
Maximilian Brandl (Germany)
Manuel Fumic (Germany)
Periklis Ilias (Greece)
Andras Parti (Hungary)
Shlomi Haimy (Israel)
Luca Braidot (Italy)
Nadir Colledani (Italy)
Gerhard Kerschbaumer (Italy)
Kohei Yamamoto (Japan)
Jose Gerardo Ulloa Arevalo (Mexico)
Alex Miller (Namibia)
Milan Vader (Netherlands)
Mathieu van der Poel (Netherlands)
Erik Haegstad (Norway)
Anton Cooper (New Zealand)
Bartlomiej Wawak (Poland)
Anton Sintsov (Russian Olympic)
Vlad Dascalu (Romania)
Alan Hatherly (South Africa)
Filippo Colombo (Switzerland)
Mathias Flueckiger (Switzerland)
Nino Schurter (Switzerland)
Christopher Blevins (United States Of America)
Who's on form?
Everyone. No one is rolling into Tokyo seeing if they can wing it. Mathieu van der Poel pulled out of the Tour de France early to prepare for this race. Pauline Ferrand-Prevot has been living apart from her partner Julian Absalon so she can prepare accordingly. Anton Cooper even shaved his mullet off.
The favourites for women
In the women's race, no one has beaten Loana Lecomte in an Olympic Cross-Country World Cup this year. She won in Albstadt, Nove Mesto Na Morave, Leogang and Les Gets. You cannot say that Lecomte isn't the outright favourite for the race.
However, every race has elements of chance and risk, and travel to Tokyo is a risk in itself. People get sick in germ tubes outside of pandemics, and we have only seen Lecomte win at 'home' World Cups in Europe.


Enter, Pauline Ferrand-Prevot. The multiple World Champion has won in XCO, Marathon, Cyclocross and Road. She is techincally brilliant, a savvy tactician, and has had complete focus on Tokyo. PFP has repeatedly said her focus was on Tokyo, whether it was a line to roll out as Lecomte beat her again and again, or it truly represented her precise approach to a build up, we can't be sure. PFP has done the work, has the experience, and is another outright race favourite.
And then there is 2016 winner Jenny Rissveds. Since winning gold in 2016, Rissveds life has been a roller coaster of personal tragedy and turmoil. Any fan of cross-country racing will have enjoyed seeing Rissveds rejoin the World Cup scene, and ride back up the ranks with skill and pure athletic class. Rissveds has been a fast finisher in the last two World Cups, and her techincal prowess should do her favours on the demanding course in Tokyo. A win in Tokyo would be an amazing cap on a turbulent few years - although so is being there.
And what about 2018 World Champion Kate Courtney? She will be a force to be reckoned with, especially as the USA has a 3 rider team with Haey Batten (herself a shot at a medal) and Erin Huck. Will they race as a team? Or do they just have more riders in the mix? Kate is a highly competitive rider, and seems to have bounced back quickly from a broken hand. At this point I'd say a medal would be a great outcome for either Kate or Haley.
And of course - Rebecca McConnell. There is no denying that Bec is a favourite for a medal in Tokyo. She was 3rd in both the 2019 and 2020 World Championships, and has palced herself at the front of the race in nearly every World Cup this year, along with 3rd in Nove Mesto. Bec is a strong technical rider, and along with every other Australian, I can't wait to see Bec take the bull by the horns in Tokyo.
The Swiss have ruled cross-country racing in partnership with the French for ages, and the Swiss women's team has Jolanda Neff, Sina Frei and Linda Indergand. We've seen Indergand in possibly her best form ever this year, as Neff is still gaining strength after tearing her spleen last year, and breaking her hand a couple of months ago. Frei is a Junior and U23 World Champion, and has jumped straight into the top 10 in elite. My pick from these three would be Indergand for a potential medal in Tokyo.
There are lots of others who are outside bets. Laura Stigger from Austria and Evie Richards from England could both pull off a medal, or a likely top 5. And of course Tauber or Terpstra from the Netherlands. But I really think the top 5 will fall within PFP, Lecomte, Rissveds, Courtney, Batten, McConnell and possibly Richards, Indergand and Stigger.
The men's favourites
I think many would be grateful that we don't have just Nino Schurter as the favourite. The Swiss was unbeatable a couple of years ago, but it did get a little boring watching him win all the time. Schurter is still one of the world's very best, and long with the likes of Thomas Pidcock, Mathieu van der Poel, Mathias Flueckiger, Henrique Avancini, Jordan Sarrou, Victor Koretzy and even Ondrej Cink he's a favourite.
Many will feel that van der Poel is the favourite. The ease with which he can put a gap into his rivals is almost laughable. The talented rider from the Netherlands wins classic road races, Tour de France stages, Cyclocross World Championships and World Cup XCO and Short Track. The flip side of that is that he fills his calendar to the brim. He's young enough to do that, but we'll see if his early exit from the Tour to focus on Tokyo was the ideal move and preparation - or not.
Thomas Pidcock will also be an outside favourite. The young Brit has oodles of talent and swagger, along with the might of the Ineos road team behind him. He won in Nove Mesto, after riding through from near the back in Albstadt. He does ride pretty fast and loose, and that will either give him an edge in Tokyo - or potentially see him come unstuck.
Speaking of fast and loose - what about Mathais Flueckiger? He's one of the few riders to beat compatriat Nino Schurter, including at the recent Swiss National Championships and the last two World Cups in Leogang and Les Gets, with a podium at Nove Mesto (below) and at Albstadt. Fluecki is technically brilliant, and climbs like a scalded cat. His acceleration is punchy and so he can create a gap nearly as well as VDP.
Can Schurter repeat? We all know he will be trying. But I think he'll be in the fight but unlikely to come out on the top step. We haven't seen his outright dominance that would place him as a favourite.
Ondrej Cink has had superb results of late, and I believe is an outside medal chance. Some say his techincal riding isn't as good as others. He races the World Cup and finishes on the podium, so his technical riding is better than the vast, vast majority of the mountain bike public. But that's an edge that the other top riders may have on him.
Henrique Avancini has been challenging the top step in a XCO World Cup, and he goes all in. Sometimes at the wrong end of the race. He missed some World Cup racing due to travel restrictions, but he is in Tokyo. I'd expect to see him on the podium - but not on the top step.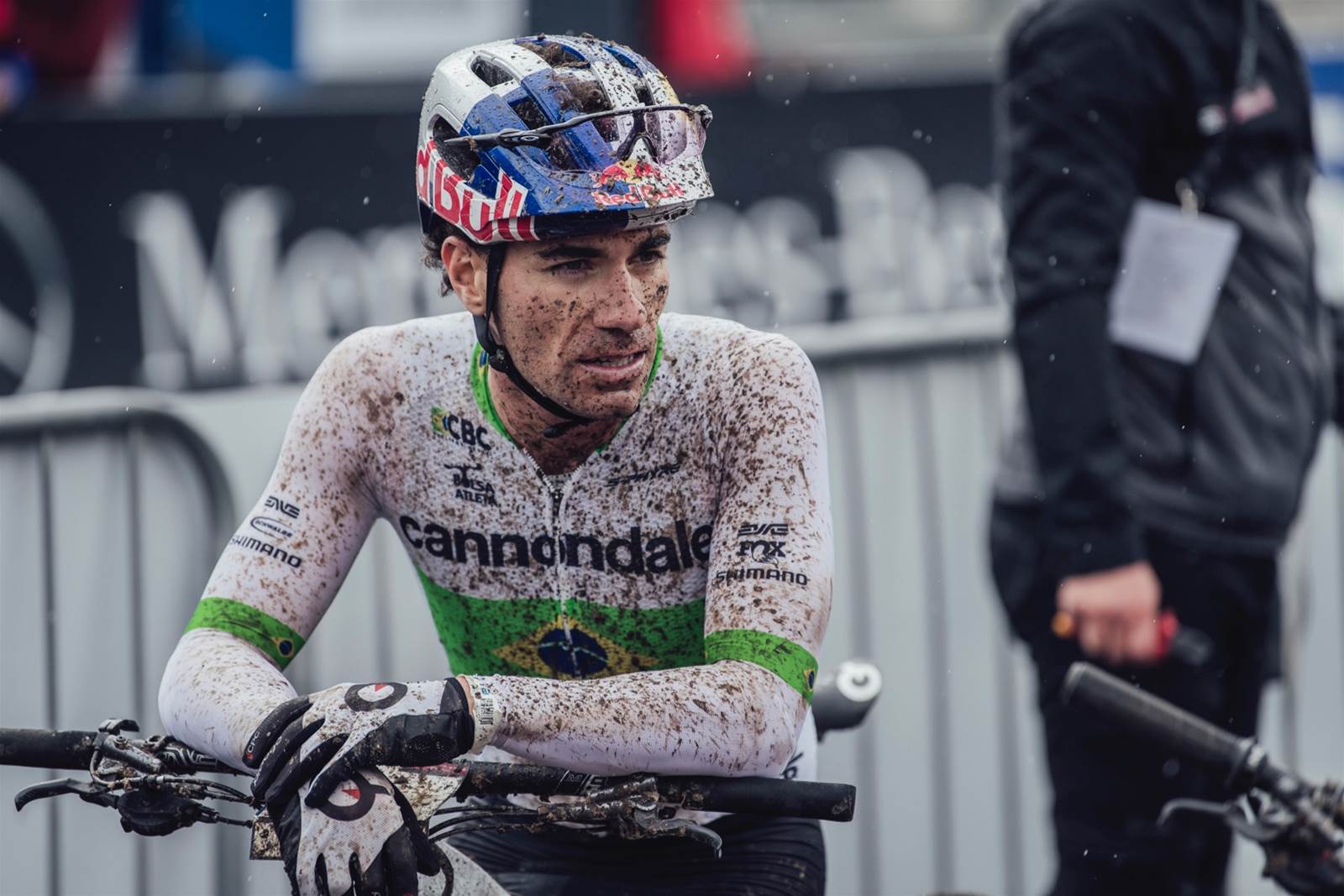 Victor Koretzky and Jordan Sarrou are a World Cup winner and current World Champion respectively. Neither have been dominant, but expect to see both in the top 5 or 6 riders.
Anton Cooper is a dark horse for a medal, but also not that dark. Cooper has long been on the cusp of a return to the very top step, and his recent World Cup results show that could be very soon. Australian Dan McConnell is an Olympic veteran, and we reckon we might see a career best performance from Dan, who along with wife Bec McConnell seem to really enjoy the environment in their current team.
The men's World Cup is a huge battlefield, and that is drastically reduced in the Olympics, where riders aren't picked on their World Cup ranking, but more their countries ranking, and how that relates to their region. So, some riders will get to do battle for a race win from the 2nd row, not the 4th, 5th or 6th. And that makes a difference, expect some names in the top 10 that you might not have expected.
In both men's and women's races, we expect a great race to watch, and here at AMB we'll be cheering on Bec and Dan, and we'll be giving Anton Cooper a shout as well!
Australian Mountain Bike